Rising
Jabari Parker, 6'8 235 SF Duke Fr.
With the regular season coming to a close, Duke's freshman phenom appears to be hitting his stride. With a career game last week, Parker finished with 30 & 11 against UNC in his final game at Cameron Indoor Stadium, avenging a late February defeat at Chapel Hill. Parker was in full bully mode. He attacked off the dribble repeatedly, finishing in the paint via brute strength and the circus shot variety. He knocked down eight of nine free throws, and has now surpassed 6+ free throw attempts in nine straight contests. Parker found two clean three-point looks, from each corner, working the back side of the zone.
Prior to the game, the super frosh expressed indecision when talking to the AP on his immediate NBA fate: "Saying that I didn't give it my all and that I have regrets, that I have to come back because I owe this program so much. A deciding factor is where I'm going to grow the most, whether it's in the NBA or even in college, the learning experiences that I need as far as (growing as) a basketball player."
It's hard to fathom a top-three pick would pass on the NBA Draft, but Parker is obsessed with preparation and always has been. Personal and team success over the next several weeks (or lack thereof) could prove vital. With the back issues that has Joel Embiid's tournament availability up in the air, Parker has reclaimed the top spot on the mock draft, for now.

Andrew Wiggins, 6'8 200 SF Kansas Fr.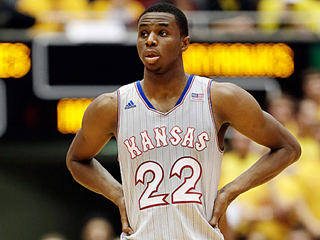 In a season that "went too quick", the potential of Andrew Wiggins exploded into reality during his final conference game as a Jayhawk. With Joel Embiid sidelined with a back, and his team grasping for air on the road, Wiggins flipped the "takeover" switch – a switch many questioned if he actually possessed. Coming off three consecutive lackluster efforts, he poured in 22 of his 41 points in the second half, almost singlehandedly carrying KU back from a 25-point deficit at the 16:47 mark in Morgantown.
Wiggins shot 12/18 from the floor: seven at-the-rim finishes, three mid-range jumpers and two 3-point makes. He got to the free throw line 19 times, converting 15 of them (his previous season-high for FT makes was ten vs. Baylor on January 20th). With Kansas spreading the floor using high pick and roll – an area West Virginia is particularly susceptible – Wiggins attacked to his right relentlessly, his long strides beating help defense to the paint.
Overall, the activity level from Wiggins was engrossing. He was all over the offensive glass (4), blocking jumpshots (4), swiping away transition opportunities (5 steals) and saving balls from the end line. One pristine performance doesn't cure all ills, but this display will be embedded in the minds of scouts going forward. Wiggins has thrust himself back into the top overall pick conversation.
Montrezl Harrell, 6'8 240 PF Louisville So.
After floating through the non-conference schedule with frequent inconsistent play, Harrell has taken out his anger on the AAC. In conference he's averaging 15.5 points (7th), 8.6 rebounds (1st), 3.3 offensive boards (2nd), blocking 1.6 shots per game (5th), and shooting 60% from the floor (2nd).
In the last five games he's upped his level even further: 21 points on 62% FG and 9 rebounds (4.8 off.). Harrell's newfound assertive nature has unleashed his combination of ferocious power and explosive vertical burst. He's been eating the offensive glass and he won't be contained with two feet in the paint. Additionally, he's displayed some enhanced capacity from the mid-range. His form looks sound, but it hasn't translated to efficiency from the foul line (19 for his last 37).
While his back to the basket game is still unrefined, Harrell possesses all the physical attributes an NBA team looks for in a PF. Expect him to crack the top-20 in our updated 2014.
Deonte Burton 34149, 6'1 190 PG Nevada Sr.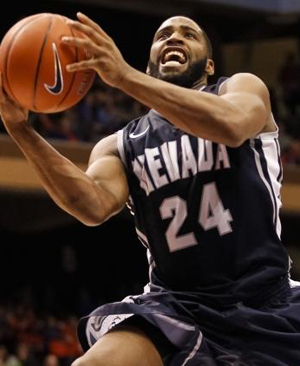 Watch a tape of Deonte Burton dunks and you'll understand why he's soaring up draft boards. Dude is an athletic freak show – in the best possible sense of the term. Burton has led Nevada to back-to-back victories @ Boise (2OT) and versus UNLV, putting up 24 points and 9.5 assists per game. Despite being the exclusive focus of all opposing MWC defenses, the senior is able to create any look he wants with dynamic quickness and versatile shot making. However, the best news for his next level valuation has been his conscience effort to facilitate for teammates. Can Burton complete the rise from back end of the 2nd round to mid-late first rounder? It's no longer unreasonable. Burton has moved into the late first round of the mock (25).
Shabazz Napier, 6'1 185 PG Connecticut Sr.
As currently constructed, the Huskies have no business being a 24-win team. Three of their most talented pieces are not ready to be steady contributors, and Omar Calhoun has been a massive disappointment. But… Connecticut has Shabazz. Coming off a 2/13, six turnover afternoon at Louisville might not seem like the apropos time to praise him, but it highlights just how essential he is. It's immeasurable: creating his own shot, orchestrating open looks for dependent players, crashing the defensive backboard, and his most rewarding attribute – the clutch gene. Napier flat wins.
Xavier Thames, 6'3 195 PG San Diego St. Sr.
Continuing the run of point guards, we move on to the rock solid (3 AST: 1.4 TO) and highly underrated Xavier Thames. The senior won't blow you away off the bounce, but he probes, utilizing change of pace and a sturdy frame. He's a master of using his body to draw contact, averaging nearly 7 free throw attempts per contest. Thames scored 12 of his 23 points in the second half as the Aztecs overcame a 15-point deficit vs. New Mexico to clinch the league title. You can find him in mid-second round.
Jarnell Stokes, 6'8 260 PF Tennessee Jr.
The Volunteers are in the midst of riding the back of Stokes all the way to March Madness. The 20-year old junior has dominated the SEC in key post statistics during conference play: 11 rebounds (1st), 4.4 offensive boards (1st) and 57% shooting (1st). He's not particularly nimble, nor will he elevate over a crowd, but he's an absolute load to handle with deep post position. His game is marked by power, but he's got a soft touch in the paint. Facing constant double teams, Stokes has improved his passing and court awareness dramatically. He's dished out 3 assists four times, 4 assists twice and 7 assists once (@ Auburn) in his last ten. An undersized PF, whether his overpowering style of play will translate to the next level is a valid question. Nevertheless, he should move up a handful of spots in 2015.
Falling
Chris Walker, 6'10 220 PF Florida Fr.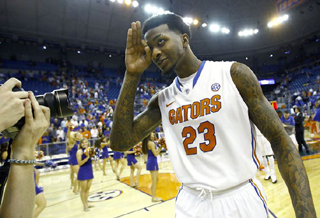 Elite athleticism and agility? Check. Basketball IQ, defensive awareness, fundamentals and strength? Not quite. Walker made his presence felt in 14 minutes against sizeable LSU, but he's otherwise been a non-factor since becoming eligible. He'd clearly be getting significant minutes on most rosters, but he's not ready to play a major role on a team with title aspirations. Walker would be selling his hoops career short if he doesn't return to Gainesville.

Jordan Clarkson, 6'5 195 PG Missouri Jr.
Fortunately for Clarkson he's been getting to the stripe with regularity, but he's shot below 50% from the floor in five successive games – 22/65 for 34% over that stretch. He's made three 3-pointers since February 13th. Opponents are forcing him left entirely, and subsequently his turnovers continue to climb. The calm, cool and collected Clarkson that we saw in November and December is no longer with us. The limitations within Missouri's offense (most notably no post production) have prevented him from showing off the full scoring repertoire during league play. And he's not a natural facilitator. His canvas is highly intriguing, but warts are becoming increasingly apparent.

Willie Cauley-Stein, 7'0 230 C Kentucky So.
Cauley-Stein will occasionally assemble brilliant efforts – 16 & 13 vs. Arkansas, 18, 11 & 6 vs. Mississippi – but those moments have been few and far between. Yes, he'll wow you with a catch, spin middle and floating left-handed hook. At this stage, it's a tease. In three crunch time March games he's averaging 3 points, 4 rebounds and attempted 7 total shots. To realize his upside, WCS needs to return to Kentucky for his junior year.
Alec Brown, 7'1 235 PF Wisconsin Green Bay Sr.
I understand Brown is nursing a bum left shoulder, but his performance in the Horizon Conference Tournament was startling. In must win game – on his home floor – the 7'1 Brown notched only 4 rebounds in 35 minutes and allowed the 5'10 Jordan Aaron to drive/score in the paint at will down the stretch. His 3/14 shooting (four 3-point attempts) was dreadful, but it's his MIA presence on the interior that's most disconcerting; rare skill level with a soft as butter on-court temperament. Opinions on Brown's future prospects range widely.