Rising
Julius Randle, 6-9 250 PF Kentucky Fr.
The SEC Player of the Week continues to notch beastly numbers behind a simplified approach: dominate the paint offensively, and control both backboards. Randle is one of just three players from BCS conferences averaging a double-double (16 & 10), joined by fellow conference mate Jarnell Stokes and California's Richard Solomon. Over his last four games he's averaging 15 points, 13 rebounds and nearly 5 offensive rebounds per outing.
Randle struggled to find clean looks against the size and length of LSU's front line (3/8 FG) – prompting immediate knocks on his wingspan and lack of explosive vertical – but when push came to shove, power was the great equalizer on his game winner. He gets into the body of shot blockers and roots them into the ground. Additionally, Johnny O'Bryant shot 8/25 after holding court during their first meeting in Baton Rouge.
While his free throw attempts have dipped dramatically from January forward (6 per), Randle still has more free throw makes (63) than field goal makes (62) in league play. He's shooting 74% from the stripe and has the stroke to improve on that percentage. A man amongst boys at this level, Randle has the skill package (not entirely developed) to become a tougher matchup in the pro's with more space to operate. He's comfortably slotted in at #4.
Doug McDermott, 6-7 225 SF Creighton Sr.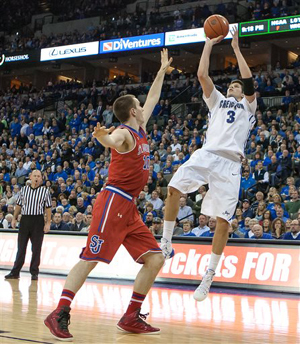 What more can be said? The kid is just a straight up offensive technician. Watered down version of the Big East or not, McDermott is still facing night in, night out competition and talent unlike anything he saw in the MVC. He's responded to the challenge by leading the nation in scoring (26 PPG) and carrying his team to a 13-2 conference mark. He hasn't scored fewer than 25 points in a month, and during that stretch he exploded for 39 twice versus Villanova and St. Johns – perhaps the two most athletic teams in the BE. There are moments where he looks overmatched and his physical limitations shine through, but those moments have been few and far between. McDermott outmaneuvers defenders with intelligence and angles. Defensively… that's a different story. Subpar foot speed, lateral movement and length = he'll need to be protected. If he maintains this quality of performance through March, he'll be lottery bound.
Brice Johnson, 6-9 210 PF UNC So.
The tremendous contributions from Johnson off the bench have been paramount to UNC's resurgence. He's averaged 12 points on 68% shooting and 7 rebounds in seven February games – this despite not cracking 24 minutes of court time in any of them. Johnson is a long, bouncy athlete with natural agility (runs the floor in transition), but his soft touch out to 15 feet really tips the scales. He takes good shots, and usually finds the bottom. Frail frame and all, he finishes at the rim with quick leaping ability and great hands. He's added approximately 25 pounds to his frame since arriving on Chapel Hill, but obviously needs to get stronger. Johnson might mask defensive flaws with shot blocking and shot alteration, but he can't hold ground in post defense. Frequent foul trouble limits his effectiveness. Skill level and athleticism and give a glimpse into his upside, and Johnson sits at #6 in our 2015 mock.
Shawn Long, 6-9 245 PF Lafayette So.
The former Mississippi State commit has taken a significant leap forward as a sophomore. From a statistical standpoint, he's upped his FG efficiency by a full 10% (43% to 53%). His 3PT efficiency has risen from 31% to 45% as a result of improved shot selection (less time on the perimeter). Long has made a concerted effort to put his 245 lb. frame to work in the post and demand the ball. He's still reliant on power moves, but the initiative is a promising sign. With his mobility and comfort level stepping out, the Long/Elfrid Payton pick & roll duo has been dynamic. Long's versatility and video game numbers have not gone unnoticed… he's cracked the 2015 top-20.
Sindarius Thornwell, 6-5 206 SG South Carolina Fr.
More often than not, Thornwell is forced to take matters into his own hands for limited South Carolina. Subsequently, his shooting numbers have been ghastly in recent weeks: 3/16, 5/18, 2/12/ and 4/15. But in spite of these ball-in-hoop shortcomings, Thornwell is an extremely intriguing prospect. He attacks the rim with hyper-aggressive frequency, seeks contact, inflicts pain and draws fouls. He possesses the creative intent of a point guard – without the ball security – dishing out 39 assists over his last seven games. Refinements are absolutely vital, but imagine when the game slows down for him. Thornwell is a matchup nightmare.
Falling

Gary Harris, 6-4 210 SG Michigan State So.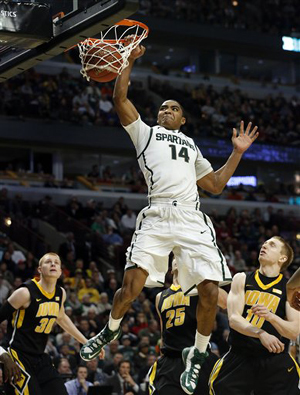 With his top two running mates forced to miss time with injury, Harris has not been working under ideal conditions. Nevertheless, his recent stretch of poor shooting highlights his dependence as a scorer. In the month of February he's attempted 59 three-pointers, converting on 34%. He's attempted 49 shots inside the arc, connecting at a 41% clip. Harris simply doesn't possess the tools to break out of the offense and create a high quality look for himself. He's fast, but not overly quick, and at 6'4 he finds difficulty finishing in traffic. Intelligence, defense and mid-range are glowing strengths, but still has his work cut out to cement a spot in the top 10.
Zach LaVine, 6-5 180 SG/PG UCLA Freshman
LaVine is a "wow" athlete with elite vertical explosiveness, but neither attribute translates in the half court at this stage. Right now, he's a jump shooter; and while his stroke is picturesque, he too often gets lost in the shuffle. When his jumper isn't dropping, his impact on the game is rarely felt. He's playing alongside two older, high-level guards which must be taken into consideration. If he was "the guy" for UCLA, we'd probably see the full array – for better or worse. LaVine hasn't cracked double-digit field goal attempts since January 18th.
Roscoe Smith, 6-8 225 PF UNLV Junior
Smith has returned to reality after a record setting rebound pace through January. Still boasting an 11 & 11 double-double on average, he's put up a diminished 9 & 7 through six February contests. When not terrorizing the offensive glass, his offensive repertoire is reduced to slashing. In a disorganized UNLV scheme that lacks spacing, he's not afforded many opportunities to utilize his athleticism. Smith has dropped into mid-second round territory in 2014.