Rising
Tyler Ennis 6-2 180 PG Syracuse Fr.
Ennis has shot all the way up to the 15th pick in the 2014 mock draft as he's shown tremendous composure as the catalyst of Syracuse's undefeated team. Whether he is able to continue to play consistently and prove to be ready to leave after just one season in college remains to be seen. Point guards generally need the most time, and a second season at Syracuse would certainly be beneficial to him.
But scouts have become extremely enamored with his maturity, leadership and most importantly intelligence at the point guard position for a freshman. He's a true point guard who has only improved as the season has gone along.
Most people knew Ennis was going to have a solid impact running the Syracuse offense as a freshman. However, not many could have predicted the level of efficiency he would exhibit as a decision maker. Posting a 5:1 assist-to-turnover ratio, Ennis has looked more mature and NBA ready than many of the upperclassmen PGs in the nation. He has played well in the Orange's biggest games as well, averaging 17.8 ppg, 6.2 apg and 3.6 spg in the five contests against opponents from high major conferences.
While he lacks the blinding speed of some point guards, his ability to switch gears and accelerate makes him deceptively quick. His outside shooting is still very much a work in progress, though his numbers on the season are solid. He also shows the ability to get into the lane and draw contact.
Playing in a very difficult (Atlantic Coast) Conference, we will get the chance to see whether Ennis maintains his level of efficiency. He looks like an elite floor general early on showing the ability to score as well as distribute at a high level. Scouts are beginning to believe he can become a quality starting PG in the league. His being a one-and-done is not assured, though his play through Cuse's 10-0 has some thinking it will be his decision whether to leave after just his freshman season.
CJ Wilcox 6-5 195 SG Washington Sr.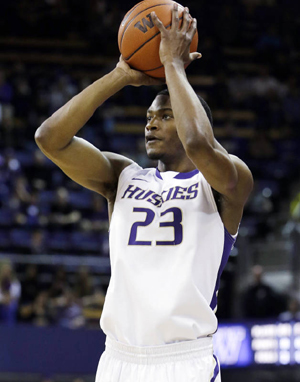 After suffering a stress fracture in his left foot last season, Wilcox was never really the same and decided to return to school for his senior year. He has benefitted from a year of being the main offensive option for the Huskies and will probably end up as one of the NCAA scoring leaders.
Outside shooting is Wilcox's bread and butter, though he also has good size and some bounce as well. Currently draining triples at a 42.7% clip (over 3 per game), he is showing more of an all-around game this season as well. It certainly seems that coming back for a final season was a wise decision as he was a likely 2nd rounder a year ago following the injury. Wilcox has moved into the late first round (25) on the most recent mock.
Shawn Long 6-9 245 PF Louisiana Lafayette So.
Teammate Elfrid Payton is a draft sleeper, but it's important to be aware that he's not the only one on the Ragin Cajuns' roster. Averaging a double-double as a freshman, Long has started off his sophomore season doing the same at a higher level of efficiency. Through his first ten games he is shooting 55.5% FG while averaging 20.8 ppg, 11 rpg and chipping in 2.8 bpg.
Compared to a poor man's David West, Long's ability to knock down midrange shots is what has really opened some eyes. Making 78.1% of his shots near the basket, Long has also shown big time improvement as a shooter from distance. He has near prototype size for a PF, and can run the floor. In need of a bit of fine tuning like most college kids, he has certainly drawn the interest of NBA scouts.
Delon Wright 6-5 180 PG/SG Utah Jr.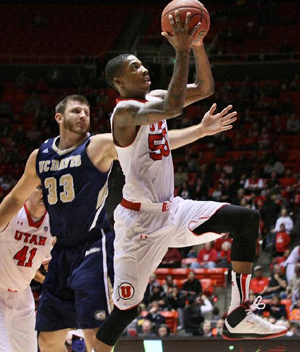 Guards are typically not found amongst the NCAA leaders in field goal percentage. Wright has bucked that trend shooting close to 70% in his early college career. While most of his attempts are close to the basket, shooting efficiency is not the only thing Wright has brought to the table. He is averaging 6.6 rpg, posting a 3:1 assist-to-turnover ratio (6.3:2.1 to be exact) while also contributing 2.9 steals and a block on average.
Wright is rather slim, however his size and length are great for a combo guard. Not to mention, he has an NBA pedigree as his older brother Dorrell is currently playing for the Portland Trail Blazers. It will be tough for him to keep up the same efficiency once Pac-12 play begins, though his early contributions have garnered notice and moved him to the top of the 2nd round on the 2015 mock draft board.
Brandon Ashley 6-8 225 PF Arizona So.
Arizona has a very deep team right now as they currently hold the nations top spot in both major polls. The maturation of Ashley adds to the many storylines of these early Wildcats. He has made a gigantic strides in efficiency after a somewhat lackluster freshman campaign given his profile. With knowledge that he would have to complement Aaron Gordon to keep his minutes up, Ashley improved his ball skills and has become much more dangerous as a long range shooter.
Ashley still needs to add strength to his frame, as he has issues with both getting to the line and getting into foul trouble. It is still difficult to envision him as a three man at the NBA level, though his skills as a stretch 4 have become much more evident this season.
Juwan Staten 6-1 190 PG West Virginia Jr.
Staten had a bit of a rough transition last season as a transfer to West Virginia. This season appears to be going much more smoothly as he's displaying the skills that put him in pro scout's consciousness. He is averaging 3.7 assists for every one turnover, shooting over 10% better from the field and has been getting to the line at a high rate.
Outside shooting is still not Staten's forte, however he is showing skill as a creator on offense. What he lacks in size he tries to make up for in quickness and athleticism. This season, he is showing that these qualities could draw pro interest.
Falling
Alex Kirk 7-0 245 C New Mexico Jr.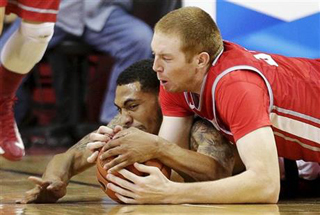 Kirk has been a valuable member of a New Mexico team that has to be amongst the NCAA's best squad the past few seasons. However, in a match-up with the supposedly raw freshman center, Joel Embiid, Kirk got worked. It was not only the "Dream Shake" that Embiid pulled on him that left Kirk in the dust, it was also the foul trouble and bewilderment he was left with on offense.
The big man has some skill and can even stretch the floor at times. However valuable that may be, if you cannot run with folks, you have to be able to beat them in other ways. Kirk's lack of athleticism was really exposed in the match up as he was unable to find ways to compensate.
Michael Gbinije 6-7 200 SF Syracuse So.
Competition seemed wide open at guard for Syracuse with Brandon Triche graduating and Michael Carter-Williams entering the draft. With Ennis being seen as the only real PG candidate, two guard seemed generally wide open for Duke transfer Gbinije to see major minutes.
His being on this list may be more due to expectations than anything, however it is becoming very difficult to see Gbinije becoming an early entry. He will need major improvements before being seen as a NBA level talent. It seemed as though things were set up for him to have much more of a role than he has had. Cuse has been rolling, Gbinije is still looking to find himself.
Nick Faust 6-6 205 SG Maryland Jr.
A nice athlete with decent size for a two guard, Faust looks the part and shows occasional flashes. What he lacks is visible improvement as an overall shooter, displaying major waves of inconsistency from game to game.
After not really taking the next step many were expecting last season, Faust is shooting much worse in his junior campaign. Certainly there are things to like and he still has conference play as well as a senior season to get it together. But it is unfortunate to see him play so far below his talent level.
Anthony Collins 6-1 175 PG South Florida Jr.
Knee issues may play a big part in Collins early season woes. He missed the first two games of the year and has yet to find a rhythm. While his shots near the basket and two point jump shots have a small sample size, his current percentages are ugly.
He has also turned the ball over at a much higher rate than normal. Collins showed improvement as a decision maker last season and had gained a reputation as a defensive bulldog. His low release is a bit disconcerting and he must find a way to create his own offense at a higher efficiency in order to gain steam in future draft talk.
Follow Michael on Twitter @NBADraftMikeyV. Also, feel free to e-mail him at [email protected]