Rising
Zach LaVine 6-5 180 PG/SG UCLA Fr.
What would you get if you could somehow combine Stephen Curry's shooting ability with Russell Westbrook's freakish agility and explosiveness? The answer could be something similar to Zach LaVine.
The UCLA freshman is a player that we have been extremely high on since before the season began, placing him in the top 5 picks for the 2015 mock draft. He has made us look good making an immediate impact for UCLA and appears to be the top overall long term prospect in the Pac 12.
LaVine is the hottest name among scouting circles at the moment as scouts have suddenly taken notice of him after his performance in the Las Vegas Invitational, blowing up for 21 and 18 in games against Nevada and Northwestern and hitting a combined 8 of 11 on 3s in those games.
We compared LaVine to Westbrook in the summer after seeing him, and even though he was not considered a top 50 recruit by many scouting services, the elite level talent was evident. LaVine grew a couple of inches and has really become automatic with his outside shot.
On an undefeated team that suddenly appears to be a Final Four contender, LaVine is second in scoring, averaging 14.3 ppg 2.3 apg, 0.7 to and a blazing 57% 3 point shooting.
What makes him so difficult to defend is that jumpshot is nearly indefensible as he gets it off so quickly and with great elevation. Combine that with his freakish speed and athleticism and the fact that he seems to never miss and he becomes a real problem for opposing defenders.
He's currently playing the off guard position with Kyle Anderson running the point. So if he indeed would like to transition to point in the league, a la Westbrook, returning for a sophomore year would be beneficial. That is provided teammate Anderson follow through with his intention to leave after this season. It would also give him a chance to add weight and develop better ball handling, vision and play making skills. But with the way he's currently playing, a top 7-10 pick is well within his reach for this year's draft.
LaVine has moved up to #1 on the 2015 mock and will surely have to consider declaring for this year's draft at season's end if he continues to play at his current ability.
Doug McDermott 6-7 225 SF Creighton Sr.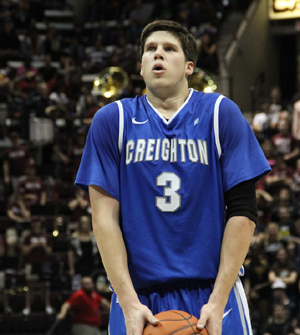 What more can be said about McDermott? He's scoring at a higher rate than he did a year ago, if that's even possible and is well on his way to averaging over 20 points per game for his third straight season. He's an unbelievable shooter, especially for his size and while he draws comparisons to current Atlanta Hawk and former Creighton star Kyle Korver, he's got a little Dirk Nowitzki in him as well. In a recent game against San Diego State, McDermott used one of Dirk's patented moves jumping off of one leg for a fade-away jump shot that hit nothing but net. He's not as tall as Nowitzki but he has every bit the shooting touch.
Scouts who watched him over the past week came away raving about him. His ISO move on 7-foot-2 Jordan Bachynski, really stood out for the quickness with which he made the step back move. He's a smart player, he moves well without the ball and he's got good size. He'll get a chance to prove himself against better competition on a more consistent basis this season now that he's in the Big East. McDermott may not be fleet of foot, but his all around heart, determination and ability to score has scouts convinced that he can compete for a top 10 pick on draft night.
Nick Johnson 6-3 190 SG/PG Arizona So.
As I wrote in the Pre-Season Top 25, Arizona's success is largely going to rest on the shoulders of Johnson. He's got the ability to play both guard spots and has become one of the more solid all-around players in the country. Fresh off of his MVP award in the NIT Tip-off where the Wildcats took down Duke, Johnson's stock is sky high. He wasn't known for his scoring prowess during his first two seasons with the Wildcats but has really stepped up this season hitting big shot after big shot after big shot for this team. His play in the second half of the Duke game was pivotal and was just what the team needed to get past the Blue Devils.
Johnson isn't a great shooter but he's got some range and thus keeps defenses honest with his jump shot. He's got high level NBA athleticism and put it on display once or twice against Duke with a highlight reel alley-oop and a couple of nice blocks. He's a pesky on ball defender and really uses his length to his advantage. He's going to be a tweener at the next level as he's got the size of a big point guard and a smallish shooting guard, but he's shown the decision making and skills to make it.
Jerami Grant 6-8 210 SF/PF Syracuse So.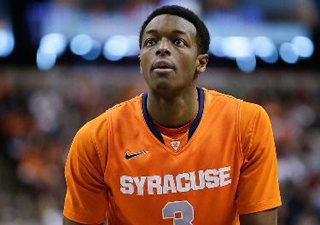 Grant has really come into his own this season. He didn't get a lot of run a season ago behind some veteran players but has made the most of his increased role and opportunities this season. He absolutely broke out in front of numerous scouts at the Maui Invitational last week on his way to earning All-Tournament honors as he averaged over 16 points and 5 rebounds. He almost brought the house down with one of the most impressive put back dunks of the young season.
Grant is a versatile player that can play both forward spots. He's got great length and athleticism and has an improving offensive game. He still isn't a great jump shooter but he has decent form on his shot. He's more of a slasher that likes to get to the rim and use his athleticism to finish around the basket. He fits the prototypical Syracuse mold of players that can play and defend multiple positions. His length makes him a perfect fit for that vaunted 'Cuse 2-3 zone. As his offensive game continues to develop and become more consistent aside from putbacks and dunks, Grant is a guy to keep an eye on. Comparable to the 76ers Thaddeus Young, Grant is a long freakish athlete with combo forward ability and will be very exciting to watch this season.
Kaleb Tarczewski 7-0 255 C Arizona So.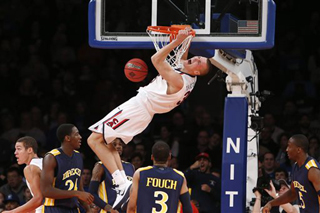 Tarczewski is another guy whose stock has done nothing but rise in recent weeks. At 7-feet, he is a guy with the size and length to take over on both ends of the court on any given night. He's seen his role in the Wildcats offense expand significantly this year as the team had made it a point of interest to pound the ball inside a lot more than they did a season ago. The big man has some post moves but still lacks great footwork when he's fed the ball, especially in situations where he has to make a quick first move. As his post touches increase so will his awareness and that will help him limit his turnovers via the travel.
He's got great size and rebounds extremely well but he still hasn't gotten to the point in his game where he takes over and dominates. Against a much smaller Duke lineup, Tarczewski wasn't a big scorer but asserted himself on the glass all night as he repeatedly used his size and length to pull down every rebound that came his way. He also did a good job of protecting the paint altering a number of Duke's shots at the rim. His numbers overall are up this season and as he becomes more comfortable on both ends of the floor, his stock will continue to rise. We see him as a potential late lottery pick by the end of the year.
Kyle Anderson 6-9 225 SF UCLA So.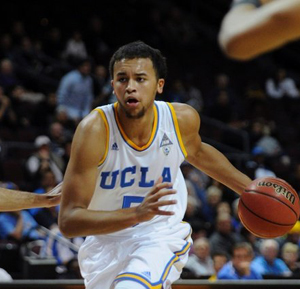 Anderson has become an absolute stat sheet stuffer so far this season for the Bruins and I don't mean that in a negative way. Coming out of high school, Anderson was touted as one of the most versatile players in the country, able to play any position from 1-4 on the court. He's on a tear this season and so is the team as they are off to one of their best starts in years. Anderson is a big reason why with his gaudy numbers. He's averaging close to a triple double early on during his sophomore campaign and is doing a little bit of everything on the court to help his team win.
He lacks elite athleticism and won't wow you with his hops or with his quickness but he has good handles for a player of his size and always seems to get where he wants to go with the ball.
He still tries to force the issue and make plays that make you scratch your head at times but for every questionable play, there are two to three more outstanding plays. He's got great energy on the court and is a willing rebounder and defender. He needs to refine his jump shot and add some bulk to his skinny frame. He doesn't really have a set position which he'll need to work on developing in the next year or two but he's definitely got the skill set to play in the League.
Keith Appling 6-2 185 PG Michigan State Sr.
Appling is the epitome of what you think of when you picture a Tom Izzo type of player. He's a four year guy that has grown and matured on the court in each of his four seasons with the Spartans. He came into college as more of a scoring guard but has really blossomed into a true point guard and leader for this Spartan team. Appling, along with Adriean Payne and Branden Dawson didn't start in one of the team's recent games against Mount St. Mary's for skipping class but still came off the bench to lead all scorers with 17 points.
One of the knocks on Appling's game has always been his lack of a consistent jump shot. But he looks to have worked on that this summer and is taking higher percentage jump shots within the flow of the game and is making them at a higher rate. He's shooting over 50% from distance thus far and while that probably won't continue, look for Appling to keep that percentage somewhere in the mid-low 40's which will be a huge improvement on his sophomore and junior seasons. Appling's pro prospects are still there but NBA teams don't go after seniors very much and while he's still relatively young for a senior, he lacks elite athleticism or size which are two keys for point guards at the next level in today's game.
Casey Prather 6-5 190 SG Florida Sr.
Better late than never as Prather really struggled in each of his first three seasons, but things appear to have finally clicked for him. With all of the injuries and suspended players that the Gators have had to endure during the early part of this season, Prather's play has been impressive to say the least and has helped keep this team's head above water while they wait to get their full roster healthy and eligible. Prather looks like a completely different player from the guy we've watched the past few years. He's in constant attack mode and looks for his shot on the regular. He's already almost attempted more free throws this season (51) than he had in his entire career prior to this season (64) and he's more than tripled his scoring output as well.
One thing that he's really improved upon this season is moving without the ball. When the ball is fed into the post he's making good cuts to the basket and finding open space. He won't win any defensive player of the year awards but he's played for Billy Donovan for the last 3+ seasons so he knows how to play defense.
Falling
Andrew Wiggins 6-8 200 SF Kansas Fr.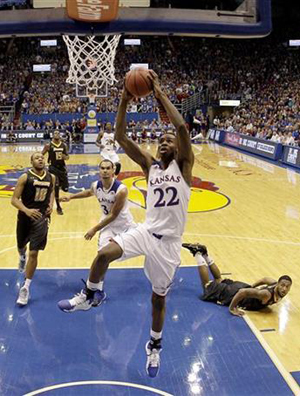 Wiggins slipped from 1st to the 3rd overall pick in this week's 2014 mock update. He has struggled in each of his past two games, which can partially be attributed to playing with the flu.
While he remains the most impressive physical specimen at the wing position since LeBron James, scouts are beginning to believe that his teammate Joel Embiid is the prospect with the greatest potential in this year's draft, and Jabari Parker the surest bet to be a franchise changer from day one.
"Maple Jordan", as Wiggins has been dubbed, is a special athlete and can get out in transition and run with the best of them. He's a good but not great defender and right now his isolation game needs a lot of work. He also has not shown great understanding or willingness to free himself for open looks by continually moving without the ball. He relies too much on others to get him involved in the half court and doesn't have a lot of moves in his repertoire in a halfcourt setting.
He's still extremely young and raw and he does show some real signs of developing an offensive game with flashes of being able to split defenders and penetrate to the basket. One of the knocks on his game coming out of high school was that he tended to get complacent on the court and lacked the drive to compete at a high level of every play and on a consistent basis. Attention to detail and focus are the parts of his game that he most needs to improve upon in order to convince scouts that he should be the top pick.
It's early, and Wiggins' best basketball is surely in front of him. He battled the flu last week and is still regarded as a strong candidate for the top pick, but he'll need to improve upon his focus and leadership in order to retain the top pick on the 2014 mock in such a talent laden draft.
Alex Poythress 6-7 235 PF/SF Kentucky So.
It seems like every year a player at Kentucky finds himself in Coach Cal's dog house for some reason. It was Darnell Dodson during his first year, Terrance Jones during his second and Poythress is the latest of talented yet at times out of control and unfocused players to land in his dog house. Last season you could see the disappointment and at times disgust in Coach Cal's face after Poythress would make an errant pass, get called for an offensive foul while out of control, miss an assignment on defense or not box his man out. Cal would look down at his bench and when he realized he didn't have many options he had no choice but to leave Poythress in the game. This season it is a bit different as Cal has plenty of options on that bench and Poythress has seen his playing time decrease significantly because of it.
Poythress is one of those players that has the tools to be a very solid player but just can't seem to put everything together on the court. He possesses the physical tools to be a dominant college player but just seems uninterested in doing the little things that would help keep him on the court. He's got some decent post moves and can take bigger defenders off the dribble making him a very versatile player on the offensive end. But he doesn't seem to like rebounding and he doesn't seem to want to play defense when he's on the court. He's firmly entrenched behind James Young and Julius Randle on the depth chart right now and with limited scoring opportunities he may be forced to return to UK once again next season.