With the college basketball season in full swing and players starting to elevate their games and putting some separation between themselves and their counterparts at each position, we take a look at this week's risers and fallers on the mock drafts.
Rising
James McAdoo 6-9 230 PF/SF North Carolina Jr.
The Tar Heels haven't looked great early on this season but you can't fault McAdoo who looks to have turned the corner and could finally become the player that we saw flashes of two seasons ago during his freshman campaign. With P.J. Hairston and Leslie McDonald still on the bench and with no timetable for their returns, McAdoo has done his best to become more of a focal point of Roy William's offense.
McAdoo's game resembles that of a stretch four at the next level more than anything but he has the skill set to be much more than that if he can work on his low post game and rebounding. Last season was one that McAdoo would like to forget as he just wasn't ready mentally to shoulder the type of load and expectations that were dumped on him after the departures of Harrison Barnes, John Henson, Kendall Marshall and Tyler Zeller. This season without the aforementioned Hairston and Leslie, McAdoo's game has really improved on both ends of the floor but especially on the offensive end.
He looks determined to get to the basket this season. He's finishing once he gets there and drawing his fair share of contact as well. Sunday night's game against Belmont was one of the better performances of his career. He got to the free throw line seemingly at will and finished the night with 19 attempts. Granted he only made 11 of those attempts but it shows that McAdoo has realized that how effective he can be when he attacks as opposed to falling in love with his jump shot. He's getting to the line close to 10 times per game which is double what it was a season ago.
With this new found offensive mentality, McAdoo's rebounding numbers have gotten better as well. Against Belmont it was his work on the offensive glass (7 offensive rebounds) that kept UNC in the lead up until J.J. Mann's end of game heroics. McAdoo is a high level athlete that should give you more on the glass. If he continues with his new aggressive-attack style offensive game the rest of the season then he could see himself back into the lottery come June.
Noah Vonleh 6-10 230 PF Indiana Fr.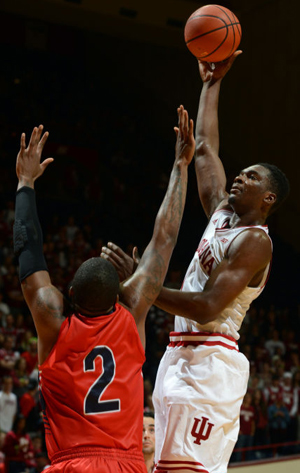 Most freshman need time to get acclimated to the college game. Most freshman need a few games to get their legs under them. Most freshman need to shake off the nervousness that comes along with playing in your first college games. That may be true for most freshman, but not for Vonleh who has taken Indiana by storm. Four double doubles in his first four games and in none of which did he play more than 29 minutes. Hoosier fans were wondering who was going to step in and fill Cody Zeller's shoes but Vonleh has put their wondering to bed with his early season performances.
Having had the opportunity to interview and follow Vonleh throughout his senior season, I can tell you that he is a special player that absolutely "gets it". He understands his role, what he needs to do to make his team better and also what he needs to do to make himself better on the court.
He's got great length and athleticism for someone that projects to be an NBA four man and has an inside/outside game that scouts love. He's going to be able to do some of the same things that both Zeller and Christian Watford did for the Hoosiers last season. He's not as good of a shooter as Watford by any stretch but he's got the ability to step out and hit perimeter shots if he needs to. He's got an above average post game for a player of his age and will start to emerge as the Hoosier's best player as the season wears on. He seems to be a quite and humble kid that just loves to play the game. But at some point he's going to have to become more assertive on both ends of the floor. The moment he does that, the sky is the limit for this kid.
Aaron Gordon 6-8 220 PF/SF Arizona
Athleticism? Check. Size? Check. Swagger? Check. Feel for the game? Check. Gordon possesses virtually everything needed to play at this level as well as the next level. There are still things he needs to work on in his game, namely his shooting touch outside of the paint, but those are all things that he will develop with time and work. Gordon has gotten off to a fast start with the Wildcats posting double doubles in two of his first three games and barely missing out on three straight by two rebounds.
Gordon has shown the ability to step out and hit the three in his first few games which is a huge positive since there still are and will be questions marks about whether or not he will be a three or four at the next level. He's hit 4 of his first 5 attempts from beyond the arc which is a bit surprising. As long as he doesn't rely on that jump shot of his too often and takes advantage of his obvious athletic advantage over any opponent on most nights then that will only increase his value come draft night.
It didn't take long for Gordon to grace ESPN's top plays with his presence as he's thrown down a few highlight reel dunks in his first few games, with the slam against San Diego State being the most impressive. A much closer comparison for Gordon apologists than Blake Griffin (who is much bigger and stronger) is Shawn Marion, however we feel that he's much closer to a future energy guy in the league a la Kenneth Faried.
Olivier Hanlan 6-3 185 SG/PG Boston College So.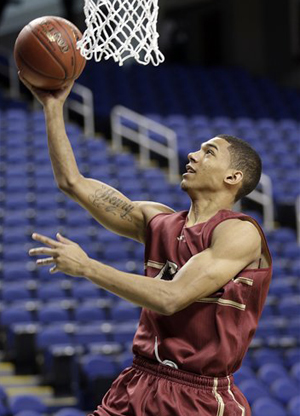 Hanlan was one of the more impressive freshman in the ACC last season and he's picked up right where he left off this season. Hanlan is averaging a whopping 24.5 points per game after a career high 38 points against Florida Atlantic on Sunday helping BC get their first win of the season. He's been nothing short of spectacular through the team's first four games and is one of the more underrated and unheralded players in the ACC currently even though he was Conference Freshman of the Year Honors last season.
Hanlan is a smooth off guard who plays well both with the ball in his hands as well as coming off of screens and moving without the ball. He has a silky jump shot and shoots the ball at a high clip from beyond the arc. He's not the best ball handler but he possesses the ability to break his defender down off the dribble and get to the bucket. He shoots a surprisingly high number of free throws for a guy who has the type of jump shot he has but it is all part of what makes Hanlan such a well rounded player.
Hanlan isn't an elite level athlete and doesn't have great size for the two guard spot but he is a pure scorer and an efficient one to boot. While he isn;t a pure point guard, he's an extremely heady decision maker who should be able to develop into a combo guard at minimum. He's moved into the late first round for the 2014 mock after his torrid start following an extremely impressive LeBron James Skills Academy performance.
TJ Warren 6-7 220 SF NC State So.
There might not be a better pure scorer in the ACC than Warren. 'Buckets' as his fans call him is the leading returning scorer on a Wolfpack team that struggled a season ago after some lofty expectations and that lost five of it's top six players to graduation and the NBA. With Warren, the game seems to slow down once he get's the ball in his hands. He's the type of player that can drop 20 on you before you even know it. He doesn't command the ball, nor does the Wolfpack run a lot of plays for him but he still finds a way to make his presence felt on the offensive end.
Realizing that he was going to have to be this team's leading scorer and go-to player, Warren dropped close to 25 pounds in the offseason so he could get quicker with his first step going to the bucket as well as sliding his feet while on defense. He's playing out of position a little due to a lack of quality depth on the interior for the 'Pack but it is what it is and he takes it all in stride.
Warren doesn't have explosive athleticism but he knows how to use his body to his advantage and has a knack for being in the right place at the right time. He rarely gets out of control and even when he does, he has the body control and IQ to slow himself down and make the right pass and/or shot. He still has work to do on the defensive side of the ball as he's not the quickest guy on the court and can get beat of the dribble by smaller players when he's on the perimeter. When he's on the block, he tends to get a little antsy and bites on the pump fakes that big guys use to their advantage.
TJ has the offensive game to play at the next level but it will be his ability develop on the defensive end and work on his overall ball handling that will ultimately decided where and when his name is called on draft day.
Jabari Bird 6-6 190 SG California Fr.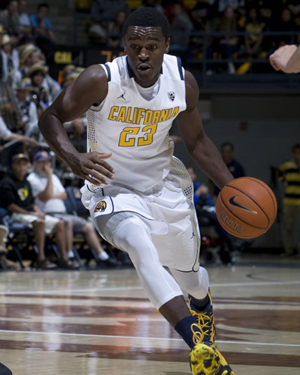 It didn't take Jabari Bird long to assert himself as one of Cal's most talented players. After looking somewhat rusty and a little nervous in his first few games, Bird took control of the Bear's game against Oakland on Friday putting up 24 points, most of which were in the second half, and hitting clutch shot after clutch shot to help his team stay undefeated and stave off a pesky Grizzlies squad that seems to be playing a murderer's row schedule these first few weeks. He now leads the team in scoring at over 15 ppg.
Bird was known as a knock down, and at times streaky, shooter coming out of high school and he has remained consistently inconsistent with his shot during the team's first few games. He has nice form on his jump shot so there isn't much to be worked on or tweaked in that aspect but he seems to be the type of player that needs to see the ball go in the hoop a few times before he really gets going. Once his confidence gets going then he's one of those guys who can't be stopped.
He's a good athlete with very good size for a two guard and should develop nicely alongside of Justin Cobbs this season. He's a fairly skinny kid and will need to work on his body along with his ball handling ability this season but he's definitely a guys to keep an eye on in the coming months. He is still likely a year away from being a serious first round contender but with performances like he had against Oakland, his stock will do nothing but rise throughout the season. He's now projected as a lottery pick for 2015.
Roscoe Smith 6-8 215 SF UNLV Jr.
It has been a while since we heard much out Smith who was on that National Championship team from UConn a few seasons ago. After sitting out last season due to transfer rules, Smith has played exceptionally well in his first few times out with the Rebels. He's pulled down double figure rebounds in each of his first three games while chipping in with 13 points per game during that span. His 22 rebounds against Nebraska Omaha were a career high and could be the shape of things to come for Smith.
You could always tell that Smith had plenty of game but never really got a chance to put his talent on display during his time at UConn. The teams he played on were both dominated by guards and he fell out of the rotation late in the season during his sophomore year with the Huskies which prompted him to transfer after the season. With Mike Moser at Oregon now and with plenty of playing time on the wing readily available, Smith looks to be taking full advantage and imposing his will on teams early in the season.
Smith has nice length on the wing and has some bounce to him. His offensive game needed a lot of work the last time we saw him and it looks like the year off has helped tremendously in that regard. Smith was a guy who took too many jump shots early in his career and settled too often instead of using his length and attacking the rim. He looked complacent and at times lackadaisical while on the court. Through his first three games, he seems to have toned back the jump shots and is taking it to the rim a little more. We don't expect Smith to continue putting up 20+ rebounding nights but he has the skill set and talent to have big nights like that from time to time.
Andre Roberson was a rebounding small forward who through strong analytics numbers snuck into the late first round of the 2013 draft. Smith could be the nation's best rebounder at 6-8 and under and should continue to excel with his fresh start at UNLV. He's a junior yet will be 23 before the draft making it likely that he puts his name into the draft this season. He's moved into our late first round for 2014.
Falling
LaQuinton Ross 6-7 210 SF Ohio State Jr.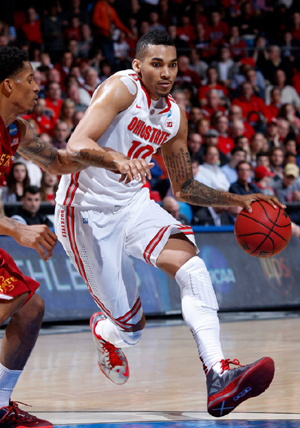 With the departure of DeShaun Thomas and with the way that he played down the stretch and into postseason play last year, many expected big things out of Ross this season. There was talk of him jumping to the NBA after last season but the wing made a wise choice and came back for his junior season. After putting up a goose egg against Marquette in Ohio State's first nationally televised game, it is safe to say that Ross has taken a small step back early on this season.
Ross can score the basketball, there's no doubt about that but last season and through the first part of this season, he gets too focused on making plays for himself and can seem out of control at times. He's struggled mightily thus far shooting below 30% from the floor this season. The biggest area of concern is his lack of intensity, particularly defensively, a criticism that has dogged him throughout his high school and college careers.
Ross has had issues in the past staying aggressive and keeping his intensity up while on the floor and the fact that they are playing inferior competition so far could has some to do with it but if this is how Ross is going to perform when playing against lesser talent then that doesn't bode well for him or the team when the competition gets tougher come conference play. The season is by no means lost for Ross as he could break out of this slump at any moment but early on he hasn't done anything but weaken his once promising draft stock.
Chris Obekpa 6-9 220 PF St. John's So.
Elite shot blockers are hard to find and Obekpa is just that. He's got uncanny awareness and timing coming over from the weak side to block shots a la Theo Ratliff. But it is hard to make a living in basketball if your only calling card is shot blocking. Last season Obekpa averaged less than four points per game while starting and playing an average of 26 minutes per night. Those numbers are abysmal for a starting center in the Big East.
Offensively, Obekpa might never round into a player that can give you 8-10 points per night which is fine if he were an elite rebounder and/or post defender. He's neither and that doesn't look to appealing when coaches and prospects evaluate talent for the next level.
Jarnell Stokes 6-7 250 PF Tennessee Jr.
Stokes is a guy who began the season with some first round hype. After enrolling in college a semester early, making himself eligible for the second half of the 2011-2012 season, Stokes had a solid freshman campaign that led to some high expectations heading into last season. And while Stokes played well at times, he still hasn't became the all around post player that many expected him to be. He's undersized for the power forward position in the NBA and has trouble against longer defenders on the block. His biggest issue is his lack of touch. He gets to the free throw line at a fairly high rate but he shoots just over 50% from the charity stripe for his career.
He put up decent numbers against a South Carolina Upstate team that has no true D1 talent and those numbers while pleasing to the eye are very misleading. He was 5-17 from the floor against a small-ish front line that is nowhere near the talent level that he's going to face each night in the SEC. He's shooting 30% from the floor in his first two games which is awful for a forward/center.
What Stokes does have is a strong body and wide frame that allows him to bang inside with anyone and muscle through defenders and contact. He's also an excellent rebounder for his size when he's engaged. He's listed at 6'9 but is closer to 6'7 and doesn't possess great athleticism or hops which will make it difficult for him to carve out a role at the next level. If he can continue to tone his body and add some quickness while working on his shooting touch, especially from the free throw line then he could improve his stock but after two less than stellar outings so far, he's going the wrong direction.
Follow me on Twitter @CroweClayton