"Situational Analysis" is a series of articles that seeks to examine the circumstances that most often influence an NBA prospect's success. Each player will be scored on a scale from 1-10 in four different categories: NBA-specific skill(s), fatal flaw(s), collegiate/overseas/pre-NBA environment, and ideal NBA ecosystem.
DeAndre Hunter is a 21-year-old forward from Philadelphia who averaged 15.2 points and 5.1 rebounds during his sophomore season at the University of Virginia, when he led the Cavaliers to their first national championship. He is expected to be a mid-lottery selection. NBADraft.net currently has him No. 6.
NBA-Specific Skills
If NBA front offices had access to a laboratory to conjure players from thin air, the vast majority of them would look a lot like Hunter.
Obviously, the lead superstar is the NBA's rarest resource. Beyond that, every team needs lanky wings who can defend multiple positions and knock down open 3s. If superstars are a team's engine, these switchable, versatile wings are the oil.
Hunter's game came of age at exactly the right time. Prior versions of professional basketball might label him a "tweener," but in today's league, Hunter fits like a glove.
Standing 6-8 with a 7-2 wingspan, Hunter has the frame and athletic profile to hang with fast-twitch guards on the perimeter and hold his own against bigger interior players close to the rim. He captained one of the nation's stingiest defenses en route to the ACC's Defensive Player of the Year award.
On offense, Hunter possesses a wide variety of skills and rarely overextends himself into areas that aren't his specialty. The most attractive aspect of his game? A stellar mark from the 3-point line (43.8 percent) with the ability to stretch his range beyond the NBA line.
Get ready to hear this phrase a million times in association with Hunter leading up to the draft: "prototypical 3-and-D wing."
On a scale from 1-10, Hunter's ability to fit seamlessly into any NBA roster is an 8.5.

Fatal Flaws
Hunter is what one would call a high-floor/low-ceiling type of player. While it's hard to envision a scenario in which Hunter ends up a complete bust, it's also difficult to imagine him making multiple All-NBA teams.
Hunter scores his points in the flow of the action, but is not the kind of player who will catch fire and take over for extended stretches. He isn't a terrible ball handler, but he isn't the kind of player who is going to create offense for himself and others off the bounce. Hunter barely averaged two assists per game, and I don't expect that to improve by much in the NBA.
Perhaps most concerning? Given his future professional success will be determined by his defensive ability, one would expect to see more blocks and steals from Hunter.
In 71 college games, Hunter only collected 41 steals and 35 blocked shots – not nearly the kind of activity and disruption that projects as a plus defender in the next level. Some of that can be attributed to Virginia's defensive scheme, but not all of it.
Hunter will also turn 22 early in his rookie season, slightly limiting his upside, especially when compared to other lottery prospects.
On a scale from 1-10, Hunter's lowered ceiling rates at a 7.5.
Pre-NBA Setting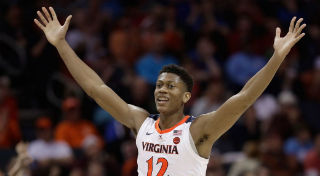 Hunter's presence seems to always result in winning basketball. Virginia's performance with and without Hunter provides perhaps the starkest example of his value.
After breaking his wrist in the 2018 ACC Tournament, the Cavaliers suffered the most humiliating loss in NCAA Tournament history, becoming the only No. 1 seed to lose to a No. 16 seed. With a healthy Hunter, Virginia captured the school's first men's basketball title. Hunter led the squad to 35 wins in 38 games this season and came up huge in the clutch when things got tense.
The Cavaliers deserve serious credit for this display of mental fortitude. It would have been easy and understandable for this squad to crumble after that historic loss to the University of Maryland – Baltimore County. Hunter wouldn't let it happen.
It's hard to project how intangibles such as leadership project to the NBA, particularly for players who project as high-level role players. But it's clear that Hunter possesses the maturity and toughness to find his footing in any NBA scenario.
On a scale from 1-10, Hunter's full spectrum of experiences in two years of college hoops rates at a 9.
Ideal NBA Ecosystem
Hunter's age, maturity, and NBA-ready role player status make him a better fit on a lottery team looking to challenge for a playoff spot, as opposed to a squad in the midst of a longer-term rebuilding plan.
The Washington Wizards plan to surround Bradley Beal with a functional NBA roster at some point, and Hunter makes a lot of sense as an Otto Porter replacement. John Wall's contract will limit the franchise's financial flexibility, but Hunter could step in and contribute immediately.
Also keep an eye on the Minnesota Timberwolves. Karl-Anthony Towns slapped together a monster stretch in the aftermath of Hurricane Butler, and Hunter could do the dirty work Andrew Wiggins isn't interested in.
On a scale from 1-10, Hunter's fit rates at an 8.5 on a competitive squad, and a 6 on a team planning to lose.