In an extremely close and competitive match up, Team USA made a late push to capture the win 93-87 in Portland. As always the Hoop Summit remains perhaps the premiere evaluation event for NBA prospects, and the 150+ scouts on hand are testament to that. Here is a look at the prospects from the USA squad.
Unfortunately, due to a new policy, measurements were not made available by Team USA this year.

James Wiseman 7-1 240 C East High School (Memphis, TN) *Memphis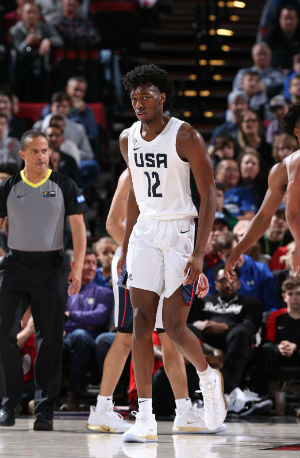 Nobody had better timing. One of the highest upsides in the class, James' effort level has ebbed and flowed as much as any of the top players in the class of 2019. As one senior USA Basketball person put it, his performance in the scrimmage was the best he'd seen him play in four years. Given the context of 150+ NBA scouts and the caliber of opponent, he was right. The danger, from an NBA evaluation standpoint, is overvaluing the small sample size of the All-Star circuit (McDonald's, Hoop Summit, Jordan Brand, etc.) vs. four years of evaluation and data.
Wiseman is an efficient low-post player that rim-runs effectively. He should be a more capable scorer than he is at this stage. The 6'11" big can face-up to 15,' but is just an average jump shooter with a soft touch at this point. He prefers to face-up at this stage. The Memphis commit needs to continue to add upper-body strength. Wiseman is capable of scoring in any setting, but prefers to play up-tempo to take advantage of his speed and dislike for physicality. The Nashville native is a sub-par FT shooter, who gets to the line with increased regularity.
Wiseman was one of the best two-way rebounders in the class, but is not nearly as consistent in this area, as others have become more physically mature. Defensively, he's a very good shot-blocker, particularly from the help-side, utilizing his 7'4.5" wingspan. He moves relatively well laterally. He needs to get tougher and become more of a vocal leader to achieve something close to his potential. He's skilled and has the physical tools, but he could even be more skilled, by tightening up his footwork and his jump shot. Wiseman is a solid student with a good basketball IQ, but needs to be a more willing passer. For a young big, he's not turnover-prone.
Blessed with a great frame and a fluid big with plus athleticism, the hope expressed by some is that he can be a Mitchell Robinson with a slightly better offensive skill-set at the same stage, yet without the potential red flags off the court. His strengths include how he's able to move, for that size, his elite overall mobility, and his shot-blocking. As he adds to that frame, he should revert to be a better rebounder, if nothing else than due to his sheer length and athleticism. He has drawn comparisons to Jarrett Allen as a shot-blocker type or a Myles Turner, but I think that's potentially aggressive. Despite the frequent and justified concerns about his motor, he has improved a great deal over the past four years.
Wiseman needs to hit the weight room aggressively or else he will squander his rookie year in much the same way as Mo Bamba. The future Tiger may have the best physical tools of any big in the country-outside of potentially Jaden McDaniels, who has similar issues with physicality and motor. He needs to add strength not only to his upper body, but to his legs as well, though their current size are a blessing and a curse since he moves so well. From an NBA perspective, he'll need to tighten his perimeter skill-set, including a limited handle and average jumper. My biggest concerns are his competitiveness and both mental and physical toughness, more than lack of strength or perimeter skill. Wiseman normally struggles against physical play and has a tendency to play to the opposite of the opposition, but finished strongly here, which hopefully can be sustained and viewed as a turning point. Wiseman will be a one-and-done big for Memphis next year and a lottery pick selection.
Cole Anthony 6-2 175 PG Oak Hill Acadmey (New York, NY) *Undecided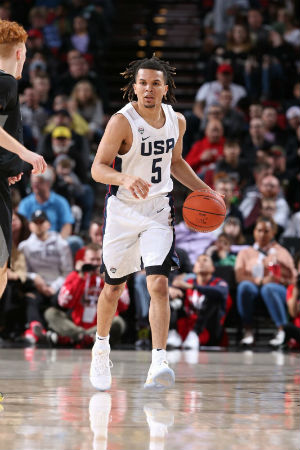 Anthony had a solid if not spectacular week in practice and game in Portland. He certianly carries himself like a star and has a great deal of confidence. He had a team high 25 points in the game on 18 shots, 8 makes and made some clutch plays down the stretch for the winning squad. He also hit 3-of-8 from three.
6'2.5" PG Cole Anthony is arguably the top PG in the class. A quality penetrator, Cole has developed into an increasingly aggressive scorer. The oldest child of NBA veteran Greg Anthony, Cole has steadily improved his overall game, adding piece-by-piece each year. He has a solid mid-range pull-up, with an ever-improving three-point shot (40% range). He's capable of playing both on and off the ball, but prefers having the ball in his hands. The current Oak Hill Academy senior can add further upper-body strength, but does a good job of drawing and withstanding contact. Anthony has become an excellent FT shooter and frequently gets to the line.
He's slightly better shorter off of the dribble than the catch at this stage. Comparatively, he has relatively poor court vision, but has become a more willing passer. He's comfortable both in transition and in half-court settings, but prefers to push pace. He has become a much more vocal PG, but can continue to grow as far as showing the leadership to being an extension of a coach on the floor. The NY PG has developed into a very good vertical athlete, having gone from an at-the-rim guard to one who can dunk from near the foul line. His lateral quickness has also gotten much better, one of the biggest areas of growth, as well as the aforementioned three point shooting. The Manhattan native is a very good defensive rebounder for a PG. Not an elite defender, Anthony, however, has become very effective at generating steals by playing the passing lanes and a plus shot-blocker for a guard.
Cole Anthony does a solid job on ball screens: he knows how to get "skinny," he knows how to recover from getting under a ball screen, he knows how to stay on top of the ball screens, and he recovers well if he was caught in the ball screens. Anthony has good size for the position and a frame to add additional muscle. A plus shooter at all three levels, he needs to cut down on turnovers, however. Defensively, he's become a more versatile defender, who avoids foul trouble.
The biggest criticisms that tend to be floated about Cole are a tendency to pad stats and, despite being on teams with talent, he has never won anything as well as teammates often play better without him. A fierce competitor, he has a reputation for not being liked by opposing players and one that others would prefer not to play with, but jealousy may be afoot. He will have a year in college, likely North Carolina, to dispel these notions. Cole Anthony has had a target on his back for the past four years and been able to produce against a variety of defenses. I expect that he'll be a one-and-done and a possible lottery pick in next year's NBA Draft.
Isaiah Stewart 6-9 250 PF/C La Lumiere (IN) (Rochester, NY) *Washington
Stewart impressed scouts during the week with an improving jumpshot and charasmatic personality. He had a quiet game with just 5 points, but made a positive impression in the one practice scouts were able to attend.
The most physically ready of the US team, Stewart has arguably the top motor in the class. He's developing into a well-rounded scorer. Although still primarily a low-post player, he's gradually expanded his range to be able to knock down 15′ jumpers and in. The Rochester native needs to continue to expand his range and the consistency of his perimeter shot, particularly beyond the three-point line, but, given his work ethic, it should come in time with additional reps and consistent footwork on his jumper. Stewart is one of the strongest players in the class of 2019, he's able to withstand physicality and contact. He gets to the line with regularity and is an above-average FT shooter.
The Washington commit is an improving shooter off of the catch. He needs to improve his touch with his left hand. Stewart is an improved passer, particularly out of the low-post. He's dangerous as a match-up problem in the half-court and very good as a rim-runner in transition with his speed. The future Husky is an elite rebounder on both ends of the court, but particularly on the defensive glass. Stewart has solid low-post moves, but a limited handle. Defensively, he's an improving, above-average shot-blocker, who effectively uses his 7'4" wingspan. He doesn't look to generate steals, opting to use his combination of upper-body strength and good footwork to hold position against 4s and 5s. Stewart does a good job of avoiding foul trouble, while staying engaged.
The LaLumiere senior has good size for the position and an exceptional frame. He has transformed his physique and overall conditioning by dropping over 30 pounds and significantly reducing his body-fat. Stewart has good lateral quickness. As a player, he's as exceptionally smart, in terms of basketball IQ, as he is hard working, which is a rare mix at this stage. He's also a very vocal and supportive teammate. The upstate New Yorker shoots way better than many know- people are going to be enamored with it when he has his NBA workout- he doesn't shoot enough yet from distance to catch everyone's eye. In terms of people who give him trouble trying to defend, someone who has length can be a problem, but someone who is small and fast isn't a problem. Stewart should be an instant impact freshman next year in the Pac-12 for the Huskies and a one-and-done player. He'll challenge Wiseman for supremecy among bigmen in the 2020 draft class.
Jeremiah Robinson-Earl 6-9 230 SF/PF IMG Academy (FL) (Overland Park, KS) *North Carolina
The 6'8" Robinson-Earl is a very fundamentally sound PF. He's an excellent offensive rebounder, who does a good job of positioning. The Villanova commit is a high basketball IQ big, who commits exceptionally few turnovers. He's not nearly the freak athlete that his father, Lester Earl, was, but has become increasingly athletic since arriving at IMG Academy (FL). The Kansas native is right-handed, but can score with either hand around the basket.
Robinson-Earl keeps expanding his face-up game. He is a willing passer with good court vision, particularly for his position. The IMG senior is a capable half-court scorer, who is very efficient 15′ and in. He has solid size for the position with a good overall frame. Robinson-Earl has a limited, but improving handle. He's effective in the low-post. Defensively, he's a quality shot-blocker and improving as a positional defender. Am almost nonexistent 3pt shooter, he's working at developing this area to compete in the modern game. The Kansas native has become more comfortable playing in transition, since arriving at IMG Academy.
Although he doesn't have the freakish physical tools of some of his teammates or competitors at the Hoop Summit, he steadily improves his overall game, which speaks to his work ethic. Despite battling for rebounds, Robinson-Earl doesn't get to the FT line, where he's a below-average FT shooter at this stage, as often as one might expect. He's become a more vocal leader. He needs to add significant upper-body strength, but also continue to become much more explosive. Jeremiah Robinson-Earl is a tough, strong, high-motor big with good post moves, but 6'8" with short arms. Robinson-Earl should be viewed as a multi-year player for Villanova.
Tyrese Maxey 6-4 190 SG/CG South Garland High School (Dallas, TX) *Kentucky
Maxey struggled to impress, although he did get the start, He finished with 8 points on 3-8 shooting, but the main thing scouts wanted to see is some vision and point guard skills, and he struggled to showcase that. He missed all three of his three point shots in the game, and area that should be his strength.
Maxey is an athletic guard wired to score, with a good shooting touch at all three-levels. He's not a pure PG, but an efficient passer with good court vision, who needs to become a more willing passer. The Texas native is a solid penetrator overall, but needs to tighten his handle further as he advances. Maxey needs to add upper-body strength to be able to withstand contact. He is a quality FT shooter, but needs to draw contact more often.
Maxey is an improving on-the-ball defender, who looks to generate steals. He has the potential to be a very good defender, if he can remain focused on that end, where he is already an improved defensive rebounder. When locked in, he is a rare plus defender. The son of a coach, he is, not surprisingly, very vocal and attentive with a high basketball IQ. Often, Maxey looks much more comfortable playing off the ball than on it on offense. He thinks more like a short SG than a PG right now. He's a plus athlete with the frame to add needed muscle. His nearly 6'6" wingspan helps him defensively guard some bigger, thinner players. The Kentucky commit is a player that teammates gravitate towards and one with a good work ethic. Maxey may struggle initially making plays and playing off the ball at Kentucky. Not as selfish as his reputation, he also hasn't been put into position to make plays for others—often forced to shoulder the scoring load.
Maxey is a natural scorer, but capable of making reads. He doesn't like setting screens, likely due to his lack of upper-body strength. Maxey struggles more when defending stronger, more physical and bigger guys on closeouts. Maxey is a naturally gifted scoring guard that is a good perimeter shooter with good length and plays hard. He was anxious to show that he is more than just a scorer, hoping to show that he was a playmaker and a good defender. He's a fluid athlete, who can become more explosive. The biggest concerns, from an NBA perspective, are his size for playing off the ball and his ability to develop as a playmaker with the ball.
Vernon Carey 6-10 260 C/PF University School (Southwest Ranches, FL) *Duke
A physically dominant, left-handed low-post center, Vernon Carey, Jr. brings craftiness around the basket along with a mix of speed and power. He's challenging to keep off the glass. Carey, whose father played OL for the Miami Dolphins, is exceptionally strong and blessed with at-the-rim athleticism, he's almost impossible for peers to contain inside. Carey is a very good offensive rebounder, who embraces physicality, but could be even more effective on the glass. The Duke commit has an extended mid-range game, but still is most effective within 6.' Carey gets to the FT line consistently, but is just an average FT shooter. He is a solid passer for a C, both out of the high and low-post. He's been working on driving and spinning left as well. While he should continue to expand his repertoire of low-post moves, he's very polished for his age. Carey has developed into a 3pt threat, but can sometimes fall overly in love with the shot, due to substantially improvement in this area over the past year. The future Blue Devil needs to continue to strengthen his face-up game.
Carey needs to improve his right hand, but can finish with both hands. Defensively, the wide-body has above-average foot speed for a C, while hedging often. He's an above-average shot-blocker, who is most effective from the help-side. Carey does a good job of avoiding foul trouble, but his motor needs to be more consistently high. He's shooting it much better from distance, creating a major mismatch. He's drawn comparisons to Wayman Tisdale. Defensively, he struggles on switches with very quick guards, but defends players his own size or pick-and-pop bigs well.
Vernon Carey is a physical force with an advanced scoring package. He can attack the rim, but also pop out and knock down some three-pointers. Although he hasn't missed a practice in 2 years, he was hurt in spurts throughout the week. He's been very stoic and even-keeled throughout, he's become more demonstrative on the court over the past few months. Carey will be a one-and-done for Duke next season.
Scottie Lewis 6-6 180 SG Ranney School (Hazlet, NJ) *Florida
Lewis is an exceptional athlete with an elite motor. He has a consistently improving offensive skill-set, but still a ways to go. The Florida commit is more wired to win than score. He's a quality defender, both on and off the ball, who is a very good shot-blocker for a wing.
His handle has improved, but still further room for improvement. Lewis needs to add significant upper-body strength to his wiry frame. The NJ wing is a hyper-competitive and demonstrative teammate. He's an inconsistent and weak overall three-point shooter, but better shooting off of the dribble than the catch at this stage. He's a character player, who is a vocal leader. The future Gator has tremendous upside, if one can tighten his perimeter skill-set. Lewis is a versatile defender, who literally, for varying stretches, can guard 1-4. Although he has become a much more willing passer, but Lewis now often forces risky passes.
A converted PF who has learned to develop his perimeter skill-set, Lewis is something of a late-bloomer to his necessary skills. With his freakish athleticism, he's elite in the open court. He's also a rare player genuinely obsessed with winning and competition. Lewis does a good job overall on the defensive glass, where he tries to initiate offense as a "grab and go" player. He needs to cut down on turnovers, frequently from over-dribbling and ill-advised passes. Lewis has become a ball-hawk on the defensive end, but a stronger, physical guard can give him trouble because he can't use his athleticism to as much of an advantage. He's a quality FT shooter, who has become more comfortable drawing contact, but still has significant room to improve.
Lewis is a very good teammate and coachable. His HS coach at the Ranney School, Tahj Holden, who won a title at Maryland, feels he's reminiscent of Dwyane Wade with his explosiveness and craftiness, roughly the same size, and shooting roughly the same 30-35% three-point shot percentage. He is actually stronger than he looks, with a wiry strength, but, when in contact, sometimes has a problem finishing, which is where he needs to be more consistent. In a "league of killers," like the NBA, because he doesn't have any fear of anyone and doesn't back down—it can only help him because now he'll have to be competitive all of the time. In big games, he steps up against the best competition, opting to defend "that guy," as he's wired to do.
The New Jersey resident needs to refine his jump shot, although he's better jump shooter now than ever with further room for improvement. As mentioned above, he also needs to get stronger, adding another 20-30 pounds of muscle should be relatively easy in college, since he has the frame and work ethic. The things that set him apart from other players are unteachable, such as his make-up, elite athleticism, and defensive versatility, while the aspects of his game that are areas for improvement can simply be improved through tinkering and repetition.
Wendell Moore Jr. 6-6 220 SF DeMatha Catholic (Charlotte, NC) *Duke
Moore is a versatile, two-way wing, who is effective as a secondary distributor. He's a jack of many skills, but master of none. The North Carolina native is an above-average scorer, who creates the vast majority of his points 16′ and in. He's an excellent FT shooter and generates a lot of his points at the stripe, which he gets to with regularity. Moore is a weak three-point shooter, but doesn't take many of them, compared to peers.
The 6'4.5" Moore is a very good passer, both in terms of patience and willingness to find and execute a delivery. He physically developed early on and able to withstand contact well. He can post-up some weaker wings. The Duke commit is a solid rebounder on both ends, who effectively uses angles and athleticism. Overall, he's overrated as a defender, but uses length to do a solid job of generating steals. He's an undersized wing with plus athleticism.
He will need to expand his range and become a much more consistent perimeter shooter. Moore needs to tighten his handle significantly. He has a good overall basketball IQ with the patience of an older player. He's a very efficient player, who has a tendency to make winning plays. Not a vocal leader, the future Blue Devil is much better functioning as a complementary player on an elite team than bearing the burden of being a team's star. Moore has an effective 6'9.5" wingspan. Although he has a good handle and can give spot possessions as a point guard, he would have to function as a wing at the NBA level, if he is able to get that far. For now, Moore needs to improve his three-point shot significantly. The Concord, NC native is physically fit, but needs to get stronger to get to the next level and it will be an adjustment for him to play hard consistently at the next level. Defensively, quick guards give him trouble, but he's more effective at guarding big wings. He doesn't have bad shot selection, but he should have shot the ball more and been more aggressive overall.
Matthew Hurt 6-9 220 PF/SF John Marshall (Rochester, MN) *Duke
Hurt is a skilled stretch 4, who has developed into a very effective 3pt threat. The Minnesota native has an effective mid-post shot. He draws frequent contact and has become a solid FT shooter (80%). Hurt, whose brother, Michael, plays for the Minnesota Gophers, is a better shooter off of the catch. Despite a thin upper-body, he's a surprisingly solid offensive rebounder.
Hurt has good court vision, particularly from the high-post, and is a very willing passer, even from an early age. Hurt has a very limited back-to-basket game. The unsigned senior has a high basketball IQ and is an efficient overall player. Defensively, he's effective as a weak-side shot-blocker, but needs to add significant upper-body strength and is a below-average overall defender. He has a solid handle for a 4, not a wing, which he prefers. Hurt is average overall athletically, but utilizes a surprisingly strong lower-body on the glass and to maintain position. Matthew Hurt needs to become more of a vocal leader and more aggressive at times on offense, but has come on of late, as a scorer.
Defensively, an intelligent athlete gives him trouble. Against a really athletic kid is where he flourishes the most, but someone who is big and athletic with a huge weight advantage is someone who would give him problems. Hurt does best against kids who think they're going to beat him just based on their athleticism, as he tends to know what they want to do. He's a solid help defender with a 6'9" wingspan.
Hurt, who will attend Duke, is a versatile scorer, who operates under the "Shooters don't sit" mantra, given the value in someone who loves shooting the basketball and spacing the floor. He has tendency to make winning plays. Physically, he needs to work on his upper-body and his lateral quickness- there's going to be some growth there. One would want to add to his upper-body without getting stiff, as his flexibility is currently average and is able to get down to defend.He's roughly 210 now and could easily get to 220-225. If he can take what he knows in his mind and add the best trainers in the world to that, he's going to be in a really good spot. As it stands, he projects as a really good college player and potential rotational player at the next level.

Isaac Okoro 6-6 220 McEachern (Powder Springs, GA) *Auburn
The 6'6" Okoro is an athletic, three-level scorer. The Georgia native and Auburn commit has an above-average handle and rebounds well on both ends for a wing. He has a streaky 3pt shot at this stage. Okoro has the potential to be an effective defender, due to his mix of athleticism, size, and strength. Okoro is relatively physical for a wing, with a reputation for being very attentive and coachable. Okoro projects as a multi-year player at Auburn with NBA upside. He has the physical tools and the makeup. It's simply a matter of refining his perimeter skill-set and additional upper-body strength.
De'Vion Harmon 6-2 196 PG John Guyer (Corinth, TX) *Oklahoma
Harmon is a penetrating, left-handed PG with above-average speed, who looks to change pace. The Oklahoma commit is a streaky, but average overall perimeter shooter. He over-dribbles, but has become less turnover-prone. He's an adequate passer, but makes overly risky passes. Harmon gets to the line and has become a solid FT shooter. He generates steals with his ball-hawking and lateral quickness. The Texas native has the physical tools and potential to be an effective college guard. He needs to tighten his handle, improve his perimeter shot and decision-making as well as add upper-body strength. The tough, attacking PG didn't play much during the Hoop Summit game, but should be an effective, multi-year player for the Sooners.
Justin Moore 6-4 200 SG DeMatha (Accokeek, MD) *Villanova
Moore is an active, versatile wing. The Villanova commit is a 3-level scorer. He's an improving, but average three-point shooter at this stage. Moore doesn't embrace contact on his penetration and is a slightly below-average FT shooter. The DeMatha senior is an improved passer. He's an average rebounder overall, but prefers to hit the defensive glass and initiate the break. Moore gives an adequate defensive effort usually, but, against weaker competition, tries to generate steals with his 6'8" wingspan. A high-level "glue guy," it will be interesting to watch when or if he can take the next step, but Villanova has a good track record of development.