"Situational Analysis" is a series of articles that seeks to examine the circumstances that most often influence an NBA prospect's success. Each player will be scored on a scale from 1-10 in four different categories: NBA-specific skill(s), fatal flaw(s), collegiate/overseas/pre-NBA environment, and ideal NBA ecosystem.
Charles Bassey is an 18-year-old center from Nigeria who averaged 14.6 points, 10 rebounds, and 2.4 blocks during his freshman season at Western Kentucky University. He is expected to be drafted anywhere between the middle of the first round and the top of the second. NBADraft.net currently has him projected at No. 19.

NBA-Specific Skills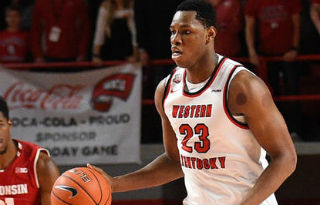 Each year, there seems to be one or two "mysterious" big men who shine slightly beneath the national radar and spend the late spring/early summer climbing draft boards. Charles Bassey most certainly fits that mold.
Bassey was frequently dominant for a somewhat mediocre Western Kentucky squad. Few Conference USA centers could hang with Bassey's combination of length, athleticism, and touch. Standing 6-11 with a 7-3 wingspan, Bassey projects as a defensive linchpin and high-level rim protector.
In addition to his rebounding and shot-blocking ability, Bassey shows excellent offensive upside, thanks in large part to his hands – soft enough to catch nearly any entry pass/lob, and strong enough to patrol the offensive glass. He wasn't a high-volume offensive contributor (8.8 shot attempts per game), but he made the most of his opportunities, converting on 62.7 percent of his field goal attempts.
He also flashed encouraging range on his outside jumper, knocking in 9 of his 20 3-pointers. It's too early to call him a "stretch 5," but Bassey shows terrific potential as a dual threat on the pick and roll/pop. Few players are equally effective in a Clint Capela-style rim dive and an Al Horford-style pop to the arc.
Perhaps his best asset is his age. At only 18 with his 19th birthday not until Oct. 28, Bassey is among the youngest players available in this draft. He showed more than enough skill and athleticism as a freshman to justify an extremely optimistic outlook for his future development.
On a scale from 1-10, Bassey's upside rates at an 8.5.
Fatal Flaws
Unlike most "tremendous upside potential" big men, Bassey isn't the most jaw-dropping athlete. Even though he can fly up and down the floor in transition, he can look a bit awkward navigating the half court on both ends. A lot of this choppiness can be attributed to his lack of high-level hoops experience, but he will have a higher learning curve than many other top-level big men prospects.
It's tricky to project Bassey's NBA profile from a handful of Conference USA games. It wasn't much of an issue at the non-professional level, but Bassey will need to add a serious strength-training regimen to hang with NBA centers.
It's understandable given his age and competition level, but there is a noticeable lack of polish to Bassey's game when you stack it up alongside other potential first-round picks. It's small stuff – timing on his close-outs, patience on his post moves, sharpness on his defensive rotations – but on the pro level, the small stuff makes all the difference.
On a scale from 1-10, concerns about Bassey's ability to play right away rates at a 7.5.
Pre-NBA Setting
Like many African-born prospects, Bassey started out playing soccer. He devoted his time to basketball as a teenager, raising eyebrows at the Masai Ujiri-developed Giants of Africa camp, eventually moving to San Antonio to play for St. Anthony Catholic High School, where he developed into one of the nation's most exciting young centers.
After some tumult at St. Anthony, Bassey bounced around a bit before reclassifying for the class of 2018, where he landed near the top of many recruiting services. He turned down scholarship offers Kansas and Baylor in favor of Western Kentucky, where he would have the opportunity to play right away.
Pros: He started each of WKU's 34 games and averaged more than 30 minutes per contest. He gained valuable experience and playing time, posting some of his best performances toward the end of the season.
Cons: He didn't face the same top-level competition he would have at an elite program, both on the practice floor and in game action.
For a player with Bassey's youth and upside, I believe the game-time experience he accumulated at Western Kentucky will prove to be more valuable than a time-share situation he might have experienced at a bigger school. Upside can take a player only so far.
On a scale from 1-10, Bassey's ability to see the court right away at Western Kentucky rates at an 8 for his future development.

Ideal NBA Ecosystem
Last year's emergence of Mitchell Robinson for the New York Knicks really helps players in Bassey's situation.
Robinson arrived in the NBA through an unconventional path and the Knicks took a flier on him at No. 36. Like Bassey, Robinson committed to WKU, but instead of setting up shop as a Hilltopper, he elected to train on his own to prepare for the NBA.
The decision paid off, as Robinson caught fire the second half of the season and posted some truly ridiculous shot-blocking numbers in limited minutes.
Bassey could benefit from finding a situation similar to the one that allowed Robinson to thrive. It's not often that "Knicks" and "situation in which to thrive" appear in the same sentence, but here we are.
Bassey needs to find a situation where the coaches/front office are high on patience and low on overreaction. Bassey is a worthwhile long-term play for a team looking to build around a young core (Atlanta, Dallas) or a veteran-heavy squad in need of young legs that can be brought along slowly (Golden State, San Antonio).
On a scale from 1-10, Bassey's need for the right fit rates at an 8.5.