Roy Rana is the World Select Team head coach for the Hoop Summit. Rana has been involved with coaching Team Canada for numerous years and is also head coach of the Ryerson Rams. We were able to catch up with Roy this week to get his take on the Hoop Summit International squad prospects.
NBADraft.net: How was the experience coaching the World Select Team this year at the Nike Hoop Summit?
Roy Rana: The experience coaching the World Team was one of the highlights of my career, they were a great group and a pleasure to work with.
NBAD: How do you compare the World team players with the USA players in terms of style/toughness?
RR: I honestly believe we were a pretty tough group who had an enormous amount of skill.
NBAD: Were you pleased with the performance of the World team, or could they have made it a closer contest?
RR: I was disappointed in our first half. I thought we came out nervous and tentative. I thought we showed much better in the 2nd half.
NBAD: Did they become a tight knit bunch, or was it too little time to really develop that dynamic?
RR: We actually bonded very quickly and I think it is one of the great parts of the experience for our kids. They developed chemistry and a bond on the 2nd day.
NBAD: Did the kids ever have trouble communicating being from so many different backgrounds, or is the language of basketball universal?
RR: At times communication was a challenge but the players helped each other and with the use of interpreters we also got our message across.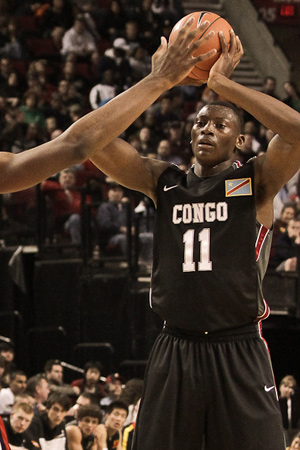 NBAD: Talk a little about the player who everyone came away so impressed with: Bismack Biyombo.
RR: An incredible force athletically with a great motor who only knows how to play one way and that's hard. He is a character young man who was very coachable and showed great leadership amongst his teammates. I really believe that he will make his future team very happy wherever he ends up because he is a character young man who seems committed to improving.
NBAD: What's he like off the floor? What kind of work ethic did he exhibit? What does he need to work on to make it big at the NBA level? What was the word from NBA scouts about him?
RR: He has a great work ethic and is a great kid off the floor. I think he has all the tools to play at the NBA level but continue to work on his fundamental base and expand his game away from the basket. All the NBA scouts I spoke to loved him.
NBAD: Any insight into his true age, did he have 80s music on his ipod?
RR: He did not have an IPOD, he had a Sony Walkman and was looking to buy 8 track cassettes for his Ghetto Blaster in the hotel room! Bismack is what he says he is, an 18 year old kid living out a dream who is blessed with a great body and an incredible desire to make it to the highest level.
NBAD: The youngest player on the team Dario Saric shows a lot of versatility. What do make of his skills and potential?
RR: Dario is an incredible talent who I believe has incredible upside and will eventually be a NBA caliber SF. He has a great feel for the game and can handle shoot, post up and also has a great motor. He is the prototypical international player whose skill set is very refined and versatile. Considering he was the youngest player on the team and 1994 born I am very excited about his future. He is a special kid who can become a very, very special player.
NBAD: Davis Bertans is considered one of the best shooters among his age group in the world. Did he surprise you? What is he like?
RR: I was not too familiar with Bertans but he quickly fit into the weather in Portland by adding to the rainfall with his 3 point barrages! Another great kid who most certainly has to be one of the best shooters I have ever seen at 6'10. He's a natural perimeter player who will be very dangerous as a shooter but also has some skill of the dribble as well.
NBAD: Talk a little bit about Lucas "Bebe" Noguera, what are his positives and negatives?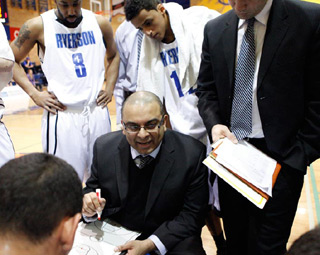 RR: "Bebe" (Lucas Noguera) is a great kid who I believe will be a very good pro as he matures physically. His length and athleticism are impressive for a kid his size. He will always wow you with one or 2 plays in practice and as he matures and strings together those plays consistently he will become a special post player

NBAD: France's Evan Fournier has a smooth all around game and good size for the wing position. What's he like off the floor? What does he need to work on and what kind of a professional career do you foresee for him?
RR: Evan is another quality kid off the floor who exudes confidence. He was one of our most consistent players during the week. Evan like most young players needs to continue working on his physical development but I think he the potential to become an NBA player.
NBAD: The point guard from china Guo Ailun is one of the bigger hopes from China in the last few years. What are his positive attributes"
RR: Guo is a great off the bounce guard who can really score and create for his teammates. He will be on the international scene for many years and has a great sense of humor. Guo is also a fearless competitor who is very tough both mentally and physically.
NBAD: Who really impressed you for the USA squad?
RR: Every single player on the US impresses me over and over again not only with their talent but the willingness to sacrifice their own games for the success of the team. This is the best group of collective US talent at the youth age group that may have ever been assembled to date. So many of these guys will be in the NBA soon but USAB should be very proud of the way the play together. This really is a special group on the international basketball scene.
Follow Roy on twitter at: http://twitter.com/roy_rana