The World Select Team struggled, failing to perform as well as I had thought they would. The athletic ability of the US team proved to be a hurdle that the international's own height advantage could not overcome. Many of these players are known as excellent shooters, but it was not a good showing offensively for most of them. Still, there is a lot of potential in the roster and a number of the players could be NBA players down the line.
Bismack Biyombo – Just as he has been for his Spanish team, Bismack was a real presence defensively for the World team. He made every basket a challenge for the USA squad. Biyombo had himself a field day defensively. He rejected anything that the US threw up within a 5-foot radius of the rim. He ended up with the first triple-double in Nike Hoops Summit history, recording 12 points, 11 rebounds and 10 blocks. Not only is Biyombo a specimen with great athleticism, strength and a massive 7'7" wingspan; but he also possesses a lot of energy and toughness. This was apparent as he simply overwhelmed any player on the US team who attempted to match up with him. Offensively, he threw down several impressive dunks, but outside of that he failed to show us anything to suggest he has much offensive potential. This was evident as he bombed from the free throw line, only making two of his eight attempts. People tend to worry about his shooting touch, and the fact that he doesn't appear to have any established post moves. Still, his physical tools and performance in this game have created a major buzz among NBA teams, and now there's some talk about him as a lottery pick in this year's draft. The big question revolves around his age. He's listed as being 18, but when asked about it, he declined comment. Scouts feel he's likely closer to 21-22, and there are some reports that he could be even as old as 23-26. If he's somewhere closer to 20, he's a likely rounder. But if it's determined he's actually in his mid-20s, it's hard to imagine him being given a guaranteed contract.
Dario Saric – Saric was the youngest player to play in the Hoop Summit this year, and he definitely showed off what makes him such an intriguing prospect. He has a fantastic natural passing ability, seeing plays before they develop. He only recorded one assist in the game, but he had several more sharp passes that his teammates were unable to capitalize on. He also displayed his great outside shooting ability, finishing 3-6 from the field, mostly on perimeter jump shots. Saric also finished with six rebounds, showing us his versatility. With his legit 6'10" frame, 7-foot wingspan, well-rounded skill set, and the fact that he just turned 17 years old on Friday, there is a lot to like about Saric's NBA potential. His athleticism is questionable, similar to Gallinari at the same age. He's a bit turnover-prone, but in a few years we could be talking about a lottery prospect.
Mateusz Ponitka – Ponitka really impressed Saturday night. He was the World team's leading scorer with 17 points. He didn't score by shooting extremely well (1-3 3PT, 2-5 FT), but he scored by using his outstanding aggressiveness. Ponitka would just put his head down and bully his way to the hoop, often finishing through contact. He also surprised us with several nice plays in transition, showing off his solid athleticism. Ponitka was just as aggressive on defense, looking to make plays and draw charges whenever possible. A lot of people (myself included) did not expect a great game from Ponitka, but he was one of the bright spots on the international roster on Saturday night.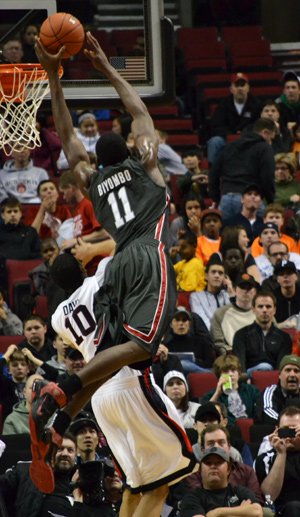 Kyle Wiltjer – Wiltjer really wanted to have a good game and many people pegged him to lead the World team in scoring, however the future Wildcat ended up with a respectable 12 points on a significantly less respectable 15 shot attempts. Wiltjer has good shooting ability and he held his own from outside (2-6 3PT) but inside the arc he was clearly bothered by the athleticism of the US roster. Normally well-renowned for his post-moves, Wiltjer couldn't buy a bucket in the paint. Don't let this game fool you, Wiltjer is a unique talent who is going to excel at Kentucky over the next few seasons.
Evan Fournier – Fournier is a silky smooth shooting guard with balanced overall athleticism and a wide skill-set. He can handle the ball with either hand, pass and shoot effectively. His scoring ability comes from his unique talent of finding seems in the defense and exploiting them to penetrate. Fournier is very slippery in that way (similar to Brandon Roy when he was at Washington). He had a pretty lackluster showing at the Hoop Summit this year (6 points, 6 rebounds), but he's another player on this squad with legit NBA potential. It will be fun to see how he develops in the next couple years.
Przemyslaw Karnowski – Karnowski didn't have many opportunities to use his talents in this game. With his size, shooting ability and passing instincts, the World team should have looked to run a bit more of the offense through him. At 7'1", 279 lbs there was nobody on the US roster who could match up with him. Karnowski only played 8 minutes and he failed to score — though he did have two nice assists to open shooters. His lack of foot speed and athleticism severely limit his NBA potential. He's not a likely NBA draftee.
Raul Neto – My favorite adjective for Neto would be scrappy. Although he didn't make much of an impact offensively (1-4 FG, 2-4 FT, 2 points) he played tough defensive for the duration of the 17 minutes he was in the game. He maintained a low position, moved his feet well and even picked off a couple passes. As a point guard, he has good ball-handling and passing ability (led the team with 4 assists).
Guo Ailun – The quick, athletic Chinese kid didn't have the game he wanted, finishing with only 4 points, 3 rebounds and 1 assist. He did perform well at the practices and really made an impression on a lot of people. He's a scrappy PG with a lot of confindence and an improving jumpshot. Though quiet on Saturday, you haven't heard the last of Guo.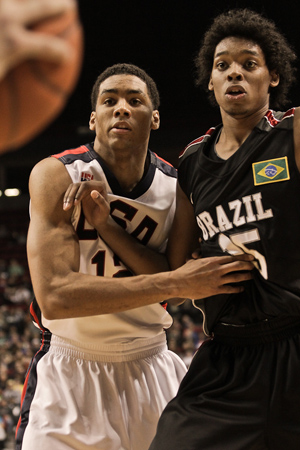 Lucas Nogueira – Nogueira spent the week doing the things we already knew he was capable of; blocking shots and using his length/athleticism on the offensive glass. Besides that, he's a mess offensively. He displays no shooting ability at this point in his career and he's just too skinny to create his own offense near the hoop. As a 7-footer with a massive 7-6 wingspan, he projects as an NBA center but he is a long way away from being able to defend that position. Nogueira doesn't play with the same energy or toughness that you see from Biyombo, so there's very little that he would be able to offer an NBA team in the near future. He needs to learn to play with more passion, but then again he's still very young. His performance on Saturday was basically a flop. The bottom line is that he's definitely a long-term project.
Davis Bertans – Bertans looked great in the World team's practices, particularly his shooting ability. He's considered the top shooter to play for the World team since Dirk Nowitzki. He displayed fantastic footwork, form and arc and as a result he didn't miss much. However his performance in the actual game left something to be desired. He finished 3-10 from the field, 2-6 from behind the arc and 0-2 from the stripe. He also didn't contribute much in terms of playmaking or rebounding. Bertans wasn't overly effective Saturday night, but his size at 6'10" and shooting ability makes him an intriguing prospect. NBA talks are beginning to surround Bertans and when he declares he should get some first round looks.
Kevin Pangos – Like fellow point guards Neto and Ailun, Pangos struggled from the field in this game. He was 1-6 from the field and only finished with 2 assists. This wasn't his night, but like Wiltjer, Pangos will have a chance to make an impact in the NCAA next season. His strengths are tailor-made for the college game. He can shoot and handle the ball; he's a great playmaker and a hard-worker defensively. The Gonzaga Bulldogs are definitely going to welcome Kevin Pangos next season.
2011 Nike Hoop Summit World Select Team Measurements
2011 Nike Hoop Summit World Select Team Roster
| Player | Ht | Wt | Pos | DOB | Country / Team |
| --- | --- | --- | --- | --- | --- |
| Kevin Pangos | 6'1" | 181 | G | 1993 | Canada / Dr. Dennison H.S. (ONT) |
| Raul Neto | 6'2" | 165 | G | 1992 | Brazil / Pitagoras Minas Tenis Club |
| Mateusz Ponitka | 6'6" | 203 | G | 1993 | Poland / AZS Politechnika |
| Evan Fournier | 6'7" | 206 | G | 1992 | France / Union Poitiers |
| Davis Bertans | 6'10" | 211 | F | 1992 | Latvia / Union Olimpija Jr. Team |
| Bismack Biyombo | 6'9" | 243 | C | 1992 | Congo / Fuenlabrada (Spain) |
| Dario Saric | 6'10" | 215 | F | 1994 | Croatia / KK Dubrava Zagreb |
| Kyle Wiltjer | 6'10" | 224 | F | 1992 | Canada / Jesuit High School (OR) |
| Przemyslaw Karnowski | 7'1" | 279 | C | 1993 | Poland / Sport School Cetniewo |
| Lucas Nogueira | 7'0" | 218 | C | 1992 | Brazil / Estudiantes |
HEAD COACH: Roy Rana (Canada) ASSISTANT COACH: Marin Sedlacek (Serbia)