First Team
Jimmy Butler (18.7pts, 62% fg, 4.7 rebs, 4 ast)
Named the MVP of the camp after leading his team to a championship win, he showed his versatile game and ability to take over on both ends when the game called for it. He has nice size and strength on the perimeter and is able to score without dominating the ball. Finding his spots within the rhythm of the game, he is not only very effective but also very efficient. His midrange game is nicely developed, he has a smooth jumper and is able to elevate with good balance and make shots with a hand in his face. He is a decent athlete and can get into the lane where he uses his body and size to finish. What makes Butler so valuable is his ability to contribute in other areas as well. He is extremely unselfish and is always looking to make plays for his teammates. Pushing the ball ahead in transition, he is not hesitant to give it up and trusts his teammates with making plays. Defensively, he was able to lock down a number of good scorers this week. He understands positioning and is able to use his strength and good foot speed to stay in front of people and also body them out of driving lanes. His handle gets sloppy and definitely needs work, but the big question mark about his game is his ability to knock down the NBA range three pointer. His form breaks down a bit when he shoots from longer range, and it does not look the same as when he shoots from midrange. He certainly shares some traits with guys like Landry Fields and Wesley Matthews, but for him to stick around at the next level he will need to continue extending his range.

Vernon Macklin (19 pts, 8 rebs, 52% fg)
He was one of the biggest names that actually ended up staying at the camp, and he certainly looks like he made the right decision. His size, length, athleticism and fairly decent low post game, gave him an overwhelming advantage over the opposing bigs. Getting the ball on the low block, he was very patient looking for the double team then attacking. He showed the ability to finish to both shoulders, but it is clear that he prefers going to his right mini hook. He has decent footspeed, and is able to get a step on the defender with his back to the basket or when facing up. His repertoire however is fairly limited and somewhat predictable; he does not have the footwork to make balanced counter moves when he gets turned. As a shooter, there is certainly a lot to be desired, his form lacks the mechanics and there is no rhythm to his release. He shoots on the way down and there is a major hitch in his stroke. All this equates to minimal range and an absolutely atrocious free throw percentage. Defensively he is mediocre, he is able to move his feet and stay in front of his man, but in terms of shot blocking he is almost a non factor. For a guy with his physical tools, it is a bit of a surprise that he does not contribute more, but his timing is poor and he just does not have the intimidating attitude.

Andrew Goudelock (20.7 pts, 13/22 3pt, 2.7 rebs, 3 asts, 48% fg, 1 stl)
He was an assassin throughout the camp; because of his small school background he came in as a bit of an unknown, but he made people pay attention very quickly. He is too small to play on the wing and is certainly not a point guard, but he can definitely score the ball. He was absolutely fearless and looked to attack every chance he got. His quickness is good – not out of this world – but what sets his drives up so well is his ability to shoot the ball and extend the defense. He has an extremely quick release and has the ability to make shots off the dribble and with a hand in his face. Off the dribble he has a variety of moves, changing angles and speeds to keep his defender guessing at all times. He does tend to over dribble and can get into trouble by trying to do too much and getting caught in traffic with limited passing options. However, he is definitely not a selfish player and showed the ability to find open teammates when defenses converged on him. Goudelock is undersized to ever fit a position in the NBA, however his shooting touch and scoring ability may just be enough to give him a chance to become a specialist at the next level.
Brad Wanamaker (11.5 pts, 8 rebs, 44% fg, 2.5 asts, 1.5 stls)
There isn't a particular aspect of his game that stands out, but he does a number of things very well and his able to impact a game in a variety of ways. He has a strong body and is able to use it to muscle his way to the hoop and he also has a knack for keeping the ball away from the defense by shielding it with his body. His athleticism is nothing special, but he has a great feel for open space and always seems to find himself in the right spots. From midrange he showed a nice jumper, and was able to make a number of contested shots. However, stepping outside is definitely out of his comfort zone as he passed up open shots on a number of occasions and decided to attack into traffic instead. His handle is also a bit shaky, he can get sloppy especially when he gets pressured or when he is going at a faster speed. Even with some of his scoring limitations, Wanamaker brings many other dimensions to the team that contribute to success. He is a complete team player and has the ability to deliver passes with timing and precision. Getting to the O glass he is relentless; he is always in attack mode and is very difficult to contain when he's around the basket. On the defensive end is potentially where he makes his biggest contribution. He is very physical and likes to keep constant pressure on his man by bodying up at every opportunity.
Matthew Bryan-Amaning (16 pts, 7 rebs, 43% fg, 3.5 stls, 2 blks)
As the week progressed, he seemed to become more comfortable operating in the low post and at the end he flashed some skilled back to the basket moves. He has a strong preference to finish with his right hand, but he did show one or two mini left hooks. Running the floor and getting to open space are his best attributes. He is a very good athlete, and any time he is able to get an open path to the basket (1/2 court or transition), he is looking to finish strong at the rim. He showed the willingness to get the ball off the glass and push it in transition (although he did get into trouble by over dribbling on a few occasions). Defensively he was very active, both in the passing lanes and by blocking shots. He has a good feel and anticipates the ball, and is able to make an impact on that end. Where he struggles the most is operating in traffic, he doesn't have the best hands and has a hard time catching balls that are outside of his body. When he is forced to make a move in a crowd, his footwork is fairly limited and he tends to lose his balance and is forced into making difficult shots. His shot is also a deficiency, he looks to shoot as only the last resort from his faceup game, and his poor foul shooting also makes him a liability.
Second Team
Ravern Johnson (16.7 pts, 51% fg, 8/20 3pt, 1.3 rebs, 0.3 ast)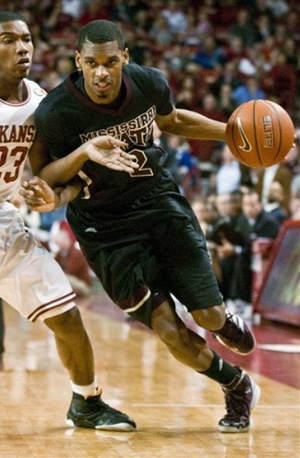 For a perimeter player at the next level he has the size, length, athleticism and the scoring touch. He elevates extremely well on his jump shot, and he is able to shoot it under control when contested and going full speed. His touch is extremely soft and he had no problems making shots from the extended arc. Definitely most comfortable making one dribble moves out of the triple threat, his first step is long and he is able to cover a lot of ground with it. Finishing around the basket at times he showed some nice ability, because he can hang in the air and finish around help defense using his length. With all that being said, there are some serious red flags around his game and body. He is a long way from being physically ready for the next level, he measured at 170 pounds, and he certainly played like it at times. He does not like playing to contact and is almost always looking to avoid it when attacking the hoop (representative of his 0 free throw attempts in 3 games). He also did not show contributions in any other category but scoring, he seems uninterested in getting to the glass to rebound, and setting up teammates seemed like that last option and only if his shot wasn't available.
Delroy James (11 pts, 6.7 rebs, 44% fg, 2 ast, 1.3 stls)
As a versatile combo forward James was able to display some nice things. He spent most of his time on the perimeter working off the dribble or moving without the ball to set up his offense. He has nice size and strength and is able to muscle his way to the hoop and finish. Once he gets into the paint he is patient and very good at using shot fakes and step throughs to get easy buckets. His low post repertoire is fairly limited, but he is able to use his strength to back smaller defenders down and get easy shots. In terms of his perimeter skill, it is also unpolished, he depends heavily on muscling his way, but when forced to make moves off the dribble he shows his limitations. Compounding the issue is his inability and hesitancy to shoot the ball; he has an awkward lefty jumper and will only shoot it as the absolute last resort. Aside from his scoring limitations, he brings a lot of other contributions to the table. He is a very solid defender and is not afraid to mix it up on the wing or in the post. He has the size and strength to be able to guard a few positions and he understands how to use his body in order to keep his man off-balance.
Diante Garrett (10.7 pts, 2.3 rebs, 52% fg, 3 asts, 1.3 stls)
Maybe not one of the most impressive stat lines of the week, but Garrett's speed and shiftiness make him an interesting prospect. He has good size and length as a point guard and he makes very nice reads with the ball. Turning the corner, he has good quickness and can explode to the basket for a variety of crafty finishes. He has a nice mix of moves in his repertoire off the dribble, and he is able to create space and get into the paint with consistency. As a jump shooter he is very inconsistent, he showed the ability to knock down shots from long range and off the dribble, but he also had stretches where he was way short and off balance. His body needs serious work as well, his frame is very light and he has a hard time going up against stronger opponents who are able to physically overpower him.
Talor Battle (12 pts, 6/13 3pt, 3.7 rebs, 52% fg, 4.3 asts, 1 stl)
Coming into the camp, everyone knew about his scoring ability, but he needed to show that he can run a team full time in order to get an honest look. While he certainly looked to get everyone involved and distribute the ball, at times he looked a bit passive because he was giving up open shots in order to make the extra and sometimes unnecessary pass. He has decent vision and he made fairly good reads in the pick and roll, looking to kick the ball when drawing a defender. However, he was at his best when playing as the second guard (along with Culpepper) where he could go back to his natural scoring ways. His stroke is very efficient and he is able to get shots off with minimal effort. Shooting on the move or off the dribble does not hinder his percentages, and the extended arc also posed no issues for him. He may not have enough explosiveness or size to play in the NBA, but he will have no problems carving out a nice career for himself overseas.
Cam Long (12.5 pts, 4.5 rebs, 43% fg, 1 ast, 1.5 stls)
A bit of a mixed bag in terms of performance for Long this week. He shows flashes of very impressive talent, but he can just as easily disappear and be nonexistent for extensive periods of the game. He is strictly a shooting guard, but at 6-4 and with only decent explosiveness he is at a serious disadvantage for the next level. However, when he gets it going and is looking to attack, he seems to rise above his shortcomings and shows the ability to score at a very high level. His stroke is smooth and he can get shots of very quickly from deep and under duress. He sets his slashing game up well by using shot fakes and jabs very effectively to gain separation and get into the lane. As a finisher he is very crafty because he can comfortably finish with either hand and he also knows how to use his body to protect the ball and absorb contact. He probably didn't show enough to get drafted, but he definitely earned himself some money in terms of an overseas contract.
Third Team
Chaisson Allen (10.7 pts, 5.7 rebs, 48% fg, 3.3 asts)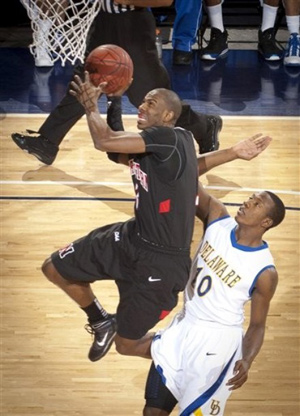 A quick and explosive scorer, he is very good at breaking his man off the dribble and getting into the paint. His midrange jumper is pretty effective, however, stepping out to the three his shot changes and he has a hard time making shots. He gets poor lift and shoots a very flat shot which makes it hard for him to make outside shots, especially when he gets tired.
Rick Jackson (14 pts, 8 rebs, 56% fg)
His wide body and ability to use it posed problems throughout the week for opposing bigs. He has a nice touch around the basket and when he gets his body on the inside of his defender he is able to finish extremely well. His game lacks any sort of polish and he depends heavily on muscling his opponents, unfortunately when matched up against stronger guys he struggles because he cannot create his own shot. His mobility is an issue and he does not get off the ground quick enough to contend with the better athletes.
Alex Tyus (13.7 pts, 9 rebs, 47% fg, 1.7 asts, 2 blks)
A superb athlete, he plays with high energy and is able to make a contribution by finishing around the basket and by rebounding the ball. He also did some nice things defensively by blocking and changing shots around the basket. His scoring repertoire is strictly limited to dunks and finishes right at the rim because of his poor touch and because he has almost no ability to create with his back to the basket.
Casey Mitchell (23.3 pts, 8/16 3pt, 3.3 rebs, 54% fg, 2 asts, 2.3 asts)
Led the camp in scoring and did it by mixing up his game very nicely. His jumpshot is compact and he gets it off with minimal daylight. Combining his crafty handle with jabs and shot fakes he is able to create enough separation to get into the paint and score. He is undersized and not nearly athletic enough for the NBA, but a good week has surely secured a nice job elsewhere for next year.
John Holland (15 pts, 6.3 rebs, 49% fg, 1.7 asts, 1 stl)
An under the radar guy coming in, Holland showed nice slashing ability and a good touch from the outside. He shoots with good rhythm and is able to elevate under control and with good balance. Creating off the dribble he is fairly limited and at 6-4 he does not have the athleticism to make up for being an undersize SF.
Bill Clark (16.3 pts, 4 rebs, 65% fg, 2 asts, 9/14 3pt)
The one guy who is still a bit of a mystery even after three games. He shot the lights out all week and never looked to force anything, instead he got all of his looks in rhythm and within the flow of the game. His first game he started 6 for 6, but his coach took him out for too long and he didn't get back into his grove until the next game. He was very content making the extra pass and did not look to stand out. His shot was extremely consistent and he certainly had no trouble shooting the ball from deep; with his feet set, he was absolutely automatic. He is not a great athlete and didn't look comfortable creating shots off the dribble the few times that he tried.
Others: Mike Davis had a solid week, he used his athleticism and length to make things happen around the basket. Not very skilled with his back to the basket, he also struggled defending some of the stronger big men at camp. Andrew Warren displayed a smooth jumpshot, his extremely high release and nice elevation allow him to make difficult shots from deep. Alex Stepheson definitely passes the eye test, unfortunately he is extremely stiff in the low post and has a poor scoring touch. Sam Muldrow didn't do much on the offensive end, but his length and timing were big factors in his ability to block and alter shots inside. Justin Hurtt used his quick lefty stroke to knock down a number of difficult shots from the outside. Corey Fisher distributed the ball well and was able to find his range from deep, but he could not get any sort of consistency scoring the ball inside the arc. He is undersized and does not posses that extra gear like some of the smaller guards. Corey Stokes could not buy a basket, but that didn't stop him from putting up the 2nd most FG attempts (only behind the scoring leader). Curtis Kelly is somewhat intriguing because of his scoring touch, unfortunately his poor body language and inability to distinguish a good shot from a bad one hurts his stock substantially. Justin Holiday has good length and athleticism, but he also has an extremely skinny and light frame. Defensively he is solid, just not enough to offset his limited offensive package.