By Michael Visenberg
This year's Nike Hoop Summit mirrored the outcome of past years, as the speed and athleticism of the US guards became too great for the International Team to handle. Even with a major height, and shooting advantage favoring the International squad, the USA controlled the pace of the game and made the World team play their style. There were definite standouts in this setting, and the game was filled with players on both teams that showed they have a lot to offer in the future. Check back for a report on the International squad from Tyler Ingle, but first here is a look at the Team USA's prospects:
Anthony Davis: Davis' story has been well documented, as he's gone from a 6'3 guard with an offer from Cleveland State to a 6'10 PF signing with Kentucky, and being considered the top player in his class. Well, believe the hype. He may not be a guard anymore, but he runs like a deer and his fluidity and athleticism stands out. Davis played Center for pretty much the whole game, and while he looks incredibly frail, he was in no way afraid to mix it up inside. His shooting was not really on display, but he just kept finding openings for dunk after dunk. Really knew where to find an opening in the defense and his speed was no match for any player on the International team. Davis finished the game with 16 and 10, plus a couple of big time blocks as an anchor for the US post defense. He fouled out of the game, but his effort was solid.
Next year at Kentucky, Davis will play the 4/5 and should definitely have an instant impact. The comparisons to Kevin Garnett seem to be a stretch, however despite the appearance of a lack of bulk, he shows a willingness and ability to mix it up in the post. His upside is intriguing, as you do not see athletes move with his type of fluidity, not to mention that his frame will support more weight. At this point, he appears to be the best NBA prospect of the 2011 HS class. You do not see a lot of players with his combination of size, athleticism and motor, the latter of which separates him from other prospects with similar height and frames.
Tony Wroten: At one time considered the top player in the class as a sophomore, injuries and attitude have been two things that have made many question Tony Wroten. He definitely shows flashes of being a very nice combo guard, though you would maybe like him to be a little more controlled at times. He lead the team with 5 assists, though stated before the game he was going for the assist record, and like Brandon Jennings in the McD's game in 2008, it showed. This type of almost selfish passing almost made you question his ability as a PG, but Wroten definitely did display a nice court vision and the solid skill set that still makes him highly regarded. If he would worry less about records and more about playing a role to the best of his abilities, it would be better for everyone involved. He should play an immediate role at UW at more than likely 3 positions while they play small ball and use their guards to the best of their ability. It would be great to see the crafty lefty Wroten play with fellow lefty Isaiah Thomas, but regardless Wroten should have an immediate impact. His NBA prospects are very much up to him, and while he definitely has nice skill and size for a combo guard, he will have to figure out exactly what he wants to be.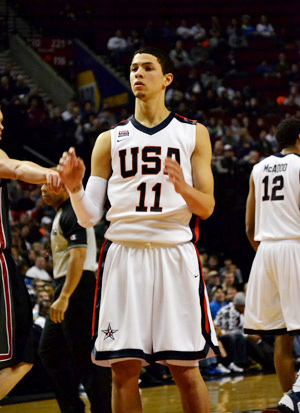 Austin Rivers: Seen as probably the best player in the class at this current point in time, he also did not disappoint. After getting off to kind of a slow start, Austin showed he has a great skill set and a number of ways to hurt you offensively. His shot is very solid, but he also possesses a solid handle and the creativity needed to attack the basket and draw fouls. In the second half he really put the game out of reach, draining threes and penetrating the D to a game high 20 points. He showed why many see him as a premier player and prospect in the class, and he appears to be the most ready player to contribute in the NCAA next season.
Austin more than likely will have a very strong first year at Duke and should be ready to be their primary offensive option. When it comes to the next level, it will be difficult to project his position, but he appears to be a combo guard. Thus far, he does not show much of an ability to create for others, but he shows a great ability to create for himself, which is why he should probably become a top flight SG prospect. His defense did not really standout, though he seems to show desire that could make him a nice defender at the next level. Austin really stood out in this setting, much like he did last year for the U-18 US team, and after a year of seasoning at Duke, he should become a legitimate 2012 lottery prospect.
Adonis Thomas: He unfortunately received the least amount of playing time on a well balanced US squad, and really did not get to show much besides a nice little jumper that was his only basket. He missed the rest of his opportunities and had a hard time creating shots for himself. He seemed to almost lack some intensity in the game, and at one time my friend commented, "He was playing VC (Vince Carter) D." Still, he does show some nice athleticism and at the end of the game he seemed much more in tune to the flow, though unfortunately at that point the game was out of hand. From what I have heard he has a very good work ethic and I am sure he should fit in well with the athletes they have at Memphis, though at this point it is not apparent how much of a role he will play with a team full of key returning players. Still, Adonis has size and skills that should turn him into a good college player and should eventually give him a shot at the league.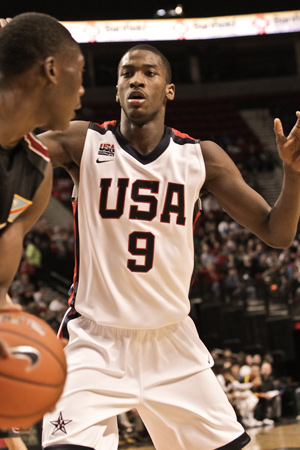 Michael Gilchrist: While the USA eventually crushed its International counterparts, they got off to a somewhat sluggish start. Just as it seemed like it was going to be a back and forth contest, Gilchrist entered the game and completely changed the USA's energy. His effort on both ends of the court was relentless and it really never stopped. For someone to play defense at the level Gilchrist did in this All-Star setting was incredibly impressive. He finished with 5 blocks, including a block on Lucas Nogueira and a monster chase down block on Neto. What he had against the Brazilians, I have no idea. His athleticism was also present on offense, as he scored a number of baskets in transition and attacked the rim. He was a great communicator and his energy made Team USA finally stand out and obtain a lead that never went away. Playing the 3 and 4 in the game, he never really seemed out of position. He was easily the player of the first half in my mind, and while his effort never changed, the USA simply coasted in the second half off of the lead that Gilchrist had played a large part in helping them build.
With Gilchrist and Davis, UK should easily have one of the fastest teams in the nation. Mike also has tremendous athleticism and can run all day. His conditioning appears to be fantastic, and he should play many minutes. Plus, he is one of the rare prospects whose defense is actually ahead of his offense. While Mike's defensive intensity and motor may make him the best all-around player right now, there are some legit concerns about his transition to the next level. His jump shot is incredibly unorthodox, and almost seems to have a hitch. He will no doubt have to improve his mid range and outside game. Gilchrist is a relentless player and his motor is on a different level than most, which shows he will more than likely improve on many aspects of his game. It is difficult to project Mike as an NBA player, he should play on the wing of course but there are many things he will need to improve as far as offensive skill set is concerned. Nonetheless, he is definitely a prospect of interest in the 2012 draft.
Rakeem Christmas: Considered probably the top true post prospect in this class, Christmas can be counted on for rebounding, shot changing and a lot of fouls. He kept the fouling to a minimum in the game, and he picked up a couple huge blocks and some nice boards in his 18 minutes. His best sequence was a big time block, which led to a beautiful outlet to start the break. He may not be a Center in the NBA, though his length may allow him to be one, but in college he should definitely be a defensive force at the position. He has a solid build and is a great athlete, which is a major reason he is ranked as highly as he is. However, the biggest flaw at this point with Christmas is that he is incredibly limited as an offensive player. Besides put back dunks or lay-ups next to the basket, he has shown very little in terms of a developing post game. After the very slow start of Fab Melo at Syracuse, do not expect Rakeem to come in and contribute at a much greater pace. He will take time to develop as well, and while he has the size and athleticism that make NBA teams take notice, he is very raw and will more than likely need some college seasoning before being considered a top pick.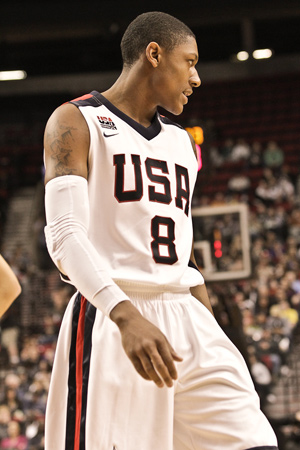 Brad Beal: Known as the 2011 HS class version of Ray Allen, Beal definitely showed signs of being just that. His shooting form is really a thing of beauty, he gets fantastic elevation and he moves very well without the ball. He also showed an ability to make things happen off of the dribble and get to the line. The Gatorade National Player of the Year and leading scorer for the U-17 US team over the summer, Beal should be getting major buckets next year at Florida. He is a prototypical 2 for the next level and appears to have more of a defined role at that position than Austin Rivers. His ability to move without the ball and create openings was very present, and while he did not shoot incredibly well for the game, you only need to look at his mechanics to tell that it will not be a problem. At 6'4, he may not have the ideal size for a 2 guard, but he has nice athleticism and a solid skill set, which makes him an elite shooting guard prospect for the next level.
James McAdoo: James finished with a less stellar performance than his co-MVP showing at the McDonald's All-American game, but his talent and athleticism were definitely on display. His ideal position appears to be the 4, but it's possible he could play some on the perimeter at the 3. He should provide needed depth for possibly every front court position next year at UNC. His playing time will likely dictate how early and high he can be drafted. He has the most NBA ready body on the American squad. He shows a definite willingness to rebound and has some ability close to the basket that makes him a standout prospect amongst this class. He needs to bulk up slightly, and is maybe not the ideal height for a PF, but he seems to be a likely NBA player down the road.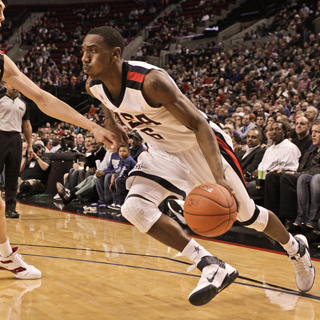 Marquis Teague: Another Kentucky recruit with elite speed, and he has that in bunches. Probably one of the fastest players with the ball in his hands in the nation, and another perfect addition to John Calipari's dribble-drive PG's. Teague is a real floor general with a lot of creativity and great court vision. His shot was not really present, and will more than likely be an area for improvement, but his ability to penetrate and create for his teammates was in full effect. Displayed a fantastic chemistry already with Anthony Davis, who was the recipient of a couple beautiful Teague created alley-oops. Marquis should more than likely step in for Brandon Knight (assuming he enters the draft) and make Kentucky probably the most athletic team in college basketball. He has good size for a PG, and seemed to also have an ability to really bother his man defensively. Shooting again may be a problem for Kentucky next year, but with Teague running the show, this could be the most athletic Kentucky team Calipari has had at UK thus far. He may not be as versatile a scoring option as the last three PG's Calipari has coached, and may not be a one and done guy, but I expect him to join his brother Jeff in the NBA at some point in the near future.
Quinn Cook: The other true floor general for this team, Cook seems to have great vision and would be a guy you would love to have on your team. You do not find much more of a true PG then Cook, and he seemed to definitely try to create for his teammates first, and more than likely will get the early crack at running the show for Duke next year. He finished the game with 12 points, a couple trey's, but his offense next year will likely come from setting up his teammates. He threaded the needle on a number of occasions, made beautiful passes through traffic and helped the team create shots that they otherwise would not have had. He is a small PG, and his athleticism is not on an elite level, so he more than likely will be at Duke for the long haul. Still, he is very intelligent and should have a really solid college career, which of course should lead to an opportunity continuing to play basketball.
Photos: Matt Wong Photography – http://www.mattwongphotography.com
2011 Nike Hoop Summit USA Select Team Measurements
2011 Nike Hoop Summit USA Select Team Roster
| Player | Ht | Wt | Pos | DOB | High School / Hometown | College Choice |
| --- | --- | --- | --- | --- | --- | --- |
| Brad Beal | 6'4.5" | 195 | G | 06/28/93 | Chaminade Prep / St.Louis,MO | *Florida |
| Rakeem Christmas | 6'9.25" | 229 | F | 12/01/91 | New Church Academy / Philadelphia,MD | *Syracuse |
| Quinn Cook | 6'0" | 177.3 | G | 03/23/93 | Oak Hill Academy / Bowie,MD | *Duke |
| Anthony Davis | 6'9.5" | 208.6 | F | 03/11/93 | Perspectives Charter / Chicago,IL | *Kentucky |
| Michael Gilchrist | 6'7" | 221.5 | F | 09/26/93 | St. Patrick HS / Somerdale,NJ | *Kentucky |
| James McAdoo | 6'8.5" | 223 | F | 01/04/93 | Norfolk Christian / Norfolk,VA | *North Carolina |
| Austin Rivers | 6'4" | 198.6 | G | 08/01/92 | Winter Park HS / Winter Park,FL | *Duke |
| Marquis Teague | 6'1.5" | 178 | G | 02/28/93 | Pike HS / Indianapolis,IN | *Kentucky |
| Adonis Thomas | 6'6.75" | 217 | G | 03/25/93 | Melrose HS / Cordova,TN | *Memphis |
| Tony Wroten | 6'5" | 204.5 | G | 04/13/93 | Garfield HS / Seattle,WA | *Washington |
HEAD COACH: Kevin Sutton ASSISTANT COACH: Kevin Boyle