Deandre Ayton 7'0 245 PF/C – California Supreme 2017
Ayton looked very good in his EYBL debut against Albany City Rocks. He did everything you want from a big man. He played in the post, didn't drift to the perimeter, and was an anchor on defense. On one play, he led a break and went behind his back to beat the lone defender finishing with a dunk. He finished with 23 points and 18 rebounds in the loss. He wasn't quite as dominant in the highly anticipated matchup against Mohamed Bamba and the PSA Cardinals, finishing with seven points and nine rebounds. He played away from the basket more but played a high-low game with Brandon McCoy; he also showed advanced awareness knowing where the ball needs to go before he receives it. He picked up a few fouls out of frustration; causing moving screens and extending his arm on offense. Overall, anytime he can get a touch on a rebound, he's very likely to end up with the possession. He's also very accurate around the rim and jumps the passing lanes very well. Ayton would finish off his final game of the event with ten points and nine rebounds to defeat Georgia Stars. After the three games Ayton is averaging 13.3 ppg and 12 rpg (4.6 offensive) shooting 55% giving California Supreme a 1-2 record.
Brandon McCoy 6'11 220 C – California Supreme 2017
California Supreme's other five star big man, Brandon McCoy, has really shown improvement in the past year, especially shooting the ball. He has become a threat facing up within 15 feet. His post-game has much room for improvement but is a reliable scorer underneath. He likes to bang underneath but the contact can cause him to fumble the ball or force up an off balanced shot. His game correlates well with Ayton's; they communicate with each other and while one grabs a defensive rebound and finds the point guard, the other is already up the court to finish the play. McCoy is averaging 15 points and 7.3 rebounds per game so far.
Cassius Stanley 6'5 175 SG – California Supreme 2019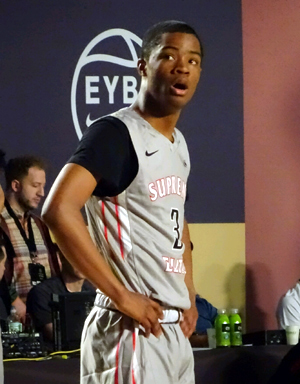 Stanley is a high level athlete and shows a lot of potential finishing up his freshman year. His ball handling, decision making, and passing aren't up to speed yet but will mature over time. He showed more confidence as the event progressed. Stanley was most effective catching and shooting and his best game came against Georgia Stars, scoring 11 points.
Kevin Knox 6'8 195 SF – E1T1 United 2017
Knox is long, athletic, and very active. He lacks a go to move and his half-court game needs improvement but loves to play at a high tempo in transition. His ball handling must improve but he can take a rebound to the other end. Most of his offensive creation comes from being quicker and longer, he doesn't have a lot of technique to beat the defense yet. He has the tools to be a great and versatile defender. In addition to his natural ability, he has a smooth shooting stroke making all three of his three point attempts and finished with 25 points to beat We All Can Go. E1T1 United finished 2-1 with Knox averaging 21.7 points and seven rebounds per game while shooting 58%.
John Petty 6'6 180 SG/SF – We All Can Go 2017
Petty still has a way to go as a ball handler, passer, and decision maker. While he's got natural ability his shot selection and IQ aren't on par with it yet. He relies on his first step to beat the defense but with quicker and longer defenders like Kevin Knox, he needs a ball screen. His passing is sloppy and he doesn't read the defense well. He gets great elevation on his jump shot but needs to improve consistency and he tends to take the first shot that comes his way rather than pick his spots. He got beat on defense guarding the ball and in transition a few times as he chooses to use his hands too much rather than get in a lower stance and move his feet. Petty posted nine points (3-11), five rebounds, three assists, three steals, and three turnovers in the loss to E1T1 United. We All Can Go lost all three games played in Brooklyn.
Tyger Campbell 6'0 150 PG – We All Can Go 2019
Although he's only a freshman, Campbell is We All Can Go's best player. He stays poised and always puts his team in position to score. He's an advanced ball handler and dictates the pace of the offense but can turn the ball over trying to force passes. His midrange game is very effective, he can stop on a dime and utilizes his pull up jumper. He got to the rim quite a bit but didn't always convert, missing a few even when he had the defense beat. He is vocal on defense and has the natural makeup of a leader. Campbell finished with 23 points, five rebounds, four assists, three steals, and seven turnovers in the loss to E1T1 United. His highest scoring game came against Boo Williams scoring 31 points on 11-15 shooting.
Cody Riley 6'8 250 SF/PF – Phoenix Phamily 2017
Riley can score on smaller defenders around the basket with his size mismatch but doesn't have a post-game, sometimes resulting in a travel. He shows more confidence in his shot than consistency and forces his offense at times. He's a decent rebounder and gets some points from put backs. He made some nice passes to Marvin Bagley but overall can improve as a passer and reading the defense. Riley is currently averaging 13.7 points and 6.3 rebounds. Phoenix Phamily finished with a record of 2-1.
Marvin Bagley 6'11 215 PF – Phoenix Phamily 2018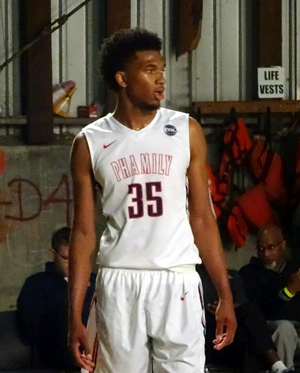 After a long hiatus, Bagley is back on the court. He loves to operate on the baseline and as much as he drives, he needs to improve as a ball handler. His shooting isn't consistent yet but he doesn't settle on the perimeter much, usually slashing or passing then cutting to the basket. He likes to attack but is selective, not the type to just duck and charge to the rim. Very unselfish and a natural athlete he shows great potential as he finishes up his sophomore season shaking some of the rust off. Defensively, he can guard big men and the perimeter at this level, very good at hedging on screens. Bagley finished with 21 points, seven rebounds, and four blocks in the win over RM5, 12 points and 14 rebounds in the loss to Alabama Challenge, and 19 points, eight rebounds, and five assists to beat The Family Detroit.
Lonnie Walker 6'4 185 SG – Team Final 2017
Walker is a decent playmaker but has an advanced scoring arsenal. He possesses a scorer's mentality, quick first step, and can maneuver around the defense at the rim. He thrives in transition as well as the half court with his ability to create off the dribble. Sometimes he's quick with the trigger but he showed he can shoot from anywhere on the floor. He's a good perimeter defender but uses his hands too much at times. Walker finished with 23 points (10-13), five rebounds, three assists, and three steals to beat Arkansas Wings. Also, 13 points and eight rebounds to beat Oakland Soldiers. After finishing three games in Brooklyn, Walker is averaging 20 points per game while nearly shooting 65% from the field, giving Team Final a perfect record so far.
Daniel Gafford 6'11 220 PF/C – Arkansas Wings 2017 (Arkansas)
Gafford is an aggressive catch and finisher. He likes to dunk everything using his length and athleticism. He has much room to expand his game outside the paint as he doesn't have a post-game yet and he has trouble finishing contested shots at the rim. If his path to the basket gets cut off, he often turns it over trying to pass out. However, he's a very good rebounder and gives great effort when he's on the floor. Gafford finished with ten points and ten rebounds losing to Team Final. Arkansas Wings finished with a 1-2 record with Gafford averaging 12 points and 10.3 rebounds per game.
Billy Preston 6'10 235 PF – RM5 2017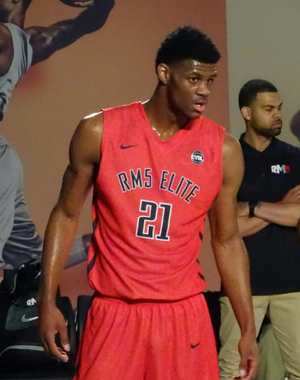 Preston had his ups and downs in his EYBL debut. He's at best when he keeps it simple and passes well when he keeps his head up. He over dribbles at times and his ball handling isn't good enough to break down the defense. He tends to force his offense and settles for contested shots at times. His shooting could also improve on consistency. RM5 finished with a 1-2 record. Preston had a rough game losing to Phoenix Phamily with only seven points and four rebounds while shooting 3-16 from the field. His final game to beat BABC he finished with nine points (all from free throws), 16 rebounds, three steals but also had eight turnovers. Preston finished the three games in Brooklyn shooting 22.6% (7-31) from the field.
Quade Green 6'0 170 PG – PSA Cardinals 2017
Green was essential in PSA Cardinal's undefeated weekend. He likes to push the ball in transition, attack the paint, drive and pass for a teammate to finish the play. He can over-dribble in the half court at times but uses screens, and shoots well off a pull up. He can be bothered by length when he gets into the paint whether it's a pass getting deflected or trying to finish a layup. Overall he's a very good passing the ball, as he's averaging 10.3 assists per game. He moves constantly on offense and currently averaging 13.7 points per game. He's not much of a rebounder, but a very reliable free throw shooter, only missing one of his 15 attempts.
Cole Anthony 6'2 170 PG – PSA Cardinals 2019
Son of Greg Anthony, freshman Cole Anthony shows great maturity as a point guard. He handles the ball well, changes direction, and is fearless getting to the rim. He isn't standing out in the box score averaging 6.3 points, two rebounds, and one assist per game but is an asset to a loaded PSA Cardinals. We can expect Anthony's production to increase as he adapts as the EYBL progresses throughout the summer.
Michael Porter 6'9 205 SF – MOKAN Elite 2017
Porter has a combination of length, athleticism, and shooting ability. He's a very good run and jump athlete; he finishes well in transition and runs baseline for alley oops. He doesn't create for himself as he isn't a strong ball handler but he also doesn't try to do too much, he often picks up his dribble to shoot or pass after one or two dribbles. Most of his points come from moving without the ball, catching with separation from his defender, and rising up to shoot. Sometimes he will catch it on the perimeter, hesitate, and if the defender is giving him space he will rise up and shoot. He shoots with great accuracy, form, and arch. Porter scored 26 points while shooting 11-13 from the field to beat The Family Detroit. He also finished with 18 points, 11 rebounds, and five assists to beat New York Lightning giving MOKAN Elite a 3-0 record. He shot 89.5% from the foul line, while averaging 21.7 points and 7.7 rebounds per game.
Trae Young 6'1 165 PG – MOKAN Elite 2017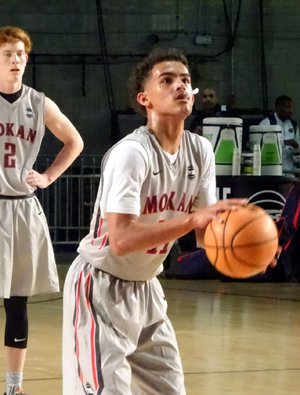 Young is more of a natural scorer than point guard. He can score from anywhere on the floor with his ability to make jump shots, floaters, and uses a hesitation move to get to the rim. He can try to do too much at times causing him to turn it over. He finished with a total of 16 assists to 18 turnovers. He's a pretty good on ball defender and doesn't foul too much, currently averaging 2.7 steals per game. Young is undersized which will always be a factor as a prospect but if you want a player to help you win games now, he would be at the top of the list. He is averaging 24.7 points per game while playing 23 minutes per game. His best game of the weekend was against New York Lightning, scoring 36 points in 27 minutes, while shooting 70% from the field and 57% from three.
Carte'Are Gordon 6'8 250 PF – MOKAN Elite 2018
Gordon showed some signs of potential. He's an aggressive driver who needs work finishing at the rim. He doesn't score outside the paint but likes to do the dirty work underneath. He's not afraid of contact and came away with some rebounds out of his area that he had to battle for. Gordon is averaging 10.3 points while shooting 70% and 4.7 rebounds per game.
Troy Brown 6'6 210 PG/SG – Las Vegas Prospects 2017
Despite not having big numbers in the box score, Brown impressed, making the right plays. He keeps it simple, plays under control, and sets the pace of the game. He shot well from midrange as well as getting to the rim. Whether it's dribbling through traffic or in midair, he reacts to the defense quickly and nothing about his game is predetermined. Brown is averaging 14 points and four rebounds per game. He currently has a 1:3 assist to turnover ratio but he does his share of moving the ball and is far from out of control. Las Vegas Prospects leave Brooklyn with a 1-2 record.
Charles OBannon 6'5 195 SG/SF – Las Vegas Prospects 2017
O'Bannon is a bigtime scorer. He shoots the ball well but settles for the first open shot he sees. He's a good athlete and although he knows how to get to the free throw line, he tries to take on multiple defenders and attacks without a gap in the defense. He can be a ball stopper on offense, only recording one assist over the three games. O'Bannon's biggest game was in the win over Team Penny where he scored 28 points and grabbed eight rebounds. He's currently averaging 21.3 points (shooting 41.3%) and 7.3 rebounder per game.
PJ Washington 6'8 220 PF – Team Penny 2017
Washington helped Team Penny to a 2-1 record. He's very good in the high post, he aggressively attacks any gap between him and the basket. He has very good touch and a nice step through move. He needs to improve his free throw shooting as it's currently at 46.7% but shoots very well from the field at 65.5%. Washington is averaging 17.3 points and ten rebounds per game.
Mohamed Bamba 6'11 205 PF – PSA Cardinals 2017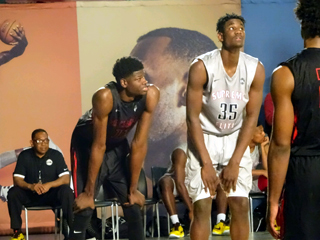 Bamba is such an impact player with his 7'8 wingspan alone. He gets any rebound in his area and is very reliable cleaning up missed shots. His post-game is raw and he doesn't have any offense ran for him. He did show some midrange shooting but uses it sparingly. He's a tremendous anchor defensively, on one play he blocked a jump shot against The Rens that he nearly caught with one hand. He plays with some tenacity and led PSA Cardinals to an undefeated 3-0 record. Bamba posted 13 points, 12 rebounds, two blocks, and two steals against California Supreme. Also 16 points shooting a perfect 6-6, 19 rebounds, and four blocks against The Rens. Bamba is averaging 15.3 points while shooting nearly 69%, 15.7 rebounds, and 3.3 blocks per game.
Lavar Batts 6'5 155 PG – Team CP3 2017
Batts had a great game in the loss to Howard Pulley scoring 24 points on 7-11 shooting. He drew a lot of fouls making eight of his 11 free throw attempts. Batts is a natural scorer. He can shoot or use his speed to get to the rim in tight spaces and somehow finds a way to find the basket. He's got a nice step back jumper that helps him create space. He found open shooters on the perimeter after driving to the middle, drawing defense, and kicking it back out. Team CP3 went 2-1 over the weekend.
Tremont Waters 5'10 175 PG – Expressions Elite 2017
Waters had a big game to beat Las Vegas Prospects scoring 23 points on nine shots, shooting 66.7% from the field and 75% from three. He's always squared up and shoots well off the catch as well as on the move. Although he's undersized, he reads the defense well and doesn't attack at first sight. Defensively, he's a good on ball defender with 2.3 steals per game. Waters is averaging 17 points while shooting 63.6% from three and five rebounds per game giving Expressions Elite a 2-1 record.
Hamidou Diallo 6'5 180 SG – New York RENS 2017
The Rens couldn't come away with the win in the highly anticipated matchup against PSA Cardinals but Diallo impressed. He provided 17 points with his pull up jumper and got to the rim on occasions. He didn't have the best shooting game but was an alpha dog on the court. He's one of the most explosive athletes on the circuit and threw down a dunk after driving through traffic. He defended well with two blocks and five steals. Diallo averaged 18.3 points and 3.3 steals per game while leading the New York Rens to a 2-1 record.