Rising
Michael Kidd-Gilchrist 6'7 SF, Kentucky
A case could be made that MKG, and not teammate Anthony Davis, is in fact the top player in the nation. While Davis gets more hype, with his freakish length and shot blocking prowess, Kidd-Gilchrist is the heart and soul and possibly the team's most indispensable player.
There's such minimal risk in selecting Kidd-Gilchrist. If he doesn't improve from now til the end of his career, which is unlikely, he could still contribute with what he offers physically.
He already maintains the strength, athleticism and speed required to successfully attack larger defenders at the rim, while his heavy activity level makes him an asset on the boards, in transition and defensively. None of these facets of the game require him to dominate the ball, meaning he fits into any lineup regardless of it's current personnel.
His ability to finish at the rim with acrobatic plays eluding defenders was on full display over the weekend.
Kidd-Gilchrist has moved to #2 on the mock, leap frogging a disappointing Harrison Barnes.
Jared Sullinger 6'9 PF, Ohio State
While some feel he's regressed, Sullinger has done some things as a sophomore that we didn't see as a freshman.
The three-point spot up jumper he has refined will go a long way in regards to his success at the next level. He's a smart kid and understands his limitations, never attempting more than 3 a game yet taking the open looks as a floor-spreader (shooting 41% from 3 on the year).
His post game was never in question, he looks as comfortable as ever turning over either shoulder and converting in the paint. But if that spot-up jumper becomes a strength the way Kevin Love made it one, he'll add a new dimension of offense that can help off-set his physical limitations.
Sullinger has been effective and efficient through four tournament games, averaging 18 and 8, 3-5 from downtown and 27-33 from the foul line (81%).
After falling to the back of the lottery in recent weeks, Sullinger's back on the uptick currently at #9.
Thomas Robinson 6'8 PF, Kansas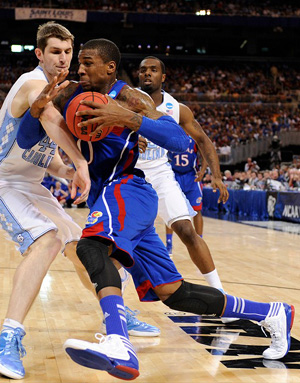 The likely runner up for national player of the year has his team in the Final Four, after putting up 18 and 15 on NC State and 18 and 9 on UNC.
T-Rob's skill-set has expanded to the point where he's not just a threat because of immaculate physical tools. Against UNC he confidently knocked down a catch and shoot three from the top of the arc, and has utilized a variety of different moves when operating in the paint. The next step is to consistently hit that 18 foot jumper to maximize his services as a pick and pop option.
His Final Four match up with Jared Sullinger is probably every scouts wish, and will generate a lot of attention from NBA evaluators. If Robinson can expose Sullinger's lack of explosiveness and under the rim reputation, he can solidify his position as the better power forward prospect.
Robinson drained a beautiful 3 pointer from the top of the key, against North Carolina, showing deft ability to get his feet set.
T-Rob has likely solidified a spot in the top 5 with his tremendous season, and could challenge for the #2 overall pick with a strong showing in the Final Four.
Kendall Marshall 6'4 PG, North Carolina
If you watched the final stretch of the UNC/Kansas game, you saw Carolina's offense either turn it over or miss. Because they didn't score a point in the last four minutes.
Their inability to function is directly attributed to the absence of Marshall, who gets the ball where it needs to go, when it needs to be there. Before breaking his wrist, Marshall was averaging 16 points and 10 assists over his previous six games. And for all the "Rondo Treatment" he receives for his perceived shooting woes, Marshall is 14 for his last 28 from downtown.
It's no coincidence that Tyler Zeller excels when Marshall is on from outside. Marshall hitting threes prevents excessive double-downs, and allows his big men to work in space. He's a fantastic point guard with extraordinary vision- and if that jumper improves, he could have a lot of success at the next level.
Bradley Beal 6'4 SG, Florida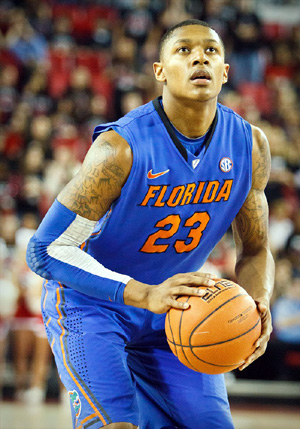 There isn't a smoother guard in the draft pool than Bradley Beal, who averaged 16.5 points on 42% from downtown after the start of the SEC tournament.
The "undersized" label he gets for being a 6'4 off-guard is not a major red flag- Eric Gordon is listed at 6'3 and has had success playing a similar game off the ball. Beal has a defined basketball body (6'4 with a 6'8 wingspan), along with the athleticism and bounce that should allow him to excel at the next level. He's a heads up player that rebounds and D's up.
Beal has a smoothness to his game but also some areas to his game that need improvement.
He almost never goes left when he drives and needs to improve upon his overall handle considerably. He also struggles in traffic.
But there is a lot to like with this smooth shooting guard, and becoming a top ten pick appears within his grasp.
Cody Zeller 6'11 C, Indiana
Zeller has been one of the most consistent players all year round, only failing to reach double digits 4 times the whole season. That didn't change in the NCAA tournament- he averaged 16 points, 8 rebounds on 59% shooting in his three games.
He was excellent against Kentucky's daunting front line (9-14, 20 points), and has already established himself as one of the most skilled centers in college basketball.
Most impressive to scouts was his willingness and efficiency taking the ball right at Anthony Davis, just as he'd done in their first match up, and scoring on him.
Zeller has taken over the #1 spot on the 2013 mock draft.
Slippin'
Harrison Barnes 6'8 SF, North Carolina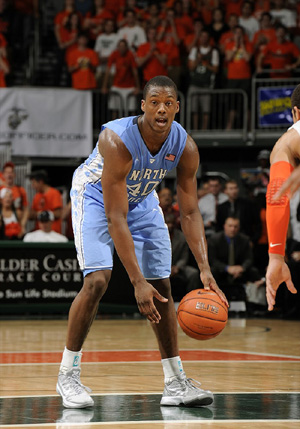 March Madness turned out to be a nightmare for Barnes, who shot just 32% throughout the tournament. But it's not the fact that he shot so poorly during the stretch- it's the fact that everything came from the perimeter.
He just can't create easy shots for himself, and that became abundantly clear in the Kansas game without Kendall Marshall there to get him open looks.
As a prospect, the problem with Barnes is that there's risk. He's not an overwhelming defender or rebounder, and if that jump-shot is off like it was against Ohio and Kansas, he often becomes a non-factor.
Barnes has fallen to the point where he's no longer a lock for the top 5 and could end up in the mid-lottery due to his deficiencies and disappearance late in the tourney.
Jae Crowder 6'6 SF, Marquette
This is the issue I have with Crowder: He's going to have to play the 3 at the next level. However his strengths are best suited for the 4, a position he's not big enough to play at just 6'6.
Over the past few weeks he's struggled handling small forward responsibilities. Over his last 7 games, Crowder is 9 for 42 from downtown. That's 21% on 6 three-point attempts per game. He's incredibly strong and nimble, but his lack of a true position is a glaring dilemma. He'll be a player to watch for at the combine when they conduct physical measurements.
Kris Joseph 6'7 SF, Syracuse
My love/hate relationship with Joseph continues. Right when I thought he turned the corner, he disappears for a few weeks at the most critical juncture of the year. Joseph hasn't scored more than 12 points in a game since February 25th, shooting 37% during the stretch. He shot 1-10 from downtown and averaged 3 rebounds in his 4 NCAA tournament games.
While he rarely shows emotion, which isn't necessarily a bad thing, his body language suggests indifference and a lack of urgency. He's been inconsistent throughout his entire career at Syracuse. Finishing it the way he did leaves scouts with a bad taste in their mouth.
He's an NBA athlete but seems to lack the desire and intensity to maximize it. He's been downgraded to a likely early to mid second rounder.
John Henson 6'11 PF/C, North Carolina
Henson just looked out-matched against Thomas Robinson, who exposed his severe lack of strength. Henson was held to 4 rebounds against Kansas while struggling to create clean looks at the rim.
Right now I see a kid who's projection stems from his length and ability to finish. But his offensive skills don't seem polished enough to consistently get easy baskets.
Follow Jon on Twitter @NBADraftnetWass