The NCAA Tournament was made for upsets and Cinderellas. It's always fun for fans to pull for the little guy to catch the blue bloods off guard, grab a lead early and see if they can hold on. Here are a few of the top NBA prospects on Mid Major teams to keep an eye out for in the tourney.
Landry Shamet – G – Wichita State (4 seed in the East)
The Shockers come in more as the hunted than the hunters as a 4 seed, playing their first two games as the favorites. They have a strong recent track record of success in the tourney. Shamet is a player who makes great decisions as a floor general for the fundamentally sound Shockers. The 6'4 sophomore averages 15 points, 3 rebounds and 5 assists per game. He does this very efficiently, shooting 50% from the field, 46% from deep and 83% from the line. He only has 2 turnovers per game as the primary ball handler, and frequently guards the other team's best guard. Shamet is the best and most talented player on the team, but he is not the type of player that is likely to go off for 30 on any given night, a number he only reached once in his college career. A showdown looms in the Sweet 16 with Villanova guards Jalen Brunson and Donte DiVicenzo if things go according to plan.
Killian Tillie – F – Gonzaga (4 seed in the West)
Gonzaga is not exactly a small basketball program anymore, having made the NCAA tourney every year since their improbable Elite 8 run in 1999. But based on playing in the WCC, they are considered a Mid Major. Tillie has been on fire as of late. He has not shot under 50% from the field in 7 games and the same can be said for his three-point shooting. He did not miss a three in 4 of the 7 games. His past three games he has scored 24 (9-12, 5-5), 26 (10-11, 5-5) and 22 (9-13, 3-4). The Bulldogs should be thrilled that he is coming on this strong right in time for the tournament. On the season, he averaged 13.4 points, 6 rebounds and 1.7 assists to go with a block and a steal. With his elevated production, Gonzaga has yet another productive player to throw at you.
Rui Hachimura – F – Gonzaga (4 seed in the West)
Another sophomore forward who has entered the rotation for the Bulldogs this season, Hachimura has similar numbers to Killie. 11.3 points and 4.6 rebounds in 20 minutes per game. The 6'8 forward is shooting 57% from the field and 84% from the line. He has had some great games this year and been invisible in others. Which is to be expected from a player as raw as he is. If Hachimura comes to play, this Gonzaga team is suddenly very deep and a threat to go far. Most scouts feel another season would be greatly beneficial to the Japanese import, but he has begun to have a real impact with his athleticism and versatility.
Jaylen Adams – G – St. Bonaventure (11 seed in East/ Play in game vs UCLA)
One of the best scorers in the country, Adams averages 19.8 points per game on over 45% from the field and from three. The combo guard takes 6.4 free throws per game and is shooting 86% from the stripe. He also averages 3.6 rebounds and 5.4 assists to go with 1.5 steals per game. Adams can score in a number of ways and his shot selection has vastly improved since his freshman year. The play-in game against UCLA Tuesday night should provide an interesting test, with Adams being matched up against Aaron Holiday and Jaylen Hands.
Kellan Grady – G – Davidson (12 seed in the South)
Grady has consistently improved over the course of his impressive freshman year. The 6'5 guard is a big reason that they were able to win the A10 tournament and secure a bid. He ended the season averaging 18 points per game on 51/38/80 shooting splits. He also gets 3 rebounds, 2 assists and a steal per game while only committing 1 turnover. Considering he has only gotten better, this is definitely a player to keep an eye on in their matchup against Kentucky.
Rob Gray – G – Houston (6 seed in the West)
While not always the most efficient player, Gray is a threat to go off on any given night. Averaging 18.5 points, 3 rebounds and 4.5 assists per game, the 6'1 senior has the keys to the Cougars' offense. He shoots 45% from the field and 34% from deep, but it is the threat of a big game that teams need to worry about. He scored 33 on Wichita State, 30 on Memphis, 34 on Tulsa and 37 on Drexel in the season-opener. If a team (San Diego State for instance) catches him on the wrong night, they could be in trouble.
Jon Elmore – G – Marshall (13 seed in the East)
Elmore has had one of the most productive seasons in the country in terms of stuffing the stat sheet. He is shooting 44/35/83 averaging 23 points, 6 rebounds, 7 assists and 1.5 steals. He needs to keep his turnovers down, currently at 3.6 per game. The 6'3 junior has had great games all year long and led his team to the tournament. Their matchup with Wichita State will be interesting if Elmore can get things going. If not, it should be a short appearance from the Thundering Herd.
Caleb Martin – GF – Nevada (7 seed in the South)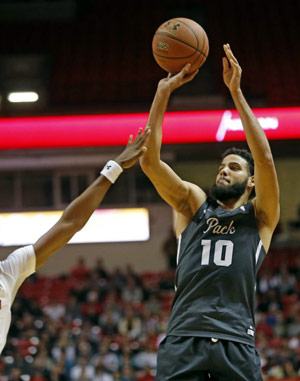 Martin has been one of the more efficient high-volume scorers on the perimeter this year. Averaging 19.1 points, 5.3 rebounds and 2.5 assists, Martin shoots 46% from the field and 41% from deep. He also grabs 1.2 steals a game. Martin can drive or shoot off the dribble, and has great chemistry with the lead ball handler, his twin brother Cody Martin, who is a stat sheet stuffer. The other 6'7 junior averages 13.5 points, 6.3 rebounds, 4.6 assists, 1.5 blocks and 1.7 steals to go with only 2 turnovers. He shoots 50% from the field. Together, the Martin twins are a problem for many teams. Two 6'7 players that can handle the ball and score in a number of ways leading to matchup nightmares. Look out for these two if the Wolf Pack can make a run.
Kendall Stephens – G – Nevada (7 seed in the South)
Yet another 6'7 guard for Nevada, Stephens has been a marksman from deep all year. On 7.8 attempts per game, he is at 44% from deep. He is at 45% from the field and 92% from the line. Outside of his shooting, He is a solid defender, but is not the type of player who creates his own shot. He is certainly worth a look as a three-and-D player and can be the type of player to win a game or two in March if he gets hot.
D'Marcus Simonds – G – Georgia State (15 seed in the South)
The 6'3 sophomore guard is the clear leader of the Panthers offense. On the season, he shot 46% from the field, averaging 21 points a game. He also gets 5.8 rebounds and 4.5 assists to go with 1.7 steals. With 3.6 turnovers, his assist:turnover ratio is not good, something that will not bode well with Cincinnati's elite defense. Simonds is a talented player but has drawn a very difficult matchup against a team that can lock down and force mistakes. However, if he gets hot, which he is certainly capable of, he can lead this team to an upset.
Jared Terrell – G – Rhode Island (7 seed in the Midwest)
Rhode Island has been ranked nearly all year and is a talented group led by Terrell, an athletic 6'3 senior off guard. He averages 17.2 points shooting 44/42/82. He also averages 3.5 rebounds, 2.3 assists and 1.5 steals a game. Rhode Island has the formula that has led to success for many teams in March. With Terrell and fellow senior E.C. Matthews, they have guards that can score. If their defense can hold up, this is a group that could surprise people and give Duke a tight game in the round of 32.