Why Villanova Makes it to the Final Four:
Villanova is as well rounded as any team in the country and has the easiest path of any of the contenders to the Final Four. The Wildcats are coming off a 30-4 record and a Big East Tournament Championship. They have a potential player of the year candidate in Jalen Brunson and a head coach in Jay Wright who has a championship ring, plus key players still around from that championship squad (Brunson and Mikal Bridges). Villanova has six players who average double figures in the scoring column and lead the nation in points per game. They also lead all major-conference teams in three-pointers per game, assist-to-turnover ratio, and field-goal percentage. Every March analysts stress how important guard play is in the tournament, and it is true. Just look at Kemba Walker and Shabazz Napier who led their Connecticut teams to championship victories in 2011 and 2014.
Well, Villanova has the best player at that position in the country to go along with a lottery pick in Mikal Bridges. Villanova can beat you in so many ways and they have tournament experience on top of it. Also, since KenPom was created, only one team has won the national championship that was not ranked in the top 20 in both offensive and defensive efficiency – 2014 Connecticut. Villanova boasts the No. 1 offensive efficiency in the country and is sitting at No. 22 in defensive efficiency. Expect the Wildcats to jump into the top-20 and make a run for a national championship.
Why Villanova Won't Make it to the Final Four:
The talent and guard play in this region is special. To list a few: West Virginia's Jevon Carter, UCLA's Aaron Holiday, Alabama's Collin Sexton, and Texas Tech's Keenan Evans. Guards spark runs in the tournament and more importantly ignite upsets. Look at CJ McCollum's performance against No. 2 Duke in 2012 that led Lehigh to one of the biggest upsets in tournament history. And Villanova may run into the most electric guard in the tournament in Collin Sexton in the round of 32. Looking past that round leads us to a potential matchup with Wichita State or West Virginia. Gregg Marshall led his Shockers to a Final Four in the past. And Villanova may lead the country in assist-to-turnover ratio, but they have not faced 'Press Virginia'.
The Wildcats have a roster full of shooters including their frontcourt, however they lack the depth in the frontcourt of some other teams. Mikal Bridges can fill in as a post defender should either Pashell or Spellman get in foul trouble. However, if Bridges gets into foul trouble, they could be in trouble filling his role down the stretch. Also, let's not forget that Purdue is arguably the most impressive No. 2 seed in the tournament. The Boilermakers have the second best 3-point shooting team in the country and Villanova's defense is not their strong-suit. Villanova will have to fight their way out of a very tough region loaded with impressive guard play.

Best Non-No.1 Seeds:
No. 2 Purdue
This part of the breakdown is an area to discuss whether the committee got the seeding correctly. Well, in this case, the Boilermakers are well deserving of the No. 2 seed in the East Region. They have five players who play meaningful minutes for average better than 39% from beyond the arc. They also have a 7-foot-2 center in Isaac Haas who has developed tremendously this year following the absence of Caleb Swanigan. This is a team that at one point rattled off 19-straight victories before losing third-leading scorer Vincent Edwards and struggling during his absence. But, nonetheless, this team can get hot and sustain a winning streak. A strong attribute to possess in the tournament. This time of year, you will always hear analysts say, "This is not a team you want to see come tournament time." Well, Purdue is one of those teams.
No. 5 West Virginia
West Virginia down the stretch of the season was streaky. But, at one point during the season they put together 15-straight victories. West Virginia arguably has the best floor general in the country in senior Jevon Carter. When you have a reigning defensive player of the year in your lead-guard spot with experience like Carter it leads to being a tough out. Teams struggle with pressure and West Virginia comes at you for 40-straight minutes.
West Virginia was a top-5 team in the country earlier in the season. And they have a recipe that can lead to a deep tournament with impressive defense and guard play. If Carter gets help from his supporting cast, especially big-man Sagaba Kanote, look for the Mountaineers to be the team to knock off Jay Wright's Wildcats.

Also Dangerous:
No. 4 Wichita State
The Shockers have five seniors who play 20-plus minutes a game. When you have that type of experience to go with sophomore guard Landry Shamet and junior forward Markus McDuffie it is the recipe for a tournament run.
Greg Marshall has not been to the Sweet 16 since 2015 where he lost to Notre Dame. That is not to say Marshall is underachieving in the tournament. It is to say he is due. And the fact that Greg Marshall has made us think it is expected for Wichita State to make consistent runs in the tournament is an honor to his greatness.
Sweet Sixteen Sleeper:
No. 6 Florida
Last year Florida was a popular pick to get upset in the first round to Eastern Tennessee State. Mike White led them to the Elite Eight.
Florida this year is also a popular pick to be upset by St. Bonaventure or UCLA. But, I would stay away from this upset pick. Earlier in the year Florida looked like the best team in the country before blowing a 17-point deficit to lose to Duke. Who is the most talented team in the country. And it is streaky, but they have shown that they can get back to playing at an elite level.
Before you write them off and have them getting bounced in the first round to St. Bonaventure, remember that this team is well-balanced and can get hot and shoot the lights out. Look what they did to a streaking Kentucky team two weeks ago. Don't doubt Mike White, especially after last year's surprise run. Oh, and Mike Chiozza is someone who I want with the ball in their hand's in late game situations.
Final Four Sleeper:
No. 5 West Virginia
I haven't seen another choice but Purdue or Villanova to come out of this region. But, when you turn a team over as much as West Virginia does it creates chaos. And Huggy Bear has led teams to deep tournament runs before. Just like Syracuse's 2-3 zone, West Virginia and Louisville's press frustrates teams. They proved earlier in the season that they are one of the best teams in the country. If they get consistent support for Carter this team can go a long way.
Top Potential Matchup:
Purdue vs. Villanova
After my statement about everyone picking Purdue and Villanova to advance to the Elite Eight, I still want this to happen. Villanova ranks first in offensive efficiency while Purdue ranks second. Purdue lights it up from outside, but also has a dominate inside presence with Isaac Haas. Villanova has five players who shoot better than 38-percent from downtown, and also can score on the block with Omari Spellman or Mikal Bridges. These teams are similar and it will lead to a high scoring fast pace basketball game. Points will come in bunches and the game will come down to the last couple possessions.
Top 5 NBA Prospects:
1.) Collin Sexton (Alabama)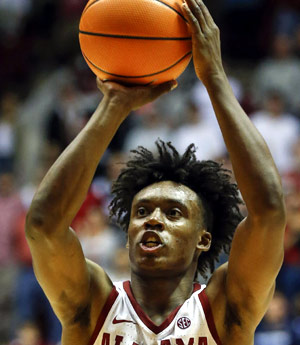 Sexton narrowly edges out Bridges for the top spot on this list. Not to say Collin Sexton is the next Derrick Rose, but the athleticism and aggression in which they both play is similar. Just look at how quickly Sexton got down the court to hit the game-winning finger roll from the free-throw line to knock off Texas A&M and get his Crimson Tide into the tourney. The kid is special.
2.) Mikal Bridges, SG/SF, (Villanova)
Bridges may not be the most talked about player on his team, that distinction belongs to Jalen Brunson. But, no one has improved their draft stock more this season. Bridges is shooting a career-best from beyond the arc by hitting on a 43-percent clip. Bridges is 6-7 and can guard various positions. He is an intriguing NBA talent.
3.) Daniel Gafford, PF, (Arkansas)
Gafford is 6-11 with a 7-2 wingspan. He had more dunks by himself than most SEC teams had all season. He is just a freshman and averaged 2.2 blocks per game. Right off the bat he produced on the defensive end, something he could potentially do today if placed in an NBA lineup.
4.) Landry Shamet, PG, (Wichita State)
Greg Marshall put Ron Baker and Fred Van Vleet in the NBA. Shamet is more talented than both. Shamet is shooting 46% from 3-point range while taking 6 attempts per game. He is also averaging five assists per game and can play either guard spot.
5.) Aaron Holiday, PG, (UCLA)
Holiday averaged 20.3 points per game to go along with 5.8 assists per game this year. He proved he is more than just a spot-up shooter and can lead an offense. While it didn't lead to team success, the jump in scoring from 12.3 his sophomore year to 20.3 his junior year is quite impressive.