Why Gonzaga makes it to the Final Four:
Since 2010 there has only been one team to hoist the national championship trophy that has not been ranked within the top 20 in both adjusted offensive and defensive efficiency: the 2014 Connecticut Huskies. Good news for Zags fans, there are only four teams who currently fall into that category, and Gonzaga is one of them. Gonzaga is similar to Villanova last year in the sense that the media always claims how great they are, and stresses not to overlook them. Suddenly, they get bounced earlier than expected, and our brackets are busted. We have heard it all year, Gonzaga is great yet they are tough to judge based on their lack of competition. Their point guard Nigel Williams-Goss developed a reputation of never losing while in high school, AAU, so he could be their x-factor. And not many teams have an answer for Przemek Karnowski who makes scoring in the post difficult and also provides a go-to option on the block late in games. Mark Few has heard the narrative every time his team makes the tournament, maybe this is the year he proves us all wrong just how Jay Wright and Kris Jenkins did last year. They have all the pieces, and what seems to be one of the easier draws. There are no excuses this year as to why they can't get it done.
Why Gonzaga won't make it to the Final Four:
The Zags have made the tournament every year since 1999, and all they have to show for it is two Elite Eight appearances in 1999 and 2015. Granted, this is Mark Few's best defensive team by a Northwest mile, but history has shown that Gonzaga continues to underachieve in the tournament. To go along with the history of continually getting bounced earlier than expected, the potential matchups they may have to go through are worrisome. Of the top 5 seeds in their region, all 5 are in the top 30 of adjusted offensive efficiency. In their single loss, BYU was efficient on the offensive end, but also made sure they did not get beat on the boards. Players like Lauri Markkanen and Bonzie Colson who are both scrappy, yet skilled cause pose a problem for the Gonzaga frontline. Along with capable frontline players, Notre Dame and Arizona both are in the top 50 when it comes to taking care of the basketball. First things first, you cannot beat yourself when it comes to knocking off a team like Gonzaga, but both Notre Dame and Arizona seem to fit the part.
Best Non-#1 Seed: Arizona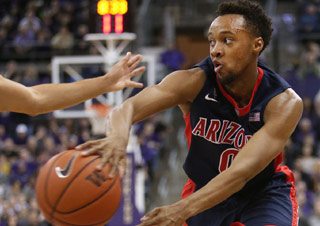 Gonzaga beat Arizona earlier in the year, so they will have the confidence of knowing the can beat them. But that was without do-it-all-playmaker Allonzo Trier. Trier has become one of the Wildcats top two players, along with Markkanene since his return. The Wildcats are coming off a very impressive Pac-12 tournament title run in Las Vegas in which they disposed of both UCLA and Oregon, a couple of very impressive foes and legit Final Four level teams in their own right. The Zags have not played or beaten an opponent of that caliber in a number of months. Arizona could present a very tough test with their athleticism and depth in the backcourt, plus their defensive and shooting ability. Parker Jackson-Cartwright could turn out to be a real x-factor as he's incredibly quick and crafty. Markkanen has struggled some this season against strong and athletic bigs, so the match up with Karnowski and Collins will be very interesting should both teams make it four games in.
Sweet 16 Sleeper: Maryland
Good guard play is the key to success when it comes to making unexpected runs in March. Ask Kemba Walker and Shabazz Napier. We all know about the backcourts from North Carolina, Kansas, and Kentucky, but if there is a guard who can single handedly lead their team on an unexpected run it is Melo Trimble. Maryland has flown under the radar all year despite finishing second in the Big Ten. But, the backcourt duo of Melo Trimble and freshman Anthony Cowan are very capable of winning two games in the tournament. They have faltered down the stretch, but this isn't Mark Turgeon and Melo Trimble's first go-around in the tournament. Also, the road could get easier in what seems to be a popular upset pick: Florida Gulf Coast over Florida State.
Final Four Sleeper: West Virginia
Press Virginia, you have probably heard it about 100 times. But, Bob Huggins' press can rattle opponents, and there is nothing worse you can do as a team than turn the ball over. In March, some teams act like they have never seen a press before, or in Jim Boeheim's case, a 2-3 zone. It steals them wins in March, and a team that is ranked top 5 in defensive efficiency and forces the most turnovers per game has the potential to make it to Phoenix. West Virginia has been hanging around the top 10 in the AP poll all season, so this shouldn't be too big of a surprise, but no one is giving anyone a chance in this region outside of Gonzaga and Arizona.
Top First Round Matchup:
Notre Dame vs. Princeton
For those of you who fill out academic brackets, it must have been tough to cross out Notre Dame following the Round of 64, huh? But, Kentucky's motto against Cornell in 2010 tells the truth, "This ain't no spelling bee!" What this may come down to is whoever turns the ball over first. Notre Dame comes in at 2nd in the country in turnovers per game, and Princeton checks in at 5th. Also, both rank within the Top-30 in 3-point field goals made per game. So, don't be too surprised when this game breaks the record for the least number of turnovers in a single game, and breaks out into a 3-point contest.
Top Potential Player Showdown:
Lauri Markkannen vs. Jonathan Isaac
Two big men with unlimited potential, that can do anything on the court creates for a fascinating matchup. Both players are considered to be Top-10 picks come June, and nothing improves draft stock more than deep runs in March. I was tempted to go with two guards who can lead their teams to deep tourney runs, but a battle for who can potentially get drafted higher sounds the most intriguing. Markkanen is a 7-footer who shoots 43% from three, and it isn't on limited shot attempts. Markkannen is 67/155 from range, and obviously every 7-footer who can light it up from range gets compared to Dirk Nowitzki, which you will frequently hear when tuning into Arizona games. While, Jonathan Isaac might not be 7-foot, he's 6'11 with guard skills due to an Anthony Davis like growth-spirt over the course of his Sophomore and Junior years in high school. These players will most likely guard each other, and be able to display their ability against NBA type talent, so pray Arizona or Florida State don't get knocked off prior to the Sweet 16. The debate between these two is sure to extend well into June with teams deciding which of the two to select.

Top Under the Radar Matchup:
Northwestern vs. Vanderbilt
I don't know if this matchup is flying under the radar anymore due to the mass number of sports media that attended Northwestern celebrating on social media, but the matchup is a great one. Vanderbilt is a 15-loss team, but they came on down the stretch with their high efficient shooting. Also, man-handling Florida all season earned them a trip to the dance. Anyway, Northwestern has proven they have been able to handle teams that are efficient when it comes to shooting, and like to spread you out (Indiana, Michigan, Wisconsin). One is going to have to give, and the winner of this game is capable of knocking off Gonzaga. 2 of the past 3 years an 8 seed has beaten a 1, so don't be too surprised if Northwestern's cinderella story continues.
Top 5 NBA Prospects:
1. Jonathan Isaac (Florida State)
It is still tough to estimate where Isaac will pan-out in the NBA due to him being the 3rd or 4th scoring option on his team, but his potential and length give him great value. Isaac will most likely go in the top-5 due to his guard abilities at 6'11. He is still trying to grow into his body and figure it out due to his change in height in such a short amount of time, but expect him to go early on in June.
2. Lauri Markkanen (Arizona)
Big men who can shoot also get a bunch of looks in the lottery. But, when you have the touch Lauri Markkanen does to go along with his basketball IQ and defensive prowess, you become a lock in the lottery and a potential franchise cornerstone. Don't expect him to become Kristaps Porzingis or Dirk Nowitzki, but he is going to have a very successful NBA career, along the lines of a Ryan Anderson.
3. Zach Collins (Gonzaga)
Collins is considered to be a potential lottery pick, but whichever NBA team drafts him it is going to be solely because of upside. He has not logged a lot of minutes, where he only averages 17.1 a game and it is tough to project. But, Karl Anthony-Towns averaged 21 minutes per game and averaged similar numbers when it comes to rebounding and points, and I think he is pretty successful in the NBA. I'm not saying Zach Collins is the next KAT, but he has been very impressive as a face up true center with good mobility and feel for the game.
4. Dwayne Bacon (Florida State)
Dwayne Bacon is the first sophomore to appear on the list, but his draft stock is still in the first round, most people project him in the late first. He has shown he can put up points in bunches, but his shot selection is questionable. Therefore, I think his 3-point percentage is lower than it should be, but it is not because he doesn't have the mechanics or ability to shoot. He is very athletic and has great body control around the rim. If he decides to go to the NBA, it will probably take him a few years to figure it out, but he has the potential to light it up off the bench.
5. Allonzo Trier (Arizona)
Ever since Allonzo Trier was inserted back in Arizona's starting lineup they have been a completely different team. He projects as a shooting guard at the next level, but he has shown the ability to be able to pass the ball. He is an electric scorer, and gets his points a variety of ways and recently has shown his best games come against the best teams (Oregon, UCLA). Trier projects to a late first round pick, but a run in the tournament can always greatly improve his stock.