Why Villanova makes it to the Final Four:
If I had a vote, Josh Hart would get it for National Player of the Year. He's been that good all season long for arguably the best team in the nation. His shooting line of 51/41/75 is unbelievable for a guard with his type of usage and he owns a Top 15 PER. He's the best player on this team and will be what gets them to or keeps them from getting to a second straight Final Four.
Hart leads this team in scoring by a wide margin and has taken 100 more shots than any other teammate on the season. As good as Jalen Brunson has been, especially late in the season, Hart will be the guy that teams will key in on as the Tournament kicks off on Thursday. And while Kansas is the leader in the clubhouse in terms of having the easiest road to the Final Four on paper, Villanova would be second on that list since there are really only two teams that I believe have the talent to take them down. And those two teams are Wisconsin and Duke, more on that below.
If Hart can continue to take over games like he's been able to do most of the season then this team will be one of the hardest outs of the Tournament and should get a shot to defend their title in Phoenix come April.
Why Villanova won't make it to the Final Four:
Villanova had gotten a bad reputation when being a 1 or 2 seed up until last season. I think that the criticism was a bit overblown. They simply ran into teams that were playing their best basketball at the time during those years where they fell short of even making it to a Sweet 16 as a #1 or #2 seed. But they bucked that trend last season as they cruised their way to the National Championship. And while my gut tells me that they'll continue to shed that stigma that followed them around for years, this team does have holes and one in particular that is glaring.
Rotations in college basketball are never an exact science. And no, I'm not talking about defensive rotations. I'm referring to lineup rotations. Early on in the season, coaches will use a deeper bench while they are still trying to figure out what rotations work and which players are more effective when playing as a unit. A ten man rotation isn't far-fetched for most teams at that point in the season with it dwindling down to nine or so once you get into conference play and then potentially eight down the stretch. Let's just call that normal or average. But Villanova has been anything but average this season as they've routinely employed a seven man, guard heavy rotation for much of the year. And while those seven guys are one of the more solid rotations in college basketball, I worry about foul trouble to one or two of them really taking this team out of a game.
Their top four players, Josh Hart, Jalen Brunson, Kris Jenkins and Mikal Bridges all average over 30 minutes a night with Eric Paschall, Donte DiVincenzo and Darryl Reynolds as the only other players that have played any significant minutes on the season. If Hart or Brunson get into any kind of foul trouble, or worse, are injured at any point then that could doom this team. Oddly enough the other "favorite" to come out of this region has similar issues as Duke plays a seven man rotation and doesn't really have much quality depth at the moment even though some of the names are big.

Best Non-#1 Seed: Duke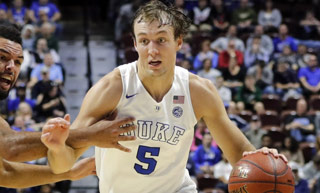 Duke's ACC Tournament run was special. No team has ever won four games in four days to win the ACC Tournament Championship. It is pretty fitting that the first team to do so would be Coach K and Duke since he holds or will hold almost every ACC record with regards to wins and losses when it is all said and done. They are the best team in this region not named Villanova and they are right there with the Wildcats in terms of talent and ability to win it all.
That being said, Vegas has them as the favorites to cut down the nets in Phoenix and while that isn't a stretch considering how well they are playing and how talented they are, I think there is some recency bias involved with that one. How soon we forget that this team lost three of its last four heading into the ACC Tourney and has some major question marks in terms of depth and ability to protect the rim. North Carolina, and in particular Kennedy Meeks, put on a clinic in the first half on Friday night and was dominating Duke in the paint. It wasn't until Joel Berry got into foul trouble that the Blue Devils were able to get back in the game.
You could argue that Duke has two players in Luke Kennard and Jayson Tatum that are playing better than anyone else in the country right now. And that isn't far from the truth. But this team relies on perimeter scoring and the three ball too much at times and if they have an off night or run into a team that defends well (Baylor & Virginia) then they could have issues.
I still like this team to matchup with Villanova in the Elite 8 in what would be a marquee matchup between two elite programs and two elite coaches, but I'm not as convinced as some are that Duke can Coach K his 13th Final Four. They have the talent and are playing like the team everyone thought they would be when they were the preseason number one team in the country so it will be hard to pick against them when you sit down to fill out your brackets.
Sweet 16 Sleeper: UNC-Wilmington
Kevin Keatts is one of the hottest names in the sport right now as it pertains to coaches. Almost every program with an open Head Coaching position (NC State, Illinois, Missouri, etc) have interest in the 3rd year man from Lynchburg. This is the second straight NCAA Tournament for the Seahawks and likely the last hoorah at UNC-Wilmington for Keatts. I think he knows that and so does his team so they will be hungry to make as much noise in this tournament as possible.
UNCW didn't help themselves out of conference this year as they really only played one "power conference" team and that came late in December when they lost on the road at Clemson, a team not in this field of 68. That's the bad. But the good is that they have one of the best RPI's of any mid-major team (27) and have a roster full of guys who experienced this just a year ago. Five of their top six scorers were on last year's tournament team that gave Duke a run for their money in the first round. That will go a long way in this team's confidence heading into this year's first round matchup against Virginia. I've been down on the Cavaliers for most of the season due to their lack of depth and inability to create offense at times.
UNCW is among the Top 10 in the country in scoring this season so it will be strength against strength in the first round as Virginia boasts the nation's top scoring defense. I like UNCW to win a close one against the Cavaliers and move on to face Florida in the Round of 32. Florida is another good defensive team that will test UNCW but I believe the Gators got a bump this year simply because they played in a SEC that was average at best outside of Kentucky. Vandy and Arkansas aren't terrible but the Gators lost all three matchups against the Commodores. As much as I like what Mike White has done this season, I just don't feel like they are a team that scares anyone and certainly not one that will scare an experienced group like UNCW if they matchup in the second round. So make sure you give UNC-Wilmington a look when filling out your brackets. They are one of those dreaded 5-12 matchups that seem to end in disaster for at least two five seeds each and every year.
Final 4 Sleeper: Wisconsin
You should start seeing a theme here as I talk about Wisconsin. I like veteran teams with battle tested leaders that have been there before. And Wisconsin is the epitome of that. The team's clear cut leaders on the floor are Nigel Hayes and Bronson Koenig. Both guys were a part of that National Championship team that lost to Duke two years ago so both guys know what it takes to win games in March. They've been to three Sweet 16's, two Final Fours and that National Championship game during their careers so the words "battle tested" are probably an understatement.
Ethan Happ is one of the best big men in the country and is likely a guy that the casual fan hasn't ever heard of. Four guys that play big minutes on this roster are seniors that have been through this NCAA Tournament ringer before. They are well coached, they are disciplined and they are a better team than their record suggests. They were in play for a top three seed until they had a stretch in late February where they lost five of six games. But it seems that they've righted the ship and should take care of business against a good but not great Virginia Tech team in the first round. The Hokies just don't have the size up front to really contain Hayes and Happ.
They would get Villanova in the second round which will be a dangerous game for Jay Wright and company. It is this game and this game alone that gives me pause about this region when filling out my bracket. Some might call me crazy but this game is a toss up in my opinion. It will come down to the matchup between Jalen Brunson and Koenig and I just can't bet against either guy. I would like the Badgers' size up front against a smallish front line of 'Nova but I would like the perimeter of the 'Cats when looking at the trio of Brunson, Josh Hart and Kris Jenkins. If the Badgers can find a way to win this one then I think they could march all the way to a third Final Four in three years with Duke being the last remaining hiccup in the Elite 8. If I were a betting man I'd likely place my money on Villanova to win but, for me, it wouldn't be a shock to see Wisconsin knock off the defending National Champs in the second round.

Top Potential Matchup: Marquette vs. Duke
I tried to stay away from the lazy #1 vs. #2 matchup with this one. I gave that potential game a shout out earlier but I went for a good story line with this one. If Duke gets past Troy and Marquette can survive against a sneaky good South Carolina team then that would setup a Coach vs. Player/Mentor story with Coach K matching up against his former player and former Duke Assistant in Steve Wojciechowski. Or simply "Wojo" to the Duke fans out there. Wojo played under Coach K from 1994-1998 and then after playing briefly overseas, came back to Duke and was an Assistant on the staff from 1999-2014. That's close to 20 years under Coach K as both a player and a coach and I know that nothing would make the two happier than to face off against each other in an NCAA Tournament game. Wojo has increased his team's win total in the Big East in each of his first three seasons at the helm and has this program headed in the right direction.
The only thing more salivating from a story line perspective would have been if the committee would have given that 7 seed to Northwestern and had South Carolina be the 8 seed in the West so that Chris Collins and Wojo would have had to battle it out in the first round for the rights to meet their mentor in the second.
Best Coach: Mike Krzyzewski
5 National Championships
12 Final Fours
5 Olympic Gold Medals (2 as Assistant)
1,070 Wins (Most All-Time)
The list of accolades that Coach K has racked up is a mile long. He's likely going to go down as the best coach in college basketball history whenever he retires and so he gets the nod here and it isn't even close. And that is said with zero disrespect for the other 17 head coaches in this region.
Top 5 Pro Prospects:
1. Jayson Tatum – Duke
The ACC Tournament threw Kennard a bone and gave him the Tournament MVP award but I think it should have gone to Tatum. He averaged 22 points and close to 8 rebounds through four games and carried the Blue Devils for stretches in the first half of games when Kennard was struggling. He's an extremely gifted scorer and has really excelled at the four spot since Duke has gone to a smaller lineup over the last few weeks. He's a one on one nightmare and can score from anywhere on the court. He's not there yet defensively but he is playing out of position so I won't knock him too much there. He's solidified himself as a Top 5 pick this June and could be higher and even possibly in the conversation for the #1 overall pick with a dominant showing in the Tournament.
2. Harry Giles – Duke
I list Giles ahead of Kennard simply because his ceiling is higher if completely healthy. And that's a big "if" considering I don't believe he's completely healthy even though he's played in 24 games this season. You can just tell in watching him that he just isn't 100%. His movements aren't as fluid and he's still getting into game shape after missing the better parts of his junior and senior seasons in high school. At some point he's going to have to start trusting that his knees are healed, and fully burst off of them. There were flashes over the weekend of him getting back to the player that he was before the injuries which is big for his draft prospects. An alley-oop from Grayson Allen on Friday night followed by a steal where he dove on the floor to gain possession might have been the best I've seen him look all season.
3. Luke Kennard – Duke
Kennard was a draft afterthought coming into this season as most, myself included, figured he would be at Duke for a minimum of three years and most likely stick around all four years. But his play early in the year showed how much he had improved since his freshman year and he's continued that stellar play the entire season. I'm one of those in the camp that believed he should have gotten the ACC POY award since he led Justin Jackson in every major statistical category. He's a gifted scorer, shooter and play maker and will be a mid to late first round pick if he were to decided to leave after this season. I felt that teammate Grayson Allen should have cashed in when his stock was highest last year and I feel like Kennard should do the same.
4. Johnathan Motley – Baylor
Like Kennard, Motley is another guy who has seen his draft stock rise considerably due to his impressive play this season. His averages of 17.3 and 10 are good enough to make him the only player in the Big 12 to average a double double during the regular season. The Bears were one of the best teams in the country all season long and looked like the team that could finally unseat and end Kansas' run as Big 12 Champions but the team couldn't seem to get over that hump when playing the Jayhawks and ultimately fell short. Motley's 32 point and 20 rebound performance in a win over Texas in January was one of, if not the best individual performance of the entire season. He projects as a PF at the next level and has the size and length to be effective but he's still not as polished offensively both on the block and when stepping outside of the paint as you'd like him to be. He currently projects as a late first round pick.
5. Grayson Allen – Duke
An argument could be made for this entire list to be Duke players with Marques Bolden and Grayson Allen both looking like NBA level prospects at some point in the next year or two. But I gave Motley the edge over a guy like Bolden based on play this year and not on upside. So as it stands, this list is only 80% Blue Devil. As I said above, Allen is a guy who should have struck while the iron was hot last season and kept his name in the draft. With the talent this team had coming in I don't know why he thought that he could raise his stock any higher than it was after averaging over 20 points per game a season ago. But he decided to return to school and that's a decision that will likely cost him millions if he declares after this year. His suspension and inconsistent play early on in the season really damaged his mid first round grade. But his ability to knock down shots, his athleticism and potential to play both guard positions for a team's second unit will still have him with a first round grade whenever he decides the time is right.
Follow me on Twitter @CCroweNBADraft