Why North Carolina Makes it to the Final Four
It's March, and Roy Williams has his Tar Heels on the 1 seed line once again, for the seventh time in his tenure at UNC. Though Justin Jackson is the clear leader in scoring for this team, its offense is generated by a more balanced approach than in previous years. Their front line is huge, not only from a length standpoint, but also as far as strength goes, with imposing big men Kennedy Meeks and Isaiah Hicks anchoring the post at 6'10" and 6'9" respectively, with over 500 lbs. of post player between them, and Jackson creates further mismatches as a 6'8" small forward. Because of all this, they rank first in the nation in offensive rebounding percentage, one of the strengths of this team, and a tried and true indicator of a team that is unlikely to be upset by a significantly worse opponent. Upperclassmen Joel Berry, Nate Britt, and Theo Pinson man the backcourt and all played significant minutes on last season's national runner-up team. In fact, 6 of the eight leading minutes-getters return from that team, so experience on the big stage will hardly be an issue, even without last year's stars Brice Johnson and Marcus Paige.
This team boasts the nation's 4th most Ken Pomeroy-efficient offense, with a top 25 defense to boot, and has tested itself immensely in the regular season, come out on top of the 2016-2017 ACC, by all accounts one of the toughest conferences EVER. They earned wins over Duke, Louisville, Florida State, Virginia, Notre Dame, Wisconsin, Miami, Virginia Tech, Oklahoma State, and Wake Forest, and they get to play in favorable locations all the way to the Final Four. It's not hard to argue that ANY Roy Williams team in the NCAA Tournament has a good shot at going all the way, but this one is as for real as any team out there.
Why North Carolina Won't Make it to the Final Four
See that list of wins in the previous paragraph? Five came at home. One came in Greensboro, North Carolina. Three came on a neutral floor. And only one, a six-point win over bubble team Wake Forest, came on the road. While the neutral wins were all decisive, none came against a team seeded higher than an 8 in this bracket. The Tar Heels were 0-4 away from their home floor against teams on the top 7 seed lines, and even lost to NIT opponents Georgia Tech and Indiana when playing away from Chapel Hill. Point is, this is not a proven road team. Sure, it's not a big sample size, but 0-4 against teams seeded 1-7 in this tournament is very alarming. When they go toe to toe with the Kentucky's, the UCLA's, even the Butler's (they DID beat Villanova twice), the Minnesota's, and the Seton Halls of this tournament, will they be able to get it done outside of the friendly confines of the Dean Smith Center?
Furthermore, balanced scoring is great, but this team doesn't necessarily have the same level of star power that has carried it in year's past. Justin Jackson is brilliant. He has stepped up and replaced Brice Johnson and Marcus Paige as The Guy to the best of his ability, and has scored in double figures all but three times this season. However, a lot of times, this tournament is a guard-friendly event. Can Joel Berry be a go-to scorer if Jackson goes cold? Can anyone beyond Berry score out of the backcourt beyond a complementary level? When faced with a backcourt such as the likes of Malik Monk and De'Aaron Fox, or an inside-outside duo the likes of Lonzo Ball and T.J. Leaf, can the Tar Heels match them shot for shot? Is their dfense good enough to contain these guys? There's a lot of star power to be found in this regional, but only a small portion of it comes from the Tar Heels. When the lights shine brightest, do they have enough guys who will step up and hit big shots? I could talk about how cold outside shooting and an uncharacteristically high volume of turnovers has often been their undoing against lesser teams, but ultimately, it may come down to the intangibles that determine how far UNC goes in this dangerous regional.
Best Non-#1 Seeds
#2 Kentucky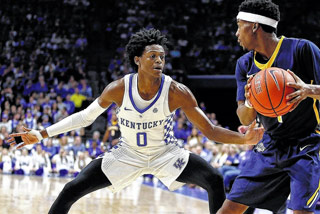 Is this any surprise? Coach John Calipari was not happy with his young team just a mere month ago after a sluggish victory over LSU, citing a lack of urgency and composure from his team, but they are firing on all cylinders now. They breezed through the SEC tournament to extend their winning streak to 11, and now they have two red-hot freshman guards in De'Aaron Fox and Malik Monk, probably the best backcourt in the nation, complemented by Edrice Adebayo ("Bam") down low, and the "old" guys, sophomore Isaiah Briscoe and senior Derek Willis rounding out the starting lineup. This team loves to get up and down the fllor and score in transition and off the dribble, and while they, like UNC, haven't gotten many big road victories, they are a young team that seems to really be figuring things out with each passing week. I like their chances to make the Elite Eight and challenge North Carolina for the regional title.
#3 UCLA
You've heard his name all year long, and now the dynamic freshman Lonzo Ball has made it to the biggest stage, a stage that a showtime-kind of player like himself is as comfortable with as anyone. He can score, he can pass, and he can lead this UCLA offense to being maybe the best in the nation with their defense-optional style they have at least (perhaps unfairly) been branded as. Fellow freshman T.J. Leaf is another All-American-caliber player at power forward, and seniors Isaac Hamilton and Bryce Alford bring poise and outside shooting ability to this roster. A trio of steady big men anchor the post, so this UCLA team has all the pieces to make a run to the title game. However, the obvious concern is whether their emphasis on offense and their suspect defense will be enough to get them past elite teams. It was in wins over Arizona, Kentucky, and Oregon, with the UK and UA wins coming on the road for this young team, but it may not be a formula that's enough to win several consecutive games against top teams. Nonetheless, they can score with the best of them, so who is to say that they won't be able to just run each of their opponents ragged for 40 minutes on the way to the W.
Also Dangerous
#4 Butler
Butler is very inconsistent. But at the end of the day, Butler has a fantastic scoring guard in Kelan Martin and really…March is their month. You have to give at least a LITTLE credence to the magic of Butler teams past trickling down and affecting the chances of this squad. Butler magic, and the fact that they took it to the #1 overall seed TWICE this season, accounting for 67% of Villanova's losses.
#5 Minnesota
The advanced metrics don't LOVE this Minnesota team, but the eye test is pretty kind to the Gophers. They boast a trio of perimeter scorers in Nate Mason, their leading scorer, Amir Coffey, their talented freshman, and Dupree McBrayer, a guy who can score on you in a variety of ways, including from deep, where he is shooting 42%. Inside, they have a bruising pair of bigs, with Reggie Lynch, a high-energy shot-blocker, and Jordan Murphy, a hard-nosed rebounder who also has a varied offensive game. They aren't deep (they played only 6 guys in their BTT loss to Michigan], especially after the loss of steady senior transfer Akeem Springs to an ACL tear; will Springs' absence hurt them or galvanize them? This is a squad that could overturn UNC or could lose to MTSU by double digits in the first round. Will 5-game January losing streak or 7-game February winning streak Minnesota show up to play?

Sweet Sixteen Sleeper
Middle Tennessee State
I will tell you right now that I am not just throwing a name out there for all the juicy page views that will come from the hot take of calling the Middle Tennessee State University basketball a sleeper. This is a team I have making the Sweet Sixteen in my own tournament bracket, the only double-digit seed I even considered to even SNIFF the round of 16. Remember the team that knocked off 2 seed Michigan State last season as a 15? Same team. Same players, too. This squad might have earned an at-large bid but went ahead and continued their dominance of the C-USA and won the tournament title to remove all doubt. The formula for MTSU is pretty simple: they have power conference size and experience inside with a pair of skilled 6'8" seniors in Reggie Upshaw and JaCorey Williams. They then surround these two with a host of deadly three-point shooters, including star guard Giddy Potts. Those three names are the main ones you will be hearing as they make what I think will be a deep run in this tournament. They only lost four games all season and if anyone was going to break the record for lowest-seeded Final Four team, these guys would be the one to do it. But for now, we leave them as our Sweet Sixteen sleeper. Let's see if they can just get past a similar Minnesota team first.
Final Four Sleeper
Wichita State
You, like I, probably thought that the graduation and subsequent departure to the NBA of Fred Van Vleet and Ron Baker would send Wichita State back into oblivion as an above-average Missouri Valley squad. But Gregg Marshall is too good of a coach for that. The Shockers generated controversy with their 10 seed, but that was to be expected with the enormous disparity between their impressive advanced metrics profile (8th NATIONALLY on KenPomeroy.com) and their lackluster body of work during the regular season (their best win was a home game against NIT-bound Illinois State, followed not-so-closely by a road win over NIT-bound Colorado State.) Even so, their losses were merely to 4 tournament teams or near-tournament teams.
This is a tough team to peg. Their first round matchup is a tough one in it's own right, going against poor Dayton who surely wanted to see anyone but Wichita State as their 10 seed opponent. I even have Dayton winning this one in my bracket. But should Wichita State survive and hop back on board the Final Four train, they are a team that, at least according to the metrics, can hang with Kentucky and UCLA as they pursue another Final Four. Underclassmen Markis McDuffie and Landry Shamet have been stellar and should continue to grow the longer their season goes, making this one of the most dangerous 10 seeds, in history.

Top Potential Matchup
Kentucky vs. UCLA
For any seeding mistakes the committee may have made (Wichita State, Baylor, etc) , this potential match up makes up for all of them. The rematch!! Sorry, UNC fans. You're still the favorite, but few teams in the country play as exciting a brand of basketball as either of these two squads. They combined for over 200 points in their first matchup as UCLA negated Fox and Monk's 54 combined points and got a huge road win over the then-#1 team. The history alone in this match up gives this game a great deal of intrigue. The two most successful college basketball schools of all time. South vs. West Coast, Rupp vs. Wooden, Fox vs Ball, offense vs. even more offense…college basketball could gift us with a real treat in the Sweet Sixteen. A rematch of Fox and Ball is without a doubt the most desired potential individual match up of the tournament. It would be enough to make NBA scouts simultaneously soil their pants and pass out.
Top 5 NBA Prospects
1.) Lonzo Ball, UCLA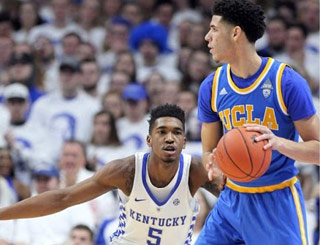 He may not be better than Steph Curry as his father boasts, but what he is is the best passer the college level has seen in a couple decades. He always seems to make the right pass at the right time, and it has made for an incredible shooting efficiency for the Bruins. If their lack of fight in Vegas carries over to the tourney, it will be a short stay, as they looked far from cohesive against both USC and Arizona.
2.) De'Aaron Fox, Kentucky
Fox is hitting his stride at just the right time. He played a lot of the Conference schedule with nagging injuries but seems to be at or close to 100 percent now, which is bad news for the opposition. While teammate Malik Monk has received most of the hype all season, it's Fox with the brighter NBA future with his blinding speed and shut down defensive ability at the point guard position. Fox's confidence level at the moment should put fear in every opposing coach they face. Fox's ability to get by nearly any defender and finish at the rim or get to the line makes him a handful to game plan against. He got the upper hand against Ball the first time around, while Ball's Bruins got the W. Will we get the chance to see the rematch scouts are drooling to see?
3.) Malik Monk, Kentucky
Monk has struggled some over the past few games, but he was the player that picked up the slack when his dynamic backcourt mate, Fox, was sidelined. His prolific shooting ability makes him among the best pure scorers on the college level. He has shown unbelievable shot creation ability as well as a clutch gene that gives this Kentucky team a great deal of promise in close games.
4.) TJ Leaf, UCLA
Leaf is coming off an ankle but looked at least close to 100% in the Pac-12 tournament. He's UCLA's top frontcourt player by a mile and gives them invaluable scoring and rebounding in the post. If UCLA is to advance to Pheonix past the likes of Kentucky and UNC, they will likely need a few big performances from Leaf.
5.) Bam Adebayo, Kentucky
Bam continues to show improvement as he is not only a banger and rebounder under the basket. His ability to hit baby hook shots and put pressure on the opposition with some post moves gives the Wildcats some added versatility. He'll need to focus on staying out of foul trouble as this Wildcats frontcourt does not have the depth of past teams.
Honorable Mention:
John Collins, Wake Forest
Justin Jackson, North Carolina
Aaron Holiday, UCLA