Why Kansas makes it to the Final Four:
In short, Devonte Graham. The senior guard from Raleigh, NC, playing out of his mind for four straight games is how this version of the Jayhawk's makes a run to San Antonio.
The Jayhawks strength lies is in the backcourt where the duo of Graham and Malik Newman have been spectacular of late. This will be Graham's fourth straight NCAA Tournament with his team winning at least two games in each of the previous three. He's a big-time player and always seems to make a play when the team needs it. He's averaging career highs in points, rebounds, assists, and steals this season en route to becoming Big 12 Player of the Year.
They are one of the best three-point shooting teams in the country at a tick over 40% overall with four players (minimum 50 attempts) shooting over 36% on the season. "Svi", Sviatoslav Mykhailiuk has become one of the nation's best shooters and if the three ball is falling, and it has been for most of the season, this team is going to be a tough out for any team in the field. Teams tend to rely heavily on guard play once we get to this point in the season and Kansas has a plethora of talent in that area.

Why Kansas won't make it to the Final Four:
Not to take anything away from Bill Self or a team that amazingly just won its 14th straight Big 12 regular season title but this team has holes, and seemed like a stretch as a one seed. But they were rewarded with two true contenders in Michigan State and Duke in their region. It will take a herculean effort from Graham and his backcourt mates to get this team, barring any big upsets, past the likes of Duke or Michigan State in the Elite 8. And that's assuming they can handle their business against the winner of the NC State/Seton Hall match up (more on that below).
The first round opponent also isn't a typical 16 seed and there are some that are predicting that we might see a 16 seed take down a 1 seed for the first time in Tournament history based on the way Penn is playing and the way they match up with Kansas. While I don't see that happening, it should be one of the most entertaining 1 vs 16 games we've seen.
Aside from the bad draw, a lack of depth on the interior scares me when penciling this team into Bill Self's first Final Four since 2012. The injury that kept Udoka Azubuike sidelined throughout the Big 12 Tournament is a huge question mark given the team's inexperience behind him. Azubuike is the team's anchor down low and only true post player and the only player on the current roster that has logged significant minutes over the last two seasons. The team's other two "bigs" Mitch Lightfood and Silvio De Sousa have averaged a combined 17 minutes this season with neither being anywhere close to the force on the block that Azubuike is. Although, De Sousa has shown solid improvement recently.
Seton Hall plays a physical brand of basketball that could present a problem for the Jayhawks on both ends and NC State is a team that likes to push the tempo and make you work for a full 94 feet with their pressure. For a team that is already short on bodies, particularly up front, foul trouble would be a major concern when trying to slow down Omer Yurtseven for NC State or Angel Delgado for Seton Hall. The consolation prize if they were to get out of the opening weekend unscathed would be a matchup with Auburn/Clemson followed by Duke/Michigan State. A gauntlet of teams to be sure in order to get through to San Antonio.
Best Non-#1 Seed (A):
Michigan State
Many feel that MSU got a raw deal being placed as a 3 seed in a region that likely will require them to beat another title contender in Duke in the Sweet 16 in order to advance. Sure the Spartans stumbled a few times this year, specifically in the Big Ten tourney to Michigan, but for a team that entered the year as some people's #1 team and finished 29-4, it's hard to fathom the tourney committee's decision to put them as a 3 seed.
The Spartans struggled to close out the season suffering a second loss to Michigan. But the good news is there's a strong chance they won't have to play the Wolvarines, a team they obviously do not match up well with, in this tournament.
Their guard play is excellent and their frontcourt is even better. Their two biggest stars (Jaren Jackson Jr. and Miles Bridges) have hit some bumps in the road, but they're both elite level players who should rise to the challenge.
This is a team that possesses both star power and experience. But multiple in season scandals rocked the program and it seemed to take its toll on the team's focus. But that's where having a coach like Tom Izzo, who is a masterful motivator and tactician, should allow them to get back on track and make the most of their opportunity.
With arguably the best combination of talent and experience, this team has the goods to cut down the nets in San Antonio. Assuming both teams get through, they'll look to exploit their overall experience edge plus decision making and depth at the point guard position, with sophomore Cassius Winston over Duke and freshman Trevon Duval.

Best Non-#1 Seed (B):
Duke
Duke had an outside shot at a 1 seed had they taken care of North Carolina in the ACC Tournament semi's so it is fitting that they would be the best non-1 seed in this region.
Duke has a similar issue to Kansas in that they lack depth beyond six guys who play the bulk of the minutes. As to where Kansas just doesn't have the guys on the roster, Duke's problem is that Coach K hasn't developed his bench in the way he needed to much of the season.
What Duke has going for them now is a motivated and engaged Grayson Allen to pair with Marvin Bagley who has been the best player in the ACC all season long. Aside from a few poor offensive decisions after the butt check heard round the world, Allen has been tearing it up of late for the Blue Devils and it appears that Bagley's absence for a few games late in the season was a blessing in disguise for this team. Allen has averaged 20 points per game since Bagley went down and has given Coach K that consistent second scorer that they had been missing since the calendar flipped to 2018.
They are a legitimate Final Four contender and it's unfortunate for two of the most talented and biggest contenders for a title (Michigan State and Duke) to be forced to meet in the Sweet 16 instead of on a bigger stage in the Final Four.
Sweet 16 Sleeper:
North Carolina State
The last time the Wolfpack had a Head Coach in his first year with the team was during the 2011-2012 season when Mark Gottfried led Lorenzo Brown and company to a Sweet 16 before dropping a close one to Kansas. Fast forward a few years and first year Wolfpack Head Coach Kevin Keatts has his team in a prime position to more of the same. The Wolfpack were picked to finish 12th in the ACC before the season and no one, including 99.9 percent of Wolfpack fans, could have expected this kind of success in Keatts' first season. The Wolfpack finished 5th in the ACC and own wins over Duke, Arizona, North Carolina and Clemson on the season, all teams seeded fifth or higher in each of their respective regions. They know how to win big games and have all the confidence in the world for a team that had a combined 9 total ACC wins the last two seasons.
The Pack face a dangerous Seton Hall team in the first round in what should be a fun game to watch if you like to see points since both teams like to get up and down and score with efficiency. Look for the Wolfpack to win a close one against Seton Hall with the difference being the pressure of NC State and their ability to force turnovers. NC State's Achilles heel all season has been quick guards that can get to the basket at will (see Boston College and Virginia Tech) and while the trio of Desi Rodriguez, Myles Powell and Khadeen Carrington is a force to be reckoned with, they are the type of guards that have given the Wolfpack fits this season.
A win against Seton Hall would setup a second-round matchup against a Kansas team that has weaknesses as I mentioned above. I like NC State in that one with the Wolfpack gaining some level of revenge for putting them out in 2012. NC State won't be enamored with the name on the jersey as they've shown this season and I think the depth on the interior for the Wolfpack compared to the lack of depth for Kansas will be the x-factor in this one. I would look for Yurtseven to have a big game against a smallish Jayhawk lineup if/when Azubuike gets into foul trouble.
Final Four Sleeper:
Oklahoma
Without the introduction of the "Quadrant" concept and the fact that Trae Young was must see TV for a good portion of the season, the Sooners would likely have been left out of the field. They lost 11 of their final 15 games, including six straight at one point and finished the season with a sub .500 record in their conference. That being said, they are still one of the more dangerous double-digit seeds in recent memory. Young is going to be a lottery pick this June and he can drop 40 on you without you even realizing it. He's that gifted of a scorer when he's on. I am on the record in saying that I love great guards once we get into NCAA Tournament time and Young is a great guard.
The Sooners have wins against Wichita State, TCU, Texas Tech and Kansas so we know they can beat anyone on any given night and once they get rolling, they are hard to stop on offense. Call me crazy, but I'm not as high on Rhode Island as some are and I feel like the Sooners make short work of the Rams in the first round which would setup a lottery pick filled matchup against Duke in the Round of 32. Since the Blue Devils have switched to a zone defense, they've looked a lot better but I've seen worse shooters than Young shoot teams out of a zone defense. Duke doesn't have that one unheralded "lock down" defender on the perimeter that they've had in previous years (Matt Jones and Tyler Thornton ring bells in my head) and they could have difficulties containing Young and Christian James if they were to heat up.
Getting by Michigan State, who looked beatable in the Big Ten tournament, would likely have them squaring off against one of Kansas/NC State/Clemson and those are all three teams that have their own issues that Young and company can exploit.
Oklahoma and Trae Young, while not playing their best basketball at the moment, could make a serious run based on what they did early in the season.
Top First Round Matchup:
TCU vs Arizona State/Syracuse
As much as I hate the fact that the Committee decided to include Syracuse when there were other better resume's out there, I am intrigued by what the Orange could do against teams that haven't seen the zone defense that they run on a regular basis like the rest of the ACC. I've got Syracuse taking care of Arizona State in the "First Four" which would have them facing TCU in the Round of 64. What Jamie Dixon has done in his two years with the Horned Frogs has been nothing short of spectacular. After being one of the more underappreciated coaches in college basketball at Pitt, Dixon has TCU in the NCAA Tournament for the first time in 20 years and this just one year removed from winning the NIT. When Jaylen Fisher went down in January, I thought this team would fold and have to wait yet another year before getting back to The Big Dance but Dixon's team persevered and finished the season strong winning five of their last seven games before losing to Kansas State in the Big 12 Tournament.
If Syracuse gets by Arizona State, and I think they will, this sets up a battle of former Big East rivals with Dixon and Jim Boeheim. Dixon and Boeheim know each other all too well. Our friends over at SB Nation did a piece when Dixon left Pitt for TCU about how he was the one coach in seemed to have Boeheim's number. I believe the number was 15-6 in favor of Dixon so this matchup between former Big East coaches will have us all longing for the days when football didn't cause conference realignment and rob us of some of the best rivalries in sports, particularly during this time of the year.
Top Potential Prospect Matchup:
Marvin Bagley vs. Jaren Jackson Jr.
The one benefit of the apparent mis-seeding of Michigan State is the increased likelihood of seeing this match up. Ranked #3 and #4 respectively on our current Big Board, Bagley and Jackson meeting in the Sweet 16 would have NBA scouts and GM's salivating. Both are freshman with a tremendous amount of upside, both players are versatile enough to play either big spot, have the perfect inside-out game on the offensive end that translates well at the next level and they are virtually identical with regards to size.
But their true strengths are where the matchup will get interesting. Jackson is extremely gifted on the defensive end of the floor and broke the single season blocks record at Michigan State, in January! Bagley, on the other hand, is the more gifted offensive player and is one of the better offensive players in this draft class. He is extremely gifted around the rim, while both can step out and hit the three ball. Bagley's post moves are still a work in progress but his ability to create second shots for himself due to his quick second jump allows him to thrive in put back situations.
Duke is at their best when the offense is running through Bagley and Wendell Carter so I would expect for Jackson to spend time guarding both players. He will be the most important player for Michigan State in this potential matchup as his ability to limit the offensive firepower of those two bigs will likely be the difference between a win and a loss for Sparty.
Top 5 Pro Prospects:
1. Marvin Bagley – Duke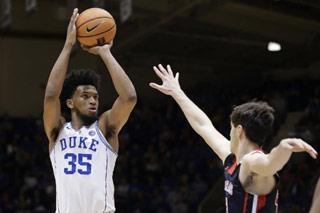 Extremely gifted big man, particularly on the offensive end of the floor. Possesses a long wingspan, quick second jump and has versatility on both ends. Led the ACC in double-doubles on the season and was just three back of the NCAA lead even despite missing a few games due to injury.
2. Jaren Jackson Jr. – Michigan State
Springy forward with great length. One of the best shot blocking big men in college basketball this season and a guy who can do a little bit of everything. Still needs to refine his offensive skill set and develop his post moves but what he provides translates well to the next level.
3. Wendell Carter – Duke
Overshadowed at times by Bagley, Carter is would likely be higher on this list if he was on a team that would feature him more on offense. More of a true post player than Bagley but still has the ability to step out and connect shots out to 3. Has really put in work to get into better shape and it has paid off.
4. Trae Young – Oklahoma
With elite passing and shooting ability, Young is capable of putting his team on his back for long stretches and even full games. The Steph comparison is a bit much for me at this point but he is a great shooter and has more confidence in his shot than virtually anyone. Will we see the Trae Young that had people mentioning him as a potential top pick at midseason, or the late season one that struggled with confidence in his shot?
5. Miles Bridges – Michigan State
Bridges has the type of elite explosiveness that you cannot teach and will be a highly sought after prospect for his upside. He is a hard worker who has developed his game over the course of his two year career where he can impact things in a variety of ways.
Follow me on Twitter @CCroweNBADraft