The top performers for Day 9 were: Jonny Flynn (24 pts), Rodrigue
Beaubois (23 pts), Ronald Dupree (22 pts), Ty Lawson (21 pts), Brandon Costner
(21 pts), Jasper Johnson (21 pts), James Johnson (20 pts), Sam Young (20 pts),
Blake Griffin (19 pts), Nick Young (19 pts), JaVale McGee (19 pts), Pooh Jeter
(19 pts)
Dallas Mavericks
(1-4) 73 Oklahoma City Thunder (0-5) 54
Box
Score

Kevin Durant led the Oklahoma City cheerleading today at Cox Pavilion, however
his efforts were in vain, as the Thunder limped across the finish line losing
their 5th straight. The Mavericks were victorious 73-54 to open day 9, registering
their first and only win of the summer league.
Shan Foster started the game hot, making 2 threes on his way
to 4 first quarter field goals, giving his side an early advantage. He would
finish with 14pts 2reb 3ast. 25th pick Rodrigue Beaubois (Boo-Bwah) was obviously paying
attention to Foster's free shooting clinic by converting on a pair of three's
early himself.
The rookie put on a good show in his last SL appearance, ending the game with
23pts, 3reb, 5ast, 9/12fg. He penetrated, shot from outside, ran the court.
The play of Foster and Beaubois gave the Mavericks a 13-point lead after the
first.
#3 pick James Harden (11 pts, 4 reb, 3stl, 3 to) led a second
quarter Thunder revival in the second, attacking the basket and having some
success. A productive second quarter from Moses Ehambe (7 pts, 1 reb, 1 ast
in 2nd) supported Harden and helped the Thunder cut the lead under 10 points.
Prior to today, Ehambe had only seen 5 minutes of SL action.
The play of Beaubois helped the Mavs blow the game wide open
in the third with Dallas taking a 20-point lead at the end of three. Beaubois
was mostly using his speed to get into the lane and finish on the break as he
had one breakaway dunk. The Thunder never recovered and only got as close as
16 points in the fourth. 7'4 Senegal native Moussa Seck saw his first SL action,
picking up 1 foul in 3 minutes, throwing up an airball and having his only other
shot attempt blocked by Marcus Dove.
The Thunder's #24 pick BJ Mullens (facing the player he was traded
for, Beaubois) didn't see much time at all but made one mid range shot and showed
some solid post defense on Andre Brown (4pts, 10reb, 2ast) which led to a turnover.
Harden was somewhat disappointing with no assists and 3/8 shooting.
Beaubois made sure his squad wasn't going home winless,
as the Mavs finished the 2009 SL with a 1-4 record.

Chicago Bulls (2-2) 90 New York Knicks (0-4) 84
Box
Score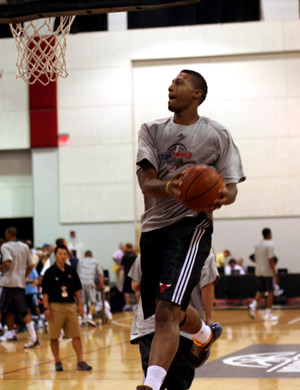 The Chicago Bulls ran down the New York Knicks this afternoon winning
90-84, denying the Knicks their first SL win. Former North Carolina State Stand
out Brandon Costner, led the Bulls to an early lead after the first quarter,
not missing a shot on his way to 12 early points.
Costner (21 pts, 3 rebs) only saw 14 minutes in his first SL
outing but played well and bounced back after shaking off a hard fall early
in the second quarter. Teammate and #16 pick James Johnson had a slow start,
but finished strong with 20pts, 6reb, 3ast. Johnson opened the third with a
baseline drive and dunk, assisted a Nelson bucket and finished an ally oop while
also being active on defense. Once Johnson got a bit of confidence, he looked
like a lottery pick in the second half.
Jordan Hill had a much better showing today after a few unimpressive
performances, looking more comfortable and aggressive as the game went on. He
finished with 16 pts, 9 reb, 2 blk with 9 fouls, displaying good footwork on
one post move to fake his defender and create a wide-open lay-in for himself.
Joe Crawford (10 pts) had 8 in the third to help give the Knicks gain a 7-point
lead heading into the 4th quarter. Morris Almond didn't shoot well (5/14) but
had a 16 point contribution. He also connected on a three midway through the
4th to extend the Knicks advantage to 10.
The Bulls mounted a comeback on the back of backcourt tandem DeMarcus Nelson
(15 pts, 5 rebs, 4 ast, 2 stl) and Anthony Roberson (12 points). Tighter defense
and the Bulls' ability on the break got them back in the game and they executed
plays down the stretch. Johnson was huge in the final 2 minutes making a series
of plays that were largely responsible for getting his team the win.
Johnson started by making a slashing drive for a reverse
lay-up to tie the game with 1:30 remaining. Immediately after that he got a
piece of an Almond jump shot and also made a nice hustle play to save possession
from which Brandon Costner hit a three putting the Bulls up by 3. An 8 second
violation by Crawford in the final minute with his team down three prevented
any Knicks hopes of a victory. Johnson's stunning second half sealed the deal
for the victorious Bulls.

New Orleans Hornets (1-3) 100 Minnesota Timberwolves (1-3) 96
Box
Score
Despite Darren Collison tweaking his knee and a stellar effort
put forth by Jonny Flynn, New Orleans was able to pull out the close
victory 100-96. The Hornets grabbed their first victory while the T-Wolves slipped
to 1-3.
Wayne Ellington continued his improved play with 17 pts on 6-10 shooting knocking
down 3-5 from deep.
Jonny Flynn led all scorers checking in with 24 points on 7-10 shooting and
an excellent 4-5 from 3. His outside shooting is one of the real concerns surrounding
his transition to the pro game, so this was a step in the right direction for
him.
Gerald Henderson got in for 16 minutes and made solid use of his PT with 12
points on 6-11 shooting. The Bobcat draft choice was added to the T-Wolves squad
as a favor to the Bobcats as they were unable to put together a SL team this
year.
For the Hornets Darren Collison was on pace for a big game before suffering
the knee injury scoring 18 points in under 16 minutes. Anthony Tolliver and
Julian Wright had 20 and 19 respectively. Jaycee Carroll had 16 points but needed
a high volume of shots to get there shooting 6-17 from the floor.
Memphis Grizzlies (4-0) 97 Phoenix
Suns (2-2) 60
Box
Score
The Memphis Grizzlies kept their perfect record going today,
blowing out the Phoenix Suns 97-60. The Suns put on a horrendous all around
shooting display on their way to the heavy loss. Phoenix connected on just 35%
fg, went 0/14 from deep and shot under 60% from the FT line. Combine that with
being on the wrong end of a 53-32 rebound count, and a 37 point blow out becomes
almost inevitable.
Second round pick Sam Young led the Grizzlies with a game-high 20 points on
7/12 shooting. Young received help from Marcus Williams who recorded 11pts,
6reb, 9ast with only1 turnover. Jeff Adrien had his most productive game with
11 pts and 7 rebs in 16 min.
The Suns bright spot was Goran Dragic who amassed 17 points in 22 minutes.
Earl Clark continues to show flashes as he did in college, but has yet to put
together a complete game. He struggled once again from the floor (4-12 fg) for
8 pts, 5 reb.
Hasheem Thabeet continues to look awkward running the floor and
unsure of himself offensively in the post, but his defensive presence certainly
helped keep Robin Lopez in check. Thabeet outscored Lopez 10 pts, 7 reb to 1
pt, 4 rebs.
Washington Wizards (2-2) 74 Los
Angeles Clippers (2-2) 64
Box
Score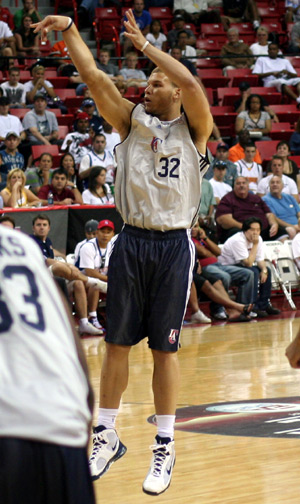 The Washington Wizards defeated the Clippers this afternoon in game 2 at Thomas
& Mack Center. #1 Pick Blake Griffin again came away with impressive stats
but things didn't all go his way. Griffin was hammered on a drive late in the
first quarter from JaVale McGee, who was hit with a flagrant foul. Griffin would
finish with 19 pts (7-16 fg), 9 rebs, 4 stl, 4 tos. He struggled with free throws
early, just managing to finish at 50% for the game (5/10).
The Clippers were without leading scorer Eric Gordon (21.5 ppg)
who was out with a sore right knee. Gordon's presence may have helped save Los
Angeles from a miserable shooting display (34.5%). The Wizards did a better
job of getting to the line early in the game, building a 10-point lead midway
through the second quarter. DeAndre Jordan (13 ppg, 7 rpg) had a solid game,
which included a powerful sequence to open the second half, where he blocked
a shot and finished off a lob pass after running the floor. The big man finished
with a line of 7pts, 10rebs, 3blks, and 4 tos.
Nick Young heated up briefly in the third, swishing back to back
threes. Young (25.3 ppg) was active off the ball, running his defender and even
setting a nice back pick for McGee to throw down a Crittenton lob. Zero assists
with 8 turnovers is highly inefficient however. Two of his turnovers were from
careless carrying violations. Regardless, the Washington trio of Nick Young,
Javaris Crittenton and JaVale McGee were too strong for the Clippers to start
the second half, extending the Wizards lead to 11 after 3 quarters.
The defense from McGee was a feature in this game. The Washington
big man swatted six shots and also used his length to break up some plays with
deflections. McGee capped off a great performance by dunking a lob on Griffin.
The Clippers #1 pick then was called for an offensive foul on the following
possession.
The Clippers poor field goal percentage was partially the result
of Washington's solid defensive effort. As a consequence, the Clippers were
unable to make any significant fourth quarter runs, as the Wizards advantage
stayed in double digits for the rest of the game.
Denver Nuggets (3-1) 94 D-League
Select (2-2) 90
Box
Score
Denver found out what a number of teams already knew, this D-League bunch is
no joke. The D-League Select team kept things close throughout letting things
slip away in the final minutes as Cedric Simmons made a number of key baskets
late to preserve the win.
First rounder Ty Lawson checked in with his second straight solid performance,
21 points on 8-16 fg. He also had 5 boards, 3 ast with just 1 turnover. Lawson's
speed was too much for the D-Leaguers to contain, as Lawson got by them virtually
at will to set up teammates or score himself.
Ronald Dupree had a game high 22 points on a very efficient 10-15 fg. Despite
being a bit of a retread by SL standards (28 years old), he's definitely made
some teams take notice of him (15.5 ppg), both NBA and European.
Sonny Weems continues to have a rough go of things shooting just 3-15 from the
floor. Despite averaging 13.8 ppg, he's shooting 28% from the floor, Which won't
get you much playing time in the regular season.
For the D-Leaguers, 26 year old Jasper Johnson led them with 21 points showing
his polish on the block. 2nd year forward Gary Forbes continued to make his
plight to make an NBA team with 16 points (5-9 fg). He's not overly flashy or
athletic, but an effective player.

Portland Trailblazers (1-3) 91 San Antonio Spurs (3-1) 74
Box
Score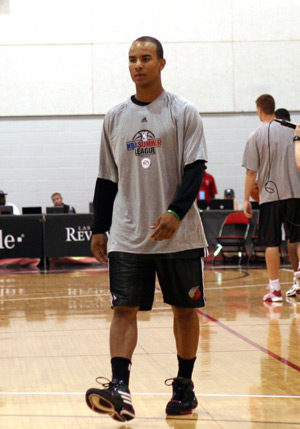 The San Antonio Spurs lost their first game of the 2009 SL, getting
soundly beaten by the Portland Trailblazers 91-74 in Cox Pavilion. Second rounder
Jeff Pendergraph (#31) had his best performance of this years SL, collecting
a double-double and a line of 14pts, 10rebs, 3ast, 2blk.
Pendergraph competed well today and had a good battle with Spurs rookie DeJuan
Blair. In one garbage time play with Blair muscling him in the post, Pendergraph
held his ground and rejected Blair's shot. He immediately backed it up
be securing two rebounds that Blair contested. Judging by his reaction, it was
apparent Pendergraph was pleased by his play.
Blair himself had a double-double, ending the game with 16pts,
11rebs but only shot 6/16 fg. Teammate George Hill (20.3ppg 3.7rpg 4.6asp) struggled
today, picking up 6 fouls in 22 minutes. Hot shooting from the Blazers didn't
allow the Spurs to win any of the quarters and the game quickly turned one sided
with the Spurs trailing by 11.
It was a good sign for the Blazers that Jerryd Bayless played today after his
finish yesterday (looking as though he may have been injured). Bayless continues
to struggle with turnovers (avg 6) and will likely continue to do so, as long
as he persists on leaving his feet before passing. He finished today with 18
pts, 5 ast, and 7 to. Backcourt teammate Pooh Jeter continues with his fine
shooting this SL (52% fg) connecting on 8 of his 13 attempts for a game-high
19 points.
The win gave Portland their first of the SL while handing San Antonio their
first loss in the process. Both squads will return to Cox Pavilion tomorrow
afternoon to complete their SL schedules, with Portland taking on the D-League
select team while San Antonio will take on #2 pick Hasheem Thabeet and the undefeated
Memphis Grizzlies.