The top performers for Day 8 were: Ty Lawson (26 pts), Sonny
Weems (24 pts), Anthony Roberson (24 pts), Nick Young (23 pts), Jason Thompson
(23 pts, 10 reb), Jonny Flynn (21 pts), Austin Daye (20 pts, 10 reb), James Harden
(20 pts), Jiri Hubalek (20 pts), and Jon Brockman (15 reb).
Detroit Pistons
92 Cleveland Cavaliers 86
Box
Score
The Detroit Pistons concluded their 2009 SL schedule with
a 92-86 victory over the Cleveland Cavaliers to open day 8 of SL. The Piston's
draft picks had mixed performances in their final run.
Austin Daye once again led the Pistons with 20 pts, 10 reb, 3
stl, 4 turnovers. Daye has certainly impressed with his readiness and overall
skill level. Daye received nice assistance from Swede Jonas Jerebko (19 pts, 5 reb
2 ast) who has been a pleasant surprise and looked good again today, showing of a
variety of skills. He hit a three midway through the 4th to give the Pistons
the lead, which they held onto to close out the game. DaJuan Summers had a disappointing
game and ended up fouling out, finishing with 12pts, 4rebs, 5/15fg. This was easily
Summers most disappointing outing in his 5 games here.
After a dominating first quarter, the Cavs went inside with David
Harrison (4 ppg, 4.8 rpg) making a small contribution. He had his way with Trent
Plaisted, connecting on a couple of field goals and getting to the line. The
former Pacer received his second technical foul and was ejected from the game
early in the third and was visibly distressed on the bench with head in his
hands, prior to being escorted to the locker room.
The Pistons regrouped in second half behind Jeremy Pargo, scoring 13 off the
bench. The undrafted Gonzaga product also contributed 4 rebs, 2ast and a steal
in 20 minutes of action.
Cleveland's SL leader Tarence Kinsey (15 ppg, 5 rpg) only saw 10 minutes
of action. Without his normal output, forward Darnell Jackson (10ppg 4rpg) stepped
up offensively for the Cavs.
Robert Hite came off the bench to shoot 6/9 from the field and also added
assists. The last pick of the first round Christian Eyenga continues to impress
with his athleticism, notching 12pts and 2 rebs in 34 minutes.
Cleveland's improved shooting was negated by their lack
of ball protection as the Cavs were unable to compete with 9 turnovers in the
final quarter.

Sacramento Kings (1-4) 84 New York Knicks (0-3) 71
Box
Score

With the Malouf Brothers present courtside, the Kings chose a good day to get
their first win of SL, defeating the Knicks 84-71 at Cox Pavilion Friday.
Jason Thompson was too much inside for the Knicks, overcoming a 3-11 shooting
start to finish with 23 pts, 10 reb, 3 ast on 9/22 fg. The Kings physical play,
led by Thompson and Jon Brockman (2pts, 15 rebs) resulted in the kings dominating
the offensive glass (21-11). Omri Casspi (7.3ppg 3.3rpg) has shot poorly all
week (33%) and it continued today, going a woeful 2/11. He led the Kings with
6 offensive rebounds however.
Brockman has lived up to his "dirtywork" reputation during his time
in Vegas, at one stage looking to challenge for the rebounding record (20).
He would finish with 2pts, 15 rebs and 2 ast.
#4 pick Tyreke Evans has shown he can often get wherever he wants with the basketball
in his hands. He didn't shoot the best today (6/16 fg), but had 4 ast 3 stl
to go with his 18 points.
For New York, #8 pick Jordan Hill had another average day. He
tallied 8 pts 12 rebs. Hill is not the most physical of players in this draft
class and could have done better on at least one put back attempt. Instead of
going up strong, he attempted a soft jump hook which wasn't close. The contact
he received was enough to send him to the floor. Late first rounder PG Toney
Douglas (#29) was looking for his offense more today but struggled with his
percentage again, going 4/14 fg with 6 reb 3ast. His 3 to 4 assist to turnover
ratio in 30 minutes needs to improve.

Both teams shot miserably from the floor (35%) and barely connected from long
range. 7 third quarter turnovers and more poor shooting from New York turned
the game and saw the Kings maintain a comfortable lead to leave Vegas SL with
a 1-4 record.

Minnesota Timberwolves (1-2) 89 Washington Wizards (1-2) 82
Box
Score
The Minnesota Timberwolves collected their first win of SL this
afternoon with a 98-82 win over the Washington Wizards. In his best performance
of the SL, #6 pick Johnny Flynn led his squad to victory finishing with 21 pts,
5 ast, 3 rebs, on 7/11 shooting. However his best stat may have been committing
just 3 turnovers, which was a big improvement over his last few games.
Flynn found himself on a few occasions defending Nick Young (23
pts, 2 reb, 3 ast) who was looking to post up the smaller Flynn. Young had some
success but Flynn played him as well as he could given the circumstances, muscling
him and getting a hand in Young's face.
Young meanwhile, could only manage one three point attempt and
2 free throws in the final quarter when his team was down just three to start
the period. Andray Blatche (24 ppg, 12.5 rpg) recovered from an 0/8 start to
finish with 11pts, 8rebs, 3 ast, 3stl, 4/15 fg. Wizards Dominic McGuire put
in a useful performance for the Wizards finishing with 8pts 11reb 3ast.
Minnesota nearly allowed Washington back into the game when Oleksiy Pecherov
(12 pts, 8reb, 2stl) decided to launch an extremely poor three pointer when
his team was up 3 in the last 30 seconds. Luckily for him and the T-Wolves,
they weren't punished for it. Pecherov showed a little more today other than
his outside shot we have seen most of the week. He was handy around the basket
and even displayed a nice post move for a 2 of his points.
Wayne Ellington made some big shots on his way to 19 points, including 4 three
point field goals.
There wasn't much separating the two teams in the final
period. Four 4th quarter three pointers from the T-wolves (two from Pecherov)
was enough to get Minnesota their first SL win.
Chicago Bulls (1-3) 80 Oklahoma
City (0-4) 74
Box
Score
The Chicago Bulls were led to a 80-74 win by PG Anthony Roberson.
Following a scoreless last outing, the 6'2 guard from Florida exploded this
evening for a game-high 24 points. The Bulls guards did an admirable job protecting
the ball, with the starting pair of DeMarcus Nelson and Roberson turning the
ball over just once on the way to recording their first win of SL.
Roberson was given strong support from #16 pick James Johnson (18.5 ppg 6 rpg),
who despite shooting a poor 2/11,was close to recording a triple double, posting
8 points, 10 rebs and 7ast. Johnson himself also did a better job protecting
the ball today compared to his first two games, making 3 to today.
#3 Pick James Harden returned after missing OKC's last game. He drained four
shots from beyond the three-point line on his way to a team-high 20 points.
He did have 4 turnovers however to go along with his 5 assists. BJ Mullens did
a better job on the boards today, finishing the game with 7 pts, 7 rebs, 2 ast.
Mullens used his length to grab 6 offensive boards.
The Bulls improved their SL record to 1-2 while Oklahoma City will need to
win their final game against similarly winless Dallas Mavericks tomorrow.
Phoenix Suns (2-1) 95 D-League Select
(2-1) 89
Box
Score
The Phoenix Suns pulled out a 95-89 win tonight over a feisty
D-League squad looking to take their SL record to a perfect 3-0. Jiri Hubalek
(20 points) led the Suns who also received strong support from Goran Dragic
(17) and Micah Downs (19).
The game saw several shifts in momentum after a notted first quarter. The Suns
#14 pick Earl Clark didn't overwhelm in his second start for Phoenix and
ended with 8 points 7 rebounds. The D-League team had a tougher time containing
Clark's backcourt teammates.
Turnovers were a problem for the D-Leaguers, committing twice as many as their
opponents. (24-12), with Jasper Johnson (11 pts, 6 reb, 2 ast) and Curtis Stinson
(13 pts, 10 reb, 4ast) both turning it over 7 times each. With Leading scorer
Othyus Jeffers (20.5ppg 7rpg) not playing, Gary Forbes had to step up, committing
5 to's of his own. Forbes has been one of the standouts in his first two
games, shooting at a high percentage and prior to today, doing a good job of
protecting the ball.
The D-Leaguers were within striking distance to win after dominating the third,
however fell short of keeping their perfect record. Both teams now move to a
2-1 record. Phoenix will be back tomorrow to take on the undefeated Memphis
Grizzlies which will pit Robin Lopez up against #2 pick Hasheem Thabeet. The
D-League select team returns on the finale, Sunday, to take on the Portland
Trailblazers at Cox Pavilion.
Denver (2-1) 111 Portland Trailblazers
(0-3) 93
Box
Score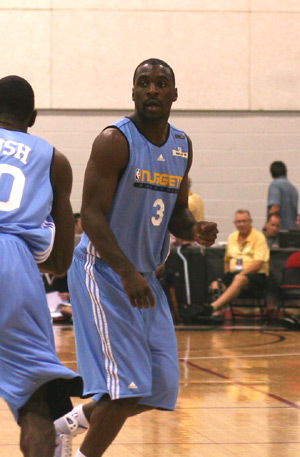 The Ty Lawson led Denver Nuggets topped the Portland Trailblazers
in today's final game at Cox Pavillion, extending their 2009 SL record
to 2-1. Lawson played a good game with a game high 26 on 11/16 shooting. He
also added 5 assists and 5 rebounds. Adding to that was the fact that he had
just 2 turnovers.
Lawson was complimented by Sonny Weems (24 pts, 4 reb, 2 stl)
who has now put together two consecutive quality games. Weems ran the floor
well and showed a willingness to find the open man, but did commit 5 turnovers.
Coby Karl had an efficient shooting night, contributing 16 points on 5/6 shooting.
He also added 4 reb and 3 ast. Ronald Dupree contributed 16 points and 6 rebounds
in the win.
Jarryd Bayless had a disappointing outing despite trying hard
to keep Portland close. He had an okay shooting day going on 8/17. But he still
hasn't corrected his turnover problems picking up 6 to only 3 ast. Making things
worse, he stayed down after finishing off a lob in the final 30 seconds of the
game. Hopefully for the Blazers it isn't more than cramps. Bobby Jones had his
best game of SL scoring 18 pts, 5 reb, 2 stl and was effective getting to the
line (9/10 ft).
Second rounder Jeff Pendergraph didn't show a great deal offensively,
but he did hit the boards well finishing with 7 pts 9 rebs. Like many others
here at SL, he is still getting familiar with the pro game and got whistled
for an illegal defense in the first half.
The Blazers ultimately couldn't compete with Denver's
hot shooting, as they finished the game shooting over 54%. Portland also couldn't
manage to outscore their opponents in any quarter.