The top performers for Day 7 were: Anthony Morrow (47 pts),
Jodie Meeks (29 pts), Chase Budinger (25 pts), Marcus Williams (22 pts), Marcus
Thornton (21 pts), DeMar DeRozan (20 pts), George Hill (20 pts, 9 ast), DeJuan
Blair (20 pts), Joey Dorsey (20 reb), Blake Griffin (18 pts, 15 reb)
Toronto (3-2)
84 Milwaukee (4-1) 83
Box
Score
The Toronto Raptors finished their 2009 SL schedule with
an exciting 84-83 win over the previously unbeaten Milwaukee Bucks.
A Quincy
Douby mid range pull up with 1.5 seconds left was all that prevented the Bucks
from going a perfect 5 for 5 in this year's SL. Douby's clutch shot came after
a Jodie Meeks bomb put the Bucks up 1 with 15 seconds remaining.
The Raptors were without Ekene Ibekwe, who despite being cleared of serious
neck damage, was out after yesterday's fall. Teammate DeMar DeRozan created
an early buzz around Cox Pavilion as he went up and banged on Joe Alexander
in transition. DeRozan converted the three point play which helped set up a
Raptors 2 point lead after the first.
The game saw #10 pick Brandon Jennings match up with one of SL's
better point guard defenders, Smush Parker. Parker used his size advantage midway
through the first by posting and scoring on Jennings. Quincy Douby then covered
Jennings most of the second quarter with Jennings scoring 9 points on him. Jennings
had an easier time penetrating against Douby (who is known as a solid defender).
Alexander has looked better with each game finishing with 19
pts, 8 rebs, and 4 ast. He scored a quick 4 points in the first 90 seconds of
the third to tie the game.
Bucks leading scorer Jodie Meeks (16.5 PPG) caught fire in the third, making
5-6 field goals including three straight threes, helping to give the Bucks a
two point lead heading into the final quarter. He will never be the quickest
two guard in the league, but he keeps his man in front of him on defense while
his work off the ball keeps his defender busy on offense. Meeks' (29 points
4 reb 4/8 3FG) approach on both ends of the floor has been impressive all week
and he should be a solid rotation player for the Bucks next year.
Parker and Jennings had an exchange after Smush grabbed an out
of control Jennings in an attempt to slow him down following a whistle. Jennings
took exception. There was no malice involved with Parker repeatedly telling
the youngster to relax. The hot shooting battle between Meeks and Douby dominated
the 4th. Jennings had an ordinary day finishing with 13 points 7 ast but most
alarming was his 8 turnovers. To his credit, he did show good judgment in the
last minute of the game by not firing a three when he had a good look, instead
choosing to wait for a better option. That better option was Alexander who made
a long two, giving the Bucks the lead.
DeRozan finished with his usual 20 pts, 6 reb, 3 ast. He
can be lethal in the open court, however his free throw shooting is a concern.
He finished at just 50% over the 5 games. He didn't force much today and also
had a couple of nice passes that weren't converted.

Houston (5-0) 92 LA Lakers (3-2) 77
Box
Score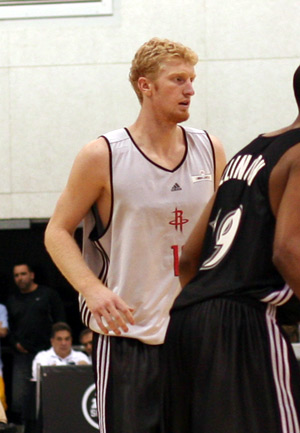 The Houston Rockets finished the SL as the only unbeaten team defeating the
Adam Morrison-less Lakers today 92-77 in game 2 at Cox Pavilion. The Rockets
were led by 44th pick Chase Budinger (25 pts, 7/9fg, 3/3 3p, 8/8 ft). Without
Morrison (20 ppg), David Monds got the Lakers off to a strong start taking a
5 point quarter time lead. Monds was strong this SL averaging 14ppg, 5rpg, showing
off his mid range game and ability to attack the basket.
After only playing a few minutes in the first, Budinger went
for 11 in the second period. The score was tied at the half after LA's solid
work on the offensive boards was negated by their terrible shooting (33%). Lakers
Second round pick Chinemelu Elonu (16 pts, 8 reb, 8 fouls) had his most productive
day of the week. He will need work on his touch as he shoots a horrible percentage
for a big man (40%). He is without doubt a project, but is active and had some
success today.
Joey Dorsey tied Lonny Jones' SL rebounding record with 20 (7OR)
today and also added 11 points and 5 assists. He may not have an obvious position
in the NBA, however has proven to be a hard worker in his 5 games here. In one
sequence, he deflected a pass, ran the court and finished the play giving the
Rockets a 14 point advantage. #32 pick Jermaine Taylor didnt light up the stat
sheet but is definitely a crowd pleaser, following Dorsey's play with a fierce
break away dunk. The athletic Taylor finished with 11pts 3reb 3ast.
The Lakers shooting percentage dropped to 31% after three and they quickly
found themselves in a 15 point hole. Without Morrison to provide a scoring punch,
reducing the deficit was always going to be a difficult task for Los Angeles.
The majority of the 4th was garbage time with the lead blowing out to 20 at
one point.
Golden
State (4-1) 104 New Orleans 84 (0-3)
Box
Score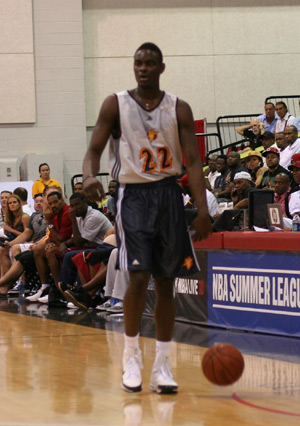 With teammate Anthony Randolph sitting this one out with a sprained left wrist,
it was Anthony Morrow's turn to light up the Las Vegas strip setting a new Summer
League scoring record with 47 points (18-26 fg). The undrafted second year sharpshooter
helped the Warriors build on a double digit second half lead to win by 20 to
close out their SL at 4-1.
Morrow was unconscious draining 7 of 9 from deep, showing why he was the league's
second ranked 3 point shooter (percentage wise) as a rookie last season. Morrow
showed a well rounded game as well, getting out in transition and converting
on an and-1 in the first quarter. He found a groove and it seemed he couldn't
miss.
Stephen Curry had another decent game, running the PG position for most of the
game. Nothing too flashy but showed his solid ball handling and ability to get
to the rim at the end of the first half with a nifty drive and bucket. He also
displayed his tremendous ability to quickly gather the ball, set and shoot,
knocking down a 3 pointer early in the second half. He shot 4-10 for 9 points
deferring to Morrow in the second half to help him get the record. While his
final 2 games in SL were modest, he along with Randolph and Morrow have certainly given Warrior fans something
to get excited about going into next season.
For the Hornets, when he wasn't watching Morrow drain 3 pointers on him, Marcus
Thornton had a solid performance putting up 21 points of his own on 6-14 shooting.
Earl Calloway came off the bench to score 17 in 20 minutes.
Darren Collison's shot wasn't dropping 14 pts (4-14 fg) but he looked solid
running the team, displaying quickness that allows him to get by defenders and
find teammates for shots off the drive.
San Antonio (3-0) 85 Oklahoma City
(0-3) 76
Box
Score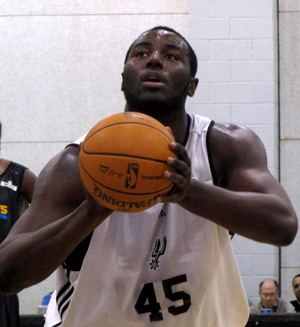 The San Antonio Spurs improved their SL to 3-0 with a 85-76 win over the Oklahoma
City Thunder in the Thomas & Mack Center.
#37 Pick DeJuan Blair (20 pts) got off to a solid start, using
his muscle inside scoring an early 8 points. He finished with 20pts 5 rebs.
He was effective using his body well to create space on his shots. One of his
two turnovers came from an illegal screen early in the second quarter. He had
a nice move with good footwork to elude #24 pick BJ Mullens (5pts 1reb 3ast).
George Hill combined with Blair to cut the Thunder lead to 1 going into halftime.
Hill would end up with 20 pts, 5 reb, 9 ast 3 stt, but also committed 6 turnovers.
Mullens finished 2/8 but did have a few nice entry passes from the high post
and picked up three assists. He's young and will need to work on his strength,
as he was bullied out of position a couple of times. He hasn't got bad
hands and his length also cut off some pick and roll options. One rebound in
24 minutes isn't what you want from a 7 footer however.
Hill had a big 4th quarter pulling the Spurs away from the Thunder
and putting the game out of reach. He finished a drive with a big dunk much
to the delight of the growing crowd. Malik Hairston (16 pts, 6 reb, 7/13 fg)
provided good support to Hill and Blair. Spurs Second rounder Jack McClinton
went scoreless in 14 minutes and took some rushed shots going 0/4.
Serge Ibaka (15 pts, 8 reb) was huge on the offensive rebounds
collecting 7. He also displayed his ability to hit a mid range jump shot. Teammate
Robert Vaden (16pts 3reb 2ast 2stl) shot nicely from deep. He connected on 4
from 5 long balls. DJ White was also very effective (17 pts) in limited minutes.
The Spurs extended their SL record to 3-0 after shooting an impressive 52%
from the field.
Cleveland Cavaliers (3-0) 75
Dallas Mavericks (0-4) 62
Box
Score
Tarence Kinsey and Jawad Williams led the Cavs to victory, outlasting
the Mavs 75-62, showing more energy in the final period.
The Mavericks took a 2 point lead into the 4th quarter but things unraveled
quickly as Rodrigue Beaubois couldn't throw a beachball in the ocean finishing
2-14 from the field for 4 points.
After a few days off, Beaubois struggled to reach the level he previously was
able to play which could be due to a slight knee injury from earlier in the
week. Beaubois didn't get much help from his teammates either as the Mavs shot
a combined 34% from the floor with just 1 player (Andre Brown) scoring in double
figures with 10.
Rookie Christian Eyenga failed to get much going offensively, although he played
within himself and other players grabbed the offensive looks. 4 points on 2-5
shooting in 34 minutes isn't much to write home about.
Memphis Grizzlies (3-0) 85 Los
Angeles Clippers (2-1) 68
Box
Score
The final game of day 7 saw the top two picks of the 2009 draft
go head to head. The Memphis Grizzlies got the 85-68 win over the Los
Angeles Clippers. Marcus Williams led the Grizzlies with 22 points on 16-20 ft.
Griffin (18 pts, 8-20 fg, 15 reb, 5 ast) won the crowd
over with enough highlights to make a DVD, however Thabeet walked away with
the win and kept his perfect SL record (3-0).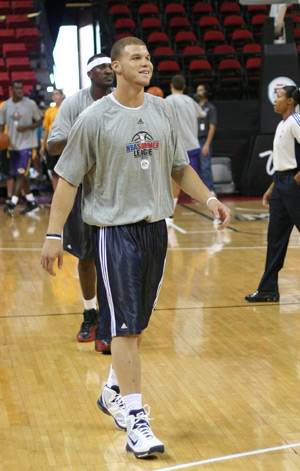 Griffin had a mixed opening quarter getting blocked twice by Greg Stiemsma
and turning the ball over twice. He finished the quarter in spectacular fashion
by sending down a left-handed follow to tie the game at 14.
The second quarter produced some horrible shooting with both teams struggling
to exceed 35%fg. The #1 pick continued his highlight reel in the second quarter,
however his team would head in to the halftime break down 32-30. In the final
two minutes Griffin first nearly deflated the ball when pinning a Sam Young
shot against the backboard. A minute later he sent down a savage dunk off a
one bounce dribble then converted a Mike Taylor lob immediately after on his
way to a first half double double (12pts 11reb).
Down by 10 points, Griffin had an ugly sequence towards the end of the third
when he was blocked, retrieved the ball then lost the handle out of bounds.
Griffin dribbling on the perimeter in that situation was a very low percentage
play with his team trying to mount a comeback.
Grizzlies draft picks had fairly average performances today.
#2 pick Hasheem Thabeet was a non factor, looking tentative when on the block,
displaying poor hands and making a few turnovers. He would finish with the unflattering
stat line of 7 pts, 3 reb, 7 fouls, and 5 to's. He did confidently swish a 15-footer
in garbage time.
#27 pick DeMarrre Carroll (16 pts, 7-9 fg) showed some flashes of what he's
capable of after a slow first half. Carroll came out of half time and converted
on a floater after getting into the paint. He also made an impressive offensive
rebound and put back before nicely playing passing lanes to get a steal and
breakaway dunk putting his team up 8. The Grizzlies pushed the lead out to 10
by three quarter time.
#36 selection Sam Young showed his outside touch but didn't
have much else going beyond that, finishing with 11pts 6reb.
Griffin's return with 7 minutes remaining in the final
period didn't result in the Clippers cutting into the Memphis lead. The Grizzlies
advantage hovered around 10 points for the remainder of the contest. Turnovers
and poor shot selection didn't allow the Clippers to ever threaten in the final
quarter.