Some of the top high school talent put on a four day showcase in Paducah, Kentucky for the next stop of The Grind Session. The crowd was filled with Kentucky fans trying to see who might become the next big name in basketball. Here are some of the top players and their performances.
DeShawn Corprew 6'5 – Quality Education Academy 2016
The highly underrated Corprew continues to impress, scoring 29 points, grabbing nine rebounds, and dishing out five assists to beat Sunrise Christian Academy. He has the ability to fill up the scoring column quickly. It isn't uncommon for him to score 20 points in the first half alone, as he has done time and time again against some of the most elite teams the nation has to offer. His ability to slash with minimal dribbles and his pull up jump shot off the bounce makes him a threat from anywhere on the floor. Corprew's takeover scoring ability comes within the flow of the offense as Coach Isaac Pitts won't allow players to get out of sync with the game plan. Corpew also finished with 28 points in the 57-55 loss to Hillcrest Academy.
Eli Wright 6'4 – 22 Ft Academy 2016 (Mississippi State)
Wright uses his speed and explosiveness to finish in the paint. He can score around the rim at different angles and has great body control. He can still add consistency to his jump shot but he's able to get it off almost any time the ball is in his hands, using his dribble to shift defenders and his change of direction speed. Wright stays active when he's on the floor, always moving on both ends of the floor. He finished with 19 points to beat Arlington Country Day.
Sedee Keita 6'10 – 22 Ft Academy 2016 (South Carolina)
Keita has great size and strength. He's not a tremendous leaper or real quick, but he does move well and has good coordination. His shooting results weren't consistent. He did show good form on his jump shot, he even has range out to the three point line but would miss the rim at times when contested around the basket.
Miles Bridges 6'7 – Huntington Prep 2016 (Michigan State)
Bridges' performances got the crowd on its feet as usual. His much improved offense has been noted before, but his ambidexterity in the paint is impressive. He has always shot with his left and preferred to dunk with his right; but he made an array of floaters, layups off of spins, and midair adjustments off his explosive leaps with his right. He is quick off his feet and sent away a few shots at the rim. Bridges led Huntington to go 2-0 over the weekend; finishing with 41 points and 12 rebounds against Victory Prep and 18 points against Athlete Institute.
Curtis Jones 6'4 – Huntington Prep 2016 (Indiana)
Jones continues to look much more aggressive and confident this year. He shot well and is pushing the ball after rebounds. He had a few dunks over the two games that excited the crowd. He is a good one foot leaper and threw down a few dunks in half court sets. Jones' increased contribution is a relief for Bridges. Jones posted a triple double with 19 points, 10 rebounds, and 11 assists defeating Victory Prep, and scored 15 points to help beat Athlete Institute.
Micah Thomas 6'7 – Huntington Prep 2016
This was my first good look at Thomas, as he went down at Hoop Fest last month after getting injured on a put back dunk early in the game. He has a smooth stroke from three and knocked down a few in catch and shoot situations. His speed and long arms allow him to guard the perimeter, but he matched up against the bigs on defense. Thomas is a great transition finisher and is active on the glass.
Onuralp Bitim 6'5 – Huntington Prep 2017
Bitim continues to play well for Huntington, scoring in bunches. He plays within the offense and can score in a variety of ways. He scored 30 points in the win over Victory Prep, almost all coming in the second half. Bitim has a unique style about him; he is creative, also plays with the same aggression and emotion when he is lighting it up or when the production is coming from a teammate.
Jarred Vanderbilt 6'8 – Victory Prep 2017
Vanderbilt played well; unfortunately, his team's production isn't enough to get a win. He is able to do it all against elite competition but his team has been outmatched. His scoring, passing, rebounding and defense were on display as usual. Statistically, Vanderbilt had the best weekend; posting a triple double in the loss to Huntington with 32 points, 16 rebounds, 12 assists, and four steals. The next day he finished with 30 points, 14 rebounds, eight assists, two blocks, and two steals losing to Word of God.
Josh Jackson 6'8 – Prolific Prep 2016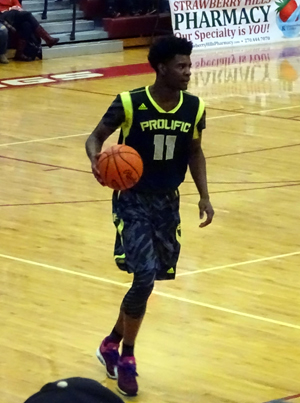 Jackson had a solid showing. He didn't put up the ridiculous numbers we have gotten used to seeing but he continues to stand out among the rest when he's on the court. He can't be matched athletically, and displayed his combination of elite athleticism and finesse. Jackson finished with 14 points in the win against Arlington Country Day, while finding Vance Jackson's hot hand. Prolific's game against Potter's House was slow paced and physical; it didn't throw him off of his game but Prolific was handed the loss as Jackson finished with 17 points.
Vance Jackson 6'8 – Prolific 2016 (Connecticut)
Jackson has great size for a wing. He's not a great athlete but is a knock down shooter from both three and midrange. He doesn't create much for himself off the dribble but can take smaller guards into the post. He excels most in catch and shoot situations, plays well within the offense, and doesn't force much. Jackson finished with 24 points against Arlington Country Day.
Deandre Ayton 7'0 – Hillcrest Academy 2017
Ayton had a strong showing at Mustang Madness. He didn't shoot near as well as he did when I saw him in Lexington last month, but he constantly attracts the defense's attention when he's on the floor, drawing double and triple teams when catching the ball within 15 feet of the basket. Ayton scored 22 points in the 57-55 win over Quality Education Academy. In the first half against Advanced Prep, he went through multiple stretches without touching the ball; when he did, he settled for threes. In the second half, the ball was worked through him, and he played much more aggressive showing why he can't be guarded one on one in the post. The game was within a few points until Ayton fouled out, eventually turning into a 12 point loss. Ayton contributed 15 points.
Thon Maker 7'1 – Athlete Institute 2016
When I saw Maker play last month at the Bluegrass Showcase, it was the best I had seen him play, but he looked even better in his game against Huntington Prep. He has been playing with much more aggression this year. In previous years, most of his points came from free throws. We all know he can shoot but he has become a consistent threat from three. The game appears to have slowed down for him, with his court awareness noticeably improved, and an advanced passer for his size. Maker finished with 36 points in the loss to Huntington Prep. I wasn't able to attend the game against Potter's House but Maker scored 23 points in the loss.
Udoka Azubuike 6'10 – Potter's House Christian Academy 2016
Azubuike has great size, strength, and is an explosive finisher. He still has a way to go as a basketball player but he drew a double team every offense set, with a player on both sides denying any entry pass to the post. He was the focus for the defense any time he was on the floor. When a ball is in his area, no one can compete with him on the boards, as he pulls them down with two hands. He was in foul trouble the whole game against Prolific Prep, but still managed to get the win while adding 9 points and 15 rebounds. I wasn't able to catch the matchup against Athlete Institute but Azubuike finished with 18 points in the win.
Rawle Alkins 6'4 – Word of God Christian Academy 2016
Word of God went 1-1 during Mustang Madness. Alkins has no problem making a play with the ball in his hands, but he doesn't move much without the ball. He is such a gifted scorer, it doesn't make too much of a difference at this level but moving forward, he could easily add to his scoring, playing off the ball. Most of his points come from him creating from scratch, which a lot of players can't do, but he rarely scores on back cuts or catches the ball off of curls. Alkins has the ability to finish in transition and score in a half court setting. He finished with 24 points in the blowout win over Victory Prep.
Trevon Duval 6'2 – Advanced Prep International 2017
Duval was easily the best point guard to play in the event. His change of speed and ability to handle the ball in traffic is tremendous. He protects the ball when he drives and shields from bigger defenders when attacking the rim. The next step in his progression is adding consistency to his shooting. Duval earned MVP against Word of God posting a triple double with 16 points, 12 rebounds, and 12 assists.
Billy Preston 6'10 – Advanced Prep International 2017
Preston helped API to a 2-0 record at Mustang Madness. With Terrance Ferguson not in attendance, Preston did a great job stepping up to increase his scoring. He shot well and attacked with aggression. He can shoot from three but facing up in the high post is where he does most of his damage. Preston scored 19 points to beat Hillcrest. He followed up with the best performance I have seen from him, scoring 29 points defeating Word of God.