Risin'
Austin Rivers 6'4 SG, Duke
Call me crazy but Rivers might have the quickest first step in the country. His ability to consistently beat nearly any defender off the dribble makes him a valuable cog in a half court set.
And now, he's s looking more and more comfortable shooting out to 25 feet, making his breakdown ability that much more deadly. Rivers is averaging 14 points a game on 38% from downtown, and has played well off the ball, something he wasn't accustomed to in high school.
You can pick at his attitude and deficiencies, and call him a tweener, but the kid is a flat out baller. He's smart and motivated with an ideal basketball background and a competitive killer instinct.
While he's not in the top tier of elite prospects, his talent and drive keep him close. Rivers made a huge jump from late lotto in 2013 to 9 overall in 2012.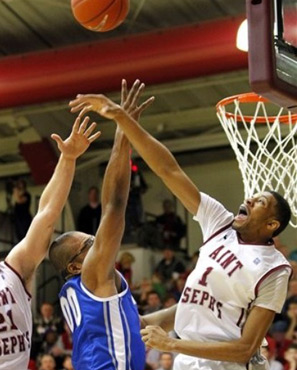 CJ Aiken 6'9 PF, Saint Joseph's
At 6'9, Aiken looks like he can scratch the back of his left ankle with his right hand standing up.
For those who don't know him, Aiken is a Cancer survivor and one of the most soft-spoken players you'll find. He's incredibly easy to root for, scoring high on the likeability scale once you hear his story and watch his game.
As a prospect, he's incredibly long, mobile and athletic, and can play both on the perimeter and as a finisher down low. He's fresh off a 14 point, 5 block game in a good win over Dayton, showing off his versatility by adding two three-pointers and 3 dimes.
Defensively, he forces opposing players to post up against two defenders- the one that's on the ball and himself, as he lurks in the paint in search for weak side rejection opportunities. At 4.3 blocks per game he's currently second in the nation to Kentucky's Anthony Davis, and some have noted his similarity to the UK phenom.
He's obviously not someone who needs the rock, rather someone who you can insert into the game to make plays off the ball. Adding bulk and weight will be a priority for him as he gets closer to next level action.
We have Aiken at 10 overall in 2013 after being previously left off both our boards.
Damian Lillard 6'3 PG, Weber State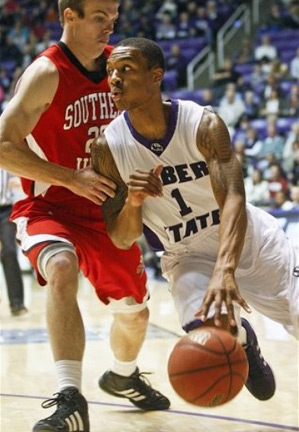 You wouldn't know it by watching ESPN, but Lillard leads the nation in scoring at 25 a game.
He already has a 38 point game and a 41 point game under his belt this season, which can be attributed to his dynamic play off the dribble. He's a scoring point guard, and whether you like it or not, expecting that to change would be slightly irresponsible. But he's a damn good scorer, and one that won't slip too far based on his weaknesses as a distributor.
Lillard's 8 point scoring increase from his sophomore to junior year can be explained by his remarkable rise in his long-range shooting percentage. He's shooting an astounding 45% on an even more jaw-dropping 7.4 treys per game. His range and improved shooting accuracy off the dribble will come in handy at the pro level when on-ball defenders go under the screen on the perimeter. Lillard can step up and knock down that shot off the dribble.
Improving his vision and efficiency running a half-court offense will be his primary challenges moving forward, however his ability to handle the ball and become a high-volume scorer won't let this mid-major guard sneak under the radar.
Lillard is being called by some scouts as a lock first rounder. He went from early second round to 19 overall on our latest 2012 mock draft.
Cody Zeller 6'11 C, Indiana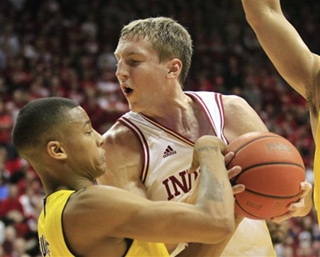 What separates Zeller from the other skilled big men is his awareness of both himself and his defender's positioning on the interior. He knows when to turn left and when to spin right, when to go straight up or when to pump fake.
Along with great body control, Zeller has great hands and can remains an efficient finisher at the rim. He can score at the toughest angle, and at 6'11 with length, should continue getting opportunities in the paint. When he's nailing down that elbow jumper he's one of the toughest post matchups in the country. Zeller is averaging almost 19 points over his last four games, and his stock continues to soar in his freshman year.
He's moved from 7th to 2nd overall in our latest 2013 mock draft. Assuming he stays in school, he'll be the most polished big man in the country as a sophomore.
Kevin Jones 6'8 PF, West Virginia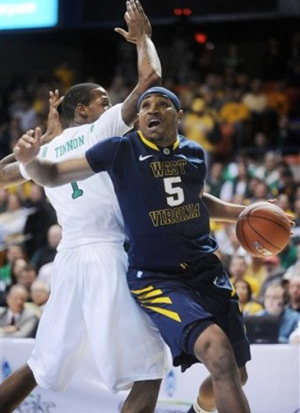 Jones is the Marshon Brooks of last year's draft, coming out of nowhere as a senior after three bland years.
Jones leads the Big East in scoring and rebounding, averaging 21 points and over 11 rebounds a game. He's relentless on the offensive glass, seemingly ubiquitous on the interior every time a shot goes up. His increased mobility and agility have allowed him to track down balls faster, which result in second chance opportunities that he efficiently converts.
While his 3-point shooting percentage is not where you'd like it, his stroke and confidence have dramatically improved, and his midrange jumper looks better than past years. He's scored over 22 points in six consecutive games, grabbing more than 13 boards in four of them.
We had him going from undrafted, to late second round up to 29 overall in this year's draft.
LeBryan Nash 6'7 SF, Oklahoma State
Nash had his shining moment as a freshman Wednesday night, when he went off for 27 points in a win over Missouri.
An electric athlete, Nash is strong and explosive with a basketball body. He's been using an effective jab step to create separation on his jumper, which he's starting to knock down with greater consistency. Against Missouri, Nash scored 13 of the team's 15 points during a pivotal stretch of the game, showing takeover ability as a scorer on the perimeter.
When focused, Nash is a real tough defender, using his strength and mobility to make his man work hard on the offensive end.
He'll need to improve his consistency and at creating in the half court and finishing open jumpers on the perimeter, but his ceiling should be high enough to warrant the use of a first round pick by next year. We have him at 22 on the 2013 board.
Shabazz Napier 6'1 PG, Connecticut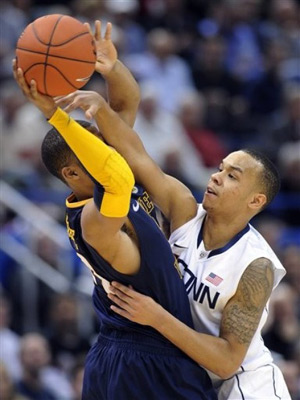 Napier has averaged 20 points and 5 assists over his last three, stringing together his longest stretch of hot play this season.
Napier has a strong handle and can shoot both off the catch and the dribble. This makes him a capable half-court player, and his quickness with the ball allows him to push it in transition.
Napier really shines on the defensive end, where he's a harassing on-ball defender showing good lateral quickness. Combine that with his NBA shooting range and Napier becomes an attractive reserve guard who can handle the ball and play alongside it.
He went from 28 to 23 on our 2013 board.
Tony Mitchell 2586 6'8 F, North Texas
He's a year older than most freshman after sitting out last season for academic reasons, but he hasn't seemed to miss a step.
The other night against Denver he put up 30 and 17, after going for 34 and 16 just a few weeks earlier. He kind of fits the Michael Beasley mold, a small forward with power forward tendencies, or vice versa.
He's an extremely fluent athlete who can get from the perimeter to the rim. Mitchell's averaging 15 and 9 on the year, but the most glaring stat is the 57% he's shooting from behind the arch. If he can prove that his hot shooting isn't a fluke, Mitchell could establish himself as one of the more attractive prospects in college basketball.
Mitchell went from 22 to 10 on our 2013 mock draft.
Slippin'
Dexter Strickland 6'2 G, North Carolina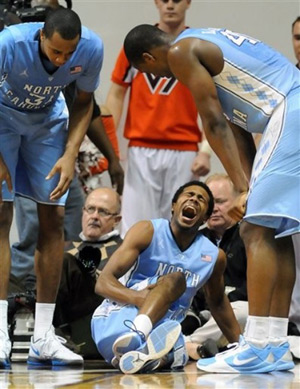 Strickland tore his ACL at almost the worse possible time. He'll obviously miss all of this season and who knows how much of next, and at 21 years old already his clock is ticking fast.
As a prospect, he's a glue guy you can stick into any lineup. He was North Carolina's premiere perimeter defender with his quick feet and strong instincts. But offensively he has issues, primarily his inability to stretch the floor as a shooter off the ball.
The injury was a tough blow for a kid who relies so much on his quickness. He moved from 39 to 52 in our 2013 mock draft.
Patric Young 6'8 PF/C, Florida
Despite having one of the most NBA cut bodies in the country, his skill-set, or lack there of, has been holding him back.
Prior to Thursday night against Ole Miss, where he was set up nicely all night, Young had attempted just 10 shots over his previous three games. His inability to create or counter in the post can minimize his impact on a game.
He's an adept finisher thanks to explosiveness, strength and power, but you wouldn't throw him the ball if you desperately needed a bucket. We dropped him to 24th overall after holding down the 19 spot last week.
Adonis Thomas 6'7 SF, Memphis
Thomas opted to surgically repair his ankle, which will cost him the next three months of the season. While it shouldn't be considered a long term problem, it will cap his value as a prospect until 2013.
Thomas had been extremely inconsistent through the first half of the season, and will likely have to establish a position for himself when he comes back as a sophomore.
Despite the injury scouts remain high on Thomas, we have him going 17 in 2013.