Climbin'
Andre Drummond 6'10 PF/C, Connecticut
Andre Drummond continues to gain steam as the top overall pick for the 2012 draft.
In UConn's biggest game of the season against a quality West Virginia squad, and facing a possible three game losing streak, Drummond rose to the challenge. It was his best performance to date considering the level of competition.
Drummond had a heated battle with potential Big East POY Kevin Jones showing the ability to bang with and even outperform a future pro. Jones you will remember had made another projected top 10 pick, Perry Jones, look terrible just weeks before.
The bigman finished with 20 points (9-11 fg), 11 rebounds and 3 blocks in a dominant performance over a tough West Virginia team to Jones' 22 points and 5 rebounds.
Eight of Drummond's points came on jump shots, while ten of his points came on dunks, and not your run of the mill variety, but "highlight reel, fans out of their seats, did you just see that?" dunks.
But it wasn't just his highlight plays or his stats, but the way he impacted the game, stepping up with key plays in the closing minutes of a tight ball game. From prospect to player, the metamorphosis of a future elite NBA bigman is taking place before our eyes.
Drummond helped lead UConn back from a 10 point second half deficit hitting a free throw after being "Hack-a-Shaqed", and then made a key rebound and put back with 1:30 left, giving UConn a three point lead. He followed that up with a key stop on Jones and capped everything with a block on a 3 point attempt on Truck Bryant, as time ran out, and somehow caught the ball and fed the break before falling out of bounds.
Numerous scouts and GMs were in attendance, and they came away salivating, "Not since Karl Malone has a top tier post player had the kind of speed in the open floor that Drummond possesses. He took the ball on the break and was running past guards in the open floor!" said one.
Drummond is just beginning to scratch the surface, as he's started to assert himself on both sides of the ball.
He had a rough patch with two 4 point games having some difficulty adjusting to Big East play without coach Jim Calhoun (sitting a three game suspension). But that can be attributed more to teammates not looking to get him involved than a lack of effort.
Offensively, if he has a clear path to launch towards the rim, forget about it. But he's blending that power and explosiveness with a soft touch, knocking down a number of baseline jumpers. His touch within 10 feet of the basket can't be ignored.
Defensively and on the glass is where his physical tools have really shined, as he's recorded three or more blocks in half the games he's played (2 or more in 10 of 16 games).
Drummond has been our number 1 pick since the beginning, and remains number 1 on our 2012 board, and appears to be widening the gap with the rest of the field.
For some reason skepticism about Drummond's status as a potential #1 pick continues to persist within the media. Expect that to change.
December 19th piece on Drummond: Andre the Giant
Anthony Davis 6'10 PF, Kentucky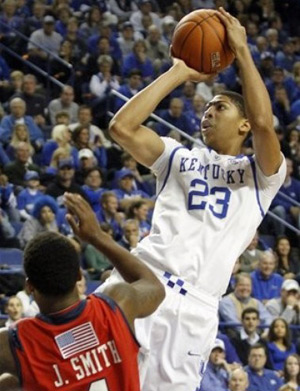 Considering that Drummond is the likely top pick, if there's a "lock" to be the second overall pick in this year's draft, Davis is the guy. While he lacks Drummond's physical prowess, Davis has a little more overall polish.
Far from a finished product, Davis oozes potential and his underdeveloped body begs you to ponder just how much he can improve. He plays with a high motor, and has jaw-dropping speed and leaping ability for a 6'10 player.
After his well documented late growth spurt in high school, Davis is still transitioning from the wing to the post, and needs to develop more skill inside, but at the college level, Davis is able to outclass nearly every opponent he faces with his length and athleticism.
He leads the nation in blocked shots at 4.6 per game, and there's no reason to believe he can't be a Marcus Camby type of defensive stalwart in the NBA. His lack of strength could make things more difficult as an on ball defender, at least initially when he battles for position in the post.
Davis had a breakout performance recently against Arkansas Little Rock with a season high 22 points, 16 rebounds and 3 blocks. His 18 point performance against Louisivlle, knocking down 12 of 13 free throws is also noteworthy.
Despite having a slight frame, his wide shoulders suggest that he should be able to add weight. How much his body can sustain and how that will affect his speed and mobility are key questions.
Davis has jumped to number 2 on our mock in the past two weeks, overtaking UConn standout wing Jeremy Lamb.
Michael Kidd-Gilchrist 6'7 SF, Kentucky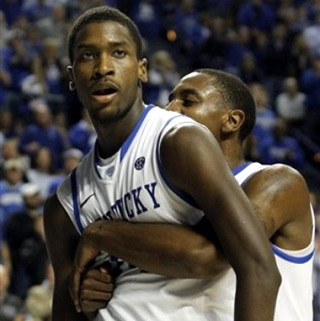 Everyone's new favorite player (and if he's not you're in denial) has officially seen a "value-spike".
His game against Louisville exploded the Twitter universe and the other social airwaves, after he collected 24 points and 19 rebounds in heroic fashion. His selling point is that he possesses all the intangibles that can't be taught, while struggling in all the categories that can.
MKD's motor runs wild, seemingly never out of gas and constantly in drive. He's an excellent slasher in terms of playing off the ball, catching and getting to the rim. As a finisher he's almost automatic in transition considering his speed, athleticism and explosiveness. And while he lacks comfortable NBA shooting range, his college three has fallen at an impressive 35% rate.
At 6'7, he could practically guard four positions on the floor, and he's a fit in any offense, whether it's as a starting small forward or a spark off the bench. Someone's bound to fall in love with him during workouts, if they haven't already. After spending most of the season at the back of the lottery, we have him as number 7 overall in our latest mock.
Arnett Moultrie 6'10 PF, Mississippi State
Moultrie has really made an impression in his first full year with Mississippi State, averaging 16 points and 11 rebounds on 55% shooting from the floor.
Physically he's strong with great size at 6'10, and does a great job of getting up and down the floor. His mobility makes him a threat in transition, which should translate even better to the NBA game as opposed to college. He's shown promise working in the post, illustrating some ability to create with his back to the basket or facing up to his defender.
But what's great about Moultrie is his efficiency and reliability. He never takes a night off under the boards, drains his free throws at a remarkable 86% clip, and rarely forces jumpers he can't hit.
There's no question he can sustain his status as a lottery prospect, which is right where we have him now- #9 on this year's latest mock draft.
Kevin Jones 6'8 PF, West Virginia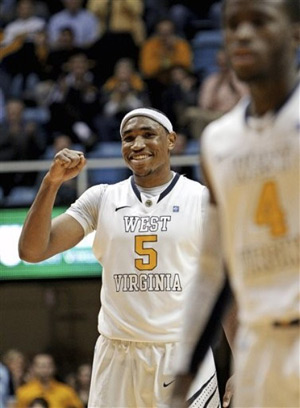 His production as a senior can be heavily attributed to his increased motor and confidence, both glaringly visible in every game he plays.
His motor is reflected by his rebounding rate. As a junior, Jones averaged 7.4 rebounds, an uninspiring number for a 6'8, 260 pounder playing 34 minutes a game. This year he leads the Big East in rebounding at 11.4, while bringing down 4.6 offensive boards compared to the 3 he grabbed last year (most of which he converts into second chance points).
Offensively, his improved confidence has made him a larger perimeter threat. Jones generally looks more comfortable shooting off the catch, thinking less and squaring his body. While he still needs work in the in-between game off the dribble, Jones has established himself as an active interior player with pick and pop potential.
We had Jones going undrafted before the year, and now have him sitting at 37 overall since taking the conference lead in scoring and rebounding. Scouts aren't ruling him out as a potential late first rounder.
Herb Pope 6'8 PF, Seton Hall
Like Kevin Jones, Pope has made an outstanding jump from his junior to senior year.
Pope has been relentless on the interior, completely controlling the paint offensively and on the glass. He's averaging 18 points and 10 rebounds per game, looking lighter on his feet and showing better mobility.
While he's only attempting 1.4 there point attempts her game, he's converting on 36% of them, and encouraging number from an expansion and development standpoint.
Pope has some baggage to overcome after sustaining a heart attack after the 2010-11 season, but he's having an excellent season, including his impressive perfromance against Drummond and UConn.
He's moved up from the bottom of the second round to number 38 overall.
Draymond Green 6'6 F, Michigan State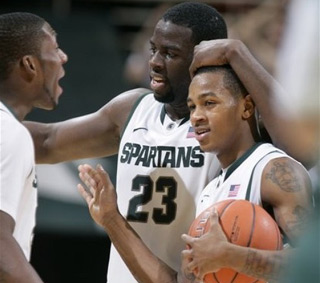 Green is one of the best pound for pound forwards in the country, with a solid understanding of the game and his role on the floor.
He shoots with nice rhythm off the catch, and has the makings to be an effective player in a system that operates the pick and pop in space. At only 6'6 he's an excellent rebounder, bringing in just under 10 boards a game despite being severely undersized compared to his interior competition. What should make him a serviceable role player at the next level, along with his ability to shoot, is his ability to pass, as he averages over 3 assists per game from a unique position.
He's averaging 15 points per game as a senior, and has popped up on the first round radar. He's currently number 30 on our 2012 board.
Tony Wroten 6'5 G, Washington
Wroten has the size and vision that cause scouts to salivate during evaluations. His assist numbers do a poor job of telling the story (considering he shares a backcourt with Abdul Gaddy), as Wroten has proven to be an excellent passer and distributor with the ball in his hands.
As a scorer, he's averaged over 19 points through his last eight games. Considering the fact that during the stretch he's only made 4 three-pointers while converting 54% of his free throws, it's fairly clear how efficient he is finishing at the rim.
Wroten's ability to play multiple positions including, ball-handler, should make him one of the more desirable guard prospects in the country. With some added consistency on his jumper, and cutting down on the turnovers, Wroten's stock should only rise from 23 overall, which is where we have him today.

Slippin'
Perry Jones 6'11 F, Baylor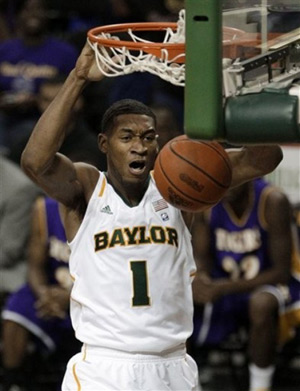 Not a good few weeks for Jones, whose offense has disappeared after scoring over 25 in two of his first four games.
Not only that, but he hasn't consistently demonstrated that mean streak you'd like your 6'11 forward to express under the boards. In 41 minutes he was a non-factor against West Virginia, finishing with 4 points and 0 blocks. He followed that with an 8 point, 6 rebound, 36 minute game in a big showdown with Arnett Moultrie and Mississippi State.
Again, I'm big on establishing an identity for yourself, so teams know who they're looking at when deciding who to draft. Jones has struggled to do that yet, which he'll have to build to improve his image as a prospect. It's always difficult not to think about Anthony Randolph when questioning Jones' deficiencies.
Still, his ceiling is too high to allow him to slip far down the board. In recent weeks he's fallen from 4th to 8th and recently to the 10th spot in 2012.
Rakeem Christmas 6'9 PF, Syracuse
Christmas has been the victim of a deep, veteran rotation, however he's shown close to nothing when given the opportunity.
Like Fab Melo last year, Christmas starts, but that's about it. Offensively if he's not given room to finish, he's a non-factor. He's shown little to nothing in terms of creating shots offensively, and will wait for a better opportunity next year without Kris Joseph logging forward minutes. He's a strong presence on the block in Syracuse's 2-3 zone, however that's currently his only purpose for logging 12 minutes per game.
Unfortunately for Christmas, Syracuse will be bringing back Baye Moussa Keita, CJ Fair, Fab Melo and James Southerland, and bring in DaJuan Coleman and Jerami Grant. Minutes could again be tight for the athletic project. We moved him from the 2013 lottery to 22 overall.
Terrence Ross 6'7 SF, Washington
Ross hasn't quite lived up to the preseason hype despite averaging 14 points on 37% from downtown.
He's still an attractive prospect based on his shooting ability, athleticism and effectiveness in transition, but you'd like to see him add to his off-the-dribble game. He's only scored 20 points once all season (In November, home against Portland), which is a bit disturbing considering he's not out there to do much else offensively.
Ross has moved from a mid lottery pick to just outside the lottery.
Dee Bost 6'2 PG, Mississippi State
While Bost is quick off the dribble with respectable size and strength for a point guard, his inefficiency is worrisome when taking his ball-dominance into account.
He's shooting just 38% from the floor with a 4.3 to 2.8 assist to turnover ratio. Prior to Saturday's game against Utah, Bost was 12 for his last 52 from the floor, an abysmal 23%. Even worse, he's 6 for his last 34 from downtown, 17%.
A productive run into March would really benefit Bost's stock, as he's fallen to 48 on our board after originally being pegged as an early second rounder.
Andrew Nicholson 6'9 PF, St. Bonaventure
After averaging 20 points on 57% shooting as a junior, Nicholson has seen his scoring average drop to 14 a game as a senior.
With his strength, leaping ability and explosiveness, 6.6 rebounds per game is simply unacceptable. Also, he still is lacking in the shot-creating department, as he's seen his field goal attempts drop from 13 a game to 10, an enigmatic fall-off. If Nicholson wants to be evaluated with the nations other top players, he's going to have to start dominating St. Bonaventure's inferior opponents.
He moved from the back of the first round to the early second round in our latest mock.