Climbing
Perry Jones
Jones leapfrogged Harrison Barnes on our board, after his 28 point masterpiece against BYU last week.
Jones was all over the place, using his athleticism and size to cause massive matchup problems for the defense. He knocked down both of his three point attempts, looking more and more like viable option on the pick and pop game.
Jones' ability to play four positions makes him a valuable prospect, and he's starting to really show how good he can be. If he can continue contributing on a consistent basis, Jones should be a no-brainer top five pick.
Jones is currently projected to go 4th in the 2012 mock.
Myck Kabongo
Kabongo has done a better job controlling his urges, seemingly playing with better poise and control as the team's quarterback. The game has slowed down for Kabongo, which has allowed him to become a better decision-maker and a more efficient point guard.
Though still shaky from the outside, Kabongo's quickness and ability to break down a defense should make him a hot commodity come June.
Prior to a rough game at North Carolina, he was averaging almost 13 points and over 6 assists over his previous 6 games. Kabongo moved from 16th on our board to the back of the lottery in 2012.
Dorian Finney-Smith
Finney-Smith is a lengthy forward with the versatility to cause mismatches on the offensive end. He's been active on the boards as well, averaging over 8 a game playing big minutes (31mpg) as a freshman.
Finney-Smith has a strong handle which allows him to get to the rim from the perimeter, although he's excelled playing the stretch forward role as a spot up threat from deep. He's shooting 46% from downtown , 9 percentage points higher than his rate inside the arch.
He's more of a shot-maker than shot-creator, but his size, stroke and versatility should draw attention from scouts after two years of college seasoning. He has moved up to the 15th pick in the 2013 draft.
Herb Pope
Pope has been playing like a man possessed, making his presence known as a force on the interior. His conditioning looks better, displaying a motor that runs for practically all 33 minutes he plays.
This year he's expanded his game, converting on the perimeter while maintaining his phenomenal rebounding rate. NBA teams are always looking for active, powerful bodies to spell their more talented big men, and Pope fits the bill.
Nate Wolters
Wolters took over the game against Washington, going for 34 points in a blowout upset win. Wolters was unstoppable off the dribble, utilizing a deceivingly quick first step to get to the rim or gain separation on his jumper. Wolters' ability to beat his man created open looks for others, as he dished out 7 assists as the team's lead guard.
What really stood out about Wolters was his body control. Regardless of his positioning attacking the rim, he was still able to get off a balanced clean look on numerous occasions.
With good size (6'4) for a ball-handler, Wolters will have the chance to land a role as a reserve for a team in need of backcourt depth. We have Wolters going in the mid second round in 2013.
Elias Harris
Harris has been on and off our board over the past few years, thanks to flashes instead of consistent stretches.
However he looks much better this year than last, converting on the perimeter at a much higher rate. He's coming off a 19 point game in a win over Butler and a 25 point game in a win over Arizona, both of which he displayed a full array of offensive moves.
His expanded arsenal has allowed him to take more shots as a junior, and therefore pose as a more dangerous threat on the offensive side of the ball.
He's 7 for his last 9 from downtown, and could continue to move up our boards with some added consistency. With his recent inspired play, Harris has re-emerged as a potential draft pick.
Slippin'
Khem Birch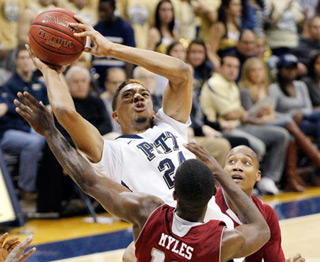 Birch chose to transfer from Pittsburgh, damaging both his development and image in the process. It was just two weeks ago that he was starting for a coach that rarely gives minutes to freshmen. Now, he's playing no basketball while scouts and NBA executives question his attitude, desire and motivation.
We had him as a potential mid first rounder in 2013. But now it's highly unlikely that he will be ready to be drafted by then missing those two full years of development on the court.
Shabazz Napier
Napier's shown that if his shot isn't falling, there's a chance he becomes a non-factor. Creating shots, especially on the perimeter, is not Napier's forte. As a tweener, he'll need to stand out either as a playmaker or shooter, so that his physical limitations (undersized) don't overshadow his talent.
Napier is currently considered a bubble first rounder at best.
Festus Ezeli
In his two games back from a six-game suspension and knee injury, Ezeli looked sharp in one game and dull in the other.
The problem I have with Ezeli surrounds his inability to create shots. And if he's not given the ball in prime position to score, he can disappear throughout stretches of a game. There's no denying his physical tools and potential as a physical, interior presence. But at 22 years old, the time is now for Ezeli to get more involved in the offense, and become the centerpiece of rotation that has sufficient surrounding talent.
Festus has slipped to 47th overall on our board.