Every few years a prospect comes along with the potential to take the NBA by storm. In recent years we've seen LeBron James, Dwight Howard and Chris Paul revolutionize the game at their respective positions, with two others, Kevin Durant and Derrick Rose threatening to do the same.
Meet Andre Drummond.
In two days, on August 10th, Drummond will turn 16 years old. In Orlando during the AAU Super Showcase on July 27th, Drummond announced his presence to the world putting on a dazzling display of speed, explosive leaping ability, length and agility creating a huge stir about his potential.
While there are a number of bigtime talents at the high school level including 6'11 wing Perry Jones, 6'8 wing Harrison Barnes (2010) and 6'6 wing Michael Gilchrist (2011), Drummond has elevated himself to the top of the heap at the high school level.
Scouts are calling him one of the best prospects that they've seen at his age in years. Drummond is a 6-10, 245 "man child" with strength and aggressiveness to play inside with excellent timing on shot blocking and rebounds. His athleticism and length (7-foot-2 wingspan) are at an elite level for a high schooler, and he shows an eagerness to improve.
Potential is a dangerous word. And with all the hype that's sure to come his way in the next few years, it will be Drummond's responsibility not to let the media blitz and hoopla get to his head. With such immense size and physical gifts, the game comes incredibly easy to him, so it's up to him to continue to challenge himself each day to improve, develop his skills and maximize his abilities.
Drummond is already somewhere between 6'10 and 6'11, and with a size 18 shoe, he could top out well over 7-feet before he's finished growing.
Drummond can use his physical talents alone to overpower players on the high school level over the next three years, but it would be wise for him to develop skills that will benefit his long term ability, such as developing a midrange shot and polishing his post moves.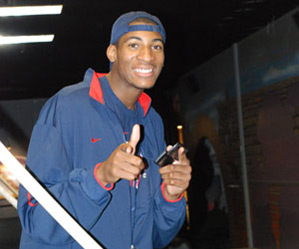 As a freshman at Capital Prep (CT), Drummond averaged 12.7 ppg, 11.9 rpg and 6.5 blocks per game. He's also grown 2-3 inches since his freshman year, so look for those numbers to dramatically increase in his sophomore year at St. Thomas More (CT).
Andre helped the U16 USA National Team bring back Gold from Argentina, as one of three players from the (sophomore) class of 2012 on the team. The rest of the team was comprised of rising juniors. Drummond was the 6th leading scorer averaging 8.6 ppg, and 6.8 rpg in 12 mpg.
Andre Drummond, a name you're sure to hear a lot more of in the coming weeks, months and years and the odds on favorite to be the #1 pick in 2013.

Early #1 Pick Projections:
2010 Draft – John Wall
2011 Draft – Harrison Barnes
2012 Draft – Michael Gilchrist
2013 Draft – Andre Drummond
Photos: USABasketball.com