Gary Trent Jr. 6'5 210 SG – Prolific Prep 2017 (Duke)
Trent Jr. scored 35 points while making all 11 free throws and grabbed seven rebounds. In addition to Trent's three ball, he's working the midrange and getting to the rim more. He displayed footwork and scored on reverse pivots, finishing with a floater or fade away numerous times. Prolific Prep moved the ball more than the previous times I had seen them this season but they took their second loss of the season to The Rock School. The Tech Academy threw a double team at him when he received the ball early in the game but he extended his range out to the NBA line and got going from outside. He's not really known for his ball handling ability but he controls his defender on the perimeter and gets where he wants at will at this level. In the second game Trent went off, making eight three-pointers to score 46 points, nine rebounds, five assists, and two steals against The Tech Academy while Prolific Prep ended the weekend going 1-1.
Josh Green 6'4 175 SG – Hillcrest Prep 2019
Green also had a better second game in the matchup against The Conrad Academy, not that he had a bad game against The Rock School with ten points, seven rebounds, five assists, and two steals. He's getting more comfortable as a playmaker and scored in bunches. He will hit a pull up from three on one play and hit you with a floater the next. He does a nice job of getting to the middle at will but he leaves his feet before making a decision at times. Green finished with 19 points, six rebounds, five assists, and three steals defeating The Conrad Academy.
Deandre Ayton 7'0 250 C – Hillcrest Prep 2017 (Arizona)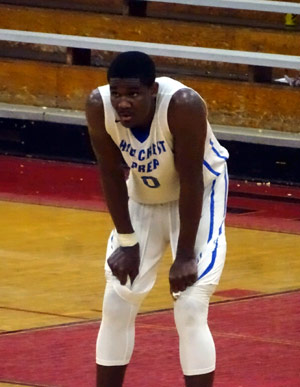 Hillcrest went 1-1 with their loss coming in their first game against The Rock School. Ayton hit front rim on most shots in the first half but started connecting in the second. The absence of point guard Virshon Cotton hurt as Hillcrest struggled with constant turnovers, especially when guarded full court. They continued to give up threes as well against The Rock. Ayton is still quick with the three-point trigger but he did put the ball on the floor and aggressively attack the basket like I hadn't seen him before, which is something I've wanted from him rather than jab step and shoot. Although he does settle too much for outside shots, he does shoot the ball well and made four of his eight attempts. He also showed urgency in time of desperation trying to take over offensively but couldn't get the win. Ayton would finish with 33 points, 11 rebounds, four assists, and three blocks. He looked very good in the second game against The Conrad Academy with transition finishes no one could contest, diving hard to the basket after setting a screen instead of drifting to the perimeter. His game was more authoritative rather than the finesse Ayton we've seen. When working in the post, he showed a turnaround fade away and distributed out when the defense collapsed. He's good at finding the open man but has to get rid of it quicker, sometimes the smaller guards would knock it out before he could hit the cutter. Overall, he played very well over the two games, blocking shots and rebounding everything in his area. He finished with 36 points, 19 rebounds, four assists, and two steals against The Conrad Academy.
Darius Days 6'7 190 SF/PF – The Rock School 2018
Days had the hot hand against Hillcrest and took full advantage of the open looks. He hit shot after shot usually with his feet set. He stayed squared up and was ready to let it fly at every opportunity. He didn't get the same looks against Prolific Prep, so he scored around the basket to get going. He lit it up from outside in the second half and was big in comeback against Prolific to give them their second loss of the season. Days would finish with 35 points and nine rebounds against Hillcrest, then 34 points and ten rebounds against Prolific Prep while being named MVP of The Rock's two games, helping them to two wins in what looked like the two most difficult opponents in the event.
Matur Maker 6'10 200 PF – The Tech Academy 2017
Maker had two productive outputs with 12 points, eight rebounds, three blocks, and five steals in the loss to Victory Rock Prep, then posting 30 points and 11 rebounds losing to Prolific Prep. While Maker can give you a little of everything in doses, being a few months from playing college basketball, it's difficult to say what he will bring on a consistent basis. It's predictable when he will shoot or drive, while he does show athleticism and ability to get into the paint, he gets knocked off his feet at almost any feel of contact. He plays with great confidence and intensity but would like to see a more in control game from him
Pierre Crockrell 5'11 165 PG – Prolific Prep 2019
Crockrell doesn't get as many open looks as he did when he played with Josh Jackson last year but he is developing his lead guard skills. The game is slowing down for him and he's showing improvement as a decision maker especially in transition. He looks to have grown a bit in the past year and his game has shown maturation. He doesn't always stand out in the box score but is a key contributor for Prolific Prep. Crockrell posted 19 points, seven assists, and three steals in the loss to The Rock School.
David Sloan 5'11 175 PG – The Conrad Academy 2017
Sloan is a shifty guard with streaky shooting ability. He's undersized at 5'11 but very quick. He shoots off the dribble and pulls up with just a little bit of space. Sloan had the luxury of playing at his former high school, Taylor County, and impressed his hometown fans. He was big making a late run against Hillcrest, knocking down back to back threes in the face of a defender and finishing with 32 points, six rebounds, three assists, and four steals in the loss. Sloan also ended up with 11 points, six rebounds, and four assists in the win over 22ft Academy.
Luguentz Dort 6'4 220 SG – The Conrad Academy 2018
Dort had an impressive pair of games while The Conrad Academy would finish 1-1. It doesn't take long for him to stand out with his strength and explosive leaping ability. He had a few blocks coming as a help defender and secures rebounds out of the opponent's reach. He challenges anyone in the paint, adjusts in the air, and jumps into the defender's body. Dort ended with 26 points, ten rebounds, two assists, three blocks, and two steals losing to Hillcrest Academy. He came out hot in the second game against 22ft Academy, knocking down three straight jump shots early but he's more of a rhythm shooter than knock down. He also traveled a few times as he tends to rely on his superior strength and athleticism to beat his defender without making a "basketball move". The Conrad Academy lost to Hillcrest Prep after making an impressive comeback but went on to defeat 22ft Academy where Dort ended with 38 points and nine steals.