It's a cold Thursday evening in downtown Atlanta. It is early December in the Georgia State University Sports Arena. The Panthers are on the floor warming up as are their opponents for the evening, the Green Bay Phoenix out of the Horizon league. I look to my left and see former UNC Coach and current Indiana Pacers scout Matt Doherty. I look to my right and see former NBA guard and current New Orleans Pelicans scout Anthony Johnson. Memphis Grizzlies analytics specialist John Hollinger is in attendance along with numerous other NBA scouts.
If this were Lexington, Durham or Chapel Hill then this type of gathering of NBA minds would be business as usual, but an early December game pitting a Sun Belt team against a Horizon League team doesn't normally draw this type of audience. But over the last year and a half, the buzz surrounding the Georgia State program has changed, due in large part to the most talented trio of players that this program has ever seen. In less than two years, RJ Hunter, Ryan Harrow and Kevin Ware have completely changed the expectations for a program that has a total of five combined post season tournament appearances (2 NCAA, 2 NIT, 1 CIT) in school history.
Fast forward to late January and the team has struggled but remains just a half game out of first place in the Sun Belt Conference. Sitting at 13-7, the team understands that it will take winning their conference tourney in order to make the Big Dance. Both Hunter and Harrow are averaging 20 ppg. And Ware has really stepped up his level of play since the early part of the season. Hunter, who many scouts feel is the best pure shooter on the college level is shooting a surprisingly low number from three at 29%, after connecting on over 43% as a sophomore. He's still considered a potential first rounder by NBA scouts for the 2015 draft.
Hunter, Head Coach Ron Hunter's son, has been around the program longer than Harrow and Ware and has seen the program transformation first hand. "We were kind of a joke my freshman year, honestly. We had talent but no one thought we'd be good until a few years down the road. But as soon as they (Ware & Harrow) got here, teams started playing us differently. It has been a complete turnaround from my freshman year until now." But that turnaround would have never happened if it weren't for a special set of circumstances surrounding all three players that led them to Georgia State.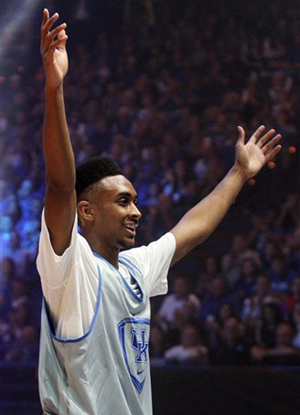 Ryan Harrow came to GSU by way of NC State and then Kentucky. After a so-so freshman season with the Wolfpack, Harrow decided to leave after the firing of Sidney Lowe, someone who he had developed a close relationship with. "I had a great relationship with Coach Lowe and the entire staff. So after he left, I decided to see what my other options were. I had committed to Coach Lowe and NC State as a sophomore so I really never got a chance to be recruited and to go through that whole process so I just decided to see what was out there and ultimately ended up at Kentucky."
While sitting out during his sophomore season due to NCAA transfer rules, Ryan went through one of the more challenging experiences he had ever been through. His father had a stroke just before his junior season. "It was shocking. He had always been so healthy. It was tough but I had to get through that season even though I wanted to be here with him." With a heavy heart and a mind not truly focused on basketball, Harrow struggled mightily in his lone year with the Wildcats. The team missed the NCAA Tournament for the first time under Calipari and were put out in the first round of the NIT by Robert Morris.
Harrow, who was unfairly used as the scapegoat at times for his team's struggles, took everything in stride and made the decision to come home to Georgia State shortly after the 2012 – 2013 season. "I learned a lot from my experience there and I would probably still be there if my Father wouldn't have been sick. I got better as a player while I was there, even the year I sat out, I was going up against Marquis Teague, Doron Lamb and Darius Miller in practice every single day. I learned a lot about how to be a leader from those guys as well and that's something I've tried to bring here to Georgia State."
For Kevin Ware, the destination is the same but the journey was quite a bit different. After originally committing to Tennessee in high school and then deciding on Louisville after Bruce Pearl was fired, Ware had begun to make a nice name for himself playing for Rick Pitino. After playing very little as a freshman, Ware had really made strides during his sophomore season and had become a key rotation player for the Cards. But as fate would have it, Ware suffered one of the more serious and gruesome leg injuries in an Elite 8 game against Duke that we have ever seen. There were questions about whether or not he would ever play again but after successful surgery and rehab, Ware was ready to go less than a year after the injury.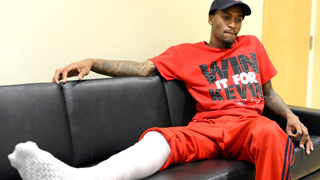 But for Kevin, he knew that he was never going to get past that injury as long as he was at Louisville. "After my injury everything was really repetitive. Being at the mall or out eating, everybody wants a picture and everybody wanted to ask me about the injury and give me all kinds of attention. And for me, I was never really that type of kid. I didn't like all the attention." But it was more than just the attention from fans. It was also the mental part of having to deal with the constant questions about the injury and whether or not he was completely healthy. "Ultimately, everyone's main reason for having a conversation with me was to talk about the injury. It took it's toll on me and it was kind of annoying at times that it was all anybody wanted to talk to me about. So I made the decision to come home and team up with R.J. and Ryan here at Georgia State."
For RJ Hunter, who was not as highly sought after coming out of high school and whose Dad took the head coaching job at GSU before his senior year in high school, his path was less hectic than the other two. Although most think it would have been a forgone conclusion to play for his Father no matter where he was coaching, R.J. isn't so sure. "We've always talked about that. It would have been tough on me to make that decision (to play at IUPUI). They have such limited resources. My Dad did all he could do there and that's why he left. It would have been a tough decision for me but luckily I was still in high school at the time so I didn't have to choose. But when he came here to Georgia State, I fell in love with it. So it was a perfect fit for me here"
While the trio certainly have their own unique stories about how they came to play at Georgia State, on the court it looks at times as if they've been playing together for years. That, in large part, has to do with their chemistry off the court. As Harrow put it, "We have great chemistry off the court. We all like to do the same things really. We are all kind of quite guys and we are homebodies. Kevin is probably out more than the rest of us (laughs), but most nights you'll find us hanging out at the house or coming up to the gym late at night getting some shots up."
This is R.J. and Ryan's second season together. In their first year, they led the team to 25 victories, up from 15 the previous year, and were 3 minutes from the NCAA Tournament if not for the heroics of eventual lottery pick Elfrid Payton and Xavier Rimmer in the Sun Belt Conference Championship game. Those two know what it will take to get this team to the next level. The addition of Ware, a former AAU teammate of Harrow and top 100 player coming out of high school, has elevated the expectations and goals of this team that much more. When asked, all three echoed the same sentiments with regards to what a successful season would look like in their eyes. "NCAA Tournament berth."
Ware is the only one of the three with Tournament experience and all three believe that he is the piece to get this team where they want to go. "I kind of feel like they (Ryan and R.J.) got cheated a little bit last year. I think they should have been in the Tournament anyway. But this year I just want to be that extra piece to get them over the hump. I think I bring maturity to the team and a defensive presence. Playing with these two guys, you don't really have to worry as much about the offensive end. I can distribute and just be myself on the defensive end and everything else will work itself out."
That unselfish mentality by Ware is the epitome of what each of them has had to do in order to make this work. All three players could have gone to a larger school, and all three could have gone to a smaller school and been stars, putting up big time numbers every night. But they chose to come to Georgia State and they've all had to make the necessary sacrifices for the betterment of the team. They each know their role and they play well off of one another. The strengths of one makes up for a weakness in another. All three guys have completely different skill sets and play different positions and for that reason, the transition for each of them has been that much easier.
But even with all of the hype and expectations, the trio knows that they can't get complacent. One most nights, their talent alone is more than most teams can overcome, especially in conference play. Without Ware, the team only lost one conference game a season ago. For Harrow, he understands the mindset that his team needs to have each and every night, "We can't look past any team and we know that. We just have to find our own motivation for each game. We believe we can play with any of the top teams but we can't overlook anyone. We play with a chip on our shoulder because people still look over us, even when we are winning. We are always the underdog so we have a lot to prove."
The wins didn't come easy a year ago and they certainly aren't going to come easy this season. Every team that the Panthers play will give them their best shot as even their opponents know the history behind these three guys and their roads to GSU.
This team has the talent to be special. They have the opportunity to do something that no Georgia State team has ever done, make a run in the NCAA Tournament. For Harrow, this will be a last shot to get that NCAA Tournament bid that has been out of reach since that freshman year at NC State. For Ware and Hunter, who are focused on today and not tomorrow as they will both have decisions to make this summer regarding their futures, they know that this is their best shot and they aren't taking it for granted. "Unfinished business" is the phrase that Ware is using for his mantra this season, "for me after what happened at Louisville and for Ryan and R.J. after what happened last year."
Hunter said it best, "I believe everything happens for a reason. And there is a reason that us three are here together."
Follow me on Twitter @CCroweNBADraft