Flyin' to the Hoop always has a great blend of National talent and local (Ohio) talent, and this year was no different. With a combination of close games and blowouts, there were plenty of takeaways from the event. The All-Tournament Team included Ryan Hall, Jaden Springer, Nimari Burnett, Samari Curtis, Terry Armstrong, and Meechie Johnson.
Jeremiah Robinson-Earl 6'9 230 PF – IMG Academy 2019 (Villanova)
Robinson-Earl played with great efficiency, shooting 8-of-11 from the floor and grabbing 11 rebounds. He consistently ran the floor well and had some strong drives to finish with aggression. He didn't shoot any threes, but displayed a nice looking shot and solid face up game. He also has some defensive versatility to match his offensive skillset.
Josh Green 6'5 200 SG – IMG Academy 2019 (Arizona)
Green had an excellent shooting night, connecting on 6-of-8 from the floor and 4-of-5 from three, showing his catch and shoot ability from the corner. He finished with 20 points and six rebounds. His ballhandling and passing looks improved since I last saw him, but he did finish with five turnovers. In addition to his shooting, he had some nice drives to the rim to finish in traffic. Green's efficiency was key in the 83-75 win over Huntington Prep.
Jaden Springer 6'5 190 SG – IMG Academy 2020
Springer utilized his strong body and bulldog mentality to maneuver his way into the paint and initiate contact. He led the way with 27 points on 7-of-13 shooting and made all 12 of his free throws. His outside shooting was really the only drawback to his game, as he missed by a wide margin on two of his three-point attempts and looks like he's lacking some fluidity in his shooting mechanics. Overall, Springer got into the paint at will and put intense defensive pressure on the ball. He grabbed eight rebounds, passed four assists, and committed five turnovers in the win.
Jaemyn Brakefield 6'9 210 PF – Huntington Prep 2020
Brakefield got to the rim and finished in traffic, including a dunk over the defense on the break. He's impressive in transition and has good offensive instincts, usually making the proper reads to finish at difficult angles or kick to the open man. His shot is a bit low and he drops his hand when it's in the shooting pocket, causing inconsistency, going 1-of-5 from three against IMG. He finished with 17 points, six rebounds, three assists, and three turnovers in the game against IMG Academy and 17 points, six rebounds, and four turnovers in the 72-67 win against Bella Vista Prep.
AJ Hoggard 6'3 215 PG – Huntington Prep 2020
Hoggard was productive in both games and plays with a lot of confidence. He tends to overdribble often and has questionable shot selection, but he can hit difficult shots at the rim on occasions too. He has a thick build that he used to his advantage against smaller guards when he took them into the post and finishing with contact, but it also affects his speed and overall athleticism. Hoggard finished with 17 points against IMG Academy and 26 points against Bella Vista Prep. He shot 1-of-6 from three over both games. I'm not sure what his role will be in college as he doesn't seem to be a primary ballhandler/distributor but doesn't have ideal size at the two.
JT Thor 6'8 175 SF – Huntington Prep 2021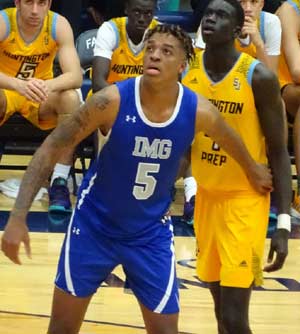 Thor showed nice shooting touch from three with fluid mechanics, connecting on four of his nine shots from outside over the two games. He's not just shooting standstill open shots, he's able to shoot off the dribble and pull up from midrange. His role has increased heavily after not getting much playing time last year and he's still adjusting to making reads. He has good potential as a 3&D prospect with his length and outside shooting. Thor ended with 11 points and five rebounds in each of Huntington's games.
Armando Bacot 6'10 245 C – IMG Academy 2019 (North Carolina)
Another IMG weapon, Bacot had a solid game. For the most part, he kept it simple with some catch and authoritative finishes. He showed good positioning on the low block to make nice spins and footwork to show he has the finesse touch as well. He's put the work in on his body as he has trimmed some of the baby fat he carried a year ago. Bacot finished with 12 points (shooting 6-of-7) and six rebounds.
CJ Walker 6'8 190 SF/PF – Oak Ridge 2019 (Oregon)
Walker displayed good agility and athleticism at his height. Although he missed all four of his free throws, he has a foundation as a face up threat and solid shooting mechanics. He made some nice moves in the paint on occasions and drove to he basket using his speed advantage. He has to protect the ball better in traffic and when handling contact as he finished with four turnovers. Defensively, he has the tools, defending the post as well as switching onto guards on the perimeter. Walker impressed but didn't consistently produce enough to get the win. Oak Ridge lost to Centervillle 63-52. Walker finished with 13 points, six rebounds, and three blocks.
Terry Armstrong 6'5 170 SG – Bella Vista Prep 2019 (Arizona)
Armstrong missed a lot of time against Huntington Prep with an injury and when he came in, he never really got it going but put on a dunkfest against ISA at Andrews Osbourne to win 95-64. He shot 13-of-16 from the floor to score 30 points. He was able to play in the open floor where he thrives, getting his head a rim level on a few finishes. Other than catching oops and run outs, he hit shots from midrange and three (2-3). In addition to his offense, he utilized his tools to grab eight rebounds and had an impressive block he sent off the backboard.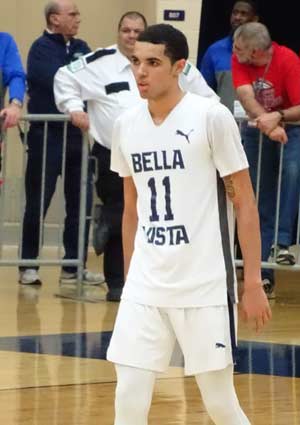 Addison Patterson 6'6 190 SG/SF – Bella Vista Prep 2020
Patterson had a big game against Huntington Prep with 28 points, seven rebounds, and three turnovers. He shot 9-of-15 from the floor, 2-of-3 from outside, and 8-of-11 from the free throw line. He was his team's best scoring option; blowing by defenders and slowing the game down by reacting to the help defense. He drew a lot of fouls and his outside shot was working for him. He had no trouble creating offense and displayed his athleticism in a variety of ways. He followed up with 18 points, eight rebounds, and two blocks in the win against ISA at Andrews Osbourne.
Zion Harmon 5'11 175 PG – Bella Vista Prep 2021
Harmon is finally back on the court, but he didn't have a great game against Huntington. He overdribbled a lot, which isn't something I've seen much of him in the past, and he took a lot of tough shots that he couldn't connect on. He only had five points while shooting 1-of-10 from the field and four assists to four turnovers. He played much better against ISA at Andrews Osbourne, scoring nine points in the first quarter on his first three three-point attempts, to eventually finish with 17 points. He moved the ball well and broke down the defense well with his dribble. Some of his layups spun out but he got in the paint pretty well. He found his teammates in position to score and led the break, finishing with four assists and four turnovers.
Nimari Burnett 6'3 185 PG – Prolific Prep 2020
In Prolific's first game, Burnett didn't score at the volume the way I'm accostomed to seeing him. He finished with just nine points and six rebounds in the 69-50 win over Springfield. However, he more than filled it up against Spire Academy to hand them their first loss of the season. The game sold out with a crowd wanting to see LaMelo Ball and Spire, but it was Burnett who stole the show to finish with 34 points, six rebounds, and five assists. He was confident from the start, staying composed and competing on both ends. He caught fire from outside making six of his ten three-pointers, he would jump into Isaiah Jackson on drives to take away his shot blocking ability and dictated the flow of the game from start to finish. He showed off his hops in the open floor, pulling off a windmill and catching a left handed oop during big runs. Prolific Prep jumped out to an early lead and never looked back, on their way to a 94-59 win.
Chris Livingston 6'5 180 SG – Buchtel 2022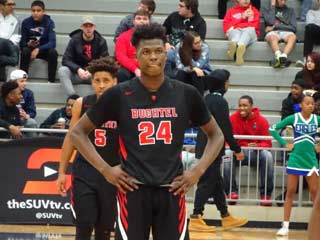 Only a freshman, Livingston had a big game with 19 points and ten rebounds. He has a quick first step and good athleticism combined with long arms to get to the rim. He played well defensively, including a help side block he sent into the stands. When he's not attacking the paint, he utilizes a nice elevated jumper from midrange, which he puts out of the defense's reach fairly easily. He tends to drive right in order to get to the rim and generally opts for a step back or pullup when he goes left, but it's tough to nitpick the freshman too much. He made nice reads, passing on the move to record three assists. Buchtel lost to Chaminade Julianne 60-59.
Charles Bediako 6'9 220 C – ISA at Andrews Osbourne 2021
Bediako finished with 14 points and 12 rebounds in the loss to Bella Vista Prep. He's raw, slim, and wasn't prepared for all of Bella Vista's weapons but he shows good potential. He isn't afraid to bang as he battled underneath, and a lot of his points came on put backs. His points came in the paint, but he did show a nice free throw stroke, making all four. Bediako also contributed with four assists.
Samari Curtis 6'4 180 PG/SG – Xenia 2019 (Cincinnati)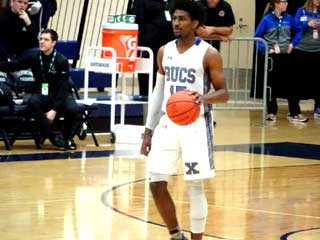 Curtis filled up the score sheet in the 89-80 loss to First Love Christian Academy with 44 points. He's a high-volume shooter at 13-of-29 from the floor and 5-of-15 from three. Although it works for him, his release point on his shot is low but he gets it off quick and he has a wide/staggered stance. He showed some athleticism in the open floor, but his half-court game can improve. He doesn't handle well with his left hand and can improve finishing in traffic. At times he would attack without a plan, sometimes his reactions would take over and he would euro around the defense or kick out of the drive to the open man, other times he would get stuck in a contested layup. He drew a lot of fouls and shot 13-of-20 from the line. Curtis also contributed with eight rebounds and five assists to only one turnover.
Meechie Johnson 5'11 160 PG – Garfield Heights 2021
Johnson scored 26 points in the thriller over Wayne. Only a sophomore, he seems more like a high-volume scorer than true point, which he lacks size for but he can fill it up at this level. He shot 8-of-16 from the floor, 3-of-9 from three, and was reliable as a free throw shooter going 7-of-8. In the final game of the night, Wayne had a comfortable lead, so Garfield Heights resorted to intentionally fouling and most of the crowd left. Garfield would claw their way back into the game, closing it to three with 30 seconds left. Johnson crossed up his defender, making him fall and nailed the three and tie the game, leaving ten seconds on the clock. As Wayne brought the ball up the floor to get one last shot, Johnson miraculously stole the ball and took it in for a layup to complete the comeback and win the game 64-62.
Rocket Watts 6'2 175 PG – Spire Academy 2019 (Michigan State)
Watts finished with 12 points on 3-of-11 shooting against Prolific Prep. He struggled to get it going, as did Spire as a whole. He showed his step back and ability to create in the half court. I would like to see more point guard ability from him at his height, not recording any assists and two turnovers.
LaMelo Ball 6'6 180 PG – Spire Academy 2019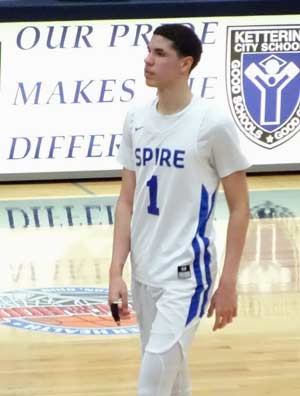 Ball had his impressive moments in his team's only loss; finishing with 20 points, seven rebounds, four assists, and seven turnovers. Overall, he shot 8-of-15 from the floor but only 2-of-7 from three and 2-of-5 from the foul line. He impressed with his passing and court vision but was at his best getting to the basket, changing speeds and is great with his left hand in traffic, using the glass when attacking at appropriate angles. I would like to see him attack more often and show more competitive fire as well. He brought the same chilled demeanor in this game as he did in the blowouts where his team was on top.
Isaiah Jackson 6'9 180 PF – Spire Academy 2020
Jackson also shot 3-of-11 from the floor against Prolific Prep. While he is showing a developing perimeter game, he missed all four of his three-point attempts in pick and pop situations. He showed his athleticism, springing off the ground quick but wasn't much of a factor in the game with only six points and six rebounds.
Jae'Lyn Withers 6'8 195 SF/PF – Cleveland Heights 2019 (Louisville)
Withers impressed in spurts with his handles and ability to drive. He has good size, solid athleticism, and flashed his jump shot on occasions. He also has versatile potential on both ends. I would've like to see his skillset utilized more consistently throughout the game, but he finished with 17 points, ten rebounds, and five turnovers in the 83-67 loss to Hughes.
Paul McMillan 6'1 170 PG – Hughes 2022
McMillan finished with 24 points in the win over Cleveland Heights. He has a low release on his jump shot and only made one of his five from beyond the arc. He's quick and got into the paint but didn't consistently finish. He made all nine of his free throws but when he wasn't fouled, he shot 6-of-17 on two-point field goals, which I believe were all on layup attempts. McMillan showed good ballhandling under pressure for a freshman and didn't put himself in bad situations with the ball.