he 2017 NBA Draft is less than a week away. This year's class has been lauded for the depth of potential star players at the top of the draft. Within that depth there are players that play the same position that lend themselves to debates over which is the better prospect.One of those combinations is Kansas' Josh Jackson and Duke's Jayson Tatum.

Both of these wing prospects had stellar freshmen seasons. Tatum led a strong second half push for the Blue Devils, including the four-day run to win the ACC Conference Tournament. Jackson and the Jayhawks won another Big 12 title and made it all the way to the Elite Eight in the NCAA Tournament.

Their lone college seasons saw both players play predominantly at the power forward position in smaller lineups. They were able to exploit mismatches there and used their advantages athletically for their teams offensively. These two top prospects will look to have similar impacts at the next level.

Yet, the question is which of the two are better suited to make an impact in the NBA and if one or the other has a considerable edge as a player. Below we will breakdown how these two matchup head-to-head in five different categories (size and measurements, athleticism, scoring ability, defensive ability, and potential) in order to decipher if one player is better than the other.

Size and Measurements

Neither of these prospects attended the 2017 NBA Draft combine so the only real measurements we have to compare them on come from the 2016 Nike Hoop Summit.

Josh Jackson has been a marvel of a prospect to look at since he broke onto the recruiting scene. He stands at 6'8" and at 203 lbs he has wiry strength and is an explosive player. However, with a wingspan measured at 6'9 ¾" at the 2016 Nike Hoop Summit he doesn't have extraordinary length. He has found a way to play bigger than he measured, especially defensively, but the numbers don't bare out well for him.

Jayson Tatum also measured in at 6'8" at the 2016 Nike Hoop Summit and was just a pound heavier than Jackson at 204 lbs. Yet, Tatum has Jackson beat in regards to wingspan. Tatum possesses an impressive 6'11" wingspan. His 8'10 ½" standing reach bests Jackson's 8'9 ¾" (measured at the 2015 USA U19 tryouts) standing reach by nearly and inch. While their measurements are nearly identical, Tatum gets the slight edge in length.

Edge: Tatum

Athleticism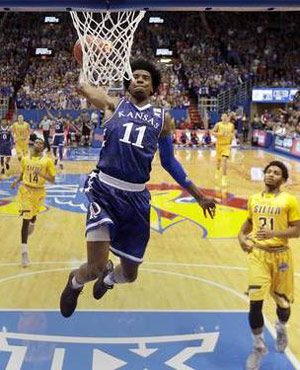 Tatum might have slightly longer limbs, but he is more of a ground-bound player. He does a lot of his damage in isolation and loves to work from the elbow or the mid post. Those two areas don't necessarily require a player to have supreme athleticism in order to dominate (both Kobe Bryant and Michael Jordan made a living from these spots at the twilights of their careers). Tatum isn't a negative athlete–just ask Kennedy Meeks–he just isn't a prospect that relies heavily on athleticism in his game.

Jackson on the other hand, lets his athleticism flow freely through his style of play. He plays above the rim on offense and defense and was a key piece of Kansas' transition attack last year. Jackson is a quick-twitch athlete and his explosiveness and agility stand out above most of his fellow classmates in the 2017 NBA Draft.

Without any of the combine's drills/tests numbers to use this is all based off the way each prospect plays. As mentioned above, Jackson wins that with flying colors, pun intended. Tatum is no pushover in this category, but Jackson's athletic advantage is noticeable in watching games of these two. Jackson's athleticism helps him be a more complete all-around player.

Edge: Jackson

Scoring ability

Though he is more athletic than most of the people he faced off against in college, Jackson's offensive game is very unrefined at the moment. He is at his best attacking the basket or in the open court. His outside shooting was the biggest knock on his game, but he showed steady consistency over the second half of the season and finished the year shooting 37.8 percent on three-pointers. Yet, his struggles at the free throw line, 56.6 percent, is definitely a red flag for teams.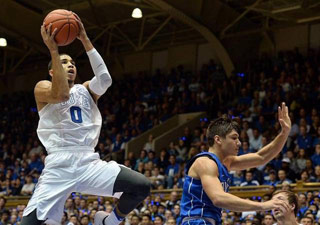 Tatum was built to score. From 20-feet and in there really aren't many holes in his arsenal. Tatum is advanced in his development in regards to footwork. He casually unleashes moves that some NBA veterans are yet to master. His midrange game is the best of any prospect entering the NBA next season. He wasn't as proficient from deep as Jackson (only 34.6 percent on three-pointers for the season), but he did connect on 84.9 percent of his free throws.

Jackson holds the edge from the perimeter on paper, but it's difficult to trust that his shot will hold up the same way from NBA distances, without a transformation to his shooting form. The poor FT shooting numbers are troubling in regards to his potential as a shooter. Meanwhile, Tatum's ability to adapt his game at each stop gives me reassurance that he can extend his range deeper over time. Tatum's form is also more compact and repeatable than Jackson's motion. Jackson's sheer athleticism may ultimately make him the better scorer, but entering the league the edge goes to Tatum.

Edge: Tatum

Defensive ability

Tatum played up a position at Duke and while it showcased his mismatch against bigger players on offense it also allowed him to hide his flaws as a defender. Tatum doesn't have the greatest combination of awareness and IQ on defense. He often got lost on that end and would miss rotations. He also doers not have the quickest feet, particularly laterally. With a lack of true post threats in the NCAA he didn't get tested much in the post, but it will be interesting to watch how Tatum's develops there as it will be important for his versatility in the NBA.

Jackson is a true beast on defense. He played the four as well, but he was slotted up a spot in order to make the Jayhawks more potent and switchable. Jackson showed he was capable of guarding spots one through four at any given moment. He also was a handful in the passing lanes and created a lot of turnovers from his sheer will and effort. He took a few too many gambles at times, but unlike other top prospects he was locked in defensively all year.

Tatum can become an improved defender over time with the proper coaching, but Jackson already comes in as a ready-made defensive standout, with a chance to become a stopper. He will need time and coaching (and additional strength) before he becomes the main guy for a team, but he's good enough, and has shown the hunger and willingness, to be relied upon as a high level defender as a rookie.

Edge: Jackson

Potential

Jackson is an unfinished painting. The outline is there and what is already on the canvas is intriguing, but it can either become a masterpiece or just another painting. Jackson scoring well as an athlete and defender in comparison to other prospects. He'll just need to fine tune other parts of his game in order to fulfill the expectations that have followed him since high school.

Thanks to his role in Duke's run to end their season, Tatum got a lot of love from scouts after the year. There was a week stretch where his name was regularly mentioned in contention for the number one selection. However, as the draft process went on Tatum has lost some of that momentum. The ready-made package he brings offensively has him likely to be a high-scoring player right away in a good situation.

However, Tatum is much closer to a finished product. He played similarly from high school to his freshman year as a Blue Devil. He can certainly improve, but the ways he impacts games won't change much. Meanwhile, Jackson has the opportunity to take his game much further than where it currently is. He can also be an impactful player on both ends of the floor. Right now, the league's best teams have dominant wing players that can play at a high-level on both offense and defense (KD, LeBron, Kawhi). Jackson has more potential than Tatum to become that type of 2-way player in the future.

Edge: Jackson

In the end, Tatum's transition to the NBA looks predetermined. He'll be an effective wing scorer that is capable of being an effective top 2-3 option offensively, for a winning team. He has the go to skills to make life difficult for defenders. But, Jackson's ability to be difference maker both as an offensive and defensive player gives him the upper hand in this head-to-head matchup. Both players will likely go in the top 5 and which team they end up on might be the biggest factor in which of these two develop into the better player down the line.