Who's Hot
Alpha Kaba (96', 6-10, PF, France, Mega Lecs)
The French prospect decided one year ago to leave his country and sign with Serbian Mega Lecs, which has created a tradition of seeing its players get drafted. And he could be the next in line to do so. Alpha Kaba is a very good athlete with an insane wingspan (measured at 7 feet 5!) and a rare ability to rebound the ball. What makes him intriguing though is that it looks like he has drastically improved his 3-point shooting this year, averaging 14.5 points, 10.5 rebounds and 1.5 blocks per game with 36.4% from beyond the arc in 28 minutes of action in Basketball Champions League and 9.6 points, 7.4 rebounds and 1.4 steals per game with 38.5% from beyond the arc in 25.4 minutes of action in Aba Liga. If he manages to keep his numbers that high, he could get drafted a lot higher than expected.
Kostja Mushidi (98', 6-5, SG, Germany, Mega Lecs)
The German project followed the "Timothe Luwawu and Alpha Kaba road" this summer, as he decided to leave his country to join Mega Lecs. So far it seems he made the right call. After a rough start, he has managed to find his rhythm and begun to demonstrate all the things that made a lot of scouts focus their atttntion on him. Mushidi has NBA level athleticism and he is already a great on ball defender. His shooting isn't consistent yet and his basketball IQ needs work, but the talent is there and he has room to improve. Considering the fact that you always have to take a prospect's numbers who is playing in Mega Lecs with a certain grain of salt, the truth is that Mushidi is actually better than expected and if he continues improving he could become a really good player.
Frank Ntilikina (98', 6-5, PG, France, Strasbourg)
He is considered by many as the best International prospect in this year's draft and for good reason. Frank Ntilikina has made the scouts drool with his combination of size, athleticism, scoring ability and court vision. And he hasn't disappointed this year, despite his numbers. The 18 year old guard is logging 14.1 minutes per game as the back-up point guard for his team this year, averaging 4.9 points and 1.3 rebounds with 50% from 3-point line in French League and 7.5 points and 1 assist per game with 46.2% from 3-point line in just 17 minutes of action in the Basketball Champions League. It's more than obvious that he is still is a work in progress, but it is difficult for anyone to ignore what he can bring to the table.
Marko Guduric (95', 6-6, SG, Serbia, Crvena Zvezda)
There aren't many guards in Europe who are more productive on a per minute basis than Marko Guduric at the moment. And that is saying something about the Serbian project, who made the right choice last year by pulling his name out before the draft. Guduric has been one of the best 6th men in Europe thus far, averaging 12 points, 3 rebounds and 3.2 assists per game in just 21 minutes of action in Euro League, while shooting with an impressive 42.1% from the 3-point line. The lefty Serbian is not overly athletic, but he is versatile, but has the size and ability to play both guard positions and even spent some time as a small forward. More importantly though he has a strong personality, which is shown by the fact that he is the leader of his team at just 21 years old. With all that said, it wouldn't be a surprise if a team might give him a chance in the second round.
Felipe dos Anjos (98', 7-2, C, Brazil, Oviedo)
The Brazilian prospect impressed a lot of people in last year's Adidas Next Generation Tournament with his combination of his size, length and touch around the basket. Real Madrid owns his rights and gave him on loan to Oviedo in Leb Gold (Second Spanish Division) so that he could find some playing time. And it looks like this was the right call, since Dos Anjos has been able to demonstrate his skills, averaging 8.6 points, 5.6 rebounds and 1.6 blocks per game in 22 minutes of action. The level of competition might not be considered that high by many, but that doesn't change the fact that Dos Anjos is a really intriguing prospect.
Alberto Abalde (95', 6-7, SG, Spain, Joventut)
This is Albalde's last year of eligibility. And the truth is that his is not as consistent as he should be at his age, but he has still managed to average 8.6 points, 3.4 rebounds and 1.6 assists in just 21.1 minutes of playing time in the competitive ACB and he even had some really good games. The problem for him is that he still hasn't found his groove outside the 3-point line, shooting just 23.8% this year, way down than the 42% he was shooting last year. If he manages to get out of his slump though and continues improving with the ball in his hands, he might see himself get drafted in the second round.
Who's Cold
Nik Slavica (97', 6-8, SG, Croatia, Cibona)
This was supposed to be the year that Slavica would break out. The Croatian wing with the great athleticism would be a second round pick in last year's draft if he hadn't pulled out at the last minute. With the way he is playing now though it's questionable it he will even get drafted. Slavica has seen his playing time and role decreased this year in Aba Liga and Basketball Champions League, since he mostly comes off the bench, averaging just 5.1 points and 3.1 rebounds and 4.8 points and 4.8 rebounds respectively in about 12 minutes of action. In Croatian Pro A League things change, since he is the focal point in Cibona's offense, averaging 18 points and 7.6 rebounds per game, but it's difficult to ignore that the level of Competition of the League is considered low and he still just shoots 20% from beyond the arc. Slavica's upside is too difficult to ignore, but if he doesn't manage to improve his shooting soon, he could be in trouble.
Vasileios Charalampopoulos (97', 6-9, SF, Greece, Panathinaikos)
Charalampopoulos started the season locked in as the starting small forward for his team. After just one month of action though he is already out of the rotation. The main reason for that is that Panathinaikos had a coaching change and the Greek forward has to start from scratch to convince his new coach, Xavi Pascual, that he deserves to be a part of the rotation in EuroLeague. Charalampopoulos remains an intriguing prospect, with a high basketball I.Q. and ability to create his own shoot, but it looks like he has plateaued in the past couple of months and the fact that he is an inconsistent shooter and isn't a top level athlete isn't good for his stock.
Isaiah Hartenstein (98', 6-11, PF, Germany, Zalgiris)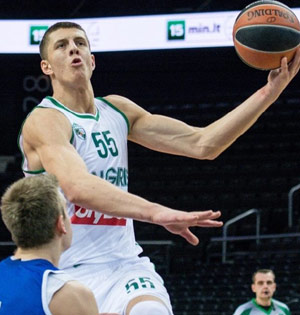 Playing for Lithuanian powerhouse Zalgiris, Isaiah Hartenstein has found it difficult to receive consistent playing time, mainly because he has a lot of experienced players in front of him. He still manages to be productive when he gets on the floor, averaging 6 points and 2.5 rebounds per game in just 12.8 minutes of action in Lithuanian League, but the fact that he mostly plays in garbage time doesn't help his stock. The truth is that Hartestein actually has the same problem Dragan Bender had last year: He is playing for a good team with a lot of experienced players in front of him and he might leave at the end of the season, so his team looks unwilling to rely on him. With that said, he is still considered one of the best International prospects thanks to his upside and the possibility to become a good stretch-4 in the future with the ability to do a lot of things on the court.
Rodions Kurucs (98', 6-9, SF, Latvia, Barcelona FC)
The Latvian prospect with the polished game started the season as a member of the first team of Barcelona due to injuries of some players and he was really impressive. Just a few weeks before the season started though he injured his knee and he was forced to stay out of action for more than a month, so he is now again a member of the second team of Barcelona. Actually, he just returned from his injury, looking kind of rusty, which only makes sense. Kurucs is still considered one of the best players in Europe in his age group, but the fact that he started the season on the injury list for the second year in a row is a little concerning, since he could be labeled as injury prone. He is still young though and all he needs is to have a nice –injury free – remainder of the season to make the scouts fall in love with him once again.
Jonathan Jeanne (97', 7-2, C, France, Le Mans)
6 minutes, 4 points, 4 rebounds, 1 assist, 2 games. That summarizes the season at the senior level for Jonathan Jeanne thus far. Playing for a team that fights for its life in French League, Jeanne hasn't really been able to demonstrate his skills at the senior level. He puts up good numbers though playing for the U21 team of Le Mans, averaging 13.7 points, 10.3 rebounds, 1.8 assists and 4.5 blocks per game, but even at that level it's difficult to ignore the fact that his is shooting just 44.3% from the field and 56.7% from the free throw line. It's pretty obvious that Jeanne isn't ready to play at the next level with his thin body just yet, but his upside is still too high to not consider him as a future NBA player and it can't be ignored that big guys mature at a slower pace. Considering the fact though that he will become 20 years old next summer, he must find a way to improve real soon or else his stock will fall even further.
Michael Fusek (95', 7-5, C, Slovak Republic, Spirou Charleroi)
It's difficult to hide a guy 7-5 feet tall, but somehow Spirou Charleroi has managed to do that with Fusek. The Slovak center hasn't managed to crack the rotation of the Belgium club, since he had a minor injury at the beginning of the season. He has played just 3 minutes total all season, scoring no points and it's not certain yet that he will see an increased role in the near future, so it will be really difficult to judge him. Scouts watched him in Treviso's Eurocamp this past summer, so they know that he has actually improved drastically since one year ago and, more importantly, has added considerable muscle to his thin frame. Fusek is auto eligible this year and his rare combination of size, intensity and touch around the basket make him really intriguing, even in an era where every team is getting smaller in the League, so there is a good possibility seeing him getting drafted in the second round, despte the lack of production.