Who's Hot
Ante Zizic (97', 6-11, C, Croatia, Cibona)
There aren't many, if any, European draft prospects having a more impactful season than Ante Zizic this year. The Croatian center has flourished playing for Cibona and has taken full advantage of the opportunity that has been given to him. He is a constant threat on offense and a double-double machine in Adriatic League, where he averages 13.4 points, 8 rebounds and 1.4 blocks per game. He managed to surpass Ivica Zubac in the rotation way before the Bosnian prospect left Cibona for Mega Lecs in January due to unpaid salaries. Zizic is not the most athletic big of his generation in Europe, but he certainly is one of the smartest and craftiest prospects out there, with a great feel for the game and a strong desire to succeed, the 19 year old Zizic could get looks in the first round as early as this year.
Timothe Luwawu ('95, 6-7, SG, France, Mega Lecs)
Luwawu certainly turned heads with his decision to sign with Mega Lecs this summer, a team known for producing really good young players. And, as is seems, Luwawu made the right choice. The 6-7 guard/forward has managed to make a name for himself this year, averaging 14.8 points, 4.7 rebounds, 2.7 assists and 1.7 steals in Adriatic League. In February, with the exception of one game versus Krka, he has been tremendous and has skyrocket his stock for this year's draft. Luwawu has all the tools to become a great "3 and D" player in the NBA. And he might have never had the chance to show all his skills if he hadn't decided to sign with Mega Lecs.
Guerschon Yabusele (95', 6-8, PF, France, Rouen)
France has a tradition of producing undersized power forwards and it seems like Gueschon Yabusele is the next man in line to fit in that category. Playing for one of the worst teams in France ProA, Rouen, Yabusele is 4th in scoring (9.3 points per game) and the leading rebounder of the team (6.2 per game). He can shoot the ball (over 40% from beyond the arc this season), he can play above the rim and he is a really good defender. He can't create his own shot, but still, he is an intriguing prospect, mainly because the new small ball direction that the NBA is heading.
Paul Zipser (94', 6-8, SF, Germany, Bayenr Munich)
Paul Zipser is automatically eligible for this year's draft. He had a slow start this season – mainly because he had to spend a lot of time at power forward in Bayern Munich – the last couple of weeks it appears that something has changed. The German prospect is looking a lot better and as the season progress he is constantly improving. He is a great shooter (46.9% from 3-point this year) and it seems like he turned the page before it was too late.
Isaia Cordinier (96', 6-4, SG, France, Denain – ProB)
Cordinier is the man of mystery in this year draft. Having chosen to play for a ProB team (Denain), he found the ideal environment to succeed and as a result – for the time being – he is even considered by many as a second round pick! Cordinier is a modern shooting guard, with great athleticism, who can really shoot (52.5% from 3-point line this year), create his own shoot and do just about everything on the both ends of the floor, with averages of 11.5 points, 3.8 rebounds, 2.4 assists and 1.2 steals per game. At the same time, of course, it should be noted that he hasn't been tested at a high level, since he has spent the last two years playing in ProB in France.
Georgios Papagiannis (97', 7-2, C, Greece, Panathinaikos)
He started the season quietly, as he had to fight for playing time with former NBAers Miroslav Radulica and Ognjen Kuzmic, but he gradually managed to crack the rotation of Greek powerhouse Panathinaikos. Papagiannis is an old school center, with a high basketball I.Q and enough talent on both ends of the floor to make an impact. He probably won't declare for this year's draft, but he is still someone that everyone should keep an eye on.
Who's Cold
Dragan Bender ('97, 7-0, PF, Croatia, Maccabi)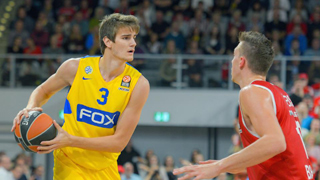 The Croatian forward is considered the best prospect in Europe. The problem is that he hasn't been able to show everybody what he can do on the floor very often this year. With Maccabi Tel Aviv experiencing a disastrous season thus far, the Israel powerhouse doesn't have the luxury to give much playing time to a 19 year old prospect, especially considering the fact that he might be gone by summer. And, to make things even worse, Bender had some injury problems in 2016. Bender did have a solid 11 point, 5 rebound performence in front of numerous NBA execs, in a recent loss to Hapoel Jerusalem. But his stock has been trending downward over the past few weeks. All in all, even with little playing time and minimum opportunities, Bender is still considered a mid-lottery pick, due to his potential.
Furkan Kormaz (97', 6-7, SG, Turkey, Anadolu Efes)
This season has been extremely tough for Korkmaz. The Turkish shooting guard is one of the most talented International players of his generation, with an uncanny scoring ability, but he hasn't managed to translate all these skills with the team this year. Having Serbian Legend, Dusan Ivkovic, as head coach, Korkmaz must have realized by now that to be able play at this level you can't just be a scorer and nothing else. Korkmaz plays about 14.2 minutes per game in BSL (Turkish ProA League), with averages of 5.6 points, 1.9 rebounds and 0.9 assists, while shooting an amazing 48.9% from beyond the arc, but just 8.1 minutes in Euroleague, with averages of 1.5 points and 0.9 rebounds and a pretty good 42.9% from the 3-point line.

Juan Hernangomez (95', 6-9, SF, Spain, Estudiantes)
He started extremely well, but as the season progressed, Juan Hernangomez got worse and worse and he even fall out of the rotation in Estudiantes. February was by far his worst month this season, since he only managed to score more than 10 points just once in his last five games. It might be just a slump, but the truth is that his stock has taken a major hit the last few weeks. Can he turn things around?
Vasileios Charalampopoulos (97', 6-8, SF, Greece, Panathinaikos)
The MVP of the last year's U18 European Championship has taken a step back this year with Panathinaikos. After an encouraging 2014/15 season, Charalampopoulos isn't just out of the rotation. He doesn't even dresses up for games! Panathinaikos has Vladimir Jankovic and former NBAers Elliott Williams, Aleksandar Pavlovic playing at the same position with Charalampopoulos, making it almost impossible for him to earn playing time this year. Which is why he probably won't declare for this year's draft, hoping that next year things will be different.
Neutral
Aleksandar Vezenkov (95', 6-9, PF, Bulgaria, FC Barcelona)
At the begging of the season Vezenkov was struggling, as expected, since he had to adapt to a different playing style and role in Barcelona. Since then, he's had his ups and downs. The truth is that he mainly has his ups in ACB and his downs in Euroleague. It's not easy to become just a role player when you are used to be "The Man", like he was in Aris. Still, Vezenkov remains an extremely talented player on the offensive end with athletic limitations. It remains to be seen where all this leads when his draft day comes.
Ivica Zubac (97', 7-1, C, Bosnia and Herzegovina, Mega Lecs)
Considered one of the biggest talents in Europe, Zubac can't be judged in 2016. Literally! The Bosnian center left Cibona due to unpaid salaries and he eventually joined Mega Lecs, but since he had already played for the Croatian team in Adriatic League he can't participate in Mega Lecs' games in Adriatic Liga this season! That aside, Zubac's stock hasn't fallen completely, mainly because he has the talent and potential to become a really good player. And that's why it is said that he has an NBA buyout on the contract he signed with his Serbian team.
Nik Slavica (97', 6-8, SG, Croatia, Cibona)
He is probably more "on the rise" than "in the middle", but still, Slavica can't be considered Hot or Cold. The truth is that Slavica is a really intriguing prospect. He has ideal size for a shooting guard and he is constantly improving, earning himself more playing time as the season progresses. It remains to be seen where all these will lead him.