By Ian Powers
The 2013-14 NBA season was one of the more exciting seasons in recent memory. The San Antonio Spurs returned to the finals this year in a rematch against defending champion Miami Heat. The result was different this time around as San Antonio defeated Miami in 5 games winning their fifth title in 15 years. The impending free agency of superstars Carmelo Anthony and Lebron James have captured everyone's attention and rightfully so, but that's not the only thing. The 2014 draft was the most anticipated draft in over a decade and the league couldn't be happier with the results. This draft brought in higher ratings than the famous 2003 draft that featured LeBron, Carmelo, Bosh and D.Wade. Will this class live up to the hype ? That remains to be seen, but what is certain is the fact that fans are always looking towards the future and the next great group of stars to enter the league. On that note we will give a very early look at some kids who will be potentially in the 2016 and 2017 draft classes and beyond. We were able to enlist the help of some of the most respected high school talent evaluators in the country and asked them to cast ballots for their top prospects currently in high school. So without further delay, here is our annual list of the top 10 high school pro prospects in America.
1) Ben Simmons 6'9" 230 SF, Melbourne, Australia, Montverde Academy 2015 – For the second year in a row Simmons tops our list and with good reason. He has taken his game to a new level this year. After a stellar high school season that saw him lead Montverde Academy to a Second straight National Championship, he carried his great play over to the spring AAU season. He has made the transition to the small forward position and is at his best as a playmaker instead of a scorer. He is a very good scorer and projects to be a 20+ ppg scorer in the league, but similar to LeBron, his best attributes are his passing ability, strength and feel. He has the ability to make people better and his feel for the game is off the chart. There are some questions regarding his killer instinct but he seems to be making strides in that area. Simmons is special and in my mind, he is the best player in the country and the early favorite to be the #1 pick in 2016. NBA Comparison: Tracy McGrady
2) Josh Jackson 6'6" 190 SG, Southfield, MI, Consortium Prep 2016 – Jackson has been one of the most promising prospects in high school basketball for the last couple of years. He has established himself as one of the most talented and dominating prospects on the circuit. He is an elite NBA athlete who can score from all 3 levels. What separates him from the rest of his peers is his ability and willingness to lock down on the defensive end of the floor. He has ideal length, quickness and cat like reflexes to be a disruptive force on that end of the floor. It is rare these days to find a two way player at such a young age. His ability to score in the half court is exceptional, but it's his ability to score in the open floor that make him special. If you need him to score down on the box, he can do it. If you need him to score the ball from deep, he can do it. If you need him to put the ball on the floor and get to the basket, he can do it and if you need him to get a defensive stop and ignite a break for you, he can do that too. In other words, their is nothing he cannot do. The question of killer instinct is non existent for Jackson as he is as competitive as they come and has as much dog in him as anybody at the high school level, if not more. The scary thing is he still has 2 years of high school left. Watch out. NBA Comparison: Demar Derozan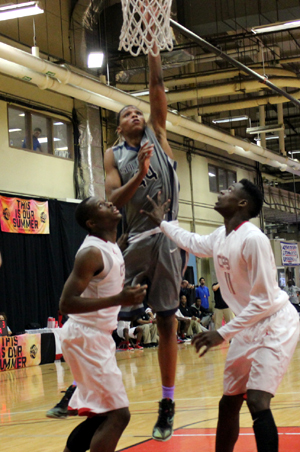 3) Ivan Rabb 6'10" 210 PF, Oakland, CA Bishop O' Dowd 2015 – Mr. Rabb has been on the radar since his epic showdown with fellow 2015 big man Diamond Stone at the Lebron James Skill Academy in 2012 and he has not disappointed. He has been as consistent as he can be and had a dominate high school season that saw him lead his Bishop O' Dowd team to a state title game appearance. They should be the odds on favorite to win it next year and Rabb will be the primary reason why. He is making the transition from an athlete who plays basketball to a basketball player who is an elite athlete. He runs the floor like a guard, is a great passer, can get to the basket from the high post, has great hands and footwork, is ambidextrous around the basket and has flashed a jumper out to 15 feet to keep defenses honest. On the defensive end he rebounds in and out of his area and uses his superior timing and length to block and alter shots around the basket. His rate of improvement has been questioned by some, but I think he's on the right path. The major knock on him has been his inconsistent effort. He has a tendency to coast at times and looks as if he's going through the motions, but he's young and I expect that to improve as he gets older and matures. The sky is the limit for him if he wants it. He has the best chance to supplant Simmons as the early favorite for the #1 pick in 2016. NBA Comparison: Chris Bosh
4) Harry Giles 6'10" 215 PF, Winston-Salem, NC Wesleyan Christian 2016 – Giles was sidelined for the entirety of his high school season after suffering a torn ACL, MCL and meniscus while playing for the U.S. Under 16 team at the FIBA World Championships in Uruguay last June. He showed great heart and determination in fighting to get back in less than a year and showed flashes of his great ability in May on the circuit. He is a do it all power forward with the type of versatility that very few players possess. Before the injury he was considered by some as the best prospect in all of high school basketball. It remains to be seen how long it will take for him to get back to that level, but the early indications are that it won't be long before Giles' name may be appearing at the very top of this list next year. NBA Comparison: Lamar Odom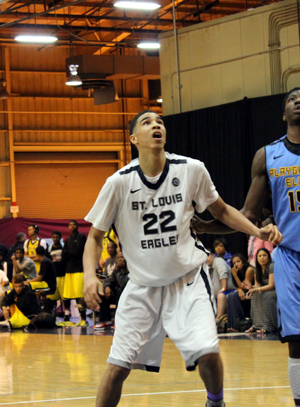 5) Jayson Tatum 6'7" 190 SG/SF St. Louis, MO Chaminade 2016 – Just looking at Tatum's face, you would have a hard time believing he was in high school. He looks like he's about 12 or 13 but his game looks much older and mature. Tatum is simply one of the most versatile and talented wings in the country and may end up as a big point guard in the mold of Penny Hardaway when it's all said and done. He has the ability to run a team, is a great playmaker and can score the ball in every imaginable way. The main thing holding him back is strength and that will come with maturity. He gets better and better every time out and has the type of personality and game that will someday make him one of the faces of the league if he continues to improve and stays healthy. The knocks on him are the aforementioned lack of strength and his lack of a killer instinct. He has a cool and laid back demeanor off the floor and sometimes that carries over on the floor and keeps him from dominating the way someone with his ability should. If he can develop those two areas, you're looking at a special talent at the highest levels of the game. NBA Comparison: Reggie Miller
6) Deandre Ayton 6'10' 220 PF San Diego, CA Balboa City School 2017 – Ayton is the first and only 2017 prospect to make our top 10 list and at this point it's not close. He is simply one of the more talented and gifted players to come along in a long time and if he wants it bad enough, has the natural talent to be an elite player, not only in high school and college but on the NBA level. He has a college ready frame, runs the floor like a guard, the skills to handle and pass the ball, he can step out and shoot the ball consistently to 17 feet and is an intimidating shot blocker with elite athleticism. He has a chance to be one the more talked about and hyped prospects in a long time if he continues to stay focused, works and doesn't allow himself to get caught up in the hype the way Renardo Sidney did. The basketball world will be watching to see this young kid develop. NBA Comparison: Kevin Garnett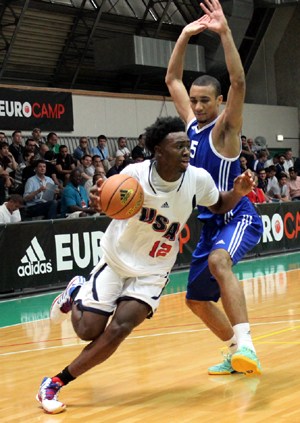 7) Jaylen Brown 6'7" 220 SF Marietta, GA Wheeler 2015 – Brown has been a man on a mission during the spring AAU season. He has improved his motor by leaps and bounds over the last year and has been attacking the rim with brute force. He is a power wing in the mold of 2014 McDonald's All American and Arizona recruit Stanley Johnson. Johnson relied on his size and strength a little more and bullied his way to the basket, Brown has a little bit better footwork, is a more consistent shooter from deep and is a better athlete and plays above the rim on a more consistent basis. All the tools are there to be an high level NBA wing prospect. He has to continue round out his game and continue to become more of a basketball player and less of an athlete. NBA Comparison: Jason Richardson
8) Malik Newman 6'4" 185 SG Jackson, MS Callaway 2015- Newman is arguably the best pure scorer in all of high school basketball. He can simply put the ball in the hole and takes no prisoners in doing so. Newman best asset in his terrific offensive package is his mid range game. He has the rare ability to stop on a dime at full speed and pull up and nail the jumper. While he is a great scorer, he also has shown some ability to slide over to the point spot and run a team for stretches. He has well above average athleticism and the will to bury you with his offensive skill package. NBA Comparison: Tyreke Evans
9) Cheick Diallo 6'9′ 220 PF Bamako, Mali Our Savior New American 2015 Diallo has only been in the United States for a few years but he has quickly turned himself into an elite player. Motor is the one word needed to describe Diallo's game. He simply plays harder than anybody else on the floor and will beat you with sheer effort and will. He has improved somewhat in the skill department as he'll knock down an occasional mid range jumper and can finish with both hands around the basket. Where he will earn his money at the NBA level will be on the offensive and defensive glass and his ability to change and block shots. He has cemented himself as a top 5 player in the class and what he may lack in skill, he more than makes up for it with all out effort and heart. NBA Comparison: Tyrone Hill

10) Diamond Stone 6'10" 254 PF Milwaukee, WI Dominican 2015 – Stone is in the mold of 2014 McDonald's All American and Duke recruit Jahlil Okafor. He is a man down on the box and can score with a skill level that most young bigs don't have. He can score with either hand with a series of moves and counters. Where he differs from Okafor is in the athleticism and defensive departments. While he's not a great athlete, he's more than adequate and can impact a game on the defensive end of the floor. He has shown an improved ability to step out and shoot the ball and is a very capable passer out of double teams. He was dominant at times over the spring and has really dedicated himself to being in better condition and the results speak for themselves. NBA Comparison: Al Jefferson
* Player comparisons are not indicators of what level players these prospects will eventually be, but more of a comparison of style of play and skill set
Honorable Mention: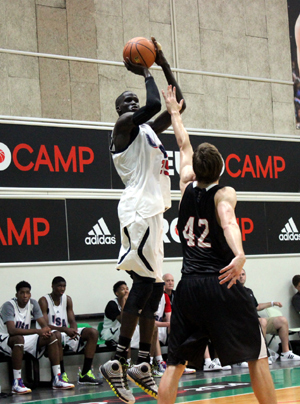 Udoka Azubuike — 2016 man child who is completely dominant around the basket and will almost surely be in the top 10 next year.
Thon Maker — Thin 7 footer with diverse skill set including tremendous shooting ability, questions about his age and ability to be effective in traffic raise concerns about long term upside.
Malik Monk — Freak athlete with improved skill set, scored 59 in EYBL game in April in Sacremento.
Allonzo Trier — Pure scorer who rivals Malik Newman as best in the class.
Troy Brown — 2017 big point guard with special playmaking skills.
Lonzo Ball — Another big point guard who some regard as best passer in high school since Jason Kidd.
Ray Smith — Vegas wing who has emerged as a top 10 prospect in class.
Also See: 2013 Elite Talent on NBA Horizon: Top 10 High School Prospects