Since April began, about the only thing that's made any sense in the college basketball world was watching Duke cut down the nets in Indianapolis.
We've heard rumblings of Big Ten expansion and the coinciding collapse of the Big 12. John Calipari may or may not coach in the NBA next season, and his top player may or may not be LeBron James. Daniel Orton went pro after averaging 3.4 points per game for an Elite Eight team, while Kyle Singler decided to pass on the NBA after averaging 17.7 points per game for the National Champions. Dee Bost and Courtney Fortson, two SEC point guards decidedly NOT named John Wall, decided to skip into the "draft" – despite almost no shot of hearing their names called.
In the coaching world, Oregon went after Tom Izzo and wound up with Dana Altman, who actually decided to stick around for his second day this time. St. John's brought Steve Lavin out of broadcasting. Boston College fired Al Skinner, the winningest coach in school history. Greg McDermott left Iowa State for Creighton, and the Cyclones hired someone with no coaching experience at all, Fred Hoiberg, on name alone. And Jim Calhoun – he of ailing health, an NIT berth and possible recruiting violations – signed an extension at Connecticut.
Star recruits longer than normal to sign their letters of intent – in fact, Terrence Jones still hasn't.
But slowly, the 2010-11 season is beginning to come into focus. We're still way early here, and a lot can change in the six months between May and November. But with all this said, here's an early prognosis on which teams could end up in the Sweet 16 this season. We'll be back with a revised and more detailed version before the season starts, but enjoy a little premature speculation for now.
1. Duke (35-5 in 2009-10)
Is it possible that the defending champs could have lost three starters and actually gotten better? Tough to say. The Blue Devils replace senior leader and all-ACC first-teamer Jon Scheyer with Kyrie Irving, the top point guard recruit in the country. They also add Seth Curry's deadly 3-point shooting to the mix at guard and suddenly have an impressively deep backcourt. The frontcourt might be an issue, as coach Mike Krzyzewski will replace Brian Zoubek and Lance Thomas, who gave all the key gutty contributions a team needs to win a title. But with the Plumlee brothers in the fold and Ryan Kelly, a five-star recruit, ready to contribute as a sophomore, the pieces are there. This team isn't the equivalent of Florida in 2007, which returned every key piece and took no prisoners on its second title run. The ride won't be as easy, but the final result could be just as sweet.
2. Michigan State (28-9)
For the majority of the season, the 2009 runners-up underachieved. For the majority of the season, the Spartans weren't in the same category as Ohio State and Purdue, as the class of the Big Ten. But Tom Izzo flipped the switch when it mattered most, and Michigan State was back in the Final Four for the second straight year. This team, though, should be even better. Everyone's had a chance to age a year. Only Raymar Morgan, the inconsistent but talented senior forward, is gone (though guard Chris Allen may join him on the way out), while a pair of top-shelf recruits have been added. The frontcourt was young and a bit shallow last year, but those issues should be addressed now. Kalin Lucas' health, after an injury in the second round, will be a key factor. But with Korie Lucious and freshman Keith Appling, the team has enough depth to overcome a slower Lucas. Izzo made three-straight Final Fours from 1999-2001. He could – and will be expected to – do it again.
3. Villanova (25-8)
Coach Jay Wright pulled in one of the top recruiting classes in the country last year, but he did something unlike so many other coaches in today's one-and-done era: He made them wait their turn. With a year of seasoning and some playing time opened up, Maalik Wayns, Mouphtaou Yarou, Dominic Cheek and Isaiah Armwood can be expected to break out of their shells. On the surface, Scottie Reynolds would seem to be a substantial loss. But Corey Fisher and Corey Stokes give them two seniors to stock the backcourt, and Wayns has more potential than any of them. Yarou, along with fellow bigs Antonio Pena, Armwood and Maurice Sutton, should be a bit more polished this season. As a result, the Wildcats should be more balanced and defensively stronger. This may be Wright's best team yet.
4. Kansas State (29-8)
Make no mistake: That was not a fluke. The team that earned a No. 2 seed, then went all the way to the Elite Eight last year, that's what Frank Martin has been building toward in Manhattan. The Wildcats could actually be substantially improved this year. For one, Kansas will be down a bit, so K-State shouldn't have to worry about not being the best in its own state anymore. But more importantly, almost every key contributor is back, and the loss of Denis Clemente isn't as bad as it might seem with Jacob Pullen having carried the load down the stretch. Sophomores Wally Judge and Rodney McGruder should play significantly increased roles, and they both have the talent to handle more responsibility. And Jamar Samuels might have been the best sixth man in the NCAA last postseason, so one can only imagine what he'll do with increased minutes. Martin, with a bit of help from Bob Huggins in the early going, has built a sustainable program.
5. Purdue (29-6)
Since coach Matt Painter pulled in a big recruiting haul for his 2007 class, everything's been building to this year. And the expectations remain high. Many have put Purdue in the top-2 preseason, and with E'twaun Moore, Robbie Hummel and JaJuan Johnson coming back, it's understandable. They've got great talent and oozing senior leadership. But I'm not ready to say this is a Final Four team just yet. For one, Hummel's health is a serious issue. Tearing an ACL is not a small deal in basketball, and he's the Boilermakers' best player. You also have to wonder how they'll deal with the departure of glue guy Chris Kramer, who was huge in the second-round win against Texas A&M. Depth will continue to be an issue. But the truth is, this team has enough talent, if the pieces can remain in place, to win a title.
6. Pittsburgh (25-9)
At this point, the program Ben Howland built has developed into a powerhouse under Jamie Dixon. A supposed rebuilding year ended with 25 wins, and only Jermaine Dixon, he of many bad shots, is gone. Gary McGhee was a revelation of toughness last season, a 6-foot-10 center with the grit of every Panther that came before him. Ashton Gibbs can catch fire and single-handedly win games, but he should have more help this year. Gilbert Brown was cast into a supporting role because Dixon was chucking shots, but he could be a breakout player of the year candidate. And former five-star recruit Dante Taylor should find his niche as the most talented player on the roster, be it on the wing or block.
7. Baylor (28-8)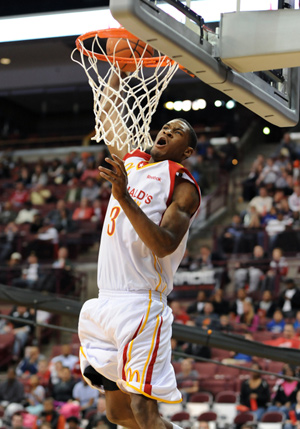 The Bears lose three of their top-five scorers, including potential lottery pick Ekpe Udoh and senior point guard Tweety Carter. But they may just be better in 2010-11, anyway. LaceDarius Dunn could be the best scorer in the country next season, and he will be joined by Perry Jones, a high-upside forward who can do it all. He's drawn all types of comparisons, but the fact is, he doesn't need to be tracy McGrady to play in college. Fellow athletic forwards Quincy Acy and Anthony Jones should make major strides this season, and the Bears could be one of the springiest teams in recent years. They'll have to figure out the ball-handling situation, but the potential is enormous in Waco.
8. Syracuse (30-5)
The Orange lose perhaps their three best players, but don't expect a massive dip. Jim Boeheim is a brilliant tactical coach, and he's still got more than enough pieces to assemble a Big East contender – and a team capable of going further than the Sweet 16. It all starts with Kris Joseph, among the best slashers in the country coming off the bench last season. Expect Joseph to become the centerpiece of the Syracuse offense, joined by playmaking point guard Scoop Jardine and Brandon Triche, who moves back to his natural off-guard position. The key, though, comes down low. Rick Jackson dealt with inconsistency last year, but he seems primed for a break out. And DaShonte Riley and Fabricio de Melo should compete for center minutes with great success.
9. Ohio State (29-8)
In terms of raw talent, Ohio State ranks top-five in the country. Thad Matta brings in a top-five recruiting class and the returning group is deep and experienced. But the loss of Evan Turner hurts in more ways than most key losses. The Buckeyes will struggle this season to find a point guard. William Buford should be able to pick up some ball-handling duties but isn't the creative passer Turner was at the position. Still, should that issue be remedied, the Buckeyes have a title-caliber team with freshmen bigs Jared Sullinger and Deshawn Thomas joining a veteran group of wings.
10. Kentucky (35-3)
Brandon Knight is no John Wall. But he's still pretty good, and otherwise, these Wildcats look strikingly similar to last season's Elite Eight team. Enes Kanter could actually be better than DeMarcus Cousins, and Terrence Jones should be a great fit alongside Knight. It's tough to rely on freshmen year-in, year-out, but John Calipari has basically been forced to by recruiting so many one-and-done types. This team is loaded at the wings, and Knight, Jones and Kanter fill the other three positions quite handily. Frontcourt depth could be an issue, but the Wildcats may end up in the Final Four if everything clicks.
11. Missouri (23-11)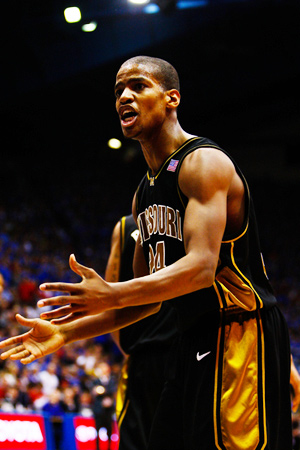 You have to think part of the reason Mike Anderson turned down the Oregon coaching job was because he knew how much talent he had coming back at Missouri. Kim English leads a strong, deep group of returnees, while five-star forward Tony Mitchell and pint-sized point Phil Pressley are great recruits who should be ready to contribute immediately. The Tigers don't have the cachet of Big 12 rivals Kansas or Texas, but they could easily be a better team.
12. Florida (21-13)
With the exception of one beautiful two-year run, Billy Donovan's roster has been in continuous flux since taking over at Florida. Players come and leave seemingly all the time. But for one year, things remained mostly stable in Gainesville. All five starters return, and even though Rutgers transfer Mike Rosario would push this team into the top 10 if he were eligible, there are enough good players here to make for the safest pick in the SEC, though I'm going with my gut in saying Kentucky will be better.
13. North Carolina (20-17)
The savior has come. Harrison Barnes is the top player in his recruiting class, and he's got the skills, polish and athleticism to come in and prove himself from Day 1. But that's not the only reason why North Carolina should go from NIT to Sweet 16. John Henson really stepped his game up in the NIT, and his strides and the health – for as long as it lasts – of Tyler Zeller should anchor the post for the Tar Heels. Meanwhile, Kendall Marshall provides point guard the team needed last year. The questions come in terms of depth. This team can't sustain an injury. But they could rival Duke for ACC supremacy, if everything goes right.
14. Butler (33-5)
What, you thought you heard the last of Butler? Well, the Final Four isn't in Indianapolis this year, so the stories may be a little less insufferable. But even with Gordon Hayward gone, there's enough here to believe another 30-win season is in store for the kids who play home games in historic Hinkle Fieldhouse. Matt Howard should bounce back from a less-than-spectacular junior campaign, and the backcourt still features Shelvin Mack, Ronald Nored, Zach Hahn and Shawn Vanzant. Freshman Khyle Marshall may be the perfect compliment to the current roster and should start soon.
15. Kansas (33-3)
Let's forget Ali Farokhmanesh. Kansas was the best team in the country for the majority of last season, and they return enough quality pieces to ensure they won't be the next 2009-10 North Carolina. Freshman point guard Josh Selby will draw most of the hype, but it's Marcus Morris who can keep this team at the elite level. For a stretch in the middle of last season, Morris was playing like a Big 12 player of the year. His fade was a big reason the Jayhawks lost in the second round. Sophomore Thomas Robinson should also prove his immense ability after toiling on the bench as a freshman.
16. Virginia Tech (25-9)
Don't you love it when no one makes a mistake? Virginia Tech returns its core of Malcolm Delaney, Jeff Allen, Dorenzo Hudson and nearly everyone else who made an impact last year. Delaney needs to be more selective, and Allen needs more touches. But if Seth Greenberg is worth the extension he just received, this team had better not miss the NCAA Tournament again. In fact, with those big three all being seniors, this should be a statement year for the Hokies, similar to the senior-laden squad in 2007 that earned a No. 5 seed in the Big Dance. Allen is the key, and if he finds his niche, this team could be even better than the 2007 squad that preceeded three straight disappointing finishes.
Honorable Mention: Arizona, Brigham Young, Dayton, Georgetown, Georgia, Gonzaga, Memphis, Tennessee, Washington