*West Coast Time
2:51 PM
OKC Targeting Cole Adrich at 10
The Thunder are looking to put a deal together with Indiana to move up the 10th pick to acquire Kansas bigman Cole Aldrich. The Thunder are desperatly looking for a quality center to add to their young nucleus.
2:38 PM
Orton Slipping
There has been speculation that Daniel Orton could slip into the second round. After averaging just 3 points and 3 rebounds per game, he hasn't exactly proven himself against a high level of competition.
An NBA source told us this afternoon that concerns with his knee could be another factor casuing teams to shy away from him.
2:33 PM
Favors the pick at 3
Then Nets have made a decision with the 3rd pick and they'll be taking Derrick Favors. They were still debating taking Wesley Johnson as of an hour ago, but now it's a certainty Favors is their guy at 3.
2:07 PM
Hinrich & 17 to Washington
The deal was first reported by Ric Bucher and we have confirmed that the deal is in fact going to happen. We reported earlier in the day that Chicago was looking to move Hinrich (Indiana was also in the mix for him).
The one difficulty is that the deal cannot be completed until July 8th, so the pick will be made by Chicago and likely there won't be an official announcement of the trade until July 8th.
The agreement has to be a "gentleman's agreement". But we have confirmed that the Wizards are willing to take on the Hinrich contract. Washington is rumored to be targeting Longhorn forward Damion James with the 17th pick.
11:32 AM
Paul George at 10 or 11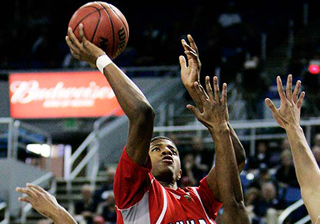 There's a good chance that 6'9 Fresno State sophomore Paul George will end up at the 10th or 11th picks.
However, it may not be for the Pacers or Hornets. Indiana is actively shopping the pick trying to shore up their point guard position. The Hornets have financial concerns with a salary cap that's way out of whack and their pick is on the market as well for a team willing to eat a contract.
There are a number of teams that love George's upside and the 10th or 11th pick are both in play. Minnesota is one team that loves George and would like to move up for him, another possibility is Chicago.
Then again Larry Bird is said to be high on Luke Babbitt and could wait to make sure he's not available at 10 before making a deal.
It is considered highly unlikely that George will slip out of the lottery.
10:59 AM
Nets Considering Tiny Gallon at 31
6'9 Oklahoma freshman Tiny Gallon could be headed to New Jersey. The Nets only have one second round pick and could take Gallon at their pick. Another scenario would be buying or dealing a future second(s) for a mid-second rounder to grab him.
10:31 AM
OKC TargetingTibor Pleiss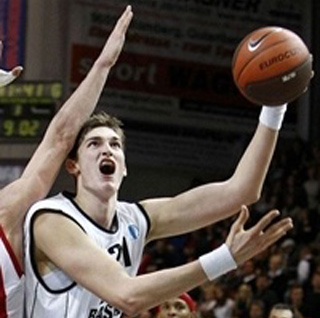 7-foot-1 German bigman Tibor Pleiss has long been rumored to be a target for Oklahoma City GM Sam Presti at the 26th pick. The lastest rumor is that he is considering taking him as high as 18 because he's afraid San Antonio and former boss RC Buford will take him at 20. Pleiss shows a soft touch and great length at 7-foot. Though not the most athletic bigman, Pleiss can run the floor and has good fluidity. He is a strong candidate to leave in Europe for another year or two of seasoning and keep off the books until he's completely ready to contribute.
9:57 AM
Detroit Still Debating Monroe/Davis
Joe Dumars apparently made a conditional promise to Ed Davis at 7, however he was under the impression that Greg Monroe would be gone at 7. Now with a good chance that Monroe will be there, he's got a decision to make. We're hearing it could be either of the two, but whichever goes 7 the other is likely to go 9 to Utah.
9:49 AM
Derrick Favors to New Jersey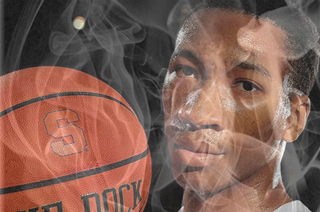 It appears what we initially reported is true. The smoke screen that New Jersey attempted to put on Minnesota that they were going to take Wesley Johnson didn't work. The T-Wolves called their bluff and were willing to take Derrick Favors if he fell to them. It is now said to be a 90% chance the Nets will go with Favors at 3.
Warriors Eyeing Aminu
The consensus is that the Warriors have settled on their guy – Ekpe Udoh. But one league source tells us there could be a new player in their sights – Al-Farouq Aminu. According to the source he's the guy they are now targeting and they are worried Sacramento is going to take him at 5. There are conflicting reports however as we're hearing from other sources that Udoh is still the guy.
Kirk Hinrich trade Rumor
An NBA source has told us the Pacers and Bulls are discussing a deal that would send Kirk Hinrich and the 17th pick to Indiana for the 10th pick and possibly some salary relief to even out the deal. The Pacers are supposedly targeting Gordon Hayward at 17.