Live from the Westin in Times Square for the 2010 NBA Draft Media Day, all of the NBA prospects invited to the Green room were present as reporters gathered around each player's table like moths to a light in the dark. It's the day before the draft, and other than Wall and Turner, you really got the impression that nobody else really knew for sure what jersey they would be wearing next season.
also see: Media Day: Part 1
Wall seemed used to this by now. Looked like he's been answering questions for years, which he has been.
You going to do your dance when your name is called?
"I don't know, I gotta ask, I don't know if they'll allow me to do it, that's all I been getting on twitter and text messages."
A reporter asked if Wall would be interchanging with the one and two guard position, Wall responded with:
I feel like I only want to guard the point guard. Two guards are big like Kobe, 6'6, 6'7.
Have you always been a point guard since you were young?
"Basically I was always little so I played the point, but always a scoring type on my team."
What are your thoughts on the responsibilities of being the point guard?
"If you lose the game, it's going to go to you or your head coach. You got the ball in your hands a lot, you're calling the plays, and you gotta lead the team. You gotta find your teammates and get those guys going. You gotta lead the team and lead them in the right direction."
Luke seemed a tad nervous to begin the interviews, but generally seemed just happy to be there. I asked Luke about the question mark surrounding his position at the next level, if he's strong enough to play the 4 and if he's quick enough to play the 3.
"I think in certain offenses I can be a stretch 4 for teams who get up and down the court, but for the most part I'll be a 3 man defending the 3"
Who is one of your favorite players to watch, who do you model your game after?
"There's no nobody I model my game after, but if I had to say one guy, it's Paul Pierce, that's my favorite player".
How did you learn the mechanics of your shot?
"I probably have taken more shots in the gym than anyone else in here. Its more repetition than anything"
Gordon Haywood
Hayward was all smiles, just looking happy to be invited to the green room.

"I just can't wait to get selected by a team and get it going", Hayward said with a huge grin.
What has the pre-draft process been like?
"It's been real taxing both physically and mentally, more mentally moving from city to city and hotel to hotel… but it is a job, so like I said I'm just glad that it's basketball.
Did you know right after you lost the National Championship game that this was your last college basketball moment?
"After the game I didn't really think about anything except the last couple of moments, nothing individual for me, it was just losing to those guys, that was real tough".
Hayward seemed slightly intimidated, but he's very likeable and should be a fan favorite anywhere he goes. Hopefully, he will be drafted in a good situation and show that his high IQ and offensive abilities can overcome his physical limitations.
Johnson was looking sharp and poised, and when first asked if any teams stood out as a good fit for him, he said:
"When looking at the rosters I would say New Jersey, they'd be a good fit"
You speak to Jonny Flynn about Minnesota?
"Yeah I talk to Jonny a lot, told me about the city, said he loved city, said if you went to Syracuse you'll be fine". (in regards to the weather)
How would you feel if you went to Minnesota?
I'd feel good. Fact that Jonny's there, he's not only a friend but a great player."
A reporter asked if Wes heard anything about Utah trading up to get him. Johnson had previously declined to work out for Utah.
[Johnson's face turns white] "Nah. Haven't heard anything"
What did Jonny Flynn tell you about the offense?
"Jonny said the offense was right up your [Johnson's] alley. They Had me running sets in the triangle, and I was loving it, loving the stuff they had me doing"
I'm a Syracuse graduate so I knew how much that school and city loved their team, how big of an impact did playing in the Big East, in the Carrier Dome have on you after playing at Iowa State?
"It was Amazing. Especially with the 34,000, its like none other, crowd gets behind it city loves it, especially how we were rollin last year, nothin like it."
We going to see that contagious smile every time you put the ball through the hoop?
Without a doubt I love the game. Anytime you score, get yourself going, get the crowd into it there's always reason to smile"
Henry looked relaxed. Another guy who looked and smiled like he was just happy to be in invited to the party. I asked him about how teams love his NBA body and NBA range, and how he can help spread the floor on offense, and if that's the type of player he sees himself:
"I can do that along with getting to the basket and getting fouled. It's easy for a guy strong like me to get fouled, I can do both parts well but when they need me to spread the floor I can shoot the ball well."
How did playing with 2 other future NBA players and an experience coach and competitive team in college help prepare you for next season?
It was good for me because it taught me I could step into a role and do what's asked. I'm a role player, I can do whatever coach needs, it wasn't a big deal for me to not score as much."
What's it like going from high school, to college, to the NBA in a three year span?
"Its crazy, its going real fast, I'm making sure i enjoy my time"
Henry's comment about being a role player really impressed me. He seemed confident that he will be more than just a three point threat. He seems to know his limitations, yet believes he can be more than just a one dimensional type player.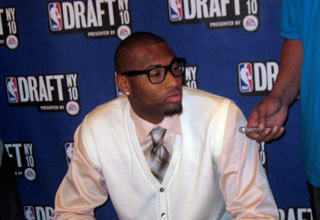 I spoke with the trendiest dude in the room briefly before they closed the doors. Cousins looked like he wanted the season to start tomorrow. No smiles, just straight game face.
What is it about your game that makes you the best big man out there? Word is you shot lights out in the Sacramento workout.
"Yeh I think now its my jump shot. People are going to have to come out and guard my shot, giving me opportunities at driving to the basket"
What position do you see yourself playing and defending?
"The 5" – [With a confident stare]
Paul George seemed to be cool, calm and collective. Although he did admit that he won't be able to sleep, he was very humble about this experience. And he's the son to Paul and Paulette George.
"Getting a chance to be on stage, and accept that hat, and the idea of giving David Stern the handshake, that's the most important part of this process, is to just get that opportunity."
Would you rather play for a competitive team and gets limited minutes, or a less talented team and get early playing time?
"I'd rather play right away. Ill be happy with anything, where ever I go as long as I can help a team out."
What have you shown in workouts that has had your stock rising the past few weeks?
"Just been competing. Showing a lot of effort, that's been the key to a lot of the GMs, it's competing at a high pace."
George declined a workout for the Grizzlies recently with the fear of being buried on the bench behind Rudy Gay. However recently George has had a change of heart, and met with Memphis last second for a buzzer beating workout. Makes you think if the George camp had any insight in regards to Rudy Gay's pending free agency…
I was very impressed with Cole Aldrich. Not only did he have a phenomenal vest on, he seemed to know his role in regards to his role at the next level. When asked what type of player he resembles in the NBA, he said:
"I think Joel Pryzbilla, which is a good thing, he's been in the league for a long time, so to have that career would be awesome".
What's the best part of your game that you can really bring to a team?
"Definitely my defense. I am a guy that will come in and work really hard, whether I'm coming off the bench or starting, I really like to just bang against big guys, block shots and rebound".
On the flipside, what do you need to work on to stay on the floor?
"Really looking at the NBA, besides a handful of guys, many guys are great at one thing… that one thing for me is my defense. I have to watch a lot of film, and read scouting reports with great detail because those are the things that are going to keep you on the floor."
Best/toughest player you went up against?
"I think Epke Udoh and I have become really good friends. We were 3 or so places together. Just going against another Big 12 guy, and another good guy to go against in battle, it's really fun".
Did you have a "wow" moment where you realized, wow this is really happening?
"Yeah, probably when I woke up and I didn't know where I was".
Monroe wasn't exactly the smiliest guy in the room. He seemed like he just wanted to get this process over with. Seemed to be a little defensive, but maybe it's just because of the grueling schedule he's been on.
Talk about the teams you worked out for, and who seemed to have the most interest in you?
"Sacramento, Indiana, New Jersey and… Golden State. I think they are all interested in me since they invited me out. I can't say if one liked me more than the other."
"Do you see yourself as a center or power forward at the next level?
"If i have to play both, I can play both. I've been playing both all my life so wherever I have to play, I'll play".
Greg on how he developed his passing ability:
"I don't know it just came naturally, it's something I did, something I love to do."
Did playing in the Big East give you better preparation for the next level?
There's nothing that can compare you for the NBA. I'm bias, but I definitely think the Big East is the toughest league in college basketball. It definitely can help, but nothing can prepare you".