By Aran Smith
Darko Milicic Declares
NBADraft.net recently spoke with Marc Cornstein, agent for Darko Milicic, and learned that he has sent in his early-entry paperwork to the NBA. As of April 28th, Milicic is projected as the 2nd pick in the draft by NBADraft.net and will battle Carmelo for that selection.
NBA Scouts are flocking over to Serbia-Montenegro to get a first hand look at the 17-year-old-phenom and most are coming away flabbergasted. He's such a talent that he can't be discounted for the top selection.
Milicic joins Camelo Anthony and LeBron James, as early entrants who put their names into the draft late last week.
With three "franchise type talents", the lottery this year will benefit all three teams that are lucky enough to win one of the top three selections.
LeBron James is the heavy favorite for the top selection, but it's still not out of the question that either Milicic or Anthony could take over the top position should the right team land that pick.
Milicic has the ability to put the ball on the floor. He's a super competitor and having played against professionals for two years, he understands the rigors of professional basketball.
Along with Milicic, Cornstein confirmed that the paperwork for 3 other clients (Pavlovic, Planinic, and Vranes) have also been sent in, bringing the total number of Early Entries to 19.
Aleksandar Pavlovic a 6-6 SG/SF from Serbia-Montenegro has struggled in the past few weeks and may see his draft stock slip some because of it. Pavlovic has Peja-like qualities with a very aggressive offensive game. He lacks the size of Peja, but has more leaping ability. Pavlovic's one real weakness is defense. He doesn't appear to understand the importance of it. Because of his late season swoon, some of our European contacts feel he would be better off to pull out and wait until next year and improve his draft stock.
Young Croatian Zoran Planinic has been given high praise by a number of NBA scouts who feel that he can be next in the line of big European PG's, ala Marco Jaric and Jiri Welsch. He's most similar to a Welsch as a combo guard. However he lacks even Welsch's athletic ability or strength. He may have a little better PG skills and creativity, but he has more doubters than believers.
He had an injury a year ago, from which it appears he hasn't fully regained his confidence. Planinic is a borderline first rounder that could sneak into the first as teams may opt for Europeans at the end of the first. The allure of this is the possibility of leaving them in Europe to continue developing and not having to worry about their contract right away.
Slavko Vranes is a center with great size (7-foot-6) but little more to offer. His offensive game has not developed and many don't think it will since it hasn't shown even a glimmer after a number of years. Vranes best bet would be to head to the Pete Newell big man camp during the summer, pick up some post moves to focus on and try to gain some offense and then try the draft next year. Right now, the best he can hope for is to ride the "Euro hype" wave and his size into the first round. But it's very unlikely to happen given his lack of development.
More Rumblings
NBADraft.net recently got ahold of a tape of Brazilian PG Leandrinho Barbosa. Barbosa is a very interesting player with world class athleticism ala Gilbert Arenas. He has the wing span of a condor, and plays with amazing quickness.
The one aspect of his game that will probably hurt him is his unorthodox ball-release. He will have to work out the kinks in his delivery, but a team will probably take a chance on him with a mid-first round pick due to his phenomenal physical abilities.
We are hearing that Washington State Point Guard Marcus Moore is about to declare for the draft. Moore is another in a growing line of big guards able to handle the point guard position. Moore has been a guy that we have really liked all along, but entering the draft coming off an injury which knocked him out of action for the second half of the season seems like a bad decision.
He has reportedly fully recovered from his injury. However, he never really broke out onto the national scene and got recognized the way he might have had he played an entire season. His lack of publicity may handicap him when a team at the end of the first round tries to decide between him, or a player like Josh Howard who was ACC player of the year.
Moore is probably better off returning to school and displaying his talents over the course of an entire year, and thus solidifying a position in the first round next year. Otherwise, it's a crap shoot whether he can play himself into the first round.
Another player NBADraft.net has learned will likely put his name into the 2003 draft is Romain Sato. While Sato is a real physical specimen, he is at best a first round bubble guy who most scouts feel is best advised to return to Xavier for his Senior year and take over the team with the departure of David West.
Sato is undersized and still has some development in the area of ball handling and court vision. He is a talented prospect with explosiveness, shooting ability, and very good potential, but as a 6-4 SG he's likely looking at the first round from the outside.
Sophomore Rick Rickert entered the draft a few weeks ago and is reportedly training in Florida and has dropped out of class. He apparently has no plans to return to Minnesota and will sign an agent soon.
After a brilliant freshman year, he was wildly hyped by a number of scouts, this site included, however scouts seem to have backed off him considerably. He didn't show the progression from his freshman to sophomore season that many expected, and though he had a decent season, many question his decision to declare for the draft this year.
Some players are forced to enter early for economic reasons, but with a solid family background and a lack of physical strength, the move appears calculated and even desperate as if he believes his game will be exposed if he spends any more time in school. His lack of physical strength is a big concern for teams. Rickert is not a surefire first rounder, despite his considerable potential and skills.
If Rickert is able to develop his body between now and the draft, he will likely solidify a spot in the first round.
We're hearing Rick Barnes is literally forcing TJ Ford to come out. An unusual story, it's nice to see a head coach put his players best interests over his own for a change.
Fast Times at McDonald's High
Because high-school players are now allowed to declare for the draft and pull out, expect to see a few more high-schoolers join the fray.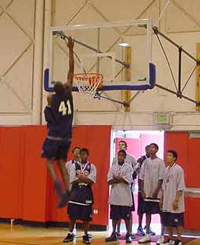 Travis Outlaw the ultra-athletic wing forward out of Mississippi is very raw, but because of his unbelievable athletic ability, scouts feel there's a good chance he will land somewhere in the mid-late first round area. He can work out for teams, get some feedback on where he stands and decide from there whether to stay in the draft, or go to Mississippi State.
Two prep bigmen James Lang and Kendrick Perkins are both expected to enter the field. Neither has jaw dropping talent, and both have insurmountable flaws to attempt a preps to pros jump.
Neither player made a huge impact in the McDonald's game, and both are undersized centers. Lang's biggest issue is his weight. One can't help but wonder how agile and mobile he could be if he were only 30-40 pounds lighter. But the biggest question is how he will be able to keep off the weight in the NBA if he couldn't do it in high school.
Charlie Villanueva will test the process, though he hasn't given an official word. No one projects him in the first round as of now. His laid back approach and lack of intensity scares a lot of teams. Hopefully, he will come to his senses and withdraw back to college where he belongs.
Two players who are expected to follow the path of least resistance are Luol Deng and Ndudi Ebi. Both players have high lottery level potential in a couple of seasons. Ebi flashed amazing athleticism as one of the few that could at least slow down LeBron in the high school events. He has a lot of physical development in front of him, but his upside is tremendous. His only drawback could be falling into the "tweener" status. But he will likely develop perimeter skills and become a 3, and appears to have the athletic ability to be a "player" regardless.
Deng is a lottery pick level talent right now. He fits the small forward position splendidly and with advanced skills will likely be Duke's star next year. He is regarded as a player with a high chance of staying in school for 2 or 3 years as education appears to be a priority for him.