By Rick Fois
This year's adidas Eurocamp got a big boost from the tremendous level of the American high school kids that were brought over. adidas had tried this a few times before, but never with the level of talent they brought over this time. One scout mentioned the American talent here was even better than at the Hoop Summit this past year, and we tend to agree with that. We asked one recruiting analyst to put together a list of his top 10 regardless of class before the event, and 4 of his top 10 (Maker, Brown, Simmons and Smith) were here, and one other (Ingrim) really deserves to be on that list. The two point guards have a world of potential, not to mention the highly acclaimed Thon Maker, as well as lengthy Brandon Ingram and the player who had all the scouts buzzing, Jaylen Brown. Based on his play in Treviso, Brown could possibly be a top 10 pick in this year's draft, much less 2016 when he will potentially be eligible. Coached by former UNC and NBA great Jerry Stackhouse, who told us the kids really got a lot out of the event despite struggling on the scoreboard, here is a look at all of the USA prospects who got a tremendous opportunity to display their talents in front of basically the entire league.
Jaylen Brown 6'7 215 SG/SF Wheeler HS, GA 1996 (Class of 2015)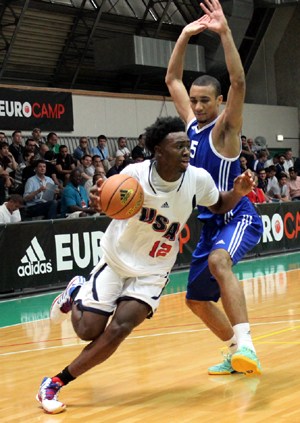 Brown was in general the consensus top overall prospect of the Eurocamp. He reminds scouts a lot of Stanley Johnson for his haircut (not my favorite hairstyle) but also for his body strength and ability to use his body. But Brown's game offers much more. Offensively he is much more talented than Johnson, can take people one on one to the basket but also rise up for a pull up jumper. His shot is much more pure and consistent than Johnson and that's where Brown really separates from Stanley. The Wheeler High School talent also showed great control of his body, finishing around the rim with both left and right at a very high level. Offensively he was the light for Team USA and took a lot of responsibility showing off his scoring abilities. Defensively he is a good player, not overly aggressive, but very solid on the ball. He had no problems guarding 2s and 3s a lot older than himself.
I don't know if Brown has the same competitiveness of Stanley Johnson, he certainly has more talent and showed a great desire to win but it is very hard to match Johnson's internal fire and intensity to improve. Nevertheless I think Brown is also a better athlete, able to explode off one foot, and overall more smooth offensively. His first step is great though sometimes he reads the close out badly, losing his advantage. It was very apparent that he was not enjoying losing, and you love to see that competitiveness. On the negative side, Brown didn't always show a great feel for the game, and could read certain situations a little better. Nobody expects him to be a passer first, and he is not a selfish player but could create a little more for his teammates when the defense collapses on him. Also he gets a little lazy on shots, watching the ball instead of boxing out or going to get the ball. It was in general a problem for Team USA and it is partially justified by the very young age, but we are talking about a kid that in 3 years will probably be playing in the NBA, so I've got to nit pick. Offensively he really has the potential to become a go to guy and though he has some things to improve upon, he does look like a safe bet for a top 5 pick in the 2016 draft.
Brandon Ingram 6'8, 190 SF Kinston High School , NC 1997, (Class of 2015)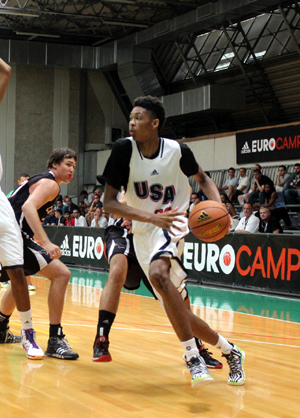 Many scouts fell in love with this kid during the three days of camp. He has the perfect body for a modern wing, with an unbelievable wingspan, which appears to be in the neighborhood of 7'2 and likely still stretching. With a blend of Tayshaun Prince and Kevin Durant types of body, he is probably the best on ball defender already that you will find in High School. France had 6 airballs against team USA and at least 3 were on Ingram closeouts. Sometimes he fell asleep off the ball, but with his body and athleticism he was always able to recover. Offensively, the most impressive things are his quick release and touch. He didn't shoot the ball very well in games, but he showed nice touch in warm up situations, and his release was so quick he reminds a little of Durant. His mechanics needs to be improved but just the ability to rise up and shoot above the defender is something rare, especially for somebody with such long arms. The touch around the rim is also something you wouldn't necessary expect from a player his size.
Compared to a Tayshaun Prince, Ingram is a much smoother player on the offensive end, can move laterally really fluidly, and maybe most surprising he's able to finish with floaters and tear drops around the rim effortlessly. If anything you would expect him to finish more above the rim than with skilled layups. Ingrim has a good athleticism and vertical leap off one and two feet. And that is likely to improve a lot as he adds weight to his frame. He needs to get stronger on his upper body but even more with his legs to allow him to control better his body and explode to the basket. He is not bad but should be more explosive, luckily he has time to work on that. My biggest problem with him right now is the lack of 1 on 1 from the dribble; doesn't really have a great ball handling and he is isn't strong enough to handle contact with defenders so he rarely goes by people, he needs people to create an advantage for him. He also should get a lot more rebounds, for a wing with his athleticism and with that body it is a shame to average 3/4 rebounds per game, there is no way he shouldn't go in double digit every game and have at least a tip dunk per day. Considered Ingram upside, it is hard to imagine he won't work on all his weaknesses in the next years; the kid has a body made to play basketball. He seems to have passion for the game, which is always a plus; if he learns to play harder than what he does and doesn't get lost in the way this kid can be scary. In a modern NBA dominated by SF having one that could potentially guard them is already a steal, and Ingrim could be something special if he continues to develop.
Dennis Smith 6'2, 170 PG, 1997 Trinity Christian, NC (Class of 2016)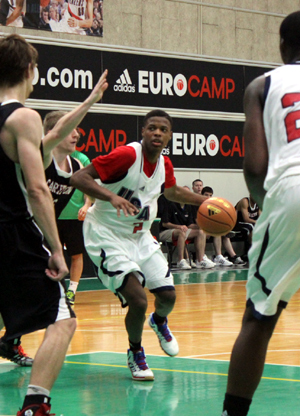 Best friends with Simmons, both are really nice guys and they play with a lot of passion. There was a lot of hype surrounding Smith from our contacts around AAU as the potential new Derrick Rose, but to be honest he didn't really show it here. He is not nearly as explosive or athletic as the Bulls PG, though he did show some real flash and explosiveness, especially in the 3rd day. In order to truly get to the caliber of a Rose or Westbrook he will need to grow a few inches and get stronger. He struggled a lot against older more experienced players and was knocked off his path every time he would get into the paint. He eventually adjusted his game to avoid contact (he wasn't getting any calls) and finished with two good performances, but he's still got a lot of work to do to get into the one and done lotto type of talk. His ability to create off the dribble, with a quick first step and then a dish to a teammate had players 2-3 years older than him reeling. Certainly has the potential to become an elite point guard in the future.
Kobi Simmons 6'5, 175 PG, 1997 St. Francis HS, GA (Class of 2016)
Kobi Jordan-Simmons is 6-foot-5, is a better shooter and was able to adjust his game better to the Euro rules than Smith. He has a better change of pace than Smith at the moment and plays more under control, though he is not as explosive. He is explosive in his own right however and should really gain more athleticism as he fills out. Simmons is a bright kid and had many good passes which left a good impression on the scouts. At this pit he's rail thin, so playing against guys much older than him, he struggled with any contact. But he showed a willingness to compete and has the make up necessary to be a very high level PG in the future. In the mold of a Shaun Livingston, this kid combines great fluidity, length and natural point guard skills. It could be going out on a limb, because right now he's not there, but when all is said and done, he could pass up all of his teammates that were here as an NBA player.
Thon Maker 7'0, 210 PF, Carlisle School, VA 1997 Class of 2016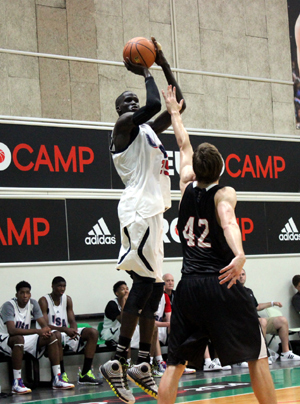 Many scouts could not wait to see Thon Maker playing live in a competitive environment, as this is a kid with as much hype around him as any player currently in high school. Thon showed all of his skills against players with much more experience and scouts came away impressed with him. There are many things to love about his game. Most importantly his shot would make Professor Naismith proud. The release point is perfect, rotation is great, it's extremely impressive for a soon to be junior in HS. I'm not sure he has NBA 3 pt range yet, but there is no doubt he can be a great pick and pop player even at the NBA level. Now, he does need his feet set to make shots. He also plays really hard at all times, he wants to win and competes on every loose ball and goes hard for every rebound. His athleticism is good, unusual to see in players with his body type, and he is not stiff and can actually move pretty well. That said, he tries too hard to show that he can be a Kevin Durant kind of player. He is a PF without any doubt, and the idea of him playing as a 3 is fruitless. But, the problem is he struggles mightily to defend the post and to get deep position on offense.
Many people will argue that this is because he lacks the strength and he will get stronger. I argue that with his body type and knees he cannot get low enough to where he can hold position effectively. He will always struggle inside against big strong Centers and PFs. While on offense he will never be a post player even against smaller players on switches. He's a much tougher kid mentally than someone like Isaiah Austin, but he could encounter some of the same long term limitations with regard to adding weight. The other missing piece is Maker's explosiveness. I don't totally disregard the comparison with Kevin Garnett. I believe he can become something similar without the fluidity and wiry strength, but right now he just doesn't explode to the rim the way KG did at the same age. He takes forever to leave the floor off two feet, and he had a number of plays get blocked at the rim due to lack of explosiveness. If he stays healthy, and I'm not going to lie, his knees look very scary at times; We are clearly talking a potential first rounder in 2 years, or whenever he becomes eligible.
One last consideration, and it's obviously not something that will ever be proven (Biyombo same story), how old is he really? Being born in Sudan, maybe he really is 17 and maybe he is actually 2-3 or more years older. African born players will always be scrutinized because there is no clear birth record when they are born, only when their birth is reported. What it is going to hurt him is the lack of upside, and certainly he didn't show anything to make folks think differently of him in Treviso. The game he showed here: Pick and Pop, fight on the boards and play hard will be exactly what one he will do in college and then in the league. Regardless of his age, I question his ability to be a much better offensive player than the one he is right now, while defensively he will never be a rim protector or quick enough to guard Stretch 4s like Carmelo or Jabari Parker. He is a definite future NBA player, barring injury, but the hype around him may be gaining a little too much steam at this point. A lot centers around what happens with his body, and while he has received Western training and diet from a young age, Sudanese people (Manute Bol for instance) have historically shown difficulty in retaining muscle mass.

Honorable Mention
*Dante Hales 6'9" 225 PF Bowie (TX) 2015 — Hales really struggled going against much more polished and older players. He's a good athlete with an excellent frame and already shows some strength giving him solid potential. But right now his fundamentals are not there. He failed to box out and struggled around the basket as he is still getting up to game speed at a high level. Regardless, if he grows an inch or two, he could have a big future as a center.
*Matur Maker 6'7 190 SF Carlisle (VA) 2017 — Thon's less heralded younger brother was solid, but isn't the same prospect as his brother. He lacks the same length and offensive skills. The only thing he really has over Thon is that he is a more fluid athlete.
*Carlton Bragg 6'8" 210 PF Villa Angela-St. Joseph (OH) 2015 — Bragg has good size and strength and is also a solid athlete. He is considered by many as a top 25 prospect in his class. He was decent, but his limitation became apparent. He doesn't seem to love contact, and doesn't really have many moves around the basket. He seems to like to play more of a finesse game at this point. So bulking up and becoming an ox on the block should be his focus going forward.
*De'Ron Davis 6'10" 250 PF Aurora (CO) 2016 — Davis did not have a good week. For a guy who had been rated as high as top 5 in his class as recently as a year ago, he seems to have plateaued in terms of development. Maybe he was struggling with jetlag or playing in a new environment, or growing pains, but he looked sluggish in Italy.
*Maverick Rowan 6'6" 175 SG Lincoln Park Performing (PA) 2016 — Rowan may look like Napolean Dynamite, but don't let the looks fool you, this is one very competitive kid. He was one of the better performers of the US group, consistently finding ways to score by knocking down shots. He's not a high level athlete, but he has a great motor and a polished offensive skill set with some range.
*Check back tomorrow for the top International prospects from the event.