The third annual Basketball Without Borders Global Camp took place in New Orleans over All Star Weekend putting some of the top young international talent on display.
Despite a few of the headliners Silvio De Sousa, Simi Shittu, and Charles Bassey not being able to participate, there were quite a few quality prospects to track for the future, attracting numerous GMs and scouts to get a first look.
Top Prospects
1. RJ Barrett 6'7 185 SG – Canada 2000
Barrett was the stand out of the camp and it wasn't really close between him and the rest of the field. With tremendous athleticism and scoring ability he thrived in transition while also showcasing his half-court game. There were a few participants who stood out with their leaping ability but none were as under control or spectacular in finishing as Barrett, completing dunks with either hand. The form on his jump shot can improve but the lefty knocked down his share of shots from mid range and the perimeter. He seemed to score, assist, or draw a foul every time he touched the ball. He plays with a lot of natural aggressiveness, and keeps coming at his opponents. For such a young player, he exudes confidence, taking on the challenge when Luguentz Dort and Emmanuel Akot got physical with him. He also got the decided upper hand in individual match up with Isaac Bonga as the two faced off often. The assumption is that Barrett will eventually reclassify and join the class of 2018, as he is old enough to be a junior. He is extremely polished for his age and will be among the top handful of players whenever he enters college.
2. Balsa Koprivica 7'1 240 C – Serbia 2000
The first thing you notice about Koprivica is his size and shooting touch. His shooting range extends to the three-point line and althoug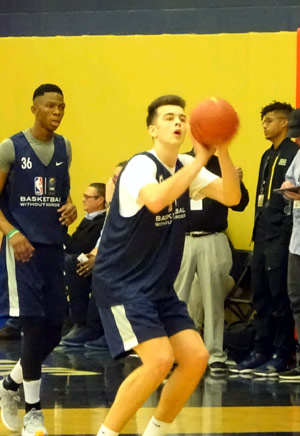 h he didn't shoot incredibly well throughout the camp, it's easy to identify his calling card moving forward. He isn't overly explosive or fast, but at the same time he doesn't lack coordination. He actually shows good mobility at his size, with a finesse game. He also doesn't show much emotion, but as Tim Duncan proved that can be a good thing. Koprivica didn't have the best showing at BWB but has a lot of long-term potential. He skipped the final day of camp, but flashed enough in the first two days to draw praise from NBA scouts.
3. Andrew Nembhard 6'4 185 PG – Canada 2000
Nembhard controlled the tempo every time he was on the floor. The Canadian point guard has excellent size and advanced lead guard skills. He was great at facilitating the pick and roll, getting where he wanted with the ball while creating and finding the open big man and shooters at appropriate times. He always protected the ball, stayed poised, and was never in a hurry. He positioned himself well defensively and fought over screens to stick with his man. He was able to assert his impact on the game without scoring; without having the official stats he probably scored around 20 points total over the three days. We did see his ability to turn it on as a scorer at adidas Nations which alleviates doubt about whether he has it in him. Nembhard threw down a big dunk that caught scouts by surprise at one point. One aspect that he can improve upon is his jump shooting, although he shows good rotation and form, he has a hitch where he drops the ball a bit in the shooting pocket, which often cause his misses to hit the front of the rim.
4. Isaac Bonga 6'9 180 PG/SF – Germany 1999
The first thing that stands out about Bonga is his size as a guard at 6'9. He handles the ball extremely well and makes some nice passes with his ability to drive and kick to the open man. While he can really handle the ball and keep it away from defenders, he struggles to get past defenders with below average foot speed. Lacking a fast first step, and playing a little bit rigid, he really struggles to beat quick defenders without a ball screen. Finishing at the rim and jump shooting can also improve as he doesn't have a fluid shot and takes more of a set shot and needs time to get it off. Overall, it's easy to see why Bonga is a tantilizing prospect with his great length and point guard attributes, but he may struggle to deliver on the hype due to his lack of speed, explosiveness and scoring ability. Scouts compared him to a Kyle Anderson, or Damien Inglis type as he's multi-dimensional but lacking in certain aspects. He's obviously a player who could develop into a first rounder in time, but he still has a ways to go and must develop more rhythm in his shooting to be an effective scorer.
5. Luguentz Dort 6'4 220 SG/PG – Canada 1999
Dort reminds scouts of current Arizona combo guard Rawle Alkins with his body and playing style. He even looks a lot like him. He skillfully uses his superior strength and athleticism to separate himself from the competition. His jump shooting was inconsistent throughout the weekend; heating up from outside at times and then hitting the backboard on a free throw on one instance. He does show some guard skills but resorts to bully ball which he can get away with at this level. He exhibited his fearless attacking style with one impressive dunk down the lane. His perimeter game overall needs polish and could be an NBA player if he develops his lead guard skills. Dort would have had the top play of the event if he would have landed his dunk attempt on 7'1 Aashay Verma.
Others
Andrija Marjanovic 6'7 205 SG – Serbia 1999
Marjanovic has good size as a legitimate shooting guard at 6'7. He's has good shot creating and good isolation scoring ability. He proved to be one of the top pure shooters at the event, despite struggling on day one with his jumper. He tends to resort to a step back jump shot on the majority of his moves rather than getting to the rim. He did show ability as a willing defender. He seemed to lose confidence when his role was diminished playing alongside RJ Barrett in close games, but impressed when he had the green light and more of a prominent role. Definitely one of the better 1999 born talents in Europe to track moving forward.
Kristian Sjolund 6'8 180 SG/SF – Norway 1999
Sjolund could be a major sleeper, as he's an elite shooter with a great basketball body. He has a huge wingspan, which appears close to 7-feet, and proved to be the best jump shooter in the event. The 1999 wing, born in Washington State and of Norwegian descent, is currently a junior in high school in Katy, Texas. While he didn't have a big impact during scrimmages, as he still must work on shot creation, he left an impression on scouts shooting in drills. He seemed to be struggling a little with mobility, as he had a stress relieving band on his knee. He could be a late bloomer and shows excellent upside if he can become more assertive when his body fills out.
Sergi Martinez 6'7 211 SG/SF – Spain 1999
Martinez has a small forward's frame but actually has a very nice jump shot. He plays with the typical scrapiness of a Spanish player. Martinez isn't an overwhelming athlete but got up for a few dunks. He would be more interesting to NBA scouts if he were a few inches taller, but definitely a prospect to track over the next few years as he does have some intriguing attributes and seems to have a good shooting touch.
Patrick Mwamba 6'6 185 SG/SF – Republic of Congo 1999
Mwamba impressed scouts with his energy and aggressiveness. He's a long, lanky wing who thrives in attacking the basket, both of the bounce or slashing for rebounds and put backs. While not the most polished of players, his skill level isn't so bad and he should continue to improve. He isn't incredibly fluid but has nice speed and explosiveness. If his shot can continue to improve and his confidence and all around skill keeps developing he could turn into a nice player down the road.
Ignas Brazdeikis 6'8 225 SF/PF – Canada 1999
Brazdeikis showed his ability to score inside and out. He's a bit further developed than some of the other participants and is a better athlete than he looks. He played with confidence but didn't show much as a willing passer as he shot a majority of the times he touched the ball. He looked like he was playing with something to prove and used this setting to showcase his ability. He's had some impressive games this season with Orangeville Prep and does possess the ability make plays for others.
Jacob Epperson 6'11 215 C – Australia 1998
Although he lacks strength, Epperson has good size, mobility and athleticism. He dunks everything within reach and is a reliable finisher around the basket. He plays hard and is a willing defender. Most of his production comes within close. He does show a high arching mid-range shot that doesn't get ideal rotation but can knock down on occasions. Needs to develop his body but a kid with solid fluidity and upside if he gets a little nastier.
Jae Min Yang 6'6 181 SF – South Korea 1999
Yang showed flashes of his talent throughout the event. He possesses some scoring ability from outside as well as slashing into the paint. He played with confidence and solid court vision but his passing can improve as he turned it over a bit. He shot well from three, sometimes making a few in a row but he tends to rush his shot at times, launching shots without setting his feet. While not really an NBA level athlete, he stood out as one of the better players here and worthy of recognition.
Noah Kirkwood 6'7 220 SF – Canada 1999
Kirkwood sat out the final day of the camp but had a solid first two days. He possesses a strong body with a nice first step. He used his pull up jump shot and made some drives to the basket as well. He showed a nice combination of playing on and off the ball as well as scoring and distributing. He's labeled as a 6'7 forward but displayed his ability as a guard.