By Rick Fois
Dennis Smith 6-1 175 PG NC HSJr.
Jaylen Brown may have been the best prospect at adidas Nations, but Dennis Smith left no doubt about who the best player was. Smith led his 2016 team with all players one year younger than the competition to win by 40 vs. Jaylen Brown's team and then by 30 in the final vs. Kobi Simmons' team. It is true that Smith's team was very talented (Thon Maker, DeAaron Fox etc) but he was the guy that really took over. In the game vs. Brown's team, Dennis was everywhere, blocking shots, running in transition, going by his man baseline for a dunk, and showing his unbelievable explosiveness. He went by everybody with such ease, and he is already the best finisher at the rim of his class. His body is strong and athletic, and he also knows how to control the pace of the game. Smith is at his best when he can push the ball in transition or attack off P&R. He gets his teammates involved and puts a lot of pressure on defensively. He was also a model of consistency commiting just 3 turnovers to 14 assists heading into the title game. I would like to see better floaters from him and more confidence in his shot, but he is the best PG of his class and likely one of the best coming out in several years. He wasn't nearly as impressive in Treviso at the Eurocamp, but you could tell he was much more comfortable playing in his home country surrounded by familiar elements. He's one of the elite prospects on the high school level, and clearly a better long term prospect than Thon Maker in the eyes of this website.
Brandon Ingram 6-8 190 SF NC HSSr.
His play didn't translate into wins, but nevertheless was the third best prospect on the floor averaging 13.5 per game on quality shooting numbers (4g, 16-31 FG, 5-8 from 3 and 17-30 FT). Ingram's body is freakishly long and he showed flashes where you couldn't help but fall in love with him. With his ability to move so smoothly, and his infinite arms and great feel for the game, it is easy to see a potential Durant-lite. He had a 3 from the top of key at one point where he released the shot just a bit in front of his defender, who could do nothing but watch the ball go in. Ingram needs to add lower body strength more than anything, as he gets pushed off balance too easily after he beats his defender with a quick first step. On defense, he makes life for opponents very difficult because he is so long, you risk an airball or a blocked shot every time. If he becomes a consistent shooter and improves his body by this time next year, it will probably become unanimous what a high level prospect he is. For now we will go out on a limb with the elite projections regarding him. He clearly has no idea how good he can become.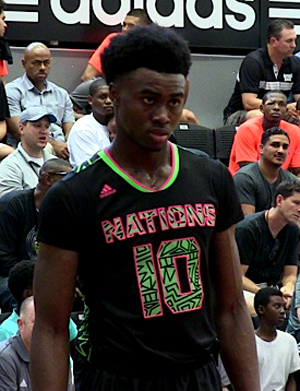 Jaylen Brown 6-6 220 SG GA HSSr.
Brown solidified his status as one of the top high school players in the country and possibly the top overall prospect at Nations; college players included. Many scouts that were seeing him for the first time were amazed by his combination of strength and athleticism. After having seen him a number of times now, it's apparent that the Stanley Johnson comparison only applies to their strength and hairstyle. Jaylen is a top-level athlete and player and if he were eligible, he would be in the conversation to be the number 1 pick in this year's draft. His ability to get to the rim and finish above it while going through contact is something special. He can jump off one or two feet, has a really good post game, and crisp handles to go by people. While he didn't shoot very well in Long Beach, where most of his points came from driving to the basket, his shooting form is much improved. He can finish either to the left or right, bullying 6'10 players with his body. Allowing him to always be able to create his own shot in any situation. He needs to improve his passing, he doesn't really read the second man helping and needs to add a mid-range shot to his arsenal while continuing to improve his shooting to become a great player at the next level. His strength makes him a good on ball defender, but he needs to be more focused defensively off the ball. Overall Brown has the body, skills and upside to become a great player, now it is up to him to keep showing the improvements he showed this summer.
Thon Maker 7-0 200 PF VA HSJr.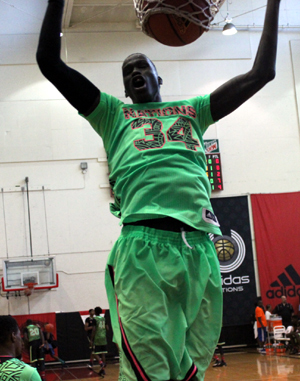 Maker had a very strong showing at Nations. He was one of the best players and was a part of the underclassman championship team. His offensive skill level for a 7-footer in high school is shockingly advanced and he also shows the ability to move without the ball, something not many "teenagers" do those days. His shooting form looked pure like always, but he struggled some to connect on his shots, collecting many of his points instead at the charity stripe. (13.5 ppg, 8-15 fg, 0-3 from 3, and 11-17 ft going into final). The feeling around him is mixed, even among NBA scouts. Some scouts see him as a future top 10 pick, while others are not convinced he's a certain NBA player at this point. The fear I have is that his game won't translate, not only at the NBA level, but even in College. He is very skinny and despite the energy he puts forth with his body, he will be bullied by the bigs he plays against in college and I'm not sure he can go by any 4 or 5 at that level or post them up. His legs are particularly concerning and the lack of strength makes me worry about his knees. Clearly very talented, but he is in the Isaiah Austin mold of stretch bigs if he cannot add strength to his frame. He's much more KG than KD, and never going to be quick enough to play the SF position. He's a tougher kid (than Austin), but as a player who is strictly a post prospect, he will not survive playing in the paint without significant gains to his body. And how well can his skinny frame carry more weight is another important question. Perhaps reclassifying at some point this year and then taking the "Mudiay Route" and going to China will be an intriguing option in hiding his lack of strength and readiness and maintain the unbelievable hype (top prospect in all of HS!?!? GASP!) that currently surrounds him.
Chase Jeter 6-10 230 PF NV HSSr.
An injury stopped him after the first day. But he still had time to show why pundits are high on him and why Duke fans should be excited about his recent commitment. At 6'10"; he runs the floor extremely well and with his long arms he gets rebounds well above the rim. He had a couple of very impressive dunks offensively, but so far he doesn't really have any scoring moves, relying more on his athleticism teammates to create offense for him. He has a very young body, ready to be developed and a good instinct for the game. He seems to suffer a little strong player because they push him out of his comfort zone. He had a hard time vs. team Africa for this reason. He also relies very much on his athleticism to score over people and can't really do that against players of his size. He's solid knocking down free throws and shows good upside.
Kobi Simmons 6-5 170 PG GA HSJr.
His talent level is not open for discussion. He can do everything with the ball, and he is a legitimate PG, at just under 6'5. Not as explosive as Smith, but very talented in his own right. He shot it way too much and with awful percentages at Nations (14.3 ppg, 14-41 fg, 3-19 from 3 and 12-17 ft going into title game), but being one year younger than most, some of those bad shots are just part of his lack of maturity. He played better in Treviso at the adidas Eurocamp, where he was more under control, while this weekend he seemed to be more on a mission to be a hero. His offense and potential are plain to see, but what is worrisome is his defense. Every single player he faced was taking advantage of his lack of strength and determination on D. If his lack of strength is a partial excuse, what I didn't like was a lack of defensive pride, and willingness to compete. He showed on offense he wanted to compete, but on D he resembles a matador. Still far too much upside to drop him too far in his class. His upside remains tremendous and strength is much less of a factor of guards than bigmen. He should be able to add the necessary strength in time, which should help his confidence and toughness on the defensive side of the ball.
De'Aaron Fox 6-4 170 PG GA HSJr.
I really enjoy watching this kid play, but I have to admit that I always expect more from him. His athleticism is outstanding, but he never seems to completely put it on display. I understand it is hard to take over a game with someone like Smith on your team. Don't get me wrong, Fox was great at making shots and had some great passes. But I get the impression, similar to Ingram, that he doesn't know just how good he can be. Fox is an explosive guard, with a very nice left hand, and great change of speed. Defensively, thanks to his long arms, he can guard 1s and 2s with no problem on and off the ball, and has good defensive instincts. Offensively, I'd like to see him more aggressive attacking the basket. He has all the tools and the know how to utilize them. He needs to improve his leadership as he doesn't take control of the pace of the game. His decision making can also be perplexing, sometimes he makes great passes, while other times he gets lost being too flashy. Despite all the drawbacks, Fox is one of the most intriguing PG prospects in the junior class.
Justin Simon 6-5 190 PG Arizona HSSr.
He has size and an explosive first step, very good ball handling and good athleticism. I like how Simon always keep his heads up and controls his body when driving to the hoop. He has a really nice floater and mid-range, plays with patience using his size over smaller defenders. He had some very good passes and showed good post skills. I like his transition game, and how he doesn't force too many shots. he's also a menace on the boards at his size. His main weaknesses currently are shooting and defense. His shooting is slow as he needs too much time to load up his shot, making locks a threat on pull up jumpers. What's more he is not a threat from behind the three point line. Also, I'm not sure he can get where he wants on the floor yet, but despite that he was certainly one of the best PG at Nations, and has a fantastic body and athleticism to build on in the next years.
Mario Kegler 6-7 215 PF/SF MS HSJr.
The only player in 7 games who matched up with Jaylen Brown's strength and physicality while playing against him. Maybe not the most skilled player, but this kid is tough and strong. He was not afraid to take on the number 2 player in the country as they went at each other. Defensively, uses his strong upper body and athleticism to get into the opponent's body. Offensively, he is a solid forward, plays very simple basketball attacking the rim aggressively and hitting the open shot. Doesn't possess the greatest basketball IQ or skill level, but has a good motor and understands his role. Might ultimately be too much of a tweener if he doesn't grow, giving his college outlook more intrigue than the league at this point in time.
Lonzo Ball 6-5 180 PG/SG UCLA HSJr.
Ball brings hustle and energy every moment he's on the floor. He's got good size at either guard position and seems to be making strides to become a full time point. He defends hard and really makes some amazing passes. His jumpshot is an area that needs a lot of work as the ball seems to squirt out of his hands in an awkward form, though he did knock down a number of 3's. He makes some of his shots, but there's no way he will be able to extend his shot with consistency unless he corrects his form.
Honorable Mention
Bennie Boatwright 6-9 210 PF/SF USC HSSr.
One of the players that surprised. At 6'9; I knew he was a great shooter, and a great player to use in Pick and Pop situations. What I didn't expect was his skill level in handling the ball and playing one on one. He logged many minutes as a 3 with solid efficiency. He was playing on the team with Brown that lost three games but indeed he was really good playing the pick and roll as a ball handler and even just attacking from the top of the key. He has a smooth body, not overly athletic, and he needs lower body strength. He is not that explosive around the rim and prefers to take long jumper instead of attacking the paint. I'd like to see his game become more well rounded, perhaps adding a couple post moves, and I expect his legs and upper body to get stronger,allowing him to grab more rebounds and use his skill level in transition. Boatright committed to USC following the event.
Dewan Huell 6-10 215 PF/C FL HSJr.
One of the best big man prospects in the event, Huell was very impressive in his efforts. He has a good body and size and also a strong motor, and doesn't really need the ball to impact the game. He was good on the boards and protecting the rim. Able of multiple jumps and finishing both hands around the rim. Still raw on offense, but a player with excellent potential considering his age and athleticism.
EJ Montgomery 6-9 200 SF/PF HSFr.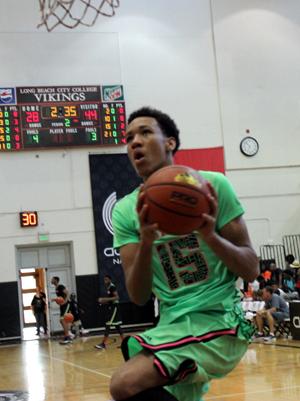 The HS freshman phenom was very impressive. He impacted the games in a Lamar Odom kind of way. EJ was everywhere: on the boards, pushing the ball in transition, finishing himself or making passes for others. His feel for the game and IQ, along with his motor, was some of the keys to his team winning the title. Surely one of the elite prospects in his class and pretty amazing to consider how advanced he is physically and skill wise for a rising freshman.
Braxton Blackwell 6-8 215 SF TN HSJr.
Blackwell was another of the player that highly benefited from playing with Smith. High energy, good feeling for the offensive rebounds. Strong body, good in reading passes lanes in defense and very explosive around the basket.
Eron Gordon 6-3 170 SG IN HSJr.
Eric's brother is a real player, he was very good defensively, deflecting passes and using his strong body. Offensively though he doesn't have his brother talent, understands the game really well and can do a lot of everything. Stuck between the 1 and the 2, playing most of Nations as a SG. Has a solid jumper but needs to develop more offensively.
Deng Adel 6-7 190 SG/SF Australia HSSr.
The player that Pitino described as his most exciting recruit struggled to live up to the billing when I watched him. He has many excuses as his teammates weren't ready for this level of competition, and while he didn't play terrible, he didn't impress. He has a nice frame and a really good IQ. He is smart, knows how to play the game. He can shoot and attack the basket, makes many lay ups look easy, hen they aren't. Seems like the perfect player to complement a talented team more than being a star.
Matt Freeman 6-9 200 PF New Zealand 1997
At 6-9 the 1997 Kiwi was one of the surprises of team Asia-Pacific. He has a really good frame and skills to become a 4. He needs to get stronger, but he showed good touch from the perimeter and a basketball IQ. Not an NBA guy for now but certainly he showed some flashes, and could be a really good college player
Renathan Ona Embo 6-4 170 PG RD Congo 1998
I saw the young French PG last year with the U16 French national team in Kiev, when he was one of the youngest players in the tournament. Ona Embo grew a couple of inches and stood out for team Africa at Nations. He is an athletic combo guard who can score and create for his teammates. More thick and strong than many African PGs, he played for Findlay Prep last year and plans to return. Has the upside and understanding of the game to become a really good player.
Abdoulaye N'Doye 6-10 220 PF Senegal 1995
The big 6-10 forward from Senegal was again one of the most dominant bigs overall. Has a very strong frame and upper body. He is not really an offensive threat but finds way to score to be effective. Defensively is where he earns his keep, he fights hard in the post, contests all shots and hustles in the paint grabbing rebounds. He needs to improve his skill level, however, to become a more interesting player for a higher level.
Dillon Brooks 6-6 225 SF Canada 1996
The Findlay Prep wing has a really mature game sort of reminiscent of Jared Dudley. He is not quick nor incredibly athletic, but he is very strong with a nice shot from 3 points. He can create his own shot and use his body to find the advantage and is very determined. Needs to become quicker and less ball dominant to make it at the next level after college.
Sergey Prymak 6-8 SF Ukraine 1996
The Ukranian SF was a key player for the surprising Team Europe that almost made it to the final. Very solid player, High IQ, he doesn't force any shots but he is a good athlete and an outstanding shooter with his feet set. Can attack the close out as well but lacks the strength and quickness to play more than Mid-major college.
Issa Thiam 6-8 190 SF Senegal 1996
The best of the African players playing for team Europe. Small and skinny frame but he has a strong core and control of his body that allowed him to finish at the rim. Good shooter, like Prymiak he is a guy that knows how to play in a system. Not extremely talent individually but knows how to be helpful for a team. Mid-major talent as well.