Kelly Oubre 6-7 190 SG Kansas Fr.
Oubre sat the first day and a half spending a lot of time on the trainers table, apparently the ankle injury he suffered in the closing minutes of the LBJ Skills Academy was still nagging him. When he finally laced the shoes up and got in, he couldn't miss. He knocked down 6 of 7 three pointers in his first game and looked very impressive with his catch and shoot. It's apparent his jumpshot continues to improve and it could help him to have a big freshman season in Lawrence. He's got a very smooth effortless way of moving around the floor. He was playing more as a stretch 4 in the morning, scoring off pick and pops. He had another solid effort though he didn't light up the scoreboard in the evening with Stanley guarding him. Oubre will most likely be the most athletic wing in the country and will surely make numerous highlight plays at the rim. His lefty stroke has tremendous form and his outside shot has become a real strength. He still must develop a mid-range game but with such immense potential, it's apparent that he can become a top 5 pick, just on upside. Kansas coaches have been quick to warn that he's still got a long ways to go and likely won't be ready after one season, but with such immense upside, it's hard to imagine him sticking around for more than one season.
Stanley Johnson 6-7 240 SF Arizona Fr.
Johnson seems to constantly be adding new wrinkles to his game, as he looks more comfortable than ever in creating shots for himself in ISO situations. Like Powell, Johnson is another legitimate candidate to be Pac 12 player of the year. He missed a few games with an ankle injury but when he did play he demonstrated why he is potential lottery pick for 2015. He is smooth, strong and explosive. He had an And-1 dunk on UCLA's Tony Parker that demonstrated both his athleticism and his strength, which is surprising for an incoming Freshmen. With his body and game, he will make an immediate impact for U of A. His on ball defense and active hands were apparent despite some scouts questioning his all around defense. His tendency to gamble is something he will need to correct if he expects Sean Miller to keep him on the floor at crucial moments of games. He plays at a consistently high level and though he does not have the upside of fellow freshman Kelly Oubre, his basement appears to be higher. All he has ever done is win, and one GM was gushing about what a winning mentality he has after the Hoop Summit in Portland. He's one kid that has both focus and competitiveness and should be a tremendous role player, similar to MKG at the next level. Some feel that Stanley brings more to the Arizona team than Aaron Gordon did last year and that the team can be even stronger than a season ago.
Terry Rozier 6-2 190 PG Louisville So.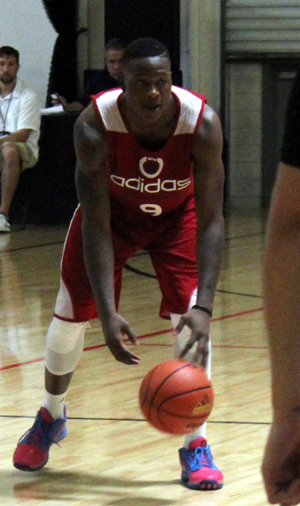 Rozier stood out as one of the top college players at adidas Nations. He's quick, decisive and strong with the ball. With his lightening quick crossover he was able to go to the hole with ease. Blessed with great speed athleticism, he was able to have a strong presence both on the offensive and defensive boards. When his outside shot is going in as it was the first couple days, he looks the part of an NBA starting point guard. His go to move from the outside was a quick crossover from the top of the key either right for a free throw extended jump shot. He also made a number of impressive pull up jumpers that be a weapon at the next level if he can continue to polish it. Midway through the camp his free throw shooting and outside jumper seemed to drop in consistency and neutralized his effectiveness. Rozier needs to work on the consistency of his free throw shooting and adding range to his jump shot. Overall he was by far the best point guard in camp and has elevated himself to being a candidate to be drafted in the late lottery, considering the lack of strength of this year's draft and in particular the PGs. Some scouts are not as high on him as he is still turnover prone and too flashy at times, but the talent is there for him to blow up this year at Louisville, similar to the way Trey Burke did in his sophomore season. Rozier could ultimately be the 2nd best point guard in 2015, after Mudiay, or he could struggle to put things together and need more time at Louisville.
Montezl Harrell 6-8 245 PF Louisville Jr.
As an undersized power forward, Harrell plays with a chip on his shoulder. He is a physically imposing big man who attacks the rim with "great vengeance and furious anger" every chance he gets. Harrell, like Powell, constantly punished the rim. He also showed some touch as he was able to spin and reverse lay up on a few occasions. It's questionable if the reverse lay up would be an available option against NBA help side defenses. But Harrell works hard both to get position on offense and also against taller opponents on defense. His motor is unquestionable and he was the only big man at Nations that was a sure fire 1st round pick. But at times you wish he played with a little more finesse and avoided unnecessary contact and fouls. His continued development of a mid range shot will likely determine his draft range and ultimately his success at the next level.

Norman Powell 6-3 225 SG UCLA Sr.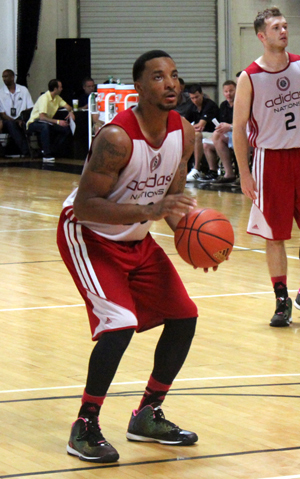 If an MVP were handed out at adidas Nations, he would receive our nod. Powell was a dominant and consistent force of nature. He started the camp out by measuring a 40 inch vert. The BAM testing results seem to be squirreled away by the adidas reps every year, but this was a tasty treat that got out. His elite athleticism wowed the crowd and scouts with spectacular dunks, some in traffic and he also showed an adroit ability to finish non-dunks with touch. He was active in the passing lanes generating steals and was a constant force on the glass. Powell has elite level defensive potential and could end up a stopper, a la Tony Allen, at the next level, despite his lack of height. A senior who has a much more polished game than some of the other players from the camp. Scouts came in questioning his outside shooting ability, but he consistently knocked down spot up corner 3's during the camp. At times, he appears to have a little bit of a hitch in his shot which slows down his release, though it wasn't apparent all of the time so maybe he has been working through this. He seems to understand his strengths and weaknesses. At just 6'3, he needs to continue to develop his shot and work on his ball handling ability as a combo guard. With UCLA losing three first round guards to the NBA last season, Powell, who was by some accounts the team's heart and soul, should be in store for a giant season. He is one of the top senior prospects for the 2015 draft and a real candidate for Pac 12 player of the year. One scout joked that Powell is playing the wrong sport and that the 49ers need to figure out a way to add him to their team (as a WR or defensive back).
Terran Petteway 6-7 225 SF Nebraska Jr.
Solid player that brings a high level of intensity and effort at all times and seems to make players around him better just with his energy and passion. He's solid in many areas, though lacks a standout attribute. He was very adept in finding ways to score the ball whether shooting the outside jumper or going to the hole. Because of his ability in scoring in multiple fashions there were times where he probably could have made the extra pass instead of taking the shot himself. He seems used to having carte blanche to fire shots any time he wants, which he will have to adjust to be successful at the next level. Shot selection will be a key for his draft stock. He had some sneaky athletic dunks and drives. Overall he had a solid camp at Nations.
Kaleb Tarczewski 6-11 250 C Arizona Jr.
Kaleb is a muscular specimen for a 7 footer with fine body control and offensive skills given his height. While adidas Nations may not be the best venue to observe Kaleb's skill set, for a player considered a potential first round pick, he was quite frankly disappointing. I didn't observe any perceptible progress in his game from last year's Nations. Last year he went head to head with top 3 pick Joel Embiid and played much more aggressively than this year where he could have been the standout dominant big. In games, he seemed to be content being a role player defending and grabbing rebounds and did not carry the swagger or attitude that he should get the ball on every possession. When the wings finally gave him the ball in the post instead of taking ownership, he too often passed it back out without making an aggressive offensive play. Scouts at Nations were openly questioning his leg strength in the post and whether he had enough of an alpha male personality to elevate his game to another level.
Tony Parker 44190 6-8 265 PF/C UCLA Jr.
Parker was a pleasant surprise at this camp. Last year he appeared to have the worst attitude of any player, but he seems to have matured as this year he played hard and didn't show frustration when calls went against him, major kudos to Steve Alford and his staff (or psychologists) in helping with his maturation. What Parker lacked in size and athleticism at the center position he made up with force and contact. On one occasion he took it right at Kaleb, clearing space by knocking him under the basket and then laying the ball in. Parker has an improved understanding on how to use his body both on the defensive and offensive and. There were games at Nations where he had double doubles, just by using his body and playing through the whistle. While he may never get first round consideration, at the very least he put himself back in the conversation as a draftable athlete with his new attitude and focus.
Shavon Shields 6-7 215 SF Nebraska Jr.
While he is below average for an NBA level athlete he is a smooth and fundamentally sound player who seemed very comfortable posting up smaller players, passing the ball to the post and hitting outside jump shots. For him to have any impact at the next level he is going to need to progress from a good outside shooter to a great one. Slo-mo part 2?
Shaq Goodwin 6-8 205 SF/PF Memphis Jr.
Goodwin's new body was both surprising and a bit disheartening. It was immediately apparent that Goodwin had lost considerable weight, and Goodwin told scouts he's lost 40 lbs since last year and sees himself as a small forward for the next level. It's highly questionable whether losing such a drastic amount was a good idea. If he truly believes he is a small forward he is going to need to improve his ball handling and consistency in his outside shooting. At Nations he had an up and down showing, disappearing from some games but then having some spectacular put back dunks and hitting corner three's. Goodwin came into college with a football player physique and now appears to have ditched the idea of playing in the post. He doesn't seem to have the skill or athleticism to play the 3 at the next level and may be destined for Europe. Just another questionable job of developing players by the current Memphis coaching staff.
Jabari Bird 6-5 190 SG California So.
Until Sunday morning Bird had had zero impact at Nations. In fact his teammate and less heralded Jordan Mathews was having a better camp. Bird is a strong leaper but his handles aren't where they need to be for an NBA wing and he takes poor angles when he is attacking opponents off the dribble, making it appear that he has a slow first step. Because of how wide he dribbles the ball, on several occasions he either dribbled it off his foot or his opponent's foot. His jumper seemed a little flat and there was definite inconsistency in it's release. He was eager to make the pass to the post but tends to take too long to decide what he is going to do with the ball slowing down the tempo and flow of the game. He had a spectacular and 1 dunk on Sunday dunking with two hands in the morning session. He also made quicker decisions and as a result had more success. Foot speed, laterally in particular, is a concern with him.
AJ English 6-4 190 SG Iona Jr.
A 6'4 combo guard who scored most of his baskets behind the 3 point line. He is a decent athlete who had a quick learning experience bringing the ball up against Toronto Raptors Kyle Lowry who immediately caused a turnover. To his credit it was the only turnover Lowry caused him to make the entire game. Currently he plays and feels like more of a shooting guard than a combo. He will need to continue to work at his handles as he does not possess the size and athleticism to be strictly a shooting guard.
Josh Gray 6-1 185 PG LSU Jr.
Gray, a Juco transfer, was a bit of an unknown coming in but made a solid impression upon scouts. He struggled mightily to finish as his statistics showed, however he displayed a lot of attributes to build upon. He's got solid size, speed and athleticism for the position and competed hard. He has solid explosiveness, showing off his ability to finish at the rim with dunks on breakaways and dead balls. He's also got the ability to run a team and plays solid defense, impressing scouts with his overall potential. He'll likely need 2 years in Baton Rouge to be ready, but appeared to be a player that can become a draft pick if he develops.
Frank Kaminsky 7-0 245 C Wisconsin Sr.
Kaminsky made a name for himself last season and stands a good chance of being drafted. He displayed some touch and strong fundamentals but unfortunately his shots just weren't dropping this week. Last year, Alex Brown was clearly the best shooter in camp, and this year Kaminsky came in with that reputation, but was unable to deliver. His best game was when he went head to head against unathletic bigman Brad Waldow of Saint Mary's, which begs the question of his effectiveness against elite bigs and whether his release is quick enough against NBA level athletes? Kaminsky did display a willingness to post up and shoot hooks, while also has an uncanny ability to draw fouls. However, he has no lift and some scouts question if he has the strength to defend the 5 at the next level. There is no doubt Kaminsky can excel in a system where the tempo is a slowed down to a half court game and when he's able to utilize his high basketball IQ to help direct the offense. But he didn't really prove at Nations that he could handle the up tempo flow of the NBA nor that he is more than a product of a system. Despite that, some scouts mentioned him as a potential late 1st round pick. Kaminsky has the smarts and toughness, but is his strength and athleticism up to snuff?

Austin Nichols 6-9 230 PF Memphis So.
Nichols overall performance was inconsistent as he looked like one of the best players on the court at times and then there were stretches where you would forget about him. Nichols was a very good corner pocket 3 point shooter. He is athletic, fluid and quick. He could use some work on his handles but more importantly he needs to be more consistent. At this point he seems to lack the confidence and attitude to take over games. When he hit his first couple of baskets, he seemed to gain confidence and got on a roll but when he didn't get off to a good start it seemed that his confidence wavered. While he has some work to do to be a 1st rounder, he has an interesting skill set that could get him to the next level.

Chris Jones 5'11 190 PG Louisville Sr.
Jones is a solid floor general with good handles who had his moments. He may not be the prospect that his teammate Rozier is, but he plays hard and is very coachable. When he played with Raptors Kyle Lowry for a game, it was great watching them interact; Lowry teaching while Jones soaking in the tutelage of the Raptor during the game. Jones has good rotation on the ball and displayed good agility and quickness. At Nations he was the second best college counselor point guard. At only 5'10, it may be difficult for him to crack the first round or even be a high second rounder but based on our conversations with scouts on hand, he is someone they are closely monitoring and likely to draft late.
EC Matthews 6-5 190 PG/SG Rhode Island So.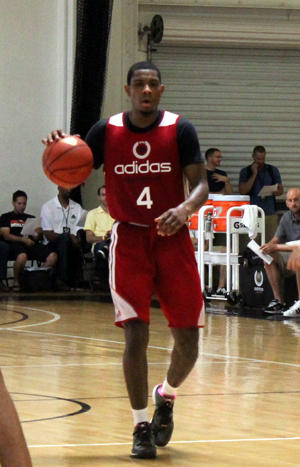 Matthews was the surprise of the camp. He ran the point and showed terrific athleticism and playmaking ability. Scouts weren't ready to call him a point guard just yet, conceding only that he is a combo and could develop into a true point in time. He handled the point guard duties for his team admirably bringing the ball up and initiating the offense from the top of the key and finding teammates with solid vision and passing ability. Where he really stood out was on drives with his explosiveness at the rim. He also shows solid ability to pull up off the dribble and connect from the mid range. He converted some eye opening dunks and appears to be one of the big sleepers for next season in college basketball. He made a lot of scouts take notice of his talents and has first round potential over the next seasons. Scouts were high on his demeanor as well, as he seems to be very coachable and shows a positive attitude.
Zak Irvin 6-5 190 SG Michigan So.
Irvin came in as arguably the best guard shooter in camp, but proved very streaky. He needs to work on his ball handling as his offensive game was very one dimensional but had his moments from the outside the 3 point line. Irvin, like Kaminsky, is known for being a strong shooter, but struggled to get on track with his outside shot. Regardless, some scouts remain high on his chances over the next couple seasons.
Jonah Bolden 6-9 210 PF UCLA Fr.
The incoming UCLA freshman has a strong resemblance to Brian Cook, but unfortunately he doesn't shoot it nearly as well. During the first couple of games, it took him time to adjust to playing with high level division 1 players. But by the end of camp, he seemed much more comfortable. He will be able to stretch the floor for UCLA with his 3 point shooting ability, but UCLA fans are going to need some patience for him to be an impactful player.
Perry Ellis 6-8 235 PF Kansas Jr.
The Kansas Jayhawk did not have the impact he had last year at Nations. Like Kaleb, there was no new developments to his game. He plays hard, has a passion for winning, and is strong around the basket, but his mid range and outside jump shot were inconsistent. He doesn't possess a quick first step, and doesn't have the height to be a strong option in the post. He seemed determined to show of his ability to handle the ball, although he got picked a number of times when handling it in the open floor. His defense is solid and all the coaches love him, but what position does he play in the NBA? A tweener with short arms, and probably a second rounder, although he could have a very productive junior season.
Jordan Mickey 6-8 230 PF LSU So.
Mickey can do a little bit of everything but always leaves you wanting more. He is very long and athletic, and has good dexterity. He looks great in spurts and then disappeared for games at a time. He can post a little, hit the mid range jumper and can easily flush with his long wingspan. While he may be the more gifted player. Nichols is the more polished player. But Mickey, a rising sophomore, has plenty of time to develop and learn to bring it every time on the court.