Lamar Peters 6-1 190 PG Mississippi State So.
Peters was the clear breakout star of adidas Nations. Listed at 6-feet, the Mississippi State sophomore appears an inch or two bigger. He's plays with a relentless motor on both ends of the floor. It was reminiscent of seeing an unknown Damian Lillard in Chicago at the same Nations (2010) event, when Lillard was going into his sophomore year at Weber State; due to his quickness, composure and shooting ability. He is an incredibly quick and explosive floor general, adept at taking defenders off the dribble, and getting into the paint virtually at will. He displayed advanced leadership, looking to get teammates involved and setting them up for easy baskets. He's suprememly confident with a swagger that carries himself and teammates. He's very crafty, with hesitation moves and can facilitate the pick and roll. His defensive intensity can be almost too strong at times, leading to foul trouble. The lefty also displayed a surprisingly nice shot off the dribble with the ability to hit 3 point shots (made 50%, 12 of 24 over five games). He finished the event first in assists (at 5.4 per game to 2.2 turnovers) and third in scoring at 15.8 ppg. Peters has also shown the ability to rise in big games with his best performance to date coming against their strongest opponent last season, Kentucky, with 25 points. Following the tragic death of his father during his freshman season, it's apparent that Peters has developed a determination that many players simply do not possess. Scouts were extremely high on him following the event noting that he's a player that appears primed for a breakout season if he can corral his decision making. He has lottery potential and could even challenge to be the top point guard taken in the 2017 draft with the likes of Collin Sexton (Luka Doncic is viewed more as a point/small forward).
Trevon Bluiett 6-5 215 SG Xavier Sr.
Bluiett was effective playing alongside Peters knocking down shots at an efficient rate over his five games. He's a below average athlete and struggles some to create offense because of it, but if he gets open looks, he's a very effective scorer as he showed at Nations averaging 9.8 ppg on 53% fg and 55% (12/22) from 3. His lack of speed and athleticism will make it a challenge for him to defend and score at the next level, but if he can improve to become one of the nation's best shooters, he could carve out a role in the league.
Markis McDuffie 6-8 215 SF/PF Wichita St. Jr.
McDuffie was solid, though he failed to stand out. He's a long, athletic combo forward who shows nice explosion around the rim and some decent versatility to play both forward positions. He didn't have a huge impact, averaging just 8 ppg, and lacked great efficiency at 41% from the floor and (3-13) 23% from 3. He needs to put on some weight and improve upon his perimeter skills, but he's an intriguing prospect due to his length, athleticism and developing skill set.
Josh Langford 6-5 210 SG Michigan State
Langford was one of the disappointments at Nations. For a player that came into Lansing, Michigan as a four star recruit and top 30 prospect, he has struggled to show improvement. He has a good body, but doesn't show any desire to attack the rim, instead looking primarily for pull up jumpers or open looks spotting up. Playing along with the top point guard in the event, Langford hit a respectable 41% from the floor and 35% (6-17) from 3, but his 6.4 ppg in 19.8 minutes per game are not enough from a guy that struggles to bring a lot outside of scoring (0.6 rpg, 0.2 apg).
Alize Johnson 6-9 205 PF/SF Missouri St. Jr.
Alize was second only to Peters from a stock boost perspective. He was extremely efficient, and seemed to gain confidence and improved as the event went on. He was arguably the most versatile player showing the ability to play inside and out, being able to face the basket, make excellent decisions, and also knocking down 3 point shots with great regularity. He is an explosive athlete and really goes hard for rebounds and loose balls. His 58% on 11-19 from three was a bit of a revelation. He was fourth overall in scoring at 15 ppg, and had a great rapport with Peters as the team took home the unofficial title winning 4 of 5 games. Scouts also noted what an underrated passer he is. He's in the mold of an Atlanta version of Demarre Carroll, as a rangy, thin athlete with his ability to play either forward position and bring tremendous energy to the floor, and do a little of everything. If he can improve his ball handling, the Draymond Green comparisons will surely amplify. He wins the Jimmy Butler lookalike award as his haircut and face and even body type to some degree are a doppelganger. If he plays this season the way he played at Nations, you can expect to hear his name called somewhere in the first round in June.
Zach Smith 6-8 220 PF Texas Tech Sr.
Smith really struggled to impact games, especially from an offensive standpoint. He's become a decent three point shooter at Texas Tech, but that wasn't on display in Houston. In three of his five games he failed to convert a field goal, averaging over 14 minutes per game. He just never seemed to be able to get into any rhythm. He has very good explosiveness but hasn't progressed enough on the block as a post player at this point. But with such an athletic profile, he'll get looks from teams as a project in the second round.
Yante Maten 6-8 240 PF Georgia Sr.
Maten was one of the most effective bigmen at the event. He may not have a great deal of sexiness or upside to his game, but he plays hard and what you see is what you get. He uses his size and strength well to play physical and be a very effective scorer around the rim, hitting 63% for the event and 13 ppg. His 3.2 rebs per game could have been better, but then again aside from scoring the stats probably weren't recorded totally accurately.
Thomas Wilder 6-3 190 PG Western Michigan Sr.
Wilder was one of the event's surprises. He was very quick and did a solid job of running the point guard position. He can get to where he wants against most defenders and proved to be a very efficient scorer at 14.6 ppg on 55% fg and 47% 3p. He was certainly looking to get his own shots more than teammates, but he was effective from all three levels. Based on how he performed in Houston, he stands a solid chance to be a draft pick in June.
Aubrey Dawkins 6-6 190 SG/SF Central Florida Sr.
Dawkins was one of the most athletic players in the gym. He had a few eye opening dunks including one reverse baseline two handed dunk. He's the son of Johnny Dawkins, and at times shows the coaches' son feel for the game, and also has above average athleticism. His shot is a little unorthodox as it comes off his hand a little awkward, and he also doesn't always play with the same intensity and focus. One scout told me he didn't think Dawkins got a fair shake at Michigan, and could be one to watch this year. He is not high on all scout's lists, but is well liked by some, and could be a guy that challenges for a late first round spot with a big senior season.
Jaylen Adams 6-2 185 SG St. Bonaventure Sr.
Adams proved to be one of the better scorers at the event showing good shot selection and a diverse offensive game. He is an undersized 2, but may have enough basketball IQ to fill in at the point when called upon. He's not a freak athlete, but his quick and crafty. He hit 48% from the floor, and 32% (6-19) from 3. He also did an excellent job getting to the line 30 times in 5 games, hitting 22 (77%). Adams was a player that one scout told me he really liked and sees getting drafted.
De'Anthony Melton 6-3 195 SG USC So.
Melton came into the event with some first round hype, but really struggled to get going offensively. In an average of 17 minutes per, over four games, Melton was only able to put up 5 point per game. His touches may have been partially limited playing on the same team with Michal Porter, but scouts still expected more from him. He's an elite level athlete, but didn't really show that in this setting, as he struggled to create off the dribble or get out on the break for many transition buckets. He shows flashes of first round talent, but may be a couple seasons away from that.
Michael Porter 6-10 215 SF/PF Missouri Fr.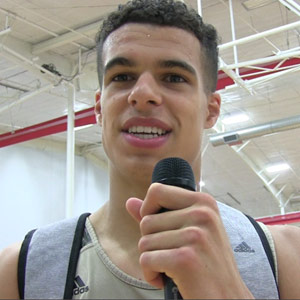 Porter was the clearcut top player and prospect at the event. He performed well but did look a little stiff and admitted to having a sore knee entering the event. Porter's Dad was on hand to support his son and made a good impression with the scouts, many who had known him before hand. Porter comes from a very strong family and basketball background, which is sure to help him. He shot the ball extremely well with some scouts noting he has a near perfect form on his shot. He doesn't have great speed taking the ball off the dribble, but seems to be working on that as he was denied a jumpshot on a closeout on one occasion and immediately took the ball off the bounce and drew a foul near the rim. Looking nothing like a freshman, he led all scorers at 17.3 ppg on 48% fg and 36% 3p. With Marvin Bagley reclassifying to the freshman class at Duke, Porter has a legitimate competition to go first. His ability to shoot the ball is a big edge over Bagley, while he lacks Bagley's size and athleticism. Porter skipped the final day, missing the last two games, but made his mark with an impressive showing, despite a sore knee.
Jeffrey Carroll 6-6 215 SF Oklahoma St. Sr.
Carroll had an inconsistent performance. He had two solid games out of 5, and three that were lackluster. He struggles to score against quality athletes as he isn't great creating off the dribble and lacks great size and athleticism to make plays when his shot isn't falling. He shot an unimpressive 37% from the floor and 25% from 3 for 9.2 ppg. On the positive side he was very aggressive attacking the rim and drawing fouls, converting 20 of 24 (83%) over the five games. He'll have a chance to be drafted, but looks like a guy that may struggle to make a team due to his lack of size at the small forward position.
Bruce Brown 6-5 200 SG/PG Miami So.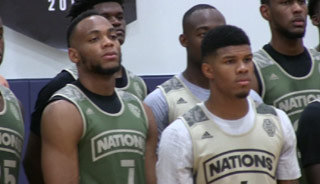 Brown was one of the top performers at Nations. He shot a blistering 46% from 3 (12-26). He averaged 17 points per game and was very consistent and efficient, scoring at least 13 points in every game and hitting 50% of his FGs. He is an explosive athlete and does a solid job of attacking the basket both in transition and on the break. He's a little bit like a Monta Ellis with his relentless attacking style and knows how to utilize his athleticism edge that he has over most opponents. His ability to play both off the ball and with the ball in his hands gives him nice offensive diversity. He should look to continue to develop his lead guard skills as he's undersized at the 2. Regardless, his dynamic playmaking ability gives him a lot of intrigue among scouts and he currently projects as a first rounder.
Zylan Cheatham 6-8 220 PF Arizona State Jr.
Cheatham is an absolute freakish athlete with a chiseled physique. He struggles to score on the block or in a structured set as he lacks great polish with his offensive moves and his shooting touch is below average. Where he is effective is getting out on the break where he can utilize his run/jump athleticism as well as defensively and on the boards as he gives good effort. He's transferring to Arizona State and it will be interesting to see if an NBA team likes his athleticism enough to look past his shortcomings with his age and lack of great skill and try to develop him. His defensive job against Michal Porter on day 2 was notable as he displayed his elite level athleticism giving the young phenom trouble with his physicality and length. His 8.6 ppg on 59% fg and 73% ft were decent numbers considering his reputation coming in.
Robert Williams 6-9 240 PF Texas A&M So.
Williams was one of the event's major disappointments. Seen as a potential top 10 pick, he played in just two games and struggled to live up to expectations, having minimal impact. He had a few wow plays as he's such a freakishly long and athletic player, but that's to be expected due to his sheer physical advantage. What he didn't show was the consistency and feel for the game that were missing from his skillset as a freshman. He seemed to play tentative and without a sense of conviction. Instead of utilizing his size around the basket, he spotted up for outside shots a few times and put up some ugly bricks. He mentioned to me that his back was sore and that was why he missed the camp's final three games. While he remains one of the most promising bigmen prospects for the upcoming draft, his performance at Nations fueled some skepticism for his upcoming season. Is he a Tyrus Thomas like tease? He may be more of a late lottery guy, despite looking like a top 5 talent. How hard he works on his skill level between now and the season will be big.
Robert Edwards 6-4 200 SG Arizona St. Jr.
Edwards played pretty solid. He's got the physique of an NFL Strong Safety. He's in the process of transferring from Cleveland State to Arizona State. He brought the ball up out of necessity but isn't much of a facilitator, instead looking for his own shot or just dumping the ball off without making many plays for others. He had an effective stat line at 10.2 ppg, 56% fg, 40% 3p, and 75% from the line. He reminded some of Eric Gordon without the jumper and explosiveness. An undersized shooting guard, he is definitely a guy to put on the radar as a potential draft in future years.
Corey Sanders 6-1 185 PG Rutgers Sr.
The Florida native has strong online fan support and plays a solid though unspectacular style. He's got solid size and speed for the PG position and can make plays but seems to lack a great feel for the game and consistency. He wasn't one of the most productive players, but his numbers proved efficient, 8.2 ppg, on 42% fg, 3-5 from 3 (60%) and 83% from the line.
Jared Terrell 6-3 215 SG Rhode Island Sr.
Terrell had a very solid camp. He's has a nose for the basket and ended up among the top handful of scorers st the event. He can attack the rim off the dribble and is a solid jumpshooter.14 ppg, on 56% fg, 8-16 on 3p, and 80% ft. He's an undersized wing who may struggle to make the league due to his lack of size but he's a nice athlete with a nose for scoring.
Raymond Spalding 6-10 215 PF Louisville Jr.
Spalding is a wiry, bouncy athlete who sporadically made plays. He's long and athletic and is an extremely fluid big, but his focus, intensity and toughness must improve. At times he would park out by the 3 point line and look to launch shots out of his range. Instead he should be focusing on adding strength and developing more physicality and a back to the basket game. His offensive skill set has not shown much development in two years at Louisville. He's a first round talent, but to this point doesn't seem able to consistently play to his abilities. 7 ppg on 38% fg, 1.3 rpg and 3-6 fts in three games isn't getting the job done.
Justin Jackson MD 6-7 220 SF/PF Maryland So.
The Canadian native has freakish (7-3 wingspan) length, is an above average athlete and seems to still be improving his skill set. Most scouts did not come away overly impressed with him, however, as he struggled in most of his games. He lacks great ability to create and score. Though he did show a nice shooting touch in one game on day 2. Regardless, scout's view him as a 2nd rounder to undrafted at this point. He'll have his chance to shine this year. Is he ready to step into the limelight?
VJ King 6-6 195 SG/SF Louisville So.
King put up decent numbers but was extremely streaky. 11 ppg, 51% fg, 43% (6-14) 3p, 75% ft (9-12) show the talent he possesses. He's a little like former Louisville first round pick Earl Clark. The ability is unmistakable, but can he put the total package together? He has good versatility and athleticism. His problem seems to be consistency and the ability to focus and compete hard throughout games. His final game, putting up 28 points and 6 boards show the type of talent he possesses when he decides to play hard. If he can learn to sustain his energy level and competitiveness, he should ultimately become a first rounder.
Mikal Bridges 6-7 200 SG/SF Villanova Jr.
Despite not putting up great shooting numbers, (7-22 from three, 32%), Bridges impressed scouts with his shooting form and length (7-foot wingspan). He lacks great foot speed making him just average attacking the rim off the dribble and defending. His lack of speed also hampers his ability to get clean looks in isolation as defenders play him close. Overall his scoring was solid at 13 ppg on 57% fg and a solid 5 rpg. He has struggled to break out thus far at Villanova, but this could be the season he finally puts it together. One scout mentioned that they were particularly high on Bridges, saying that the Villanova system could be what's holding him back from displaying his full abilities.
Donte DiVincenzo 6-4 205 PG/SG Villanova Sr.
DiVincenzo made some fans of a few NBA scouts with his physicality and toughness playing as a combo guard. He's got very good size at PG and solid leadership. But he was a turnover machine, (15 in four games, to 13 ast) apparently struggling against the quicker PGs at the event.
JP Macura 6-5 205 SG Xavier Sr.
Macura was a late addition, not appearing on the initial roster. He looked comfortable in his role of a scrappy, spark plug type. While he didn't put up huge stats, he brings a lot of positive attributes to his team. It's hard not to root for him due to the passion and energy that he plays with.