This year's adidas Eurocamp, the annual three day event that takes place near Venice, in Treviso, Italy concluded last weekend. The event has progressively become more of a summit for International scouts and GMs, than a high level draft evaluation camp. Attracting European scouts, media and agents alike, and despite the frustration over the lack of quality draft eligible talent, the event continues to provide an essential resource for information to NBA teams. This year's event had a few probable draft choices (Ante Zizic, Paul Zipser, and Petr Cornelie) and a few others with a chance.
The event has become more of a place for younger prospects to make an impression on scouts. [Player Dragan Bender] was here last year, for instance. Despite the USA Team not having its usual level of talent (Brandon Ingram, Dennis Smith, Jaylen Brown, and Thon Maker among others have competed here in recent years), the Next Generation (European youngeters) group made up for it as it was by far the best the event has seen. Here are a few players that we've discussed and some that we have not, that impressed at the 14th edition of the camp.
Day 1 Recap
Day 2 Recap
Next Generation Recap
Top 3
Ante Zizic 6-10 C Croatia 1997
Zizic played in just half of a game, after injuring his shoulder, and had a solid performance with 9 points and 8 boards. He was the best prospect among the older group to perform, and it wasn't really close. He's a '97 born kid, and at 19 he's already a big performer on the senior level in Europe. He likely will not take too long to bring what he does well to an NBA team. He's tough, enjoys contact, hustles and defends, and also has some decent touch around the basket. His 7'3 wingspan allows him to be a difficult match up as he generally has length over opponents to grab boards, block shots, or finish. While he's not an overwhelming run/jump athlete, he has a strong motor and a good feel for the game. Despite his young age, he probably is pretty close to his peak in terms of development. He's got a good frame and solid strength already and seems that he'll be able to add some additional weight without it affecting his mobility much. One GM sitting nearby commented, "He's better than all these guys rated in the 20s". Whether he indeed gets taken in the first round remains to be seen, but he is well liked in Europe for his toughness and energy. Look for him to be drafted in the 20-35 range on draft night.
Paul Zipser 6-9 SF/PF Germany 1994
There's a real chance that Zipser will be the only 1994 born kid selected in this his auto-eligible year. The 1994 list just doesn't have much talent left, after many of the players from this class left early and were already selected. If you didn't show up for the morning of the second day (no games were scheduled) then you missed Zipser. He played in a scrimmage and impressed, which made it an easy decision for his agent to put him on the shelf for the rest of the camp. There was no way to impress more than he had after getting the better of Petr Cornelie in their match up, playing as a stretch-four and knocking down 5-of-5 from 3-point range, and earning a controveral MVP nod. He's not a very fluid athlete, but the fact that he's got size, skill and shooting ability, plus he has the flexibility of being a draft and stash guy, probably gets him drafted. Whether he has the athleticism, and more important elite shooting ability, to carve out a niche in the NBA remains to be seen, but he should find a spot somewhere in the mid-late second round.
Petr Cornelie 6-11 C France 1995
Cornelie had an up and down camp. His best performance actually came in the morning scrimmage of Day 2 facing Zipser as he made some shots, ran the floor well and displayed his intriguing speed and athleticism. He couldn't sustain that level of play however and struggled as the event went on. He has a great basketball body, with very good fluidity, but obviously needs to add a lot of strength. His lack of skill level and experience was exposed. He really struggled in the match up with the USA Select team as he struggled to do some of the basic things like box out and make plays around the rim. It was a bit alarming as it exposed the fact that he's still a long ways from being NBA ready from both a physical and skill standpoint. The USA squad, made up of players 3-4 years his junior, and not five star level guys, were often too quick and strong for him. He would get the ball, and before he could make a play it seemed he would either be pushed out of position, or have it poked away or stolen. He shot 0-4 from 3, finishing with 10 and 6, but he should be able to easily dominate American high school kids, and he didn't. His high center of gravity is another problem, as it seems that he's easily knocked off balance, especially when he leaves his feet. He's a well spoken, smart individual who should be able to improve but some have questioned his belief in himself. While his jumpshot has been advertised as a real strength, it does show some promise, but remains inconsistent and his form is a bit mechanical. While some had Cornelie projected as a first rounder, it has become clear that he's much more likely a mid second round to undrafted guy, who will probably be drafted and stashed as a long term project.
Others
David Michineau 6-4 180 PG France 1994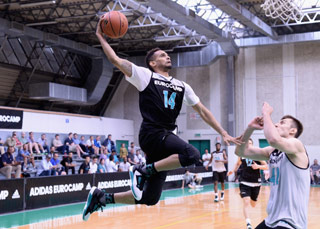 One of the big hopes for the 1994 group, if anyone outside of Zipser is to be drafted. He didn't come into the event with much fanfare, and he had his share of ups and downs. But what he did prove is that he has NBA athleticism as he an explosive and quick athlete and at times seemed to show legitimate point guard abilities. He's still not where he needs to be as a decision maker as he would often force things and lose control of the ball, or drive into the lane and force up a bad shot. But he was a handful for opposing guard in the open floor as his speed and quickness is much better than the average European PG. He hit one three pointer, but shooting remains an area that he needs to improve upon. With great size at 6'2.5 barefoot and a 6'5 wingspan and a 8'3.5 standing reach, Michineau seems like he could be a decent gamble, considering his ability to be stashed. He could see his name called in the 50-60 European "draft and forget um" zone, but more likely to go undrafted and be evaluated in Summer League.
Pauli Oriol 6-8 SF Spain 1994
Oriol isn't the most fluid looking athlete upon first glance but he actually has very good run jump athleticism. His body lacks great aesthetics as he's skinny and appears somewhat weak physically and doesn't have a very athletic looking frame or running form. But when he gets out in the open floor, he possesses a lot of speed and the athleticism to finish at the rim. This kid was one of the surprises of the camp and has moved way up in the 1994 class rankings after such a solid showing in Treviso. He showed some ability to shoot it, and a nice all around set of skills and feel for the game, as well as willingness to hustle. He's probably a long shot to get drafted, but all it takes is one team as they say.
Future Players
Jaylen Hands PG USA
Hands was the one elite USA kid. He led a very competitive group of American kids, who despite being over matched physically showed phenominal heart, passion and effort in every game. The rising senior is an elite athlete with both great speed and explosiveness. He shows a strong ability to get by his man and knows how to finish both by using the glass or putting up floaters. He also shows the ability to find teammates and can hit shots off the dribble. He had the dunk of the weekend, going up in traffic and floating and then finishing with a one handed jam. His body is still lean, but he is showing signs of adding muscle and his weight should be fine in a few years. Hands is definitely a high level prospect who appears to be a bit underrated nationally (top 40). He could develop into a first rounder after a couple seasons at UCLA.
Sviatoslav Mykhailiuk 6-7 SG Ukraine/Kansas 1997
It's almost painful having seen where Svi was at 17 after the Portland Hoop Summit to where he is now. He still has talent and potential, but seems to have lost the star quality he once had. He has lost confidence, and no longer wows scouts with his skill level. He also doesn't seem to play with any sense of urgency, and his decision making is too slow. Too often appears content with just being another player, instead of aggressively trying to get back to where he was. In Treviso at Eurocamp, his shot always seemed long and his stats were not good. Going 4-for-17 against high school kids with the entire league watching you isn't a good look. He displayed some flash with his vision and passing as he loves to dish the ball to the side. At one point he missed an easy dunk off the back of the rim, bringing up the question of whether he has small "Trump" hands. He got hung on the rim on another dunk attempt. He showed some fight when challenged by AJ Oliver of Team USA, but overall a disappointing Eurocamp for the soon to be Kansas junior.
Michael Fusek 7-5 C Belgium 1995
At 7-5 with a 7-5 wingspan, the Belgium bigman Fusek is massive and actually has pretty good fluidity and dexterity. He is still somewhat new to the game, but his feel isn't bad. He was an early entry guy, but has since taken his name out of the draft. This kid actually surprised with his mobility and speed for a guy his size. He seems to have a body that will improve and looks like he could become a real force in Europe in the next few seasons. The thing that you have to love about him is the intensity and toughness he plays with. He has a real mean streak and isn't afraid of hurting anyone's feelings out on the floor. He may be playing in the wrong era to make it in the NBA, but don't count this kid out, his ability to move up and down the floor, combined with an excellent mentality and toughness, plus some touch gives him a legitimate shot to be drafted over the next two years.
Vanja Marinkovic 6-7 SG/SF Serbia 1997

Marinkovic is a smooth wing with good shooting ability and decent speed and athleticism. He was playing as a wing here, but is known for being a point guard in the past. He has a solid understanding of the game and plays with good energy. He knows how to score and shows the ability to catch and shoot and retains his ability to create. He lacks length as his wingspan is roughly the same as his height in shoes (6-7), but he's a solid enough athlete and shooter that he will be a player to track going forward as a potential draft pick.