The 2019 NBA Draft Combine took place from May 15-19 in Chicago, IL. While a number of the projected Lottery guys opted not to participate, we got a chance to see how many of the projected first and second rounders fared in this year's athleticism testing. Here are some of the positive and negative results.
2019 NBA Draft Combine Athleticism Testing
Winners
Jordan Bone, Tennessee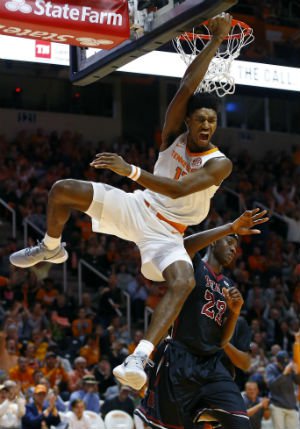 Just call him "Bad to the Bone". Jordan came in first in four out of the five variables tested. And was just half of an inch away on max vert (Jalen Lecque), from sweeping the field. Bone had the second highest max vertical with 42.5 inches, Bone delivered a sub 10 lane agility time plus the fastest (2.78) shuttle run, the only one of the year and one of the best times ever. He then also delivered the top standing vert at 36.0 inches and capped it all off with the fastest 3/4 court time: 3.03. Bone is very thin but proved to be not only an extremely explosive athlete but an ultra quick one as well.
Brandon Clarke, Gonzaga
Clarke proved what those that watched him all season already knew. He's a freakishly explosive leaper. His 40.5 inch vertical is very impressive for a post player. After his disappointing measurements (6'8 in shoes with a 6'9 wingspan and 215 lbs), a positive showing in the athletcisim testing was just what he needed.
Jalen Lecque, High School
Lecque passed on a number of opportunities (Jordan Brand Classic and the NBA Draft Combine) to perform in front of scouts. If not playing is the only way to keep your intrigue high, scouts are going to begin to wonder if there's really anything to get excited about. While it has worked for some prospects like Thon Maker, dodging the entire process, including playing in college generally doesn't have the intended effect. Mitchell Robinson being the last first rounder to slide to the second by choosing not to "expose" himself. Darius Bazley would probably choose a different course if he could take a do over. Lecque is an obvious freak athlete as his 43 inch vertical attests. However, his impact even at the high school level is minimal, unless we are going off highlight video views. A year in college minimum is necessary for Lecque to develop some real guard skills and ability to earn playing time at the NBA level. Right now he's not even a guaranteed draft pick and is best advised to go to NC State.
Luka Samanic, Crotia
Samanic got ahead of things opting to participate in the Draft combine and not wait for the Global Camp, which was inexplicably cancelled. Samanic had an excellent first day and subsequently shut it down. He also had an excellent athleticism showing measuring a 38 inch max vert, a very impressive number for a big. He's clearly a player on the rise, who has begun to realize the potential he flashed when he first hit the scene as a next generation prospect at the Eurocamp in 2016.
Losers
NBA Scouts, Media and Fans
Call it the "Kyrie effect". Irving was the first number one overall pick to decide not to be measured or go through the athleticism testing at the combine. And ever since, the trend seems to be growing slowly but steadily. Irving deciding not to go through the combine formalities made sense at the time considering he was coming off an injury. The growing trend of keeping draft prospects from participating in the testing is done so in order to keep them from being "exposed". The number of players opting not to participate seems to grow every season. Now if you're a projected lottery pick, you are advised not to participate in the athleticism testing at the combine. The Kentucky prospects, who are all fringe lottery picks at best, Kelden Johnson, Tyler Herro and PJ Washington all opted not to be tested. Ridiculous.

Grant Williams, Tennessee
After measuring 6'5.75 barefoot, it would have been nice to see Williams make up for that with some surprising athleticism results. Unfortunately, that just isn't part of his package. Williams is a tough nosed, skilled, stand out at the college level power forward but lacks explosiveness. His 26.0 standing and 31.5 max verticals are indicative of a below average athlete, which combined with a lack of size makes him a likely second rounder.
Zach Norvell, Gonzaga
Norvell confirmed what many criticized him for throughout his Gonzaga career, a lack of explosiveness. A 30 inch max vertical for a 6'6 wing prospect is very concerning. He will struggle to finish plays at the rim and his lack of verticality means he has a up hill battle in convincing teams that he has the requisite athleticism for the next level. On the positive side, he did measure fairly well, posting a 6'6 height in shoes.
Dedric Lawson, Kansas
Lawson has been described as having an "old man's game", something he takes exception to. But with a 26 inch vertical, .5 lower than 7'7 giant Tacko Fall, Lawson can't be too defensive about the description. A 26 inch vertical on a player with no weight or injury issues is either a record or close to one. Luckily for Lawson, he's a versatile offensive talent with great length. His lack of mobility and leaping ability is surely a concern, however.
Louis King, Oregon
King was a player that teams came away from the combine saying likely hurt his draft stock. His interviews exposed a lack of maturity. And his athleticism numbers were disappointing as well for a player that is considered a standout athlete. A 33 inch vertical for an athletic wing prospect is average at best. King would be best advised to return to school for his sophomore year, or he'll likely fall into the second round.
Ty Jerome, Virginia
Jerome isn't known for his athleticism. He's a big point who makes those around him better and is a leader who plays clutch. His 31.5 inch max vertical confirmed his lack of explosiveness. He's still considered a borderline first rounder due to the intangibles that he brings to the table.