Basketball Without Borders is a speacial event as it allows scouts to get their eyes on a unique blend of players coming from far reaches. Each NBA team was represented at Queen's University in Charlotte for the BWB event over NBA All Star Weekend to get a look at the young prospective international talent. With a mix of some players that took their first visits to the US, while others are already playing high school ball in the states, here's a rundown of the talent.

Top Prospects
1. Killian Hayes 6'5 187 PG/SG – France 2001
Hayes was the top prospect in attendance. While he's not incredibly explosive, he's smooth with the ball, changing speed and direction naturally to finish in traffic. He consistently made good reads and instincts to make kicks out of drives and skip passes to the open shooters. He's a good pick and roll ball handler and was a step ahead of the rest as a decision maker. Hayes' outside shooting is still developing as he makes enough to keep the defense honest, but he excels with dribble penetration and creativity.
2. Addison Patterson 6'7 200 SG/SF – Canada 2001
Patterson didn't have a great showing as a shooter, but it didn't stop him from putting points on the board. He did a nice job of utilizing mismatches, whether it's getting physical with smaller guards or using his speed when a big man gets switched onto him on the perimeter. He's good about sticking with what's working until he's stopped. He did have tunnel vision at times and can improve handling the ball under pressure but at this stage he's able to will his way to the basket, showing he was one of the top prospects in attendance.
3. Clifford Omoruyi 6'11 229 C – Nigeria 2001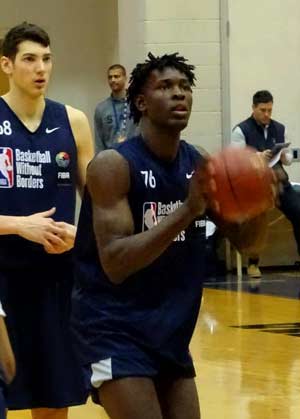 Omoruyi was the best athlete in the camp combined with impressive size/length. He maxed out on the vertical testing, but he went down with a foot injury on the second day and wouldn't return to action. He runs the floor well and plays with a good aggression level. He shot well in drills, which is encouraging as he doesn't lack the tools or defensive potential. He's working on putting it all together when playing 5 on 5 but Omoruyi was one of the top prospects to play.
4. Matthieu Gauzin 6'3 163 PG – France 2001
Gauzin played very well throughout the camp, especially day one. He got into the paint at will, finishing at different angles with either hand and he doesn't favor a side when driving. He was quick in transition with the ball as well as his first step and he had numerous dunks in traffic. His court vision isn't bad either, finding teammates for alley oops in half court situations. Gauzin played the defensive side of the ball as well, showing quick hands and putting pressure on the ball. He has a way to go as a knockdown shooter but made a fair amount from outside.
5. Keon Ambrose-Hylton 6'9 198 SF – Canada 2001
Ambrose-Hylton has good versatility on both ends, playing inside and out while also guarding every position at some point in the camp. He plays well off the ball and continues to play hard even when he's not getting touches. His demeanor didn't change throughout the camp either. He's fluid and provides good athleticism to match his activity level. His perimeter game is solid, and he hit a number of threes. He has room to tighten up his ballhandling, especially when we he picks up speed, but he impressed in his showing.
Others
Jovan Kljajic 6'5 202 SG/SF – Montenegro 2001
Kljajic had an impressive final day. Along with Deni Avdija, he was among the best shooters, showing sound form and NBA range. He played hard and created for himself. He's a good athlete and may have been the best attacking a set defense. Kljajic impressed with his offensive variety.
Matthew Alexander-Moncrieffe 6'8 200 SF – Canada 2001
Moncrieffe has the tools and athleticism but his basketball IQ is still a work in progress. He doesn't seem to know where he needs to be when he doesn't have the ball and reading the flow of the game can improve. His jump shot has always been hit and miss, but watching him in drills, he shot it very well; it's encouraging to think with some practice shooting off the dribble and adjusting to game speed, he will have another consistent dimension to his game. Occasionally, he finished above the rim on plays but whether the defense gets a hand on it or he gets bumped on his drive, he tends to lose the ball often in traffic.
Deni Avdija 6'8 210 SF – Israel 2001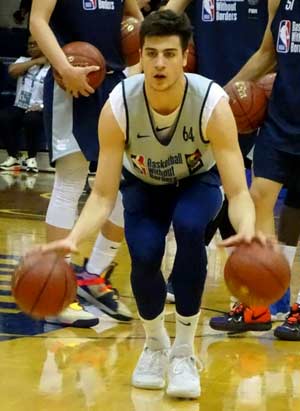 Avdija has good size for his position and was the best shooter in camp, with good arc and no wasted motion. He also has good footwork offensively and is smooth dribbling into his shot. He took smaller players into the post and made good passes when finding the open man. There was some talk about him being head and shoulders the best prospect, but I respectfully think it was overblown. He lacks high-level athleticism and although he was MVP, there were times it was easy to forget he was on the floor. Overall, Avdija's play was solid but the potential lottery talk seems a bit premature.
Tristan Enaruna 6'9 202 SF – Netherlands 2001
Enaruna was a pleasant surprise. He explodes off the ground well as a transition finisher and would jump from outside the paint on some of his dunks. He shot well off the dribble and hit threes when he didn't get to the rim. He has good size on the perimeter, broke down the defense off the dribble, and scored in a variety of ways. This was my first look at Enaruna and he made a good impression.
Samuel Mennenga 6'8 213 PF – New Zealand 2001
Mennenga had some impressive moments throughout the weekend. He plays hard, is a better athlete than he looks, and took advantage of straight-line driving opportunities including a poster dunk on one play. He made shots from the perimeter and played off the ball. His body is more developed than some of the other participants and he wasn't afraid to play physical.
Amar Sylla 6'10 201 PF/C – Senegal 2001
Sylla's skillset is raw but he has tools to work with. He has good size, coordination, and athleticism. His jump shot needs some work as well as his ability to put it on the floor. He spent numerous plays shot faking into a contested drive that he ended up picking up and passing out of after a few dribbles. Defensively, he's versatile but it's still uncertain what his offensive role is as he spends a lot of time drifting out to the three-point line and away from the action. He has the potential to be a handful in the paint, but his right hand still needs some work.
Tomas Chapero 6'10 210 PF/C – Argentina 2001
Chapero has solid face up skills including a jump shot but the first thing that stands out is his long arms. He's not very quick but his length helps compensate. He has a good understanding of spacing the floor and he keeps the ball moving, knowing where he's going to pass before he receives the ball. The guards enjoyed playing with him as he set a lot of screens and was highly unselfish.
Vinicius Da Silva 6'11 220 C – Brazil 2001
Da Silva has good size and an intriguing body. His game has a long ways to go as he dropped multiple passes and has no touch inside yet. His free throw form didn't look bad but he's far from a face up threat right now. His defensive presence should greatly increase as he plays more basketball and improves his awareness.
Khalifa Diop 6'11 242 C – Senegal 2002
Diop was a handful in the paint, getting off the ground quickly and finishing with power. He's strong and he pulls down rebounds with both hands. He must work on his offensive technique for instances when he doesn't finish with a jam but his quick second and even third jump allowed him to score numerous opportunities. Diop stepped out and hit some threes on a few occasions, showing solid form from outside.