The annual European NBA draft camp, known as the Eurocamp is underway in Treviso, Italy. This marks the 13th time it has taken place here and the 10th time that I have covered it.
Similar to the NBA combine, every year poses a challenge for the organizers to get the top eligible prospects to attend the event. The top International prospects for this year's draft that might have participated, Kristaps Porzingis and Mario Hezonja, as expected opted not to attend, as well as a number of other established European prospects such as Guillermo Hernangomez, Aleksandar Vezenkov, still playing, Moussa Diagne, and Timothe Luwawu among others.
The top names among the draft eligible guys that are here are France's Alpha Kaba and Brazil's George de Paula. Serbia's Dragan Bender (1997) is the top non draft eligible kid participating.
Day One is often a rough one for prospects as it usually takes some time for them to get their nerves under control and block out the 60 plus pairs of NBA scout and GM eyes dissecting their every move.
It's important to stress that this is an analysis of their play after just one day out of three. So these are our "first impressions" of a few of the top guys.
Our general impression was that no one really stood out and improved their stock a great deal. And writing about the kids after just one day is a bit of a exercise in futility. But we are here, we saw them, and people want our opinion on what we saw, NOW. So here goes…
Diego Flaccadori 6-4 SG/PG Italy 1996: The young (1996) Italian combo guard was the biggest surprise of Day One of Eurocamp. His long wingspan and big hands make Flaccadori a very intriguing combo guard and in the morning match up he took over the game in the second half. At 6'4'' with a very skinny "Rudy Fernandez" like body, has very good ball handling and really knows how to get by people and to the rim like a true slasher. He lacks the elite athleticism to finish above the rim, but nevertheless he knows how to avoid rim protectors. He's very confortable in creating his own shot and playing P&R, his 3 pt shot looks improved from a year ago and more fluid. He had a couple of nice and ones coming off of ISO and overall he gave the impression that every time he touched the ball something good was going to happen.
Nikola Jankovic 6-9 PF Serbia 1995: The big Serbian kid wasn't particularly spectacular, but ended up being as solid as anyone, finishing the lay ups he got, and adding a number of rebounds to his 16 points. He has a big body and knows how to use it to protect himself from getting his shot blocked. He is not very athletic, but can make some shots outside and can finish with both hands around the basket. Classic, solid and does all the dirty work. He's a typical European big, that put in the right system with the proper development could end up a very solid player. Is he NBA level? That may be optimistic, but for today he was one of the true standouts and worthy of some ink.
Dragan Bender 7-0 PF Croatia: The finesse Croatian 7-footer has always been one of our favorites to watch in his age group and he is improving year by year. Despite being a 1997 and four years younger than many, he is easily one of the best and most talented prospects here in Treviso. Today, like last year during the first day, he struggled a little bit in finding his role on the floor. Bender is a player that needs a little more discipline and structure around him to really give his best. After a rough first game, he reacted in the evening game against Greece with a strong second half, showing flashes, at one point taking the ball off the dribble to the rim. Very impresive considering his near 7-foot height. Despite not hitting many shots, his mechanics on his 3pt shots look a lot more fluid. For sure one of the main guys to monitor in the next two days.
Alpha Kaba 6-10 230 PF France 1996: Kaba came in as one of the top prospects and while he remains intriguing, he has struggled. He seems to be convinced that he's going to be a 3 as his entire practice routine and game is centered around facing the basket and shooting mid range and 3 pointers. He's got an excellent body, especially for a French player, but his legs are extremely stiff and he's unquestionable a 4. His post game is nearly non-existent, though he did convert a few shots over defenders on the block. His feel for the game remains low. His demeanor and intensity level also needs a great deal of improvement as he just has no sense of urgency and would get embarrassed by similar level athletes in the USA (college for instance). He's considered likely to pull out of the draft and should focus on playing inside and adding post skills, and a lot more intensity while on the floor.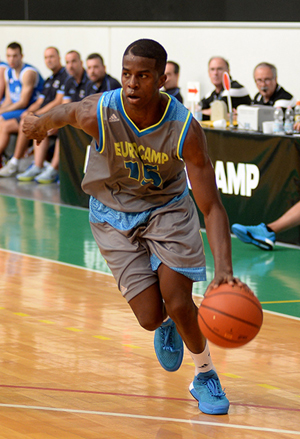 George de Paula 6-6 PG/SG Brazil 1996: The "internet sensation" with tremendous length and hand measurements. It's uncertain if any other prospect has ever participated in the NBA Combine and then at Eurocamp afterwards, but then again credit him for showing up here and gaining more exposure. He was one of the most highly anticipated players to show. On the bright side, de Paula is looking like one of the top five overall prospects among the main participants here. On the not so bright side, we still are not sure he's an eventual NBA player.
Today the Brazilian with a freakish wingspan struggled mightily. Playing against inferior European athletes, he managed just 2 and 4 points in two games while running the show for his team. As attractive as he is defensively, thanks to his length, lateral quickness and eagerness to be a pest on D, he has major deficiencies offensively. Unless his offensive game makes a drastic transformation, it is difficult to imagine him making it in an NBA offense. He can't shoot, he doesn't really have the explosiveness to get by athletic defenders and even when he does he doesn't have much of an idea of what to do next. Credit him for his defensive intensity and focus, but it's questionable whether he can acquire the speed and feel for the game necessary to allow him to utilize his tremendous length on O. He is enjoyable to watch as he's extremely unique. It will be interesting to see how he fares through the rest of the camp, and whether the hype surrounding him will actually equate to being a draft pick.
2015 adidas Eurocamp Roster
| | | | | | |
| --- | --- | --- | --- | --- | --- |
| Name | Year | Pos. | Height | Nat. | Team |
| | 1993 | PF | 196 cm – 6'5" | ITA | Cantu' |
| | 1994 | PG | 193 cm – 6'4" | LEB | Sporting Al Riyadi Beirut |
| | 1997 | G | 198 cm – 6'6" | BHI | Spars Sarajevo |
| | 1997 | PF | 210 cm – 6'11" | CRO | Maccabi Tel Aviv |
| | 1993 | SF | 201 cm – 6'7" | LAT | Vef Riga |
| | 1991 | F | 203 cm – 6'8" | LTU | Free Agent |
| | 1997 | C | 210 cm – 6'11" | LTU | Zalgiris Kaunas |
| David Brembly | 1993 | SG/SF | 194 cm – 6'4" | GER | Bayreuth |
| Jonaas Caven | 1993 | F | 210 cm – 6'11" | FIN | Reno Bighorns |
| | 1994 | PF | 203 cm – 6'8" | FRA | Asvel Villeurbanne |
| | 1996 | PG/SG | 198 cm – 6'6" | BRA | Pinheiros |
| | 1995 | SF/PF | 206 cm – 6'9" | BRA | Pinheiros |
| | 1994 | PG | 190 cm – 6'3" | SPA | Fuenlabrada |
| Issa Dieng | 1996 | PF | 207 cm – 6'9" | SEN | Club Thies Rail |
| | 1993 | SF | 203 cm – 6'8" | SPA | Real Madrid |
| | 1993 | PG | 186 cm – 6'1" | SPA | Estudiantes Madrid |
| | 1996 | PG | 194 cm – 6'4" | ITA | Basket Trento |
| | 1993 | F | 203cm – 6'8" | NWZ | La Bruxia D'Or |
| | 1994 | SG | 196 cm – 6'5" | FRA | Poitiers |
| | 1996 | SF | 201 cm – 6'7" | MON | Buducnost |
| | 1994 | PF | 207 cm – 6'9" | SER | Verviers-Pep |
| | 1995 | PG | 193 cm – 6'4" | SRB | Mega Leks |
| | 1996 | PF/C | 205 cm – 6'9" | FRA | Pau Orthez |
| | 1996 | SG | 194 cm – 6'5" | UKR | Cherkaski |
| Vladislav Korneyuk | 1994 | C | 210 cm – 6'11" | UKR | Dnipro |
| | 1994 | PF | 200 cm – 6'7" | LTU | Jelgava |
| | 1993 | SF | 205 cm – 6'9" | SRB | Mega Leks |
| | 1994 | PG | 188 cm – 6'2" | RUS | Rossiya Novog. |
| | 1993 | PF/C | 208 cm – 6'10" | FRA | Cholet |
| | 1995 | PG | 191 cm – 6'3" | SLO | Spars Sarajevo |
| | 1996 | C | 211 cm – 6'11" | MON | Joventud Badalona |
| Jovan Novak | 1994 | PG | 190 cm – 6'3" | SRB | Vojvodina Srbijagas |
| | 1993 | SG/SF | 197 cm – 6'6" | POL | Oostende |
| Viktor Pulpan | 1996 | PG | 190 cm – 6'3" | CZE | BK Pardubice |
| Nikola Radicevic INJ | 1994 | G | 197 cm – 6'6" | SRB | Sevilla |
| | 1996 | PF/C | 206 cm – 6'9" | BLR | Penas Huesca |
| | 1995 | SF | 204 cm – 6'9" | ISR | Galil Gilboa |
| | 1994 | PG | 186 cm – 6'1" | FRA | SLUC Nancy |
| | 1995 | PF/C | 207 cm – 6'10" | LAT | Fuenlabrada |
| Alex Suarez | 1993 | C | 205 cm – 6'9" | SPA | Joventud Badalona |
| | 1994 | PF/C | 196 cm – 6'5" | BOS | Bilbao |
| | 1994 | PF | 206 cm – 6'9" | TUK | Darussafaka |
| | 1994 | SF | 204 cm – 6'8" | BHI | TB Trier |
| | 1998 | SG | 203 cm – 6'8" | TUR | Fenerbahce Ulker |
| | 1994 | C | 214 cm – 7'0" | UKR | Dnipro |
| | 1994 | SG/SF | 201 cm – 6'7" | GER | Bayern Munich |
Under-20 French National Team
| | | | | |
| --- | --- | --- | --- | --- |
| Name | DOB | Pos. | CM | Club |
| Axel Bouteille | 14/04/1995 | 3 | 199 | ELAN CHALON |
| Lucas Dussoulier | 27/07/1996 | 2 | 203 | EB PAU LACQ ORTHEZ |
| Paul Lou Duwiqeut | 12/07/1995 | 2 | 193 | BCM GRAVELINES DUNKERQUE |
| Charles Galliou | 26/12/1995 | 3 | 203 | ASVEL BASKET |
| Luidgy Laporal | 30/04/1995 | 5 | 202 | STRASBOURG I.G |
| William Mensah | 02/08/1995 | 1 | 172 | JSF NANTERRE |
| Alexandre Moisy | 21/11/1995 | 1 | 175 | EB PAU LACQ ORTHEZ |
| Sidy Ndir | 23/06/1995 | 1 | 189 | NEW MEXICO STATES (NCAA) |
| Warren Racine | 10/04/1995 | 1 | 189 | JSF NANTERRE |
| Arthur Rozenfeld | 08/02/1995 | 1 | 180 | ASVEL BASKET |
| Ibrahima Sidibe | 26/09/1995 | 1 | 180 | ORLEANS LOIRET BASKET |
| Guerschon Yabusele | 17/12/1995 | 5 | 200 | ROANNE CHORALE |
2015 under-18 adidas USA Select
| | | | |
| --- | --- | --- | --- |
| Name | Pos. | Hometown | High School |
| Edrice Adebayo | PF/C | Pinetown, NC | Northside (NC) |
| | SG | Brooklyn, NY | Christ the King (NY) |
| Braxton Blackwell | SF | Nashville, TN | Christ Presbyterian Academy (TN) |
| | PF/C | Aurora, CO | Overland (CO) |
| | SF | West Haven, CT | Sacred Heart (CT) |
| Dewan Huell | PF/C | Miami, FL | Miami Norland (FL) |
| | PG/SG | Alpine, UT | Lone Peak (UT) |
| | SF/PF | Jackson, MS | Arlington Country Day (FL) |
| | SG | Huntsville, AL | Madison Academy (AL) |
| | PF | San Diego, CA | Foothills Christian (CA) |
| | PG | Alpharetta, GA | St. Francis (GA) |
2015 adidas EUROCAMP Next Generation
| | | |
| --- | --- | --- |
| Name | DOB | Nat. |
| Ahmet Can Duran | 1999 | Turkey |
| Fotis Kapris | 1999 | Greece |
| | 1999 | Russia |
| | 1999 | Croatia |
| Acoydan Mcharty | 1999 | Spain |
| | 2000 | Latvia |
| | 1999 | Bosnia |
| | 2000 | Serbia |
| Michele Serpilli | 1999 | Italy |
| Petar Raickovic | 1999 | Montenegro |
| Louis Rucklin | 1999 | France |
| | 1999 | Lithuania |