The small forweard position is loaded this year with a number of top overall pick candidates and great depth.
1. James McAdoo, North Carolina
McAdoo has a natural feel for the game that warms my heart. Perhaps that comes from the fact that his uncle is Hall of Famer Bill McAdoo, whose game epitomized the old school emphasis on post angles, pivots, and interior ball movement. He has both a throwback feel combined with new school "hybrid versatility". James is a more gifted athlete than his Uncle and makes the game look incredibly easy with elite level length, fluidity, leaping ability and talent. His game is "rock solid:" as he has a high basketball IQ and his arsenal is built around a mature mastery of post play.
His talent allows him to dominate without trying very hard so it will be up to him to develop the intensity and consistent desire to stand out against similarly freakish athletes at the NBA level. McAdoo was a very productive high school senior who averaged 23.7 ppg, 8.2 rpg, 2.2 spg, and 1.2 bpg for Norfolk High School in Virginia.
McAdoo's primary weakness is that he is a bit in between positions as there are questions whether he can truly handle playing on the perimeter and whether he possesses the size and strength to truly be an elite PF. But we see him as a "good tweener" with the talent to make it at either forward position. It will be up to him to figure out which position he was truly meant to play.
2. Harrison Barnes, North Carolina
The practice battles between McAdoo and Barnes have to be a sight to behold. Barnes has proven to be one of those players whose performance increases when game situation intensify. Barnes unexpectedly opted to stay in school for a second year and develop his game. The move was not unwise however; NBA teams would have picked him on talent alone but Barnes' freshman year was inconsistent as he adapted to the stiff learning curve of the college game. The first half of his season was mediocre at best but Barnes lit up in the second half and flourished in the tournament, jumping right back into potential top overall pick discussions.
Barnes is a smooth two way player who is rapidly developing into a future star. He is 6'8", athletic, and long and he uses his physical attributes to get his shot off against tough opponents and play stinging, opportunistic defense. He also has great court vision and has shown coaches and talent evaluators his impressive basketball IQ by developing excellent midrange playmaking ability and adding cuts and angles to his game. He is also improving his long range shot and ball-handling capabilities.
The knock on Barnes has always been that he may lack the "killer instinct" that drives superstar swingmen like Kobe Bryant. He is too much of "nice guy" in the eyes of some scouts. But if his clutch tournament outbursts are any indication, that killer instinct may actually be there after all.
3. Quincy Miller, Baylor
Miller has the best offensive arsenal of any forward in the 2012 draft. He can break oppoents down off the dribble with tremendous height and length, which has drawn some comparisons to Kevin Durant. He has standout physical attributes with a high basketball IQ and exceptional ability to score almost at will.
However, Miller needs to bulk up and add stamina to become a top NBA prospect. He also needs to tweak his shot some as his low release point will make it difficult to get shots against elite level athletes. He's coming off an ACL injury which puts his status in question. And some feel he will need a second year in college to truly get back to form physically. But, if he can embrace playing defense and adding strength, Miller has All Star potential.
4. Michael Kidd-Gilchrist, Kentucky
Gilchrist has been viewed as an NBA star in the making since his early high school years. He was the top prospect in his class for a number of years before being reigned in and even surpassed by a few his classmates. Nonetheless, he has dealt well with the pressure and continues to impress NBA scouts. He is a true swingman in the best sense of the word: his 6'7" size allows him to switch from the power forward to small forward positions at will. Gilchrist, who reminds some of Gerald Wallace, is an elite athlete whose wingspan and athleticism outclass most other players at his position. He also has an impressive motor and demonstrates a commitment to both individual and team defense, which suggests that he is motivated to excel at both ends of the floor in the NBA.
The only serious flaw in Gilchrist's game right now is his weak perimeter play. His passing is average at best and his shooting ability extends only to midrange. To excel as an NBA wing, he will need to add both three point range and off the dribble shooting to his offensive arsenal.
5. Terrence Jones, Kentucky
Jones will look to build on a promising freshman season in which he started out looking like a top 5 pick but tapered off late in the season. His deficiencies became apparent and he ultimately opted to pull out of the draft as he was projected by scouts as a probable mid to late first round pick. He's a unique talent with intrigue but will struggle to stand out having to share touches with incoming freshmen Davis and Michael Kidd-Gilchrist.
6. Kris Joseph, Syracuse
Joseph is one of my personal favorites at the small forward position. He is a true "hustle" player with a great motor and a penchant for giving his all on every play. Joseph is also an excellent athlete and leaper and has worked extremely hard to develop a midrange jumper to complement his inside game. The form on his shot is actually very good and he just needs to embrace the role of being team leader and superstar as the talent is there.
He still needs to work on his shooting consistency and use of court angles but he has slowly but steadily improved in each of his three college season and could become an impact player if he continues to diversify his game.
7. Andre Roberson, Colorado
Sort of a college version of the Matrix (Shawn Marion), Roberson is one of the most interesting swingmen in the nation. He flew under the radar on a national level but showed flashes of great potential. He is an absolutely jaw dropping physical specimen who is sure to be featured on a number of highlight dunks this year. He has surprising ball-handling ability for a SF with deft use of a crossover, which comes from the fact that he played guard in high school until he quietly grew into a 6'7" classic swingman's body.
He likes angles, cuts, and crashing the basket. Most importantly, Roberson has a nose for rebounds as he had the most rebounds ever by a Colorado freshman. However, while Roberson is a jack of all trades with a high talent level, he must round out his skills, namely becoming a better scorer from the perimeter. If he can raise parts of his game to elite levels, which is certainly a possible ceiling for his rebounding, he could become an elite prospect for the 2013 draft.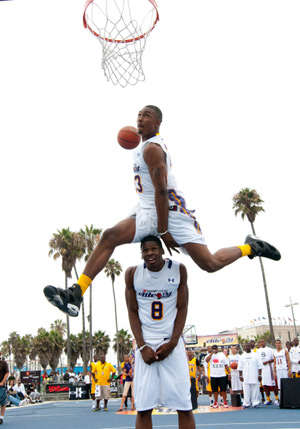 8. LeBryan Nash, Oklahoma State
Nash could be the second coming of Ron Artest….personality quirks included. He already has a rugged, physical NBA-ready body. He is willing to use his freakish athleticism to get past opponents in the mid-court area, utilize his strength to back them down in the post, or penetrate and attack the basket with ferocity and explosive leaping ability.
However, while he boasts the physical tools of a lottery pick, Nash's maturity issues are troublesome. He takes plays off and, while he appears to love defensive play, he does not always apply himself on that end of the court; which if he's ever going to live up to the Artest comparisons, needs to change in a drastic way. But, if he can use his college time to mature and show scouts that he will give his all on every play, he could become a standout talent similar to the eccentric Artest.
9. CJ Leslie, North Carolina State
Leslie has some of the sharpest positive and negative aspects to his game of any prospect in the 2012 draft class. He was originally regarded as a potential lottery pick for 2011. Scouts drool over his incredible athleticism, leaping, and finishing ability at the rim. Leslie also playus with a high motor and with his emerging perimeter game, that gives scouts hope that his play on the offensive end might improve this year.
Of course, "improve" is a relative term and, in Leslie's case, it would be hard for his offensive game to do anything else. He could not find himself a defined position and struggled offensively as a tweener 4, which prevented him from having an offensive impact for the Wolfpack. However, his defense and versatility remain impressive so, if he can develop a solid offensive arsenal, he will intrigue many NBA teams.
10. Adonis Thomas, Memphis
Thomas is one of the most intriguing athletes in the freshman class with strength, off the charts leaping ability and a great motor. This has made him an extremely productive player. He averaged 21.8 ppg, 11.2 rpg, and 1.4 bpg as a senior at Melrose High School in Tennessee while simultaneously serving as the team's defensive anchor.
However, Thomas' shot is a major question mark. While the form looks solid, he has yet to develop consistency and confidence in it. His play emphasizes above the rim dunks and rebounding. He'll need to develop a midrange game and overall shooting to elevate his stock to where it should be.
Honorable Mention: Pape Amadou 6-8 195 SF/PF (Senegal) 1993, Olu Ashaolu 6-6 230 SF Louisiana Tech Sr., Laurence Bowers 6-8 220 SF Missouri Sr., Bradford Burgess 6-7 220 SF VCU Sr., Linos Chrysikopoulos 6-8 216 SF Aris (Greece) 1992, Cameron Clark 6-6 184 SF Oklahoma So., Chris Czerapowicz 6-7 200 SF Davidson Fr., Olek Czyz 6-7 200 SF Nevada Sr., DeAndre Daniels 6-8 210 SF UConn Fr., Branden Dawson 6-6 210 SF Michigan State Fr.,, CJ Fair 6-7 200 SF Syracuse Fr., Draymond Green 6-6 230 SF/PF Michigan St. Sr., Rodney Hood 6-7 180 SF Arkansas Fr., Robbie Hummel 6-7 208 SF Purdue Sr., Orlando Johnson 6-6 230 SF UCSB Sr., Kevin Jones 6-7 210 SF West Virginia Sr., Sergey Kasarev 6-7 180 SG/SF BC Triumph (Russia) 1993, Jean Charles Livio 6-8 205 SF/PF France 1993, Tony Mitchell 6-6 210 SF Alabama Jr., [Player: Tony Mitchell 6-9 215 SF North Texas Fr., [Player: Travis McKie 6-6 205 SF Wake Forest So., Alex Murphy 6-8 205 SF Duke Fr., Kostas Popanikolaou 6-7 230 SF Panathinaikos (Greece) 1990, Kevin Parrom 6-6 205 SF Arizona Jr., LaQuinton Ross 6-8 217 SF Ohio St. Fr., Roscoe Smith 6-8 204 SF UConn So., Tony Snell 6-7 195 SF New Mexico Fr., Jeffrey Taylor 6-7 220 SF Vanderbilt Sr., DeShaun Thomas 6-7 221 SF Ohio State So., Okaro White 6-7 180 SF Florida St. Fr., Rodney Williams 6-7 210 SF Minnesota Jr., Kyle Wiltjer 6-9 221 SF/PF Kentucky Fr., Wesley Witherspoon 6-7 185 SG/SF Memphis Sr., Tomislav Zubcic 6-11 225 SF/PF Croatia 1990