Rising
James McAdoo, 6'9 SF/PF, UNC
McAdoo is a unique player who possesses both a mature skill-set and admirable physical tools. At just over 6'8, he's an explosive athlete with a developing NBA frame and a high basketball IQ. Despite lacking a refined game, McAdoo took home MVP honors at both the McDonald's All-American game and Jordan Brand Classic, relying on his awareness, instincts and mobility to make plays both on the glass and in transition. What makes McAdoo such a valued prospect is his potential to play on the perimeter, where he's shown promise in his outside game, ball handling skills and lateral quickness. He should excel playing alongside Kendall Marshall, whose vision and passing skills should maximize McAdoo's effectiveness as a combo-forward that can run the floor.
Andre Drummond, 6'10, PF/C
Physically immaculate, Drummond combines the rarest size, strength, length, mobility and athleticism that allow him to punish his opponents on the interior. He's extremely advanced at such a young age, and has shown glimpses that portray him as a figure to build around when assembling a roster. Along with being an efficient and explosive finisher, he's shown the willingness and creativity as a passer, and ball handler, adding to his already impressive resume as a prospect. Defensively he's a game changer who anticipates and moves exceptionally well. He just needs to learn to keep his motor revved a little faster. Without making any collegiate commitment, it's likely that Drummond has his mind set on the NBA in hopes that the new collective bargaining agreement will allow him to enter in 2012. When it all comes down to it, his ceiling exceeds his top competitors by an extra floor.
Khris Middleton, 6'7 SG/SF, Texas A&M
Middleton showed great consistency his sophomore year, scoring in double figures 27 of his 33 games played. As a prospect, it's clear how his strengths would service NBA teams. At 6'7, Middleton is your quintessential swingman with good length, athleticism and an automatic midrange game. He's also shown flashes of playmaking ability, where he uses sound judgement and averages close to 3 assists per game. Middleton has proven capable of knocking down three-pointers converting at a respectable 36%, but will need to continue improving his consistency and extending his range.
LeBryan Nash, 6'7 SF, Oklahoma State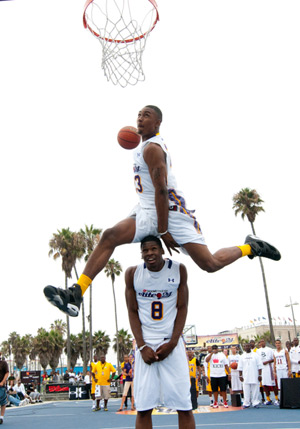 Big-time athlete. Tough to guard a 6'7 forward who has the quickness to gain a step and the explosiveness/leaping ability to launch himself over the tallest defenders at the rim. Nash uses his body effectively in terms of gaining position down low, and looks comfortable operating both inside and outside. While his perimeter game tends to be shaky a times, he sports promising mechanics and looks to be improving his consistency with each time we see him in action. He has a tight handle and rhythmic bounce to his step that allow him to get to the rim or create separation. He's got all the tools in the box to become an electrifying NBA player, but will need to overcome his on-court immaturity issues and focus on every possession.
JaMychal Green, 6'8 PF, Alabama
Green has progressed over his career at Alabama, using his athleticism and length to his advantage in the post. He blocks 2.1 shots in only 27.9 minutes per game, illustrating his high activity level within five or so feet around the rim. Though he's struggled consistently knocking down perimeter jumpers, he looks fairly comfortable taking them when given time to set up. He doesn't necessarily ooze talent on the offensive end, and his 2.8 turnovers in 27 minutes as complimentary-type player reflect his inability to adjust and react with the ball in his hands. But as an NBA prospect, he projects as a role player who won't be responsible for creating shots on his own. With Green's particular skill-set, he'll generate interest from teams who want to push the tempo yet lack athleticism in the front court to do so.
Falling
Maalik Wayns, 6'1 PG, Villanova
Wayns has a make or break junior year ahead of him, where he'll have the opportunity to quarterback a team on a full-time basis. From a development standpoint, Wayns still struggles in the half court at times with an average first step and questionable decision making. He'll need to dramatically improve his range and consistency from the outside, where he's practically a non-threat from 20 plus feet out. Considering his adept ball-handling skills, improving his jumper off the dribble would really maximize his effectiveness with the ball in his hands. Right now, his most attractive NBA attribute is his strength and speed in transition that allow him to finish at the rim despite lacking size and length. Moving forward, Wayns should have a checklist of items to work on as a junior, and will have every opportunity to do so with Corey Fisher and Corey Stokes out of the picture.
Tyler Zeller, 6'11 PF/C, UNC
Zeller is an intriguing prospect due to his size and skill-set in the post, but has questions concerning his strength and face-up game. Offensively, his inability to consistently knock down midrange jumpers is troublesome considering he won't have as many opportunities to score with deep position in the post. A lack of strength makes it difficult for Zeller to hold his ground, which could make him a liability as a post defender at the next level. Adding bulk and some additional offensive weapons to his arsenal will be the formula for diminishing his perceived risk as a first round pick.
Festus Ezeli, 6'11 PF/C, Vanderbilt
Ezeli had a nice year as a junior, establishing himself as a legit center prospect whose potential stems from his physical tools. Despite standing 6'11, 255 lbs with substantial length, he's limited when it comes to creating his own shot. His free throw shooting showed surprising improvement. But he attempted 7 or less shots in 19 of his 34 games played this season, and is generally relegated as the interior finisher/recipient of a teammate's playmaking. Adding to his offensive repertoire would really benefit his stock as an NBA prospect considering his size and length.